1 Ingredient Banana Ice Cream is a delicious, guilt-free, frozen, fruit treat to eat until your heart's content! Check out all of June's #FoodieMamas Frozen Treats recipes in the recipe roundup below!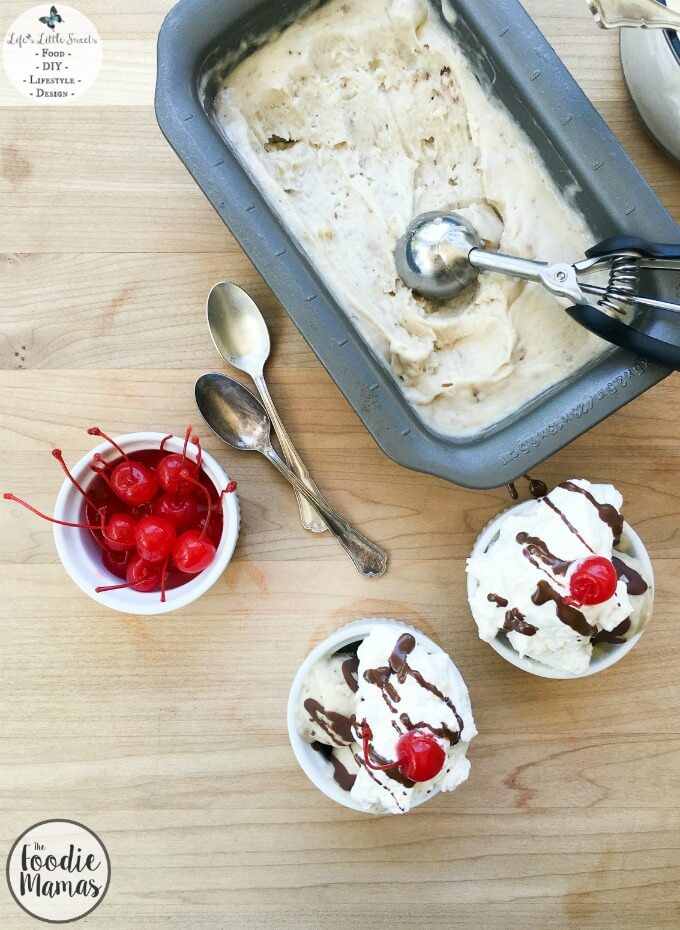 1 Ingredient Banana Ice Cream
I was thinking about what would go well with this Homemade Chocolate Shell and then I thought of a recent episode of Daniel Tiger that I saw with my daughter where Daniel tries new food that he feels hesitation about 🙂
LOL, Please bear with me…Anyways, in the episode, they make "Banana Swirl" which is basically sliced, frozen bananas, processed in a food processor. So simple, yet so amazing. The result is thick and creamy "ice cream."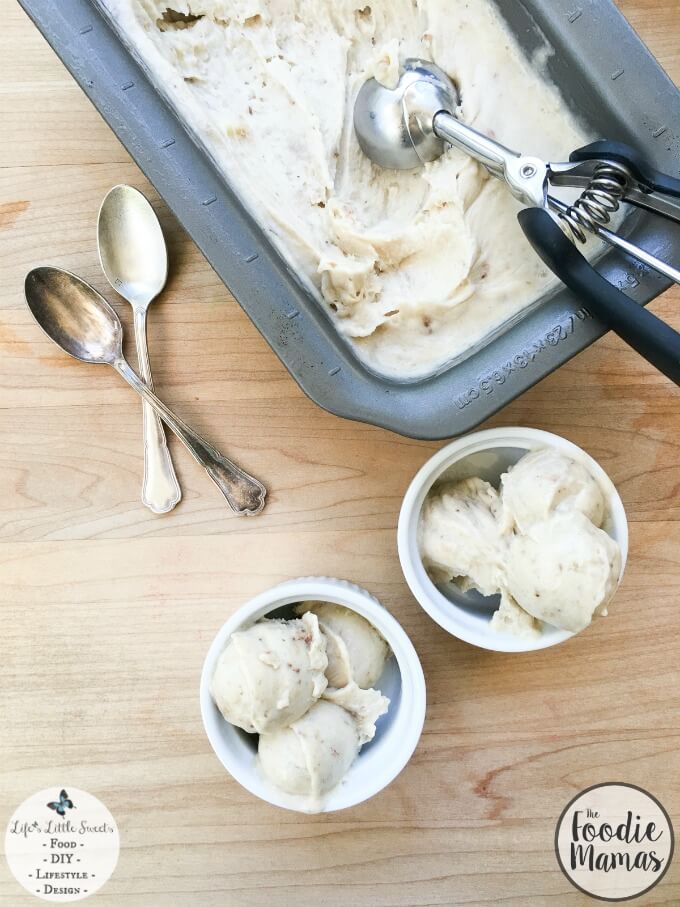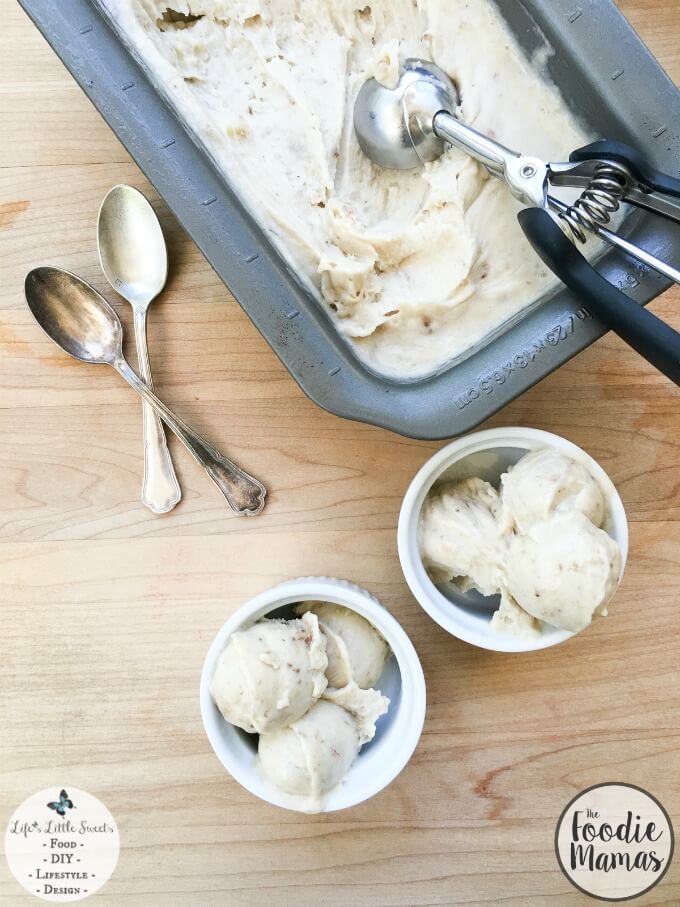 I say that with air quotes because there is no dairy in this recipe which makes my dairy-sensitive husband quite happy. He can eat this 1 Ingredient Banana Ice Cream along with some Homemade Chocolate Shell and be happy as a clam.
When I made this recipe, Eric kept asking me, "This is just frozen bananas?" He could not believe it!
I was like, "Yes, isn't it amazing – the texture?"
1 Ingredient Banana Ice Cream
1 Ingredient Banana Ice Cream is a delicious, guilt-free, frozen, fruit treat to eat until your heart's content! Check out all of June's #FoodieMamas Frozen Treats recipes in the recipe round up!
Ingredients
9-10 large, , ripe bananas
Optional: toppings like vanilla whipped cream, , cherries, Homemade Chocolate Shell, Coconut Caramel Sauce, Easy Caramel (dulce de leche), sprinkles, nuts, etc.
Instructions
Cut 9-10 ripe bananas into 1/2 inch round slices and put into a loaf pan, cover and freeze overnight. Optional: You can put a piece of parchment paper under the bananas to ensure that you can get them out easier the next day.
Take out frozen bananas and process in a food processor until creamy and smooth, scraping down sides if necessary. This may need to be done in batches depending on the size of your food processor. I can usually get everything processed in 2 batches with the size of my food processor. (Note: You can also use a blender (I have done in the past) if you do not have a food processor but it can be more difficult and you need to scrape down the sides more and do it in smaller batches.)
Transfer processed frozen banana mixture back into loaf pan and spread evenly. Refreeze for later or enjoy right away with or without optional toppings. If you decide to freeze it for later, know that you will need it to sit for about 15 minutes to soften up before scooping. Enjoy!
Recommended Products
As an Amazon Associate and member of other affiliate programs, I earn from qualifying purchases.
Nutrition Information:
Yield:

10
Serving Size:

1
Amount Per Serving:
Calories:

220
Total Fat:

5g
Saturated Fat:

3g
Trans Fat:

0g
Unsaturated Fat:

2g
Cholesterol:

1mg
Sodium:

62mg
Carbohydrates:

45g
Fiber:

5g
Sugar:

25g
Protein:

3g
Please note that the Calculated Nutrition is an estimate at best.
#FoodieMamas Frozen Treats Recipe Roundup
It's time to check out all the amazing recipes from all the #FoodieMamas. This the 9th #FoodieMamas recipe round up that I have participated in and each month, one "FoodieMama" chooses a different ingredient or theme.
This month Ali from Home & Plate chose Frozen Treats; she has lovely "Raspberry & Blueberry Yogurt Granola Popsicles" recipe below.
You can check out all the other previous #FoodieMamas posts on Life's Little Sweets here.
#1 Raspberry & Blueberry Yogurt Granola Popsicles from Ali Randall | Home & Plate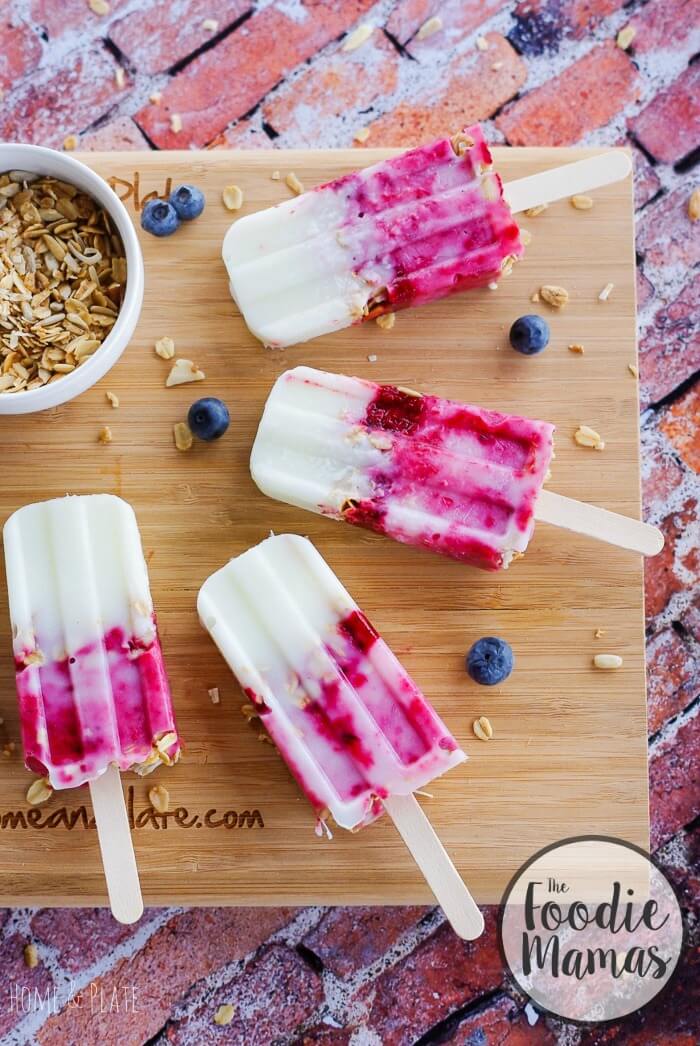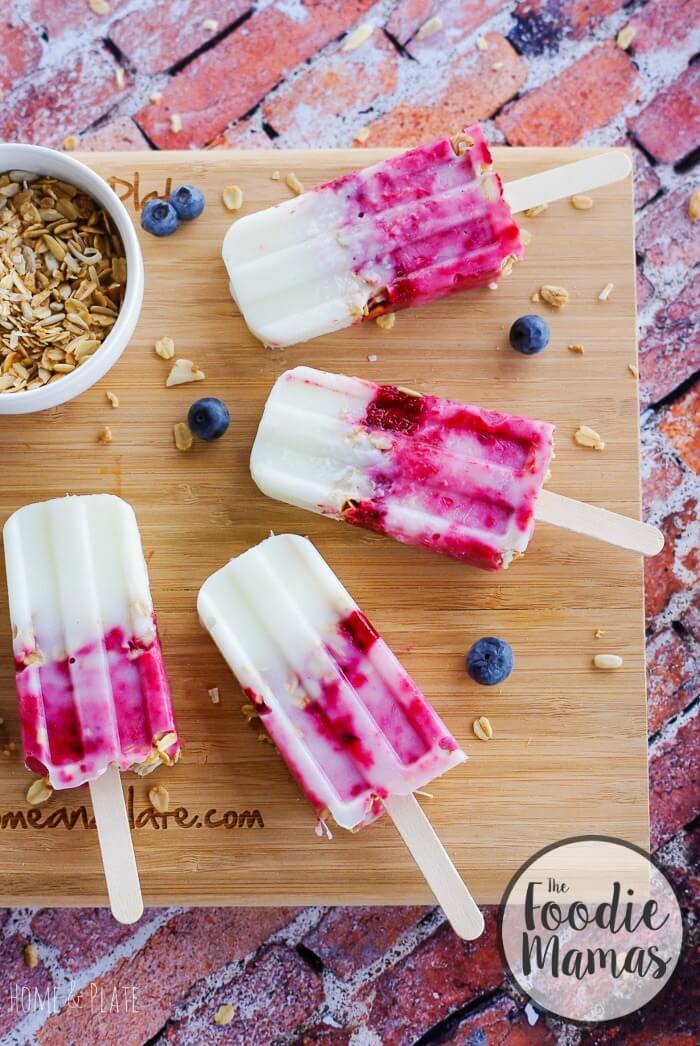 #2 Blueberry Grapefruit Mojito Slushies from Manju Mahadevan | Cooking Curries
#3 Pina Colada Popsicles from Chrissie Baker | The Busy Baker
#4 Cold Brew Iced Coffee Affogato from Lucy | Turnip the Oven
#5 Chocolate Peanut Butter Banana Frozen Yogurt Pops from Trish | Rhubarbarians
#6 Strawberry Banana Oatmeal Smoothie from Kaitie Lawlor | Fuchsia Freezer
What's your favorite frozen treat? Please share in the comments below, Thank You!
Sara is an architectural designer turned work-at-home Mom.She lives in New Jersey by way of New England and New York, with her husband, two kids under 5 and family dog Cayli. She loves design, being creative and spending time with family and friends. She loves checking out local businesses and eats and being apart of the local farm to table community.
Latest posts by Sara Maniez (see all)