One lazy Saturday morning, I was enjoying my coffee and watching The Pioneer Woman, and my life was forever changed by this Jalapeño Olive Cheese Bread. I almost missed it too because I stepped into the kitchen. But luckily when I came back, my husband said, "You have to rewind it."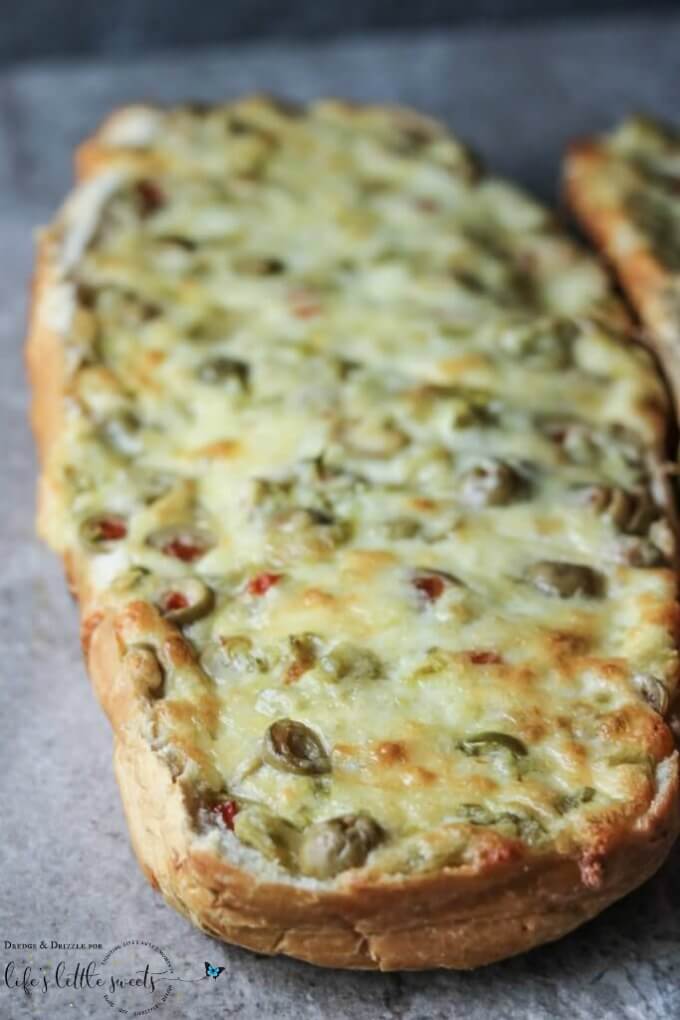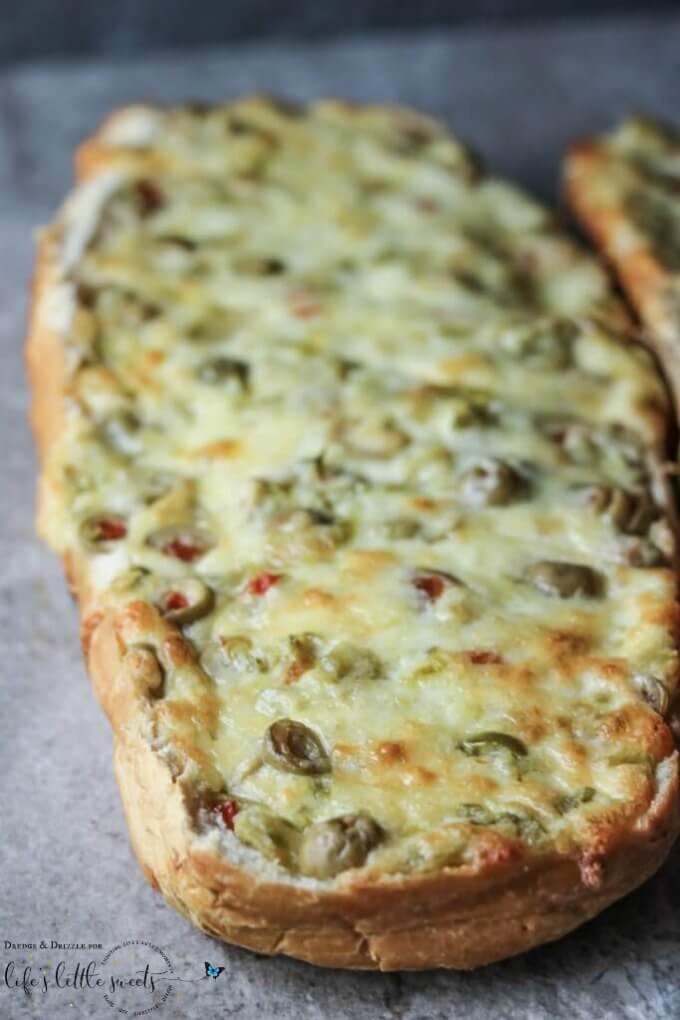 Jalapeño Olive Cheese Bread
The first time I made this Jalapeño Olive Cheese Bread, I followed Ree's recipe exactly. There is nothing not to like in this recipe. Green olives (which are my favorite), two kinds of cheese, butter, green chiles… and, oh yes, jalapeños. They add just enough heat. This recipe is perfection. But of course, the SECOND time I made it (which was embarrassingly not too very long after the first time I made it) I decided to add a little bit more cheese. Now, normally I would say you can't have enough cheese, but with this recipe you absolutely can. It melted and oozed off of the bread and made me sad. (We still ate it though!)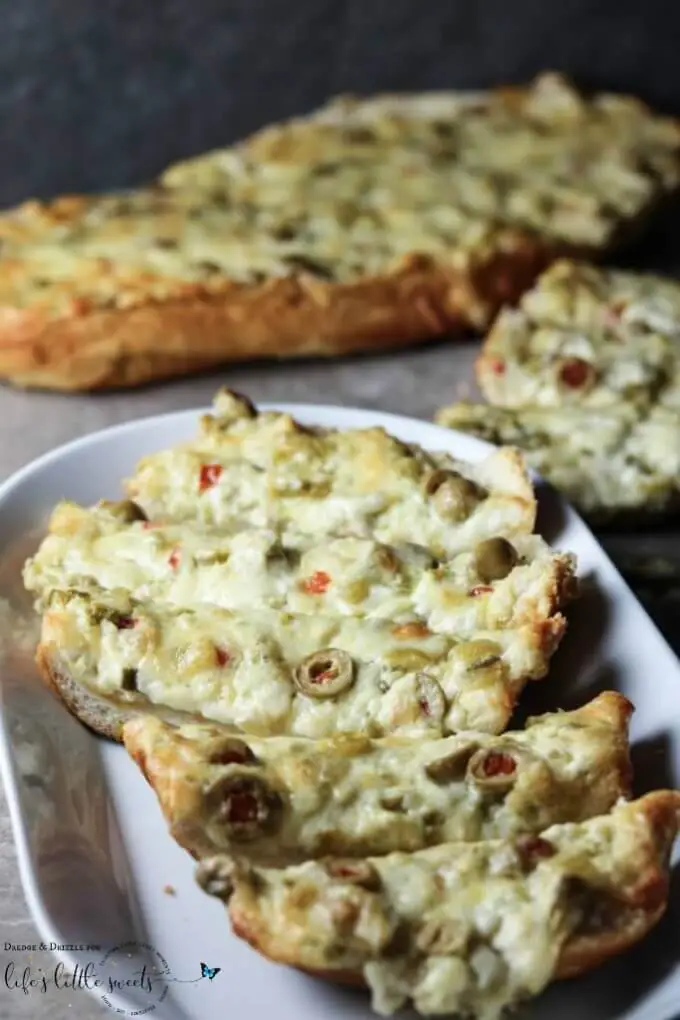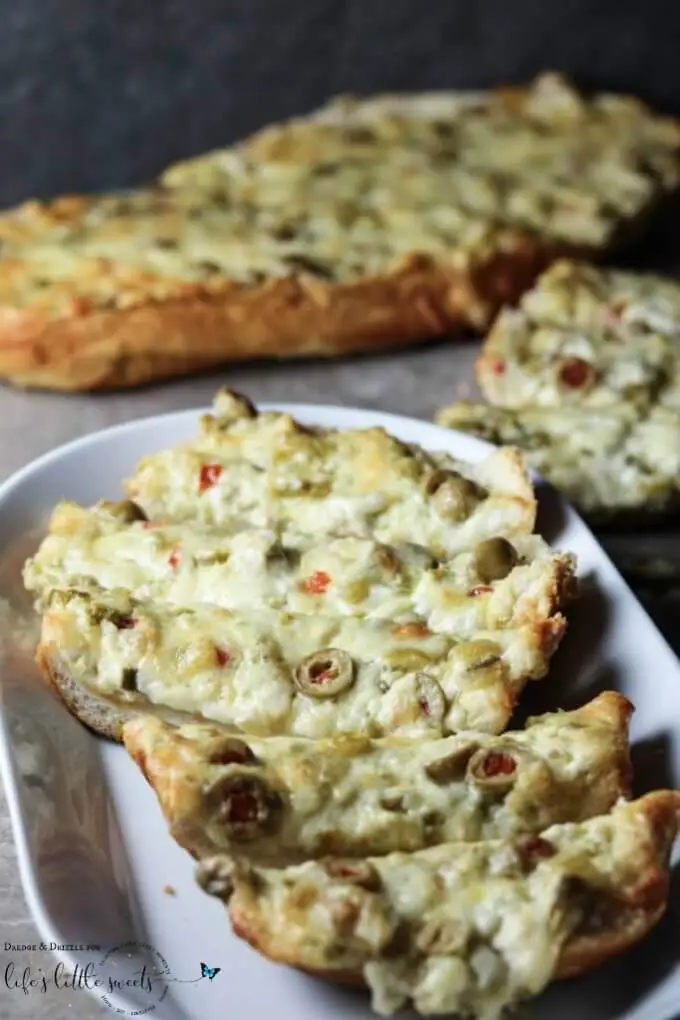 Disclosure: Some links in this post are affiliate links which means I earn a commission if you purchase through them at no extra cost to you. I only recommend brands and products that I 100% like and enjoy using. Thank you in advance for your support!
Ingredients for Jalapeño Olive Cheese Bread:
Butter
Mayonnaise
Jarred jalapeños
Green olives
Green Chiles
Scallions
Pepper jack cheese
White cheddar cheese
French or Italian bread
Kitchen Tools Needed for Jalapeño Olive Cheese Bread:
Bread knife
Cutting board
Kitchen knife
Cheese grater
Measuring cups
Medium mixing bowl
Mixing spoon
Butter knife or spreader
Sheet pan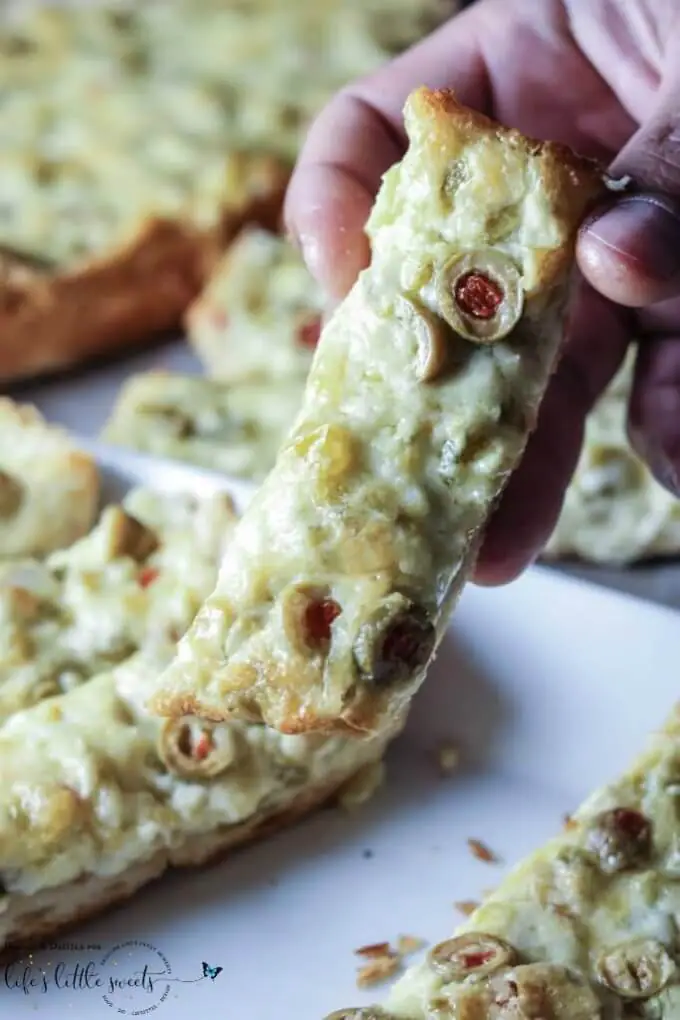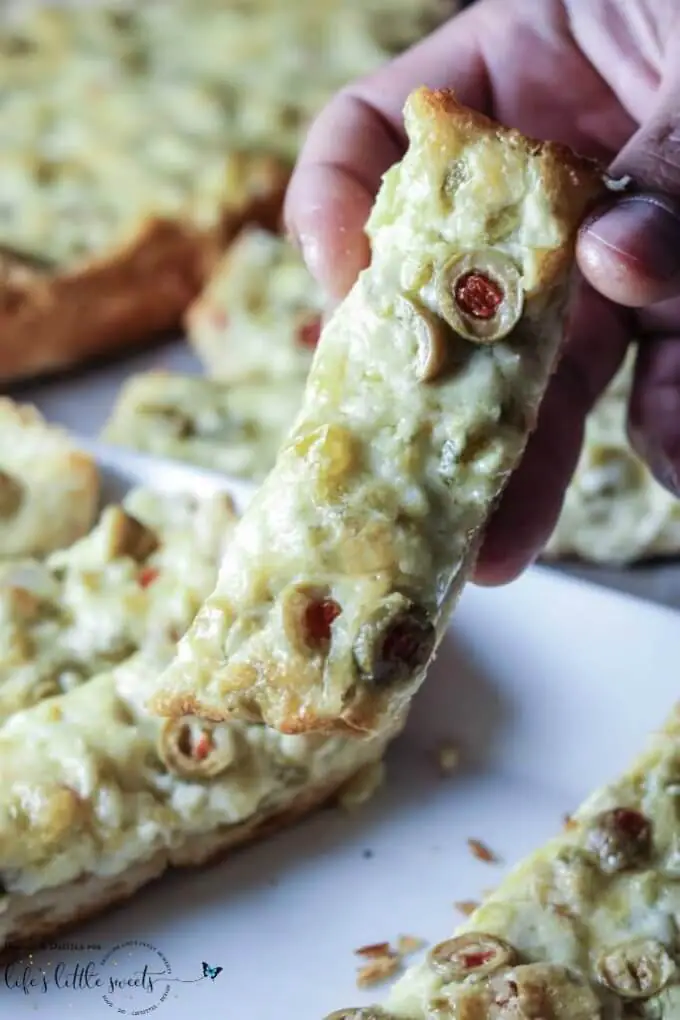 While Ree's recipe calls for French bread, I've tried this Jalapeño Olive Cheese Bread on both Italian and French bread. (Italian bread is shown in the photos.) You can use whichever you like better or whatever is available in your local bakery.
I made this Jalapeño Olive Cheese Bread for a New Year's Eve appetizer. It went perfectly with my Grape Jelly Meatballs (and champagne, of course). If you happen to have any leftover, it does warm up and crisp up well in the oven. I have also baked 1/2 and wrapped up 1/2 unbaked and put it in the fridge to bake another day. Another awesome way to enjoy this recipe is to omit the bread, bake all the ingredients in an oven-safe bowl, and serve as a dip with tortilla chips! Comment below and let me know how you enjoyed this recipe!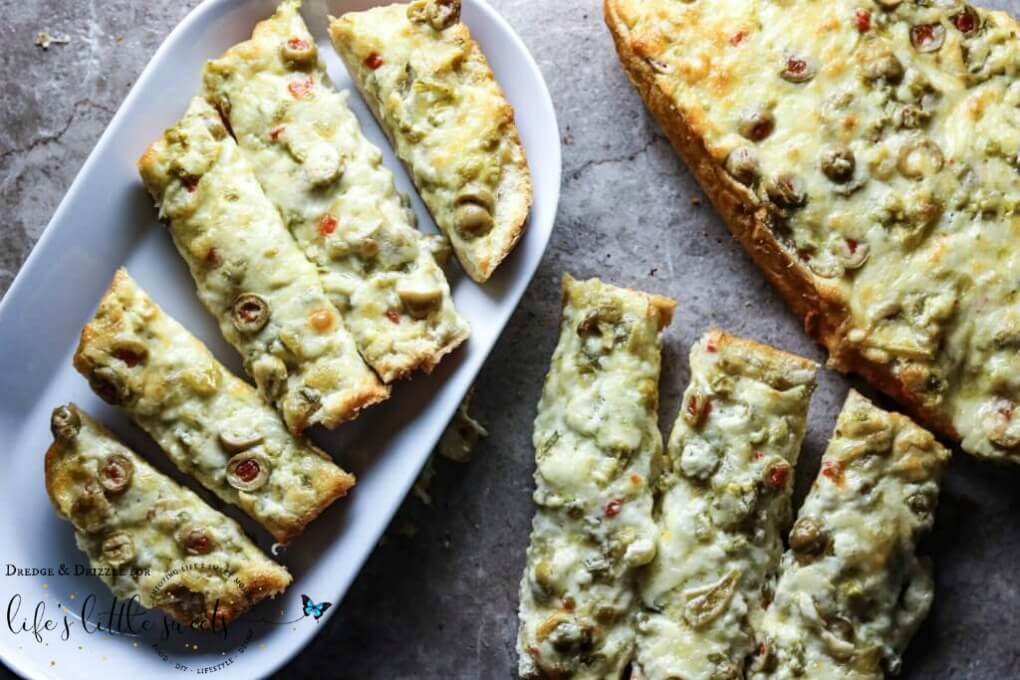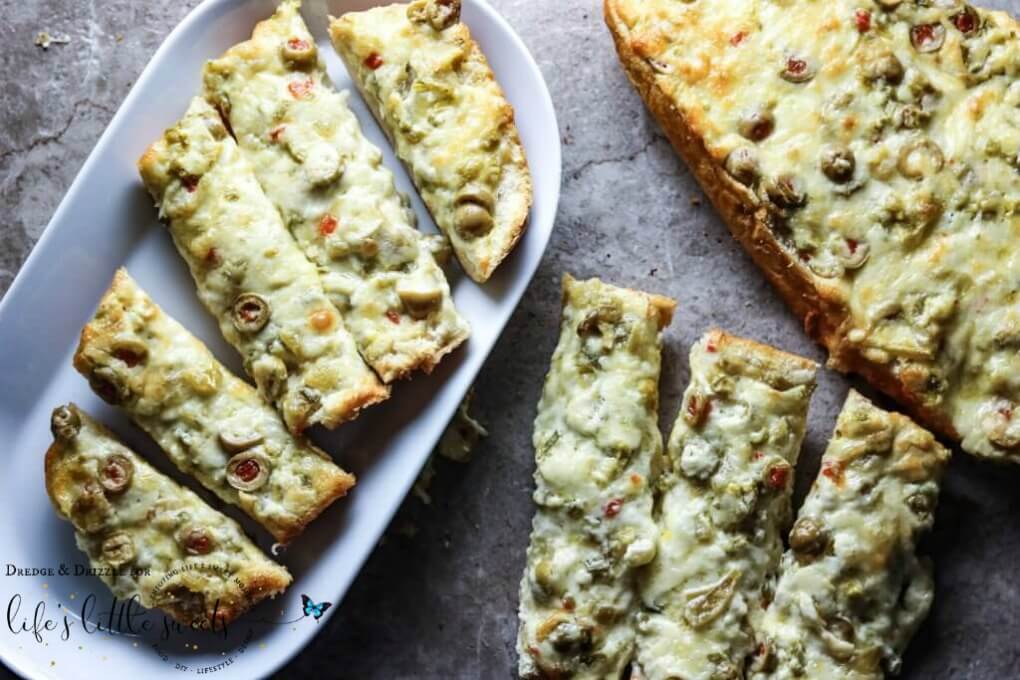 Jalapeño Olive Cheese Bread
Green olives (which are my favorite), two kinds of cheese, butter, green chiles… and, oh yes, jalapeños.
Ingredients
8 tbsp butter, softened
1/2 cup mayonnaise
1/2 cup jarred jalapeños, diced
6 oz green olives, sliced
4 oz canned green chiles
2 scallions, sliced
6 oz pepper jack cheese, shredded
6 oz white cheddar, shredded
1 loaf Italian or French bread, sliced lengthwise with bread knife
Instructions
Preheat oven to 325ºF.
In a medium mixing bowl, mix the butter and mayonnaise together well.
Add the jalapeños, olives, green chiles, and scallions and stir.
Fold in the cheese.
Using a butter knife or spreader, spread the mixture onto the bread.
Bake for 25 minutes or until the cheese is as bubbly and brown as you like.
Nutrition Information:
Yield:

16
Serving Size:

1
Amount Per Serving:
Calories:

285
Total Fat:

20g
Saturated Fat:

9g
Trans Fat:

0g
Unsaturated Fat:

10g
Cholesterol:

38mg
Sodium:

637mg
Carbohydrates:

18g
Fiber:

1g
Sugar:

2g
Protein:

9g
Please note that the Calculated Nutrition is an estimate at best.
After working as a technical writer for the pharmacetical industry for over 15 years, Heather finally found a way to combine her love of creative writing with her love of food and launched her blog, Dredge and Drizzle. While the photography aspect of food blogging was a huge learning curve, she embraced the challenge and looks for ways to improve her craft a little bit each day. She also thinks food should always taste as good as it looks and loves to have "Test Kitchen Saturdays" to experiment with flavors. Heather lives in Jacksonville, Florida with her Chief Taste-Tester and husband Rudy and their youngest son Sullivan (Sully). Three young adult children (Cassidy, Zach, and Ethan) pop in once in awhile to see what's cookin'.
Latest posts by Heather Buentello (see all)