Does the price of Chinese takeout have you down? Try making your very own Sesame Chicken at home! It may take a little more time than driving to the nearest Chinese restaurant, but this labor of love is totally worth it!
[wprm-recipe-jump] or [wprm-recipe-print]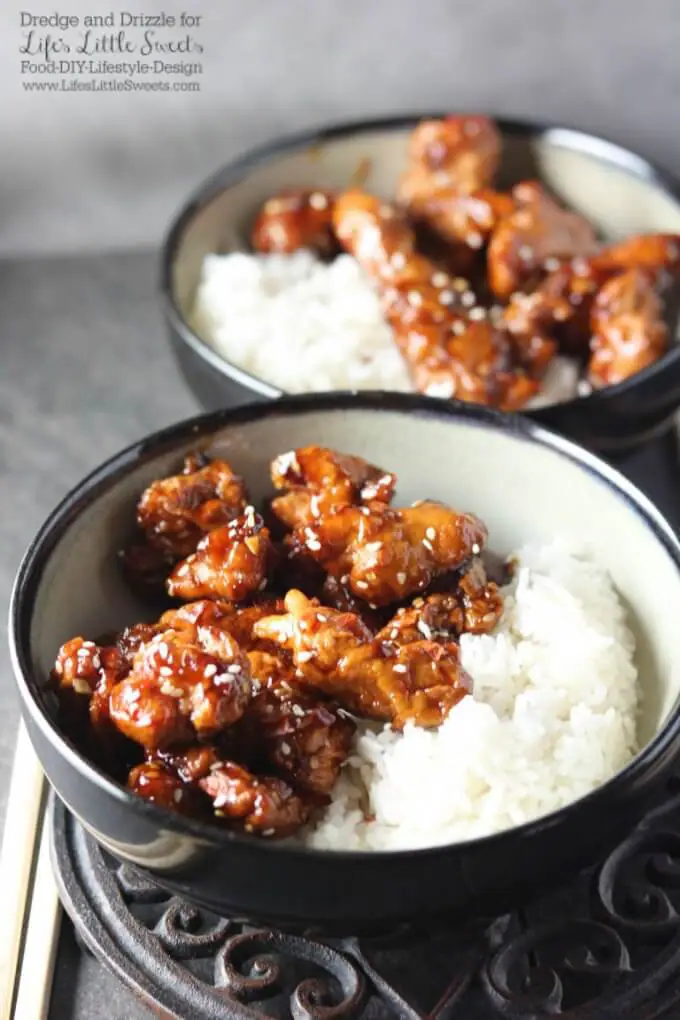 Sesame Chicken
This recipe gave me the chance to finally season and break in a brand new wok that I bought for my husband. For Christmas. Three years ago. I had a wok that my mom gave me that she had owned since I was little and the handle was getting kinda old and crusty and needed to be replaced. Oh my gosh. I just realized I bought MYSELF a new wok for Christmas three years ago. (Maybe that's why he never used it?)
I have tried a number of different Sesame Chicken recipes and this one is the winner! The other ones I tried tasted floury or too sweet. Then I came across Sabrina's Sesame Chicken recipe at her blog Dinner, then Dessert. I only had to adapt it slightly. I briefly met Sabrina at a conference this year and also went to hear her talk and give great blogging tips. She is also a bona fide chef!
Ingredients for Sesame Chicken
Boneless, skinless chicken thighs
Corn starch
Flour
Egg whites
Seltzer water
Soy sauce
Rice wine vinegar
Brown sugar
Water
Sesame oil
Sesame seeds
Crushed red pepper
Minced garlic
Vegetable oil
Kitchen Tools Needed for Sesame Chicken
Cutting board
Knife
Dutch oven or deep fryer
1 large mixing bowl
Mixing spoon
Tongs
1 medium mixing bowl
Whisk
Spider strainer or slotted spoon
Wok
Wok spatula
It was so satisfying to finally find a recipe that worked for Sesame Chicken. It truly tastes as good as it looks! It's not too sweet and has just the right amount of heat and garlic. Mmmmmm… I may just have to whip up another batch this weekend! (In, you know, my husband's wok.)
Sesame Chicken
Prep Time: 30 minutes

Cook Time: 15 minutes

Total Time: 45 minutes

Does the price of Chinese takeout got you down? Try making your very own Sesame Chicken at home! It may take a little more time than driving to the nearest Chinese restaurant, but this labor of love is totally worth it!
Ingredients
1 lb boneless, skinless chicken thighs, cut into small chunks
For the Tempura Batter
1/2 cup corn starch
1/2 cup flour
2 egg whites
1/2 cup cold seltzer water
For the Sesame Sauce
1/4 cup soy sauce
1/4 cup rice wine vinegar
1/2 cup brown sugar
1 tablespoon corn starch
1/3 cup water
3 teaspoons sesame oil
1/2 tablespoon sesame seeds
1/2 teaspoon crushed red pepper
1 tablespoon minced garlic
Other
vegetable oil, for deep frying
sesame seeds, for garnish
Instructions
Preheat the oil in your deep fryer or dutch oven to 350ºF.
In large mixing bowl, mix the tempura batter ingredients together.
Add the chicken to the batter and coat well.
Using tongs, add the chicken to the oil in batches and fry until golden brown.
Remove the chicken with a spider strainer or slotted spoon and allow to drain on paper towel.
In a medium mixing bowl, whisk the sesame sauce ingredients together well.
Heat wok on medium high heat.
Add the sesame sauce to the wok and use a wok spatula to move the sauce around until heated through.
Add the chicken to the sauce and coat.
Serve over rice and sprinkle with additional sesame seeds.
Nutrition Information:

Amount Per Serving:Calories: 376

Please note that the Calculated Nutrition is an estimate at best.
[bctt tweet="Sesame Chicken Recipe! @DredgeDrizzle" username="lifeslilsweets"]
Be sure to sign up for the Life's Little Sweets e-mail newsletter for more updates and FREE recipes!
What's your favorite kind of takeout? Please let me know in the comments below!
Pin This! ⇓

After working as a technical writer for the pharmacetical industry for over 15 years, Heather finally found a way to combine her love of creative writing with her love of food and launched her blog, Dredge and Drizzle. While the photography aspect of food blogging was a huge learning curve, she embraced the challenge and looks for ways to improve her craft a little bit each day. She also thinks food should always taste as good as it looks and loves to have "Test Kitchen Saturdays" to experiment with flavors. Heather lives in Jacksonville, Florida with her Chief Taste-Tester and husband Rudy and their youngest son Sullivan (Sully). Three young adult children (Cassidy, Zach, and Ethan) pop in once in awhile to see what's cookin'.
Latest posts by Heather Buentello (see all)