Life's Little Sweets now offers The Great Big Book of Green Smoothies eCookBook! Check out why incorporating Green Smoothies into your life is so important and try a Green Smoothie for Beginners recipe below!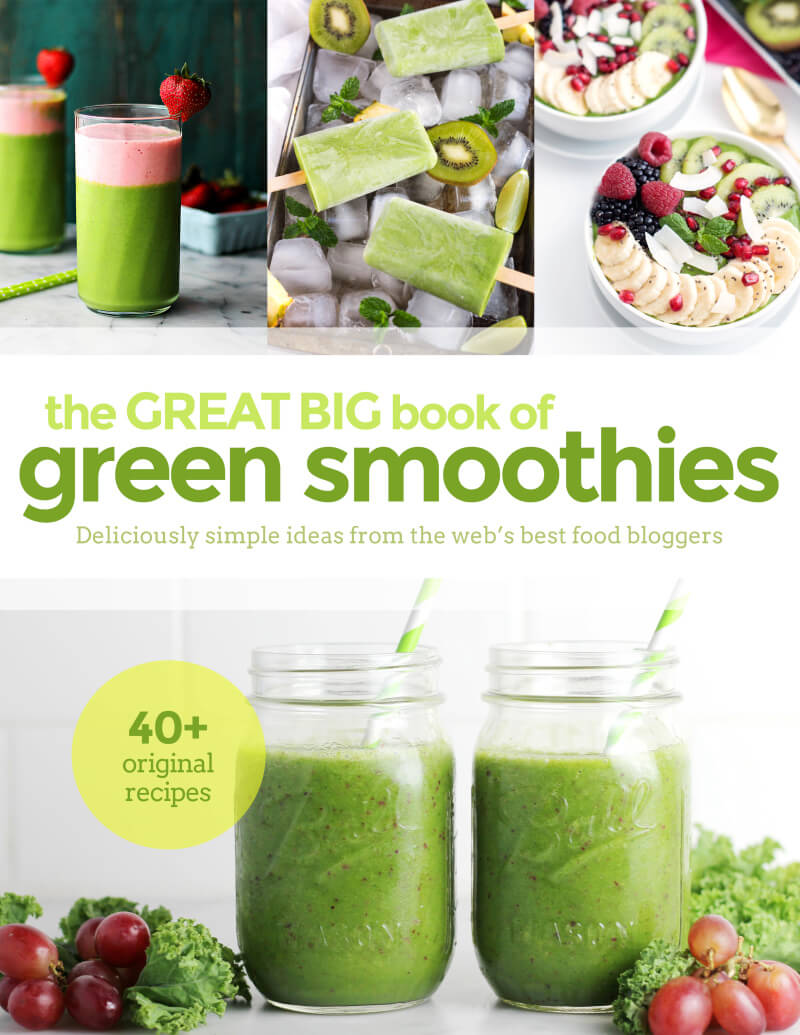 Hi Everyone! Back in January, I joined Coterie Cookbooks as a collaborating food blogger working with 42 of the best food bloggers in the world. I will be contributing to their future eCookbooks and I am so excited to share their existing eCookbooks now available on Life's Little Sweets! Green smoothies helped me get the dense nutrition my body needed during my pregnancy and they continue to give me the energy I need quickly during my day as a busy mom and blogger. I want to share the reason why The Great Big Book of Green Smoothies is a great resource for you.
[bctt tweet="The Great Big Book of Green Smoothies eCookBook + Green Smoothie for Beginners (Recipe)"]
Here's why:
When it comes to eating, we have so many choices. With millions of ideas online, thousands of different
diet options, a Facebook feed full of articles touting "The 56 Most Important Superfoods You Must Eat
Now!" well…it can all start to feel pretty overwhelming.
So, we decided to make it easy.
Because, time and time again, the truth is, there is ONE thing you can do to lose weight, feel amazing
and live a better life than ever. And that thing is….
Eat Leafy Greens EVERYDAY!
Linked to everything from weight loss to cancer prevention to kicking kidney stones in the rear, greens are one of nature's most
potent health potions.
But, they're so bland. And inconvenient. And not nearly as delicious as a milkshake, right?
Yeah, we know. So, we decided to do something about it.
Because easiest way to get your daily dose of nourishing, life-giving greens isn't to force-chew your way
through a bunch. It's to toss them in the blender and whip up a green smoothie.
Armed with this idea, 42 food bloggers hit the kitchen. They whipped and whisked, mixed, sipped,
tried, tested and tasted. And every one of them conjured the SINGLE BEST GREEN SMOOTHIE of their lives.
Then, they married all of those recipes together, turned them into a cookbook full of green smoothie
recipes so good, you'll be counting down the minutes until your next blender full!
Every one of these recipes are designed for busy people that want to eat more plants everyday, without
sacrificing great taste. Here's a quick recipe you can try from The Great Big Book of Green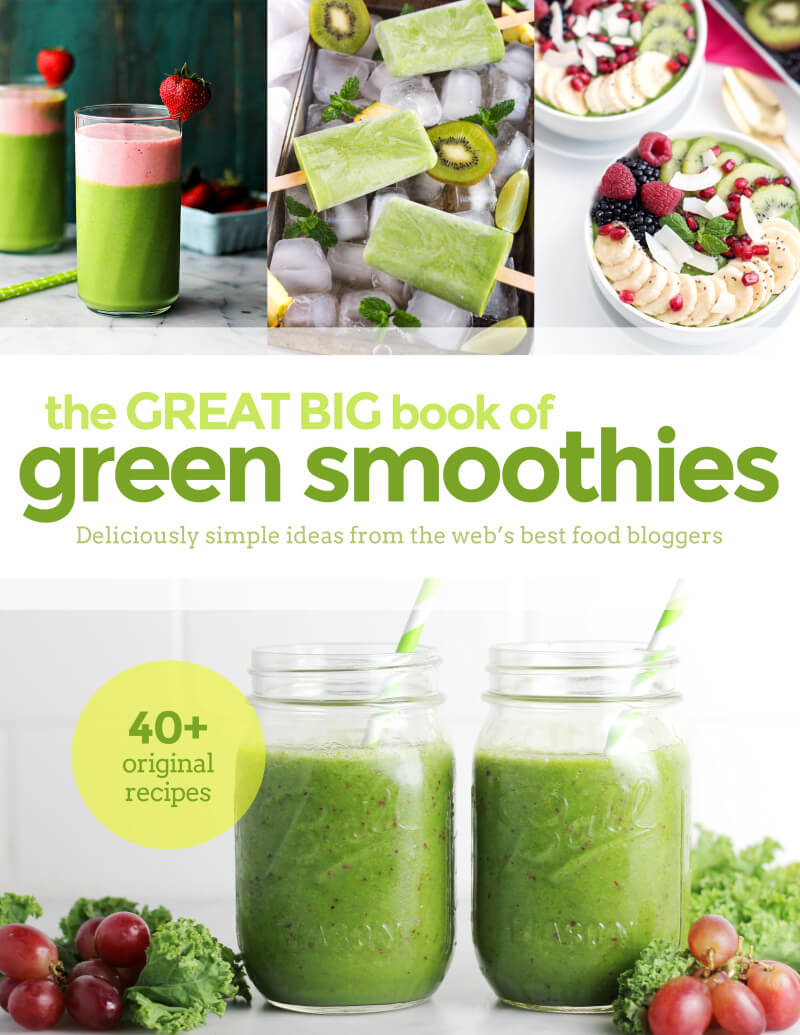 Green Smoothie for Beginners
Prep Time: 5 minutes

Cook Time: 5 minutes

Total Time: 10 minutes

If you're new to making green smoothies, this one's for you! Mild and delicious, a full head of romaine lettuce is hidden inside. With even more nutritional value than kale, romaine packs high levels of folic acid, which has been shown to battle depression and boost reproductive health. Not a bad way to get started with green smoothies, eh?
Ingredients
1 very ripe frozen banana
1 head romaine lettuce
1 cup almond milk
1/4 teaspoon almond or vanilla extract
pinch cinnamon
Instructions
Place ingredients in blender and blend until smooth.
Nutrition Information:
Yield: 1 Serving Size: 1
Amount Per Serving:Calories: 284Total Fat: 5gSaturated Fat: 1gTrans Fat: 0gUnsaturated Fat: 4gCholesterol: 0mgSodium: 65mgCarbohydrates: 56gFiber: 17gSugar: 30gProtein: 10g

Please note that the Calculated Nutrition is an estimate at best.

For 45 delicious recipes that make it easy to get the powerful benefits of leafy greens into your diet
EVERYDAY, try The Great Big Book of Green Smoothies.
Here's a sample of some of the other delicious FIVE ingredient recipes you'll get…
Breakfast Green Smoothies
Kid-Approved Green Smoothies
5-Ingredients or Less
Super Boosted Superfood Green Smoothies
Dessert Green Smoothies
As an added bonus, you'll also get the 7-Day Green Smoothie Detox and 30-Day Green Smoothie
Challenge Tracker, which will help you reboot healthy eating and stick to it!
Click here to get these 45 insanely delicious green smoothies, made just for you by 42 of the best food
bloggers in the world.:
The Great Big Book of Green Smoothies
Happy, Healthy Blending Everyone!
Best,
~Sara
[bctt tweet="The Great Big Book of Green Smoothies eCookBook + Green Smoothie for Beginners (Recipe)"]
DO YOU LOVE GREEN SMOOTHIES? WHAT DO YOU LIKE TO PUT IN YOUR GREEN SMOOTHIES? DO YOU HAVE The Great Big Book of Green Smoothies eCookBook? SHARE IN THE COMMENTS BELOW!
Latest posts by Sara Maniez
(see all)