Print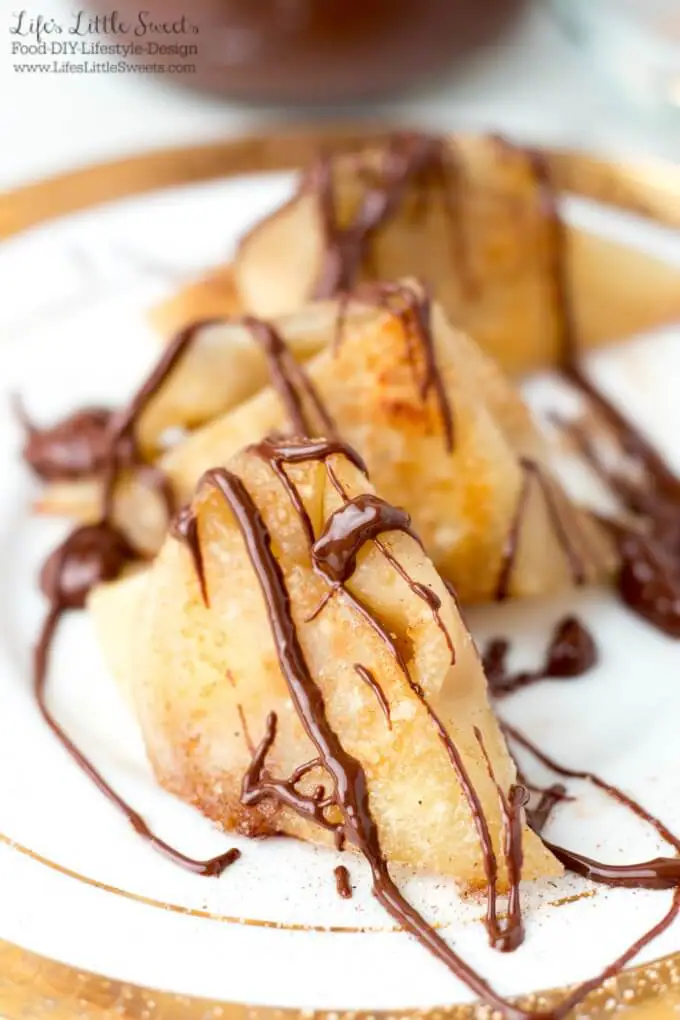 Banana Cinnamon Sugar Dumplings
Banana Cinnamon Sugar Dumplings are a warm, buttery and delicious dessert. So easy to make with only 5 ingredients!
1

ripe banana

cinnamon sugar mixture

(3 tablespoons granulated sugar & 1-1/2 teaspoon ground cinnamon) - for sprinkling in the dumpling before cooking and before serving

2

tablespoons

unsalted butter for frying

(You can substitute the same amount coconut oil for a non-dairy option)

12

ounce

package of square or round wonton wraps

(we use square because that's what's always at our grocery store, I suggest getting an extra package just in case) We use Nasoya All Natural Wonton Wraps (you will not use the entire package)

-small bowl of water for preparing the dumplings

Optional: Homemade Chocolate Shell or melted semi-sweet

, milk or dark chocolate (we use dark chocolate)
Mix the cinnamon and sugar. Slightly mash 1 banana in a small bowl. Prepare the dumplings, the amount you make will depend on how large or small you make them. I suggest using a scant teaspoon per square wonton wrapper. Using your fingers, use water on the edges of the wonton wrapper to adhere the sides of the wonton. Sprinkle a pinch of the cinnamon sugar mixture per dumpling.

Heat 2 tablespoons of unsalted butter in a medium or large skillet, when the butter is melted, fry the dumplings, making sure that they are not touching. Stay close as they cook quickly. Rotate the dumplings as they brown with thongs. Cook them until they are golden brown which is about 3 minutes. Adjust the heat, if necessary, so that they do not burn. When they are done, remove from heat onto a plate, sprinkle with the remaining cinnamon-sugar mixture, as desired. Optional: drizzle with Homemade Chocolate Shell or melted chocolate. Enjoy them when they are warm.