This recipe roundup is all about celebrating the iconic apple pie.  Apple pie is an American classic but it has other iterations in other countries and cultures as well.  Find yourself with tons of apples because it's apple season? Here in New Jersey, the apple season starts September 1st and goes as late as October 31st. Just love a good slice 'o pie any time of the year?  You have come to the right place!  Here are 23 apple pie recipes to show you there's more than one way to make apple pie!
1. Salted Caramel Apple Pie with All-Butter Pie Crust from asideofsweet.com
Yes, you heard me correctly Salted. Caramel. Apple. Pie. with an all-butter pie crust!  Wait! I can't get this hungry at the beginning of the list!  Kelly from A Side of Sweet outdid herself with this lattice-topped beauty of a pie 🙂
2. Caramel Apple Pie from Homemade Food Junkie
Diane and Kayti from Homemade Food Junkie uses coconut oil instead of Crisco which is a much healthier option!  I am a fan of using coconut oil – the stuff has so many uses, especially in baking.  I really like their step-by-step walk through which makes baking a pie seem less daunting!  I have made many apple pies over the last few years but the thought of making one can be a "to do" if you do not make them all the time or haven't in awhile.  I am also interested in the caramel flavor of this pie, especially from the wonderful story that Diane shares in her blog post.
3. Mockapple Crumble from not from a packet mix
Okay, this is not a traditional "apple pie" because it uses Chakos or Chayote, a member of the gourd family.  I've never cooked with them but I always stare at them inquisitively at the grocery store – maybe it's time to try them out with this recipe!  Although, I'm an omnivore, I am very sympathetic to people with dietary restrictions due to many reasons, for example, my husband Eric is lactose-intolerant and I have others in my family who are gluten-free.  I wanted to provide something in this roundup that people with food allergies can eat because this Mockapple Crumble is Low FODMAP, Gluten Free, Dairy Free & Vegan.  Natty from not from a packet mix explains very well about the low FODMAP diet and has a lot of useful information on her blog.
4. Apple Slab Pie with Spiced Glaze from Dinner then Dessert
Going to a gathering? This is the perfect recipe to feed a crowd!  This Apple Slab Pie with Spiced Glaze from Sabrina of Dinner then Dessert looks so pretty and appetizing.
5. Apple Hand Pies from Cooking on the Front Burners
Apple pie on the go anyone?  Here's an individualized spin on the apple pie from Deb of Cooking on the Front Burners.  I can see these Apple Hand Pies in a lunch box, as an afternoon (or anytime for that matter) treat or a yummy dessert (topped with a little vanilla ice cream??).
6. Deep Dish Apple Torte with Walnut Crumble from Raw Revive
Raw food enthusiasts, look here!  Crystal from Raw Revive shared this beautiful torte that is intentionally meant to look like an apple pie.  I feel like it is a pie just in a different form: pie as torte!  It's really unique and beautiful and the photos where it's sliced into really won me over with it's "pie-ness."  Check out her other impressive raw food (and healthy) recipes on her food blog!
7. Italian Apple Pie from An Italian in my Kitchen
I have a sweet spot for all things Italian (and French too!)  when I saw this apple pie I knew I had to include it with this apple pie roundup.  Rosemary from An Italian in my Kitchen also has a Apple Pie Breakfast Turnover recipe which looks so delicious and doable.
8. Open Face Apple Pie from Platter Talk
You've heard of an open-faced sandwich right?  Well this is the Apple Pie version! Dan from Platter Talk ditches the top crust and makes this simple and scrumptious apple pie.  I could see this with heaps of vanilla ice cream, couldn't you?
9. Ambrosia Apple Crumble Tart from The Pretty Bee
This gorgeous Ambrosia Apple Crumble from Kelly of The Pretty Bee looks like the kind of pastry I would want to bring to a gathering of any kind.  It's a nice alternative to a traditional apple pie with a top and bottom crust, this "tart" version has all the fixings to satisfy any apple pie craving!
10. Salted Caramel Apple Pie from Supergolden Bakes
I know, I know, another Salted Caramel Apple pie, but just LOOK at this classic "American mile" high apple pie, there is something special going on here!  I expect nothing less than amazing from Lucy of Supergolden Bakes, she's a real talent.  She outlines very clear instructions in the recipe and even has a step-by-step photo collage which I love.  Her photos and food styling are amazing to boot – what's not to love?
11. Thin Apple Tart from Imagelicious
Yes!  This is what I have been looking for!  I love something that is so simple and not fussy that it almost brings you back in time…this apple tart from imagelicious does that for me.  Those crispy pastry edges and the apple slices with the red skin left on <swoon>.
12. Clementine Apple Tart from Every Nook and Cranny
Jo from Every Nook and Cranny shared this splendid Clementine Apple Tart.  I think the addition of citrus is a fresh spin on apple pie and I love the cute apple cutouts she added to her pie.  Loving the photos in her post…they make you feel like you are right there baking along side her in her kitchen.
13. Apple Berry Mini Pies from Kevin is Cooking
Apple Berry Mini Pies – YEAH!  This is what pie-eating is all about!  Look at that red-berry-apple-goodness running out of those holes in the top crust which is sprinkled with sparkling sugar!  Kevin also has a Rhubarb Apple Hand Pie recipe that looks crazy-amazing too!
14. Pink Apple Tart from Daisy at Home
It's just. so. pretty.  Sarah from Daisy at Home shares this beautiful PINK apple tart and before it's cut – it looks like a rose <sigh>.  I love the romance.  I pinned that image to my Apple Dessert Recipes board along with her Apple Pear Tart recipe.
15. Baked Apple Pie Chips from My Food Story
I wanted to include this one from Richa of My Food Story because it's so clever.  Pieces of apple pie that you can dip into a sauce – genius!
16. Apple Pear Tartlets from Flour and Fancy
Apple pie in miniature, so cute and delicious!  Callie from Flour and Fancy came up with an excellent alternative to the traditional apple pie.  And an FYI to pumpkin lovers, she also had some yummy pumpkin recipes (Pumpkin Spiced Bread and Pumpkin Flax Granola) which I pinned to my Pumpkin Everything board.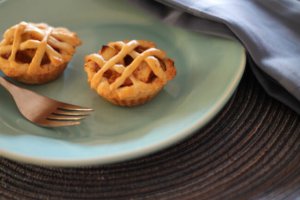 17. Salted Caramel Apple Tartlets from Platings and Pairings
These apples have been turned into sweet roses.  Wouldn't this make a great entertaining idea?  These Salted Caramel Apple Tartlets from Platings and Pairings are so gorgeous.
18. DIY Apple Pie Spice from A Saucy Kitchen
If you are making an apple pie you should have some apple pie spice on hand!  Here's a great Apple Pie Spice DIY from A Saucy Kitchen.
19. Grandma's Apple Pie from Tina's Cookings
How about apple pie in bar form?  Tina from Tina's Cookings shares her Grandma's Apple Pie recipe, and we thank her for it!
20. Autumn Harvest Apple Pie from kavey eats
I love the cutouts on this pretty classic apple pie.  Imagine being the hero taking this lovely pie from kavey eats to your next dinner or holiday gathering.
21. Brown Bag Apple Pie from Suitcase Foodist
This Brown Bag Apple Pie is easy, peasy, lemon, squeezy (does anyone say that anymore?).  Check out the awesome video on the press page of Suitcase Foodist.
22. Apple Crumble Shortbread Pie from My Sweet Mission
This is the pie version of apple crumble, oh yum!  If you are a shortbread lover, this pie is for you because the crust is shortbread not to mention it combines a few of her delicious recipes.  I am a shortbread fan, so this pie gets my vote.  Heather from My Sweet Mission also has an Brown Paper Bag Apple Pie which I pinned to my Apple Dessert Recipes Pinterest Board.
23. Apple Meringue Tartlets from Franglais Kitchen
Here's a touch of class in the form of meringue topped cinnamon apple tartlets from Nazima and Pierre of Franglais Kitchen.
I created the board Apple Pie Desserts on Pinterest and pinned every single one of these recipes to it, I invite you to check it out here:
Follow Life's Little Sweets's board Apple Dessert Recipes on Pinterest.
 Note: All photos and links in this post have been obtained with prior permission from their owners.
I want to thank these talented bloggers for sharing their amazing recipes with me to bring to you. THANK YOU!
If you liked 23 Apple Pie Desserts, see also:
Oatmeal Raisin Cranberry Cookies
Be sure to sign up for the Life's Little Sweets e-mail newsletter for more updates and FREE recipes!
Latest posts by Sara Maniez (see all)