These Oatmeal Raisin Cranberry Cookies are wholesome cookies and though they have two kinds of sugar, they also have oatmeal, raisins, and cranberries which are good for you.
Estimated reading time: 12 minutes
Oatmeal Raisin Cranberry Cookies
Hi Everyone, these make a tasty breakfast with coffee or take a few, on the go, for a snack.
For a simple and satisfying dessert, have them on their own or perhaps in a bowl with some whipped cream or vanilla ice cream.
Ingredients
1/2 cup (1 stick) PLUS 6 tablespoons butter, softened, I prefer really soft, room temperature butter
3/4 cup dark brown sugar
1/2 cup granulated white sugar
2 large eggs
1 teaspoon pure vanilla extract
1-1/2 cups all-purpose flour
1 teaspoon baking soda
1 teaspoon ground cinnamon
1/2 teaspoon Kosher salt
3 cups old-fashioned oats
1 cup of (organic) raisins
1/2 cup of dried cranberries, reduced, or no sugar
Helpful Kitchen Tools
stand mixer
measuring spoons and cups
mixing bowl(s)
silicone baking mat or parchment paper
rimmed baking sheets
cookie scoop
wire baking racks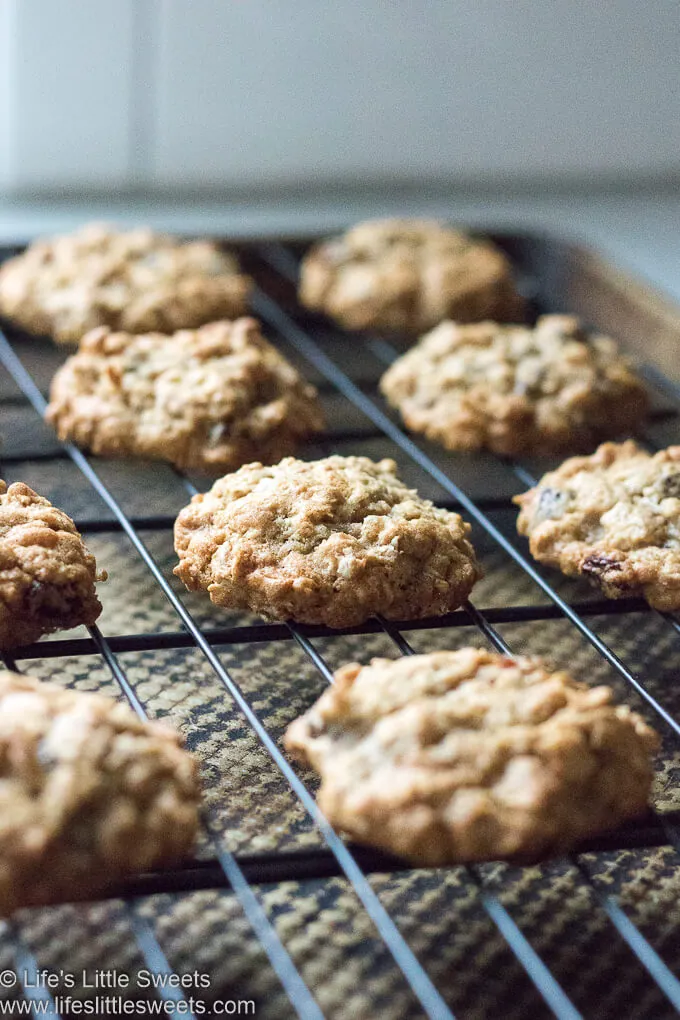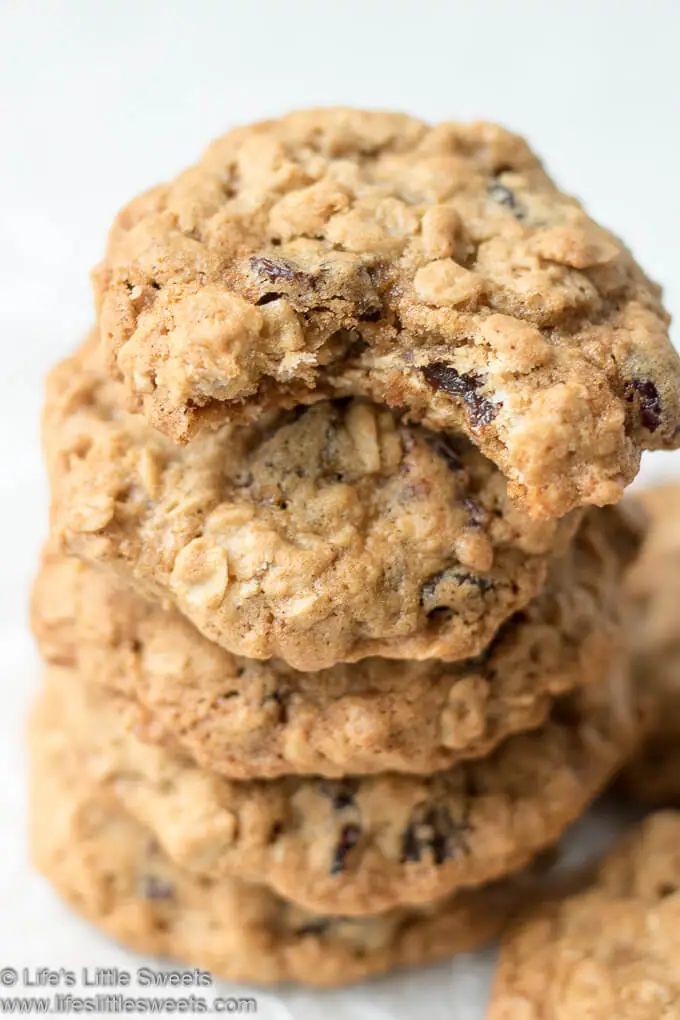 These cookies are one of the most requested baked goods I make.
When I make them, I often double the recipe.
There have been times when I doubled the recipe, then ended up making another double batch the next day!
And no, I do not eat them all myself, I share them with my friends and family.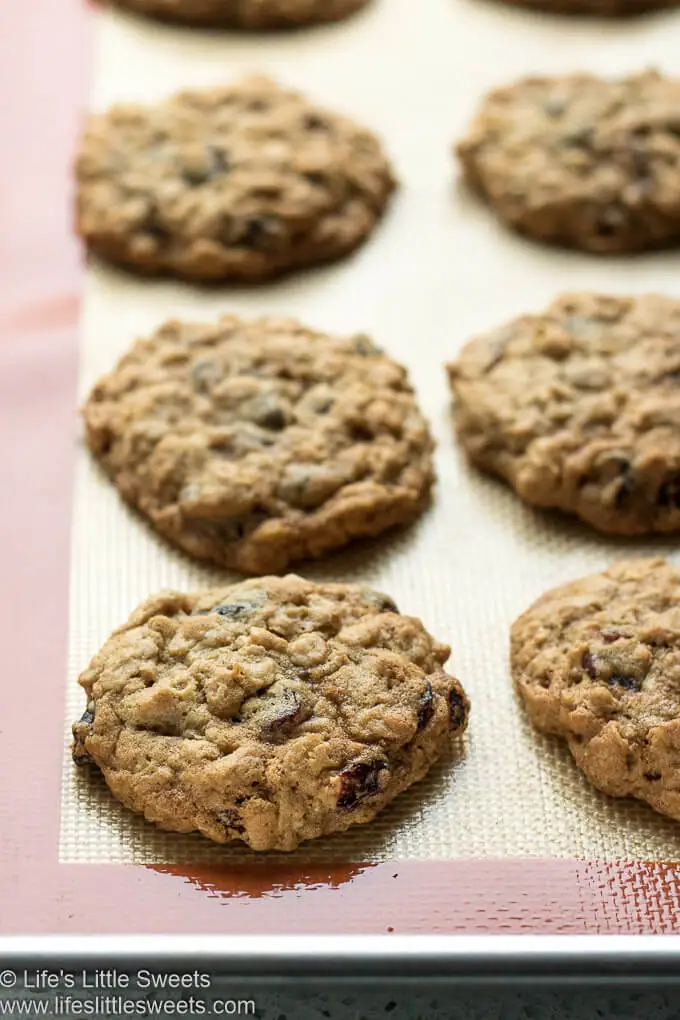 All the flavors in this cookie work together nicely, the sweetness of the raisins, the tart of the cranberries, the caramel tones of the brown sugar, the warmth of the cinnamon and just the little hint of salt, swirls around and when you finish one, the memory of it makes you want to try another and another.
Recipe Tips
I use an OXO Good Grips Medium Cookie Dough Scoop for getting perfectly rounded scoops of dough and it results in nicely shaped cookies when they are done baking.
I have tried two other cookie dough scoops (both of which broke) and this one is sturdy, well made, and comfortable to use.
Using a cookie dough scoop cuts down on mess, reduces "cookie spread" and gives you better-looking cookies.
• For the vanilla extract, I use Frontier Co-op Organic Vanilla Extract or Homemade Vanilla Extract.
• For the all-purpose flour, I used Hodgson Mill, Non-GMO Project Verified Flour (Learn more about the Non-GMO Project Here)
• For the ground cinnamon, I use Spice Islands Ground Cinnamon (Saigon cinnamon)
• For the salt, I prefer to use Morton Kosher Salt

Step-By-Step Photos for Oatmeal Raisin Cranberry Cookies
Here are some step-by-step photos for these cookies (the full, printable directions are in the recipe card at the end of the post):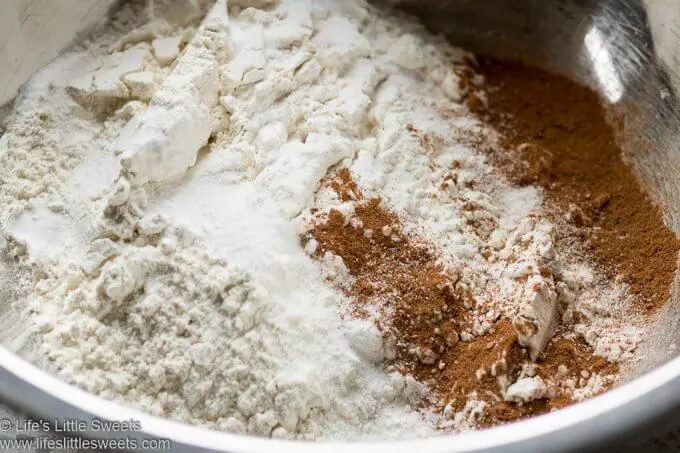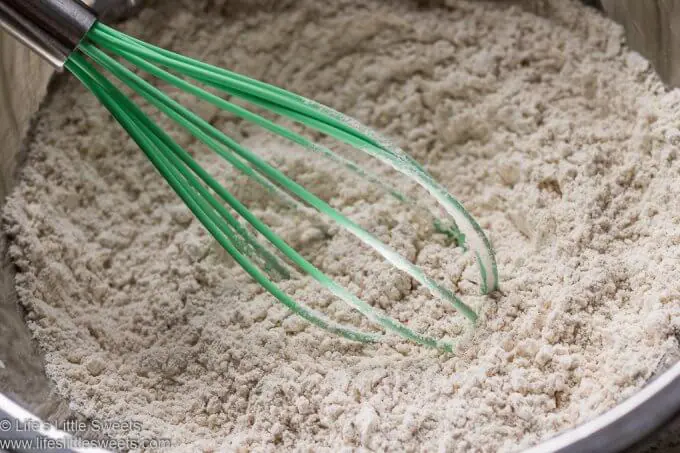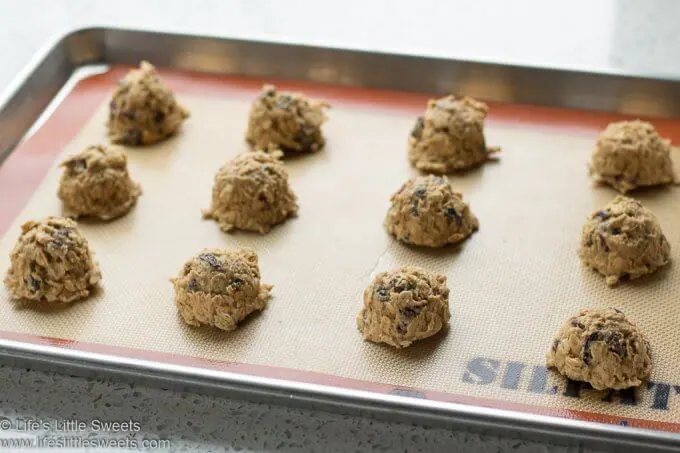 If you make these Oatmeal Raisin Cranberry Cookies and like them, please give them a rating in the recipe card below and let us know in the comments at the end of the post.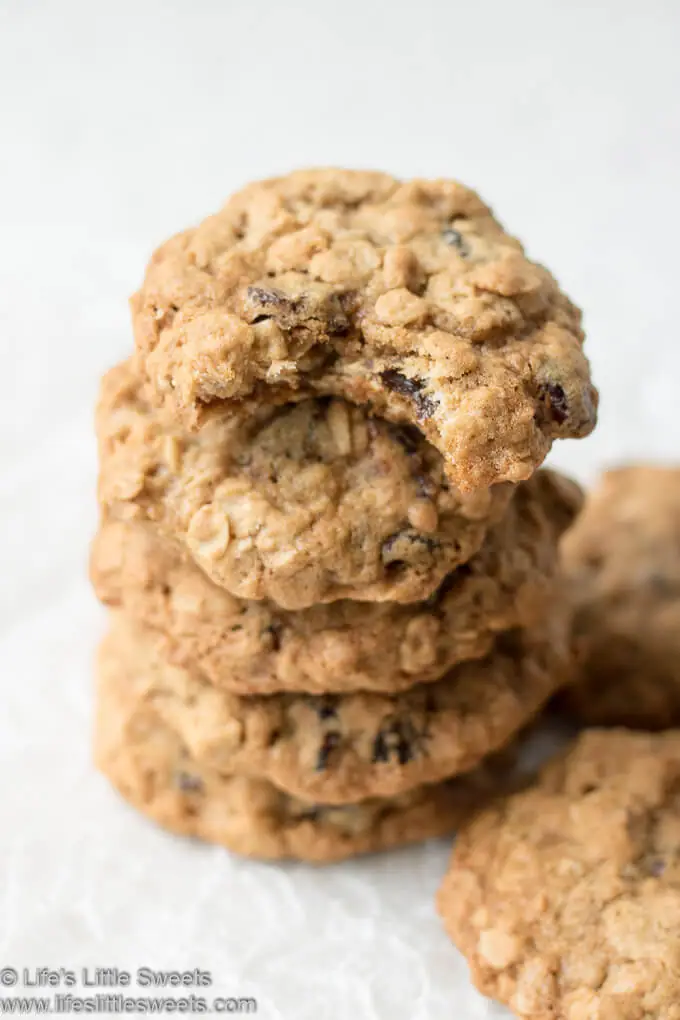 Recipe Notes, Alternatives, and Thoughts:
Try adding 1/2 – 1 cup of chopped nuts, walnuts compliment the flavors in this recipe.
Try adding 1/2-1 cup of semi-sweet chocolate chips, however, this makes it a completely different cookie.
Try adding 1 -2 tablespoons of freshly ground flaxseed or stabilized flaxseed with the dry ingredients.
I have found in the many times making this recipe, that it is best not to overwork the dough; mix the ingredients until combined but, no more, or you will end up with flat cookies!
When scooping the dough, you might have extra after putting 12 scoops on 2 sheets, just bake the cookies and do another set with the remaining dough. If you make the cookies larger, it will add baking time. Be sure to check on the cookies when they are close to being done – burnt cookies are no fun!
You can use a cookie dough scoop to make perfect scoops of dough. This method can cut down on mess, allowing you to keep your fingers from having to handle the dough. A rounded tablespoon measure works just fine though!
You can refrigerate the dough 1/2 hour to 24 hours to make it easier to handle and hold it shape better resulting in more rounded cookies, if you do this, make sure to add 1-2 minutes to the baking time since the dough will be cold. Having the dough already prepared can help if you want to plan ahead to bake them for a party/event.
I usually bake 10 minutes but timing will depend on individual ovens; 10 minutes yields a chewy, yet not undercooked cookie. My Husband prefers them crunchy, so when I know he will be having some, I will bake one of the sheets 12 minutes.
This recipe does not rely on exact measurements of ingredients to work, in my experience it has been pretty forgiving, so you can make make changes where you want to or if you are just short of something or want to dial up a certain ingredient, for example, if you don't like cinnamon, just omit it or if you love the cranberries, add some more. Just be aware that the end result might come out different from my pictures and description!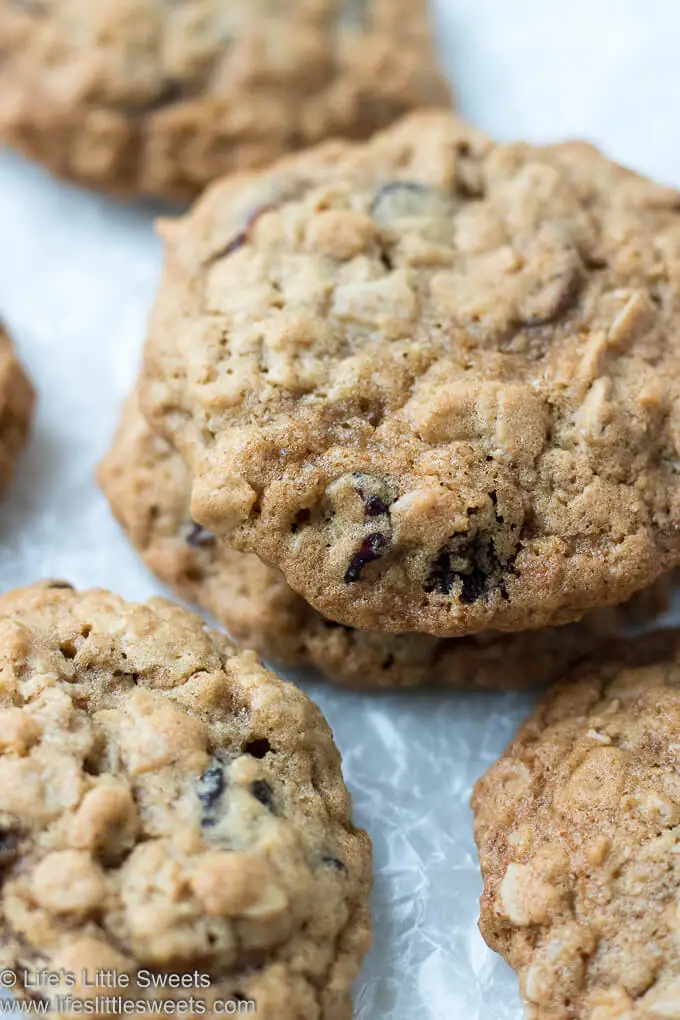 Recipe Attribution
I grew up often having Quaker Oats for breakfast and this version of that recipe was inspired by "Vanishing Oatmeal Raisin Cookies."

Latest Posts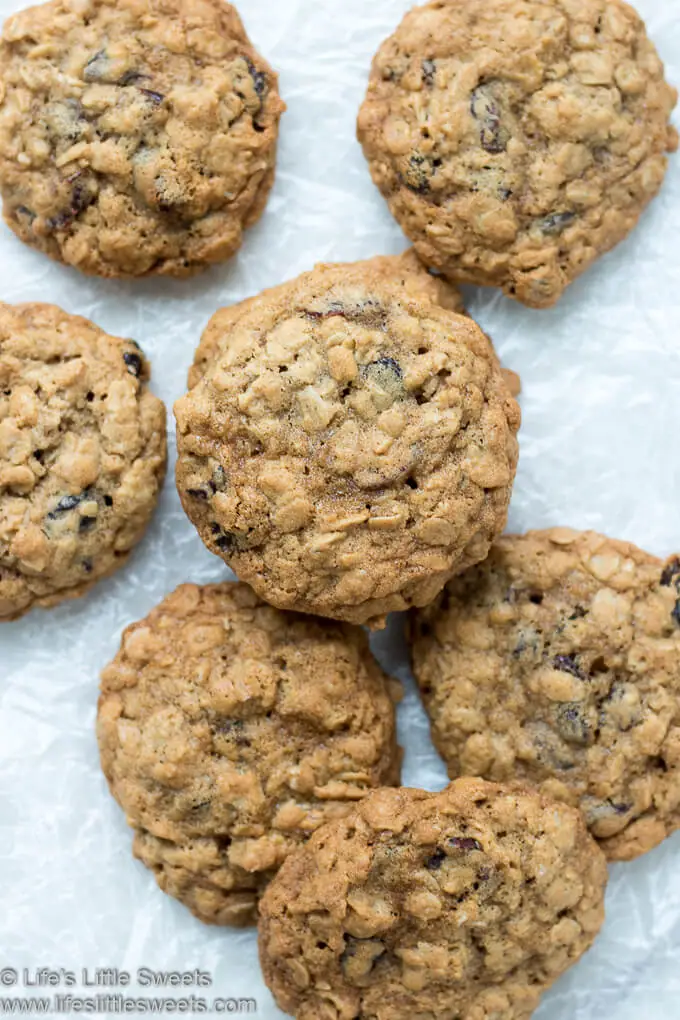 If you make "Oatmeal Raisin Cranberry Cookies" and post a picture on social media, be sure to #lifeslittlesweets and link back to the post, thank you in advance!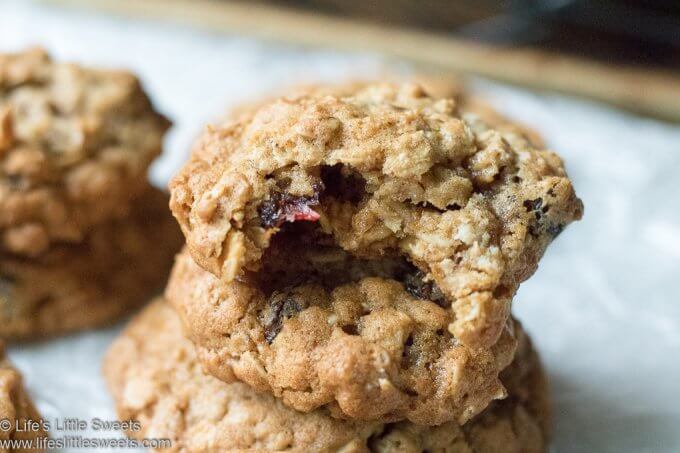 Thank you for reading and following along!
This is a photo(s) from before I redid the photos: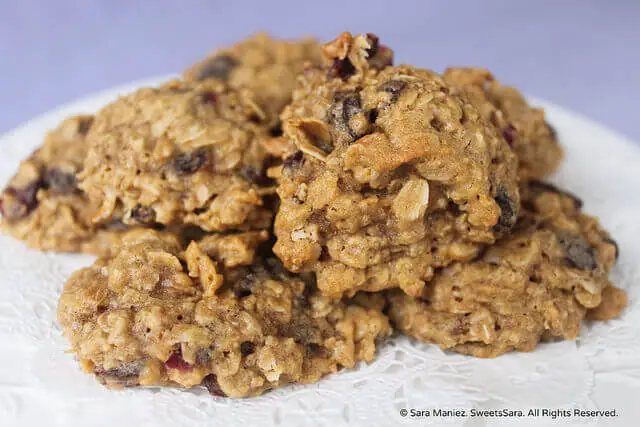 How to Make This Recipe without No Stand Mixer (Video)
I have included a video showing how this is made without a stand mixer. The key when not using a stand mixer with this recipe is to make sure that the ingredients are fully incorporated.
(This post was originally published on 3/24/2015 and updated with new photos and republished on 1/14/2020, updated 1/20/2021, No Stand Mixer Video Added on 2/12/2022)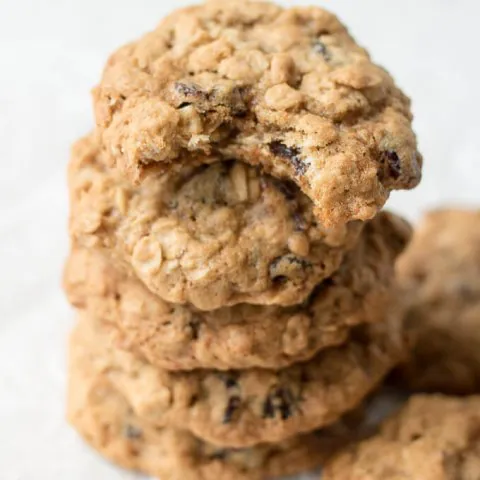 Oatmeal Raisin Cranberry Cookies
Cookies are wonderful because, much like cupcakes, they are individual - without any fussiness. These Oatmeal Raisin Cranberry Cookies are wholesome cookies and though they have two kinds of sugar, they also have oatmeal, raisins, and cranberries which are good for you.
Ingredients
1/2 cup (1 stick) PLUS 6 tablespoons butter, softened, I prefer really soft, room temperature butter
2 large eggs
Instructions
Note: All the ingredients, including the eggs, should be at room temperature before starting this recipe. Preheat oven to 350 degrees Fahrenheit. In a large mixing bowl, beat the softened butter, brown sugar, granulated sugar, on medium speed until creamy.
In a small mixing bowl, combine flour, baking soda, cinnamon and salt. Mix well.
Add combined dry ingredients incrementally to creamed butter mixture, mix well.
Add 2 eggs and vanilla extract and mix well. Add oats, cranberries and raisins and mix well.
Using a rounded tablespoon measure, scoop rounded scoops onto two parchment-lined cookie sheets. *Using the OXO cookie scoop, I get about 31-41 cookies, depending on how generously I am scooping. Bake 8-10 minutes, or until lightly browned.
Cool for 1 minute on the cookie sheets, then remove to wire rack to cool completely. Store in an airtight container - if there are any left to store!
Recommended Products
As an Amazon Associate and member of other affiliate programs, I earn from qualifying purchases. #CommissionsEarned #ad
Nutrition Information:
Yield:

30
Serving Size:

1
Amount Per Serving:
Calories:

137
Total Fat:

4g
Saturated Fat:

2g
Trans Fat:

0g
Unsaturated Fat:

1g
Cholesterol:

20mg
Sodium:

106mg
Carbohydrates:

25g
Fiber:

1g
Sugar:

13g
Protein:

2g
Please note that the Calculated Nutrition is an estimate at best.
Latest posts by Sara Maniez
(see all)