This shop has been compensated by Collective Bias, Inc. and its advertiser. All opinions are mine alone. #NurseryMusts #CollectiveBias
DIY New Mom Care Package – Mother's Day Alert!
Looking for gift ideas for a "New Mom" in your life?
Look no further!
She's already had the baby shower and the baby has everything they need, now it's time to give a gift with the mommy in mind.
Read on below to see some great package decor and 10 gift ideas for a New Mom!
Estimated reading time: 8 minutes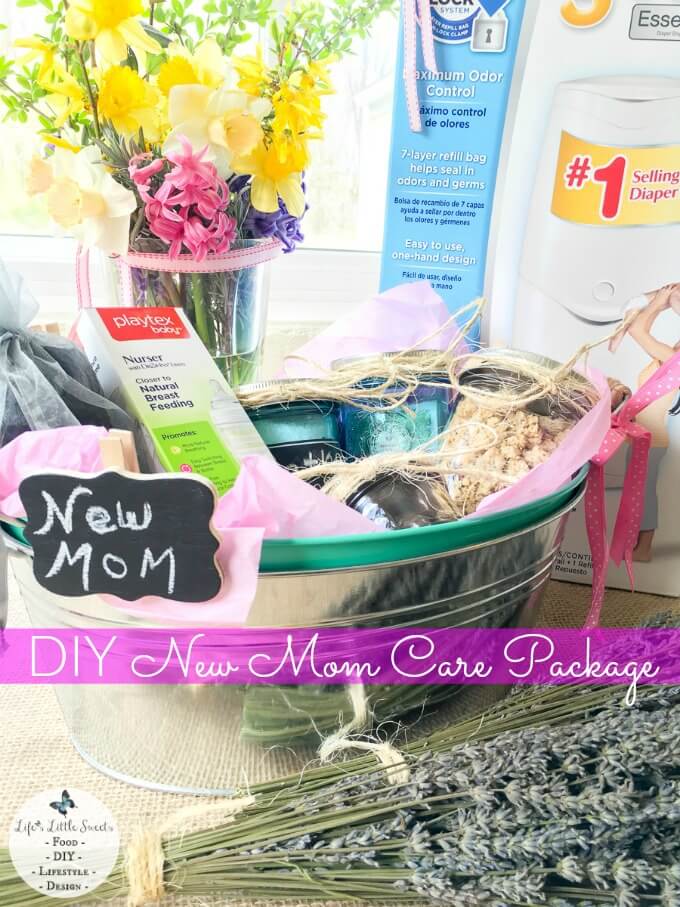 DIY New Mom Care Package
Hi Everyone, at the end of this month, it will be 2 years since I became a "new" mother and when I think back to those early days, whenever someone would do something to personally help me with my mom duties, cleaning or cooking – I was SO super grateful.
There's a lot of new experiences when you become a new mom and with all those "firsts" may come to some stress because even though it is an amazing experience and there are so many feelings, all these new things can be overwhelming and tiring at times.
Check out my list below of what I included and why this DIY New Mom Care Package.
Care Package Decor Ideas
Use natural twine to make bows
A mesh/fabric/tulle sachet bag can hold gifts
You can use tissue paper the color of the baby's gender or the New Mom's favorite color
You can include a soft, plush towel in place of or in addition to the tissue paper (see further below to see why I suggest a towel!)
Use mason jars of all sizes and colors to hold treats and gifts instead of regular packaging, giving this care package a homemade, custom feel
Delight the senses by including gifts that she can taste/eat, smell, feel – just make sure it's something you know she will enjoy.
Have a touch of practical about the gifts, include things that can be reused
Being a resourceful mom/person, I always keep a nice ribbon in a tin to reuse for decor or gifts, you can use ribbon for pops of color in your care package
Use reusable chalkboard labels for labeling jars and items; this gives a feel of homemade and New Mom can reuse them later.
See below what I included in this DIY New Mom Care Package!
DIY New Mom Care Package
Dark Chocolate Covered Almonds
Dark chocolate has antioxidants, right?
And Almonds are a heart-healthy snack, give your new mom care package recipient a healthy dose of chocolate.
I opened the package and poured them into a glass mason jar, then wrapped it with twine and tied it with a bow.
2 Oval Metal "Wash Bin" Style Containers with handles
I doubled up 2 different colors to give a pop of color (having the mint one on the inside) and giving the package the feeling of abundance.
This way New Mom can use them for sorting New Baby's laundry or organize toys or whatever she wishes to use them for!
Dried Lavender
This is apart of the "delight the senses" tip I gave above.
Lavender is soothing and relaxing.
My family grows lavender and we keep a lot of dried lavender around.
Fresh Cut Flowers
Also, part of the "delight the senses" category.
Special thanks to my Mother-in-Law, Linda, for making the flower arrangement in the photos above.
The flowers can be store-bought or in this case, picked right from your yard/garden.
Playtex Nursery with Drop-Ins Liners
It is key to have 1 or several good bottles on hand, there will come a time when New Mom will need to get out and get some time to herself, maybe to run an errand, get her nails done, maybe run a 5K (not me but some might!), take a walk or for when she needs to return to work, there needs to be a way for New Baby to feed and these bottles have convenient drop-in liners.
The Playtex Nurser with Drop-Ins Liner's bottles is closer to natural breastfeeding which is nice and apparently, it simulates the same suck, swallow, and breathing patterns as breastfeeding which would certainly reassure me if I was away from my baby.
Knowing that one's baby is comfortable and content is so important!
I also want to mention, as baby feeds, the soft disposable liner inside the bottle gently collapses (like the breast does naturally when breastfeeding) to prevent air from mixing with the milk and getting into the baby's tummy – this air-free feeding helps to reduce colic – I haven't seen another baby bottle with this thoughtful and functional design.
Healthy Granola
I picked out yummy healthy granola because New Mom needs nourishment and snacks in between meals, snacking on something like granola is a good choice to have on hand.
I poured it into a large mason jar that she can reuse when it's empty.
Diaper Genie
When you are by yourself changing a diaper, you can't leave a baby to walk outside and dispose of said diaper.
That's where the Diaper Genie comes in!
Just put the diaper in the 7-layer bag to keep odors away (along with a built-in carbon filter), which is easily accessible with a foot pedal, and then it's back to cuddles with New Baby 🙂
It holds up to 270 diapers!
New Mom's Favorite Tea
Find out what New Mom's favorite tea is – or coffee, or both – and include it.
There's nothing like a hot cup of tea or coffee while the baby is napping, now that's giving New Mom her "me" time!
I took the tea bags out of the packaging and put them in a pretty blue-colored mason jar, which keeps it fresh.
Black (or colored) Fabric Headbands
There's nothing more annoying than hair in your face when you are trying to do something.
In those early months, soon after having a baby, it might be hard for New
Mom to go get a haircut or she could use them for her workout or just to get the hair out of her face while she's tending to the New Baby.
Epsom Bath Salts
Get a container of Epsom salts, and a mason jar, pour the Epsom Salts into the mason jar, perhaps add a few drops of Lavender oil or a scent that you know New Mom would like, preferably something soothing, calming, and relaxing.
After New Baby has gone to bed (hopefully) or while New Dad or a relative is tending to New Baby, perhaps New Mom can take a nice, long soak in the tub with these soothing salts.
Although completely natural, having a baby can be really tough on one's body, give New Mom some encouragement to take care of herself by giving these thoughtful gifts 🙂
Now you understand why I mentioned giving a soft, plush towel as another possible gift!
Below is a photo collage showing where exactly at Target I found the Playtex bottles and Diaper Genie.
Most of the items in this DIY New Mom Care Package (save for a few that I already had at my house) were from Target.
It is really a one-stop-shop for baby needs and the #1 for baby registries too.
I wanted to share a post on this topic for a LONG time – this is a subject near and dear to my heart – being a mom myself and knowing so many moms.
I hope you enjoyed my DIY New Mom Care Package and it gives you some ideas for a New Mom you know of in your life!
Share this with anyone you think might be interested, I hope more New Moms out there get the love and recognition (and pampering!) they deserve!
Latest Posts
Latest posts by Sara Maniez
(see all)