Rosewater: This post originally appeared on the bMAKER blog as How to Make Rose Water.
Rosewater – You can learn how to make rose water! Beautiful, delicately floral-scented rose water for cooking, beauty products, and an infinite number of DIYs (heat and steam method).
Estimated reading time: 6 minutes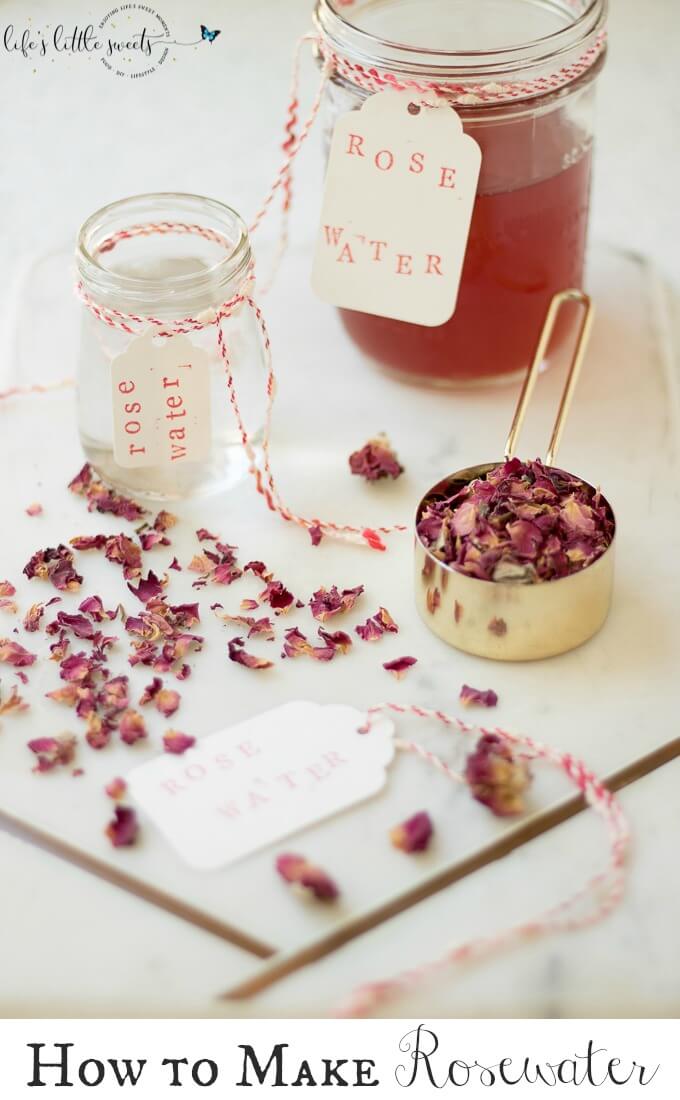 How to Make Rosewater
Hi Everyone, have you ever wondered how to make rose water?
Personally, I have always loved the scent in soaps and perfumes, and it's amazingly easy to make at home in your kitchen.
There are two ways to make rose water, the heat method (also called the simmer method) on the stovetop and the steam method (also called the distill method) which can also be done on the stovetop.
Uses for Rose Water
There is an infinite number of uses for rose water.
You can use it in recipes wherever water is an ingredient that would instantly add a lovely, delicate rose-fragrance to any recipe.
This would be perfect for drinks, cocktails, or dessert.
Rosewater is known as a mood enhancer, you can mist it on your bed linens before bed or add it to your bathwater.
"Heat" Method shown on the left and the "Steam" Method shown on the right (above).
Heat Method Vs. Steam Method
The heat method makes rose water by simmering it over a heat source.
You essentially make a rosewater "tea" and strain it through a filter or cheesecloth.
The rose water comes out more colorful (as shown in the photos) and I found that you get a greater quantity faster.
I would use the rose water from this method for use in recipes.
The steam method makes rose water by distillation (making it a hydrosol).
It works also over a heat source and has a slightly more complex setup.
You boil the rose petals and water and in a bowl (raised up above the liquid) you collect the rose water from the vapor of the roses and water.
The vapor collects in the bowl when the steam hits the lid which is inverted so that the droplets form and dip down into the bowl.
It helps to put ice or ice packs on the top of the lid to get the droplets to form more effectively.
The rose water is clear or nearly clear when using this method. It takes at least 30 minutes or longer to get a usable amount.
It lasts up to 6 months when stored in a dark-colored glass container with a lid.
I would use the rose water from this method for beauty products since it lasts longer.
Ingredients
1/4 cup edible (food grade) dried rose petals
1 1/2 cups distilled water

Kitchen Tools
saucepan (with lid)
cheesecloth to strain or a paper filter (what I use)
funnel
a container or wet measure to collect the rose water as it's being filtered
amber or cobalt blue glass spray bottles (16 ounces)
Helpful Kitchen Tools for (Steam Method)
lidded tall pot with a curved lid (it's great if it has a clear lid so you can see how the droplets are forming or if you need to switch out the ice)
something to raise the bowl up from the water and rose petals, this could be a grate, a vegetable steamer (what I use with the middle unscrewed) or a small metal colander turned upside down
a small metal bowl for collecting the rose water.
ice
Let me know what you use rose water for in the comments below!
If you make this recipe, and like it, please give it a rating in the recipe card below and let us know in the comments at the end of the post.
Check out our Recipe & DIY indexes, visit our Home page to view our latest posts & categories, visit our Blog page to see our posts in consecutive order and, our Shop to see our favorite kitchen tools!
Thank you for reading and following along!
Web Story
Latest Posts
This post was published on 7/29/2018 and updated and republished on 12/5/2018, 2/27/2021, 7/29/2021
How to Make Rosewater
How to Make Rosewater – you can make this beautiful, delicately floral-scented rose water for cooking, beauty products, and an infinite number of DIYs (heat and steam method).
Ingredients
heat (simmer) method
steam (distill) method
Instructions
Heat Method
Combine 1/4 cup dried rose petals with 1/5 cup distilled water in a small-medium saucepan.
Bring to a boil and then reduce to a simmer, simmer for 5-10 minutes, or until the petals are nearly colorless. Remove from heat.
Put a funnel over a jar (if storing, use a dark-colored glass jar with a lit/cap), place cheesecloth or filter (I use a No. 4 coffee filter). Pour the rosewater over the filter to separate out the rose petals.
Steam Method
In a tall, large pot, put dried rose petals and water in the bottom. Place a vegetable steamer with the center unscrewed (you can also use an upside-down small colander, brick, or something that's heat-safe that will make a platform for the small metal bowl.
Place a small metal bowl on top of the platform.
Place the lid concave so that the dome of the lid is pointing down, allowing the steam to collect and drip into the bowl. Bring to a boil and reduce to a simmer. Simmer for 30 minutes or longer, depending on how much rose water you want, add water if the level gets low.
When the desired amount is distilled, place a funnel over a heat-safe jar, and using oven mitts, add the rose water to the jar. Allow the rose water to cool completely, you can use it right away or store it in a dark-colored glass container in the refrigerator for up to 6 months.
Nutrition Information:
Yield:

1
Serving Size:

1
Amount Per Serving:
Calories:

308
Total Fat:

0g
Saturated Fat:

0g
Trans Fat:

0g
Unsaturated Fat:

0g
Cholesterol:

0mg
Sodium:

175mg
Carbohydrates:

14g
Fiber:

0g
Sugar:

14g
Protein:

1g
Please note that the Calculated Nutrition is an estimate at best.
Latest posts by Sara Maniez
(see all)