2017 Garden Goals – I am sharing my 2017 Garden Goals and there are many; this is the year that I am going to get all those garden plans I've been thinking about done. Check them out below!
Estimated reading time: 8 minutes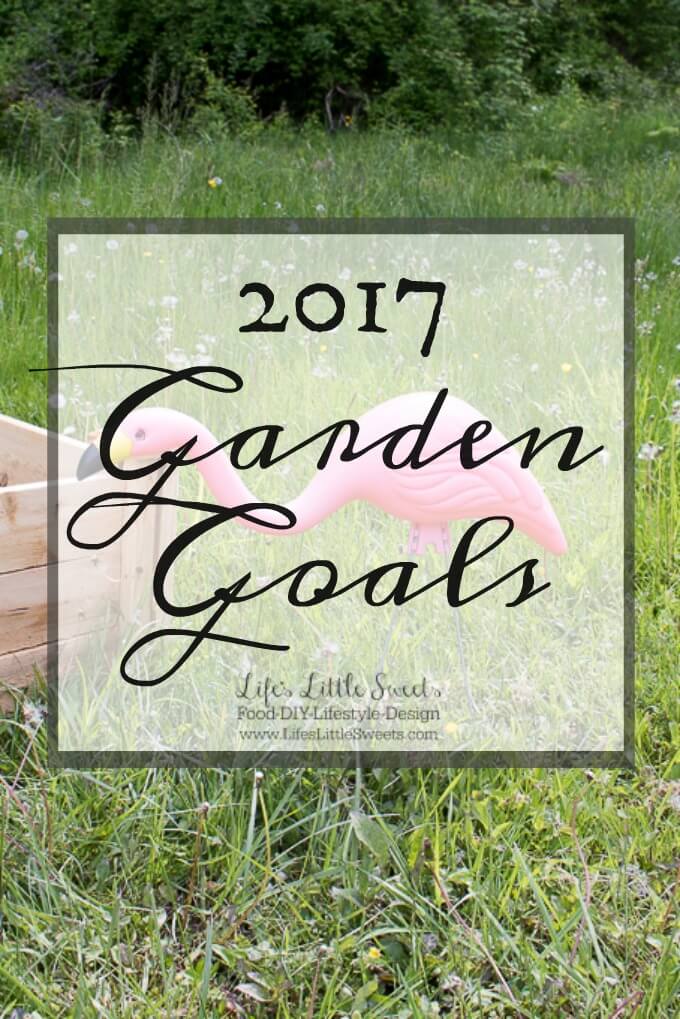 This post may contain affiliate links which won't change your price but will share some commission.
2017 Garden Goals
Hi Everyone! It's good to set goals?
I want to share my 2017 Garden Goals.
We have been in our house for over 3+ years now.
#1 – Plant the Raised Garden Bed(s)
I recently ordered this raised garden bed from Amazon Prime (Greenes 4 Ft. X 8 Ft. X 10.5 In. Cedar Raised Garden Bed):

My daughter and I easily 
assembled this raised garden bed together a couple of weekends ago and we placed it in an area that we think we want it.
We still need to order a soil delivery, get organic vegetable and herb plants, and fence in the area with deer fencing.
This year, I don't think we will do any permanent fencing because I may want to modify or expand the footprint after this first year depending on how things go.
So for 2017 deer net and metal stakes, it is with some sort of gate!
Vegetables & Plants we would like to plant
Heirloom tomatoes
grape tomatoes
green peppers
beans
berries (maybe strawberries, blueberries)
parsley
cilantro
squash
salad greens
Cucumbers
Zucchini
I may change this list later…
#2 – Implement this book ⇒ All New Square Foot Gardening II: The Revolutionary Way to Grow More in Less Space


I ordered this book recently and it comes highly recommended by a gardening radio show I listen to, You Bet Your Garden which I mentioned here.
#3 – Implement a Better Compost Solution
Do you compost? What do you do?
Tell me what works.
We have a compost pile but it's not that organized or managed and thus, does not produce golden dirt for us.
I would like to set this up this Summer and have it in place to hopefully by future seasons we can start having our own wonderful compost.
I'm still researching this one because there are so many things you can do.
#4 – Plant the Herb Garden
We have an area that was the previous owner's garden location that we would like to use for herbs that are deer resistant.
My husband Eric wants to clear and till the area to return it to a state where we can plant it again.
There are some herbs that I added to the above list because I actually had deer at our old home eat, so I want to have those fenced in.
Herbs we would like to plant (I may come back and update this list later):
Rosemary bushes
Lavender (we already have lavender in another area of our yard and may transplant them to this area)
Mint
Garlic/Onion/Chives
Sage
Dill
Fennel
Wow, between the veggies and herbs, that seems like a lot!
My garden may have to expand…
#5 – Make it Cozy & Fun
I want our garden spaces to be places that our family wants to hang out and spend our daily hours in.
I want to set up chairs for us to sit in and perhaps add some decor.
My daughter wanted to get a pink flamingo when we were at Lowe's the other day, and I thought, "Hey, why not?"
It's funny and perhaps it will get her interested in gardening with me this year.
I would also love to add a small birdhouse she painted and we can add bird feeders.
She loves when we plant flowers in our planters, so it shouldn't be a problem but this will be the first time she will grow her own edible vegetables and herbs.
It's my hope that she gets interested in trying new foods that we grow as well, so it will be a learning, sensory experience.
Hopefully, I can get to all these garden goals this year.
My major pursuit in making vegetable and herb gardens is so that I can grow edible plants to develop recipes for this blog, so this is really a whole lifestyle commitment that I want to make.
I think our family will save money at the grocery store instead of buying produce and the food we grow will be organic and taste great.
At our old home, I did have a small vegetable and herb garden and it was so wonderful having fresh ingredients a short walk from the kitchen.
I can't wait to have that again and I am sure I will share snippets and updates on the blog and on social media.
Thank you for reading along and checking out our 2017 Garden Goals!
Latest Posts
What are your 2017 Gardening goals? Please let me know in the comments below!
Latest posts by Sara Maniez
(see all)