Estimated reading time: 4 minutes
This chicken bacon ranch cold pasta salad is loaded with everything you love and is the perfect dish to satisfy your cravings for a savory meal in a bowl.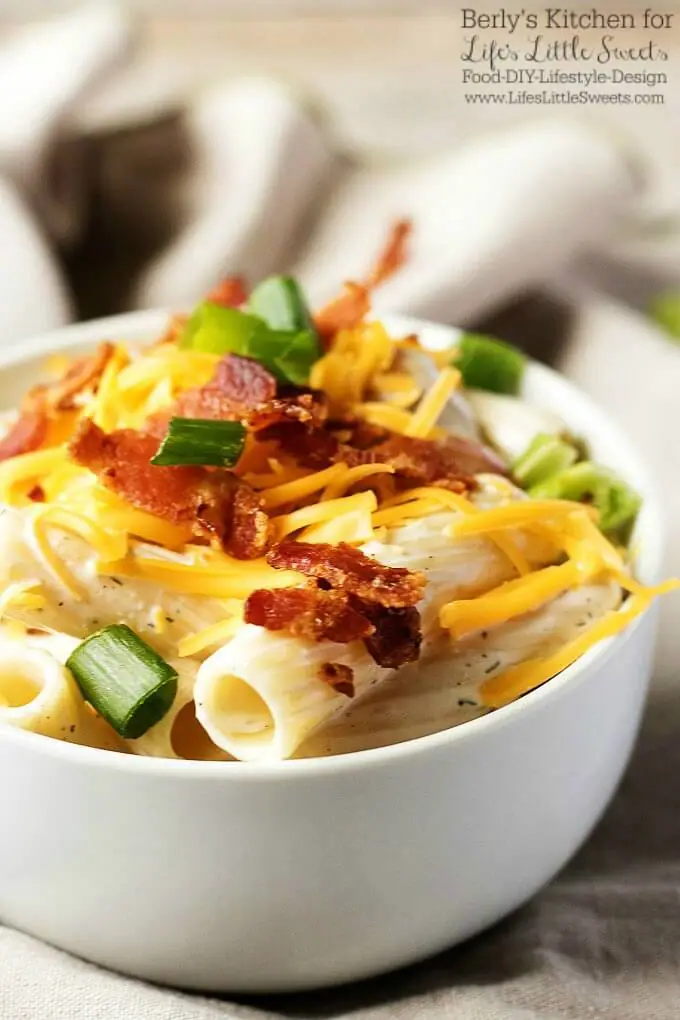 Chicken Bacon Ranch Cold Pasta Salad
I began cooking when I was seven years old.
Not because I had to, but because my father and my grandmother started teaching me those valuable skills at a young age.
They worked hard to help me develop a love for the kitchen and a passion for creating simple, yet delicious meals.
One of the most critical skills they taught me was how to look into my fridge and prepare a meal based on what I had available.
Fast forward to now, and I put that ability to use every day. That's how this recipe was created.
All the ingredients I needed were in my pantry, so it was easy to visualize this dish in my head.
After a little prep work, the pasta salad was born.
The only part of this offering that had to be made from scratch was my ranch dressing.
Now, Berly's Kitchen has an excellent spicy ranch dressing that can be used for this salad.
However, if you have a dressing you prefer, then incorporate it instead.
Also, check out Homemade Buttermilk Ranch Dressing here on LLS.
In fact, the recipe is set up that way for the sake of simplicity.
The same thing goes for the pasta salad noodles.
Gluten-free or wheat noodles can be substituted.
With that being said, I wouldn't use a long thin type, try to avoid stuff like fettuccine or spaghetti.
You need pasta that can hold up to being paired with bacon and chicken without becoming soggy.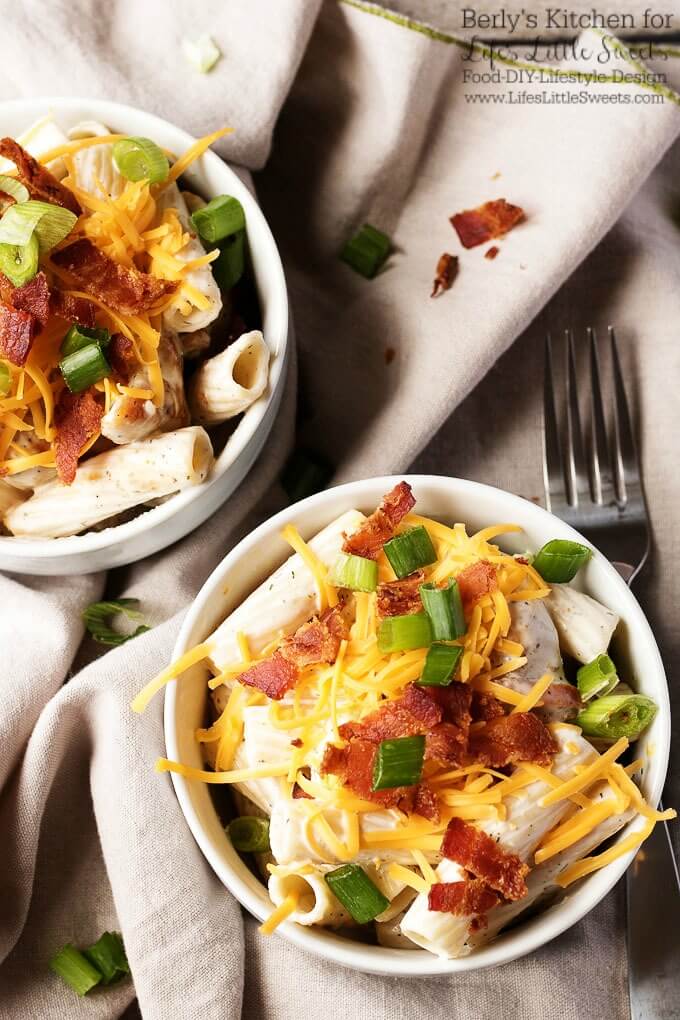 Ingredients
1 lb. of Chicken Breast
4 Slices of Cooked Bacon
2 Ounces of Shredded Cheddar Cheese
1 Cup of Ranch Dressing
2 Cups of Dry Penne
1/4 Cup of Diced Green Onion
Salt and Pepper to taste
Non-stick Cooking Spray
Kitchen Tools
Flat Iron Griddle or Grill
Tongs
Large Pasta Pot
Colander
Large Mixing Bowl
Wooden Salad Spoons
2-4 Serving Bowls
2-4 Forks
Cheese Grater
Chef's Knife
Cutting Board
Sheet Pan
Web Story
Preparing this pasta salad is a simple task.
It takes a little bit of prep work, but the payoff is worth the effort.
Once the bacon, chicken, and pasta are cooked, it's really about tossing everything together in a bowl.
The last little tip I recommend is to give the pasta an ice bath right out of the colander.
Doing so will stop the cooking process.
In closing, I invite you to try this recipe for yourself.
As always, I wish you a long life, love everlasting, and a full belly!
Our Other Recipes and Posts
What's your favorite pasta salad recipe?
I want to know! Please let me know in the comments below!
Latest Posts
Chicken Bacon Ranch Cold Pasta Salad
Total Time:
1 hour
30 minutes
This chicken bacon ranch cold pasta salad is loaded with everything you love and is the perfect dish to satisfy your cravings for a savory meal in a bowl.
Ingredients
1 lb. Chicken Breast, (cooked, chopped)
4 Slices Bacon, (cooked, chopped)
2 Ounces Shredded Cheddar Cheese
1 Cup Ranch Dressing, (store bought or homemade)
2 Cups Dry, Penne Pasta
1/4 Cup Diced Green Onions
Instructions
First, spray a large skillet with non-stick cooking spray and dice the raw chicken. Sprinkle some salt and pepper on the chicken and cook it over medium high heat for 15 to 20 minutes or until the chicken is done. Set it aside for later.
Additionally, cook the pasta per the box instructions. Once done, drain the noodles and place them in an ice bath to suspend the cooking process.
Next, cook the bacon per the package instructions. When it's done, dice it into small pieces and set it aside for later.
Then, shred the cheese or measure out two ounces of shredded cheese from a store bought package. Make sure you have two ounces of shredded cheese in total. Also, go ahead and dice the green onions.
Now, drain the cold pasta and place it into a large mixing bowl. Then, add the ranch dressing, chicken, and half of the bacon. Toss the ingredients thoroughly to make sure everything is combined.
Last, store the pasta salad in your fridge for about 30 minutes to completely cool. Once you are ready to serve it, portion it out and sprinkle the cheese, green onions, and the rest of the bacon on each serving.
Notes
The calories listed are an approximation based on the ingredients in the recipe. Actual calories may vary. Pre-cooked bacon and pre-cooked chicken can be used as substitutes. The pasta salad can be made in advance and can be stored in your fridge in a sealed container for up to three days.
Recommended Products
As an Amazon Associate and member of other affiliate programs, I earn from qualifying purchases. #CommissionsEarned #ad
Nutrition Information:
Yield:

4
Amount Per Serving:
Calories:

678
Latest posts by Sara Maniez
(see all)