Estimated reading time: 6 minutes
This is a classic Fried Dough recipe that can be made right at home with a few basic ingredient staples, like all-purpose flour, baking soda, kosher salt, unsalted butter, and sprinkled with confectioner's sugar, and cinnamon. (no yeast, makes 8 servings)
Fried Dough
Hi Everyone, do you associate summer/warm weather with fried dough as I do?
Well, you're in the right place!
Did you know that Fried Dough is SO easy to make at home in your own kitchen?
What is fried dough?
Fried dough is not to be confused with its close cousin, the funnel cake which is popular in New Jersey and the Mid-Atlantic Region of the United States.
Fried dough is common in New England and it's a food that I grew up with.
It's common to see at county fairs (like the Topsfield Fair!), carnivals, and the beach (like the New Hampshire Lakes Region and Cape Cod!), and is often enjoyed in the summer at food trucks.
According to Wikipedia.com, Fried Dough is:
Fried dough is a North American food associated with outdoor food stands in carnivals, amusement parks, fairs, rodeos, and seaside resorts. 

"Fried dough" is the specific name for a particular variety of fried bread made of a yeast dough; see the accompanying images for an example of use on carnival-booth signs.

Fried dough is also known as fry dough, fry bread (bannock), fried bread, doughboys, elephant ears, scones, pizza fritte, frying saucers, and buñuelos (in the case of smaller pieces). 

These foods are virtually identical to each other and some yeast dough versions of beignets, and recognizably different from other fried dough foods such as doughnuts or fritters.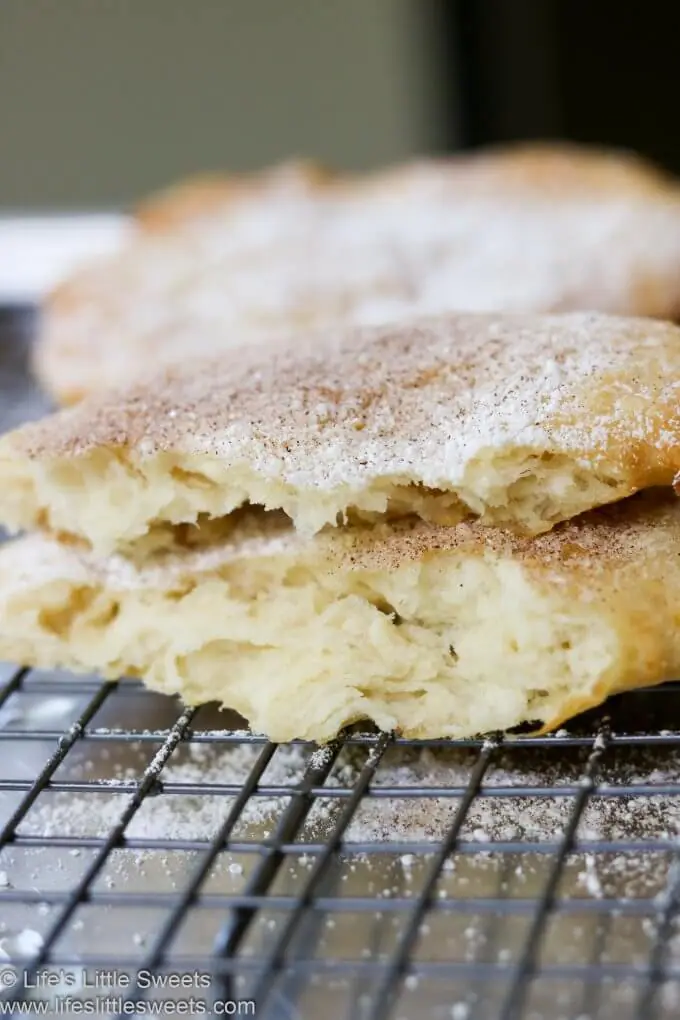 Ingredients
2 cups (241 grams) of all-purpose flour
2 teaspoons baking powder
3/4 teaspoon kosher salt
2 tablespoons (28 grams) unsalted butter, chilled
3/4 cup (170 grams) of lukewarm water
Kitchen Tools
Here are the kitchen tools for this recipe, and all the tools that we use (or similar) are linked (Amazon affiliate links) in the recipe card at the end of the post.
measuring spoons and cups
mixing bowl
pastry blender
large cast-iron skillet
tongs
wire cooling rack
rimmed baking sheet (to insert wire cooling rack), not required, but helpful
paper towels and a plate
How to make Fried Dough
I have included recipe process photos to help guide you through the process of making these cookies.
The full, printable recipe with instructions is at the bottom of the post.
Web Story
Recipe Attribution
Inspired by "County Fair Fried Dough" from King Arthur Flour
If you make this recipe, and like it, please give it a rating in the recipe card below and let us know in the comments at the end of the post.
Thank you for reading and following along!
Latest Posts
Fried Dough
This is a classic Fried Dough recipe that can be made right at home with a few basic ingredient staples.
Ingredients
2 tablespoons (28 grams) unsalted butter, chilled
3/4 cup (170 grams) lukewarm water
Instructions
In a large mixing bowl, add the all-purpose flour, baking powder, and kosher salt. Use a pastry blender (or your clean fingertips) and work in the chilled unsalted butter.
Slowly stir in the lukewarm water, cover the bowl and let it rest for 15 minutes. On a lightly floured pastry mat, using a dough scraper, divide it into 8 equal wedges. Working with 1 piece at a time, roll into a 5-inch, round, and 3/8 thick.
In a large cast-iron skillet, heat the Canola oil (about 2 cups for a 10″ skillet) to 375 degrees F.Using tongs, carefully add each dough disk to the hot oil. Cook it for 60 seconds. Each side should be golden, and light brown. Be careful not to cook them too long, so they do not become too crisp.
When each fried dough is done, place them on a paper towel-lined plate or wire cooling rack over a rimmed baking sheet. Serve them topped with powdered sugar and cinnamon. Enjoy!
Nutrition Information:
Yield:

8
Serving Size:

1
Amount Per Serving:
Calories:

622
Total Fat:

58g
Saturated Fat:

6g
Trans Fat:

0g
Unsaturated Fat:

51g
Cholesterol:

8mg
Sodium:

264mg
Carbohydrates:

24g
Fiber:

1g
Sugar:

0g
Protein:

3g
Please note that the Calculated Nutrition is an estimate at best. If you make this recipe and love it, remember to stop back and give it a 5-star rating – it helps others find the recipe!
This recipe was originally shot on 5/26/2020 and published on 8/31/2021, 11/2/2022
Latest posts by Sara Maniez
(see all)