This Almond Nut Roll Recipe is a classic, sweet, yeast bread with a swirl of almond pastry filling. This recipe uses a shortcut where you just use canned almond cake and pastry filling (or almond paste); a homemade filling option is also included. It's perfect for holidays, celebrations, and edible gift-giving as 1 recipe makes 8 nut rolls (12-13 slices each)!
Estimated reading time: 8 minutes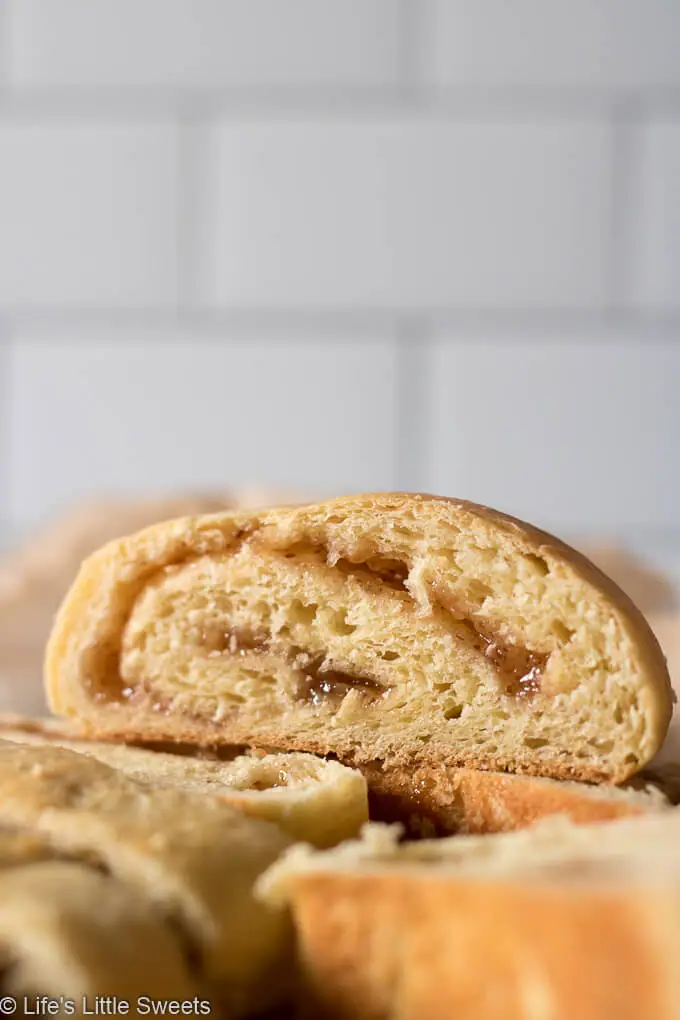 Almond Nut Roll Recipe
Hi Everyone, I have a nut roll recipe for you that uses a shortcut and sometimes we all need a shortcut, don't we?
This recipe is great for when you have the energy to make the bread dough (for 8 bread rolls) but when you get to the filling you're like, ugh, I'm tired, how can this recipe be made easier?
I also include the ingredients and directions for making a homemade nut filling, if you want to try that too!
The result is a danish-like, pastry bread that goes great with coffee or tea!
There are 8 nut rolls in this 1 recipe so there's enough if you want to give it away to friends and family or it's perfect to make for a party or celebration.
What is a Nut Roll?
I just want to give a little background on the history of and what is a nut roll recipe:
According to Wikipedia:
A nut roll is a pastry consisting of a sweet yeast dough (usually using milk) that is rolled out very thin, spread with a nut paste made from ground nuts and a sweetener like honey, then rolled up into a log shape.[1] This 'log' is either left long and straight or is often bent into a horseshoe shape, egg washed, baked, and then sliced crosswise. Nut rolls resemble a jelly roll (Swiss roll) but usually with more layers of dough and filling, and resemble strudels but with fewer and less delicate dough layers. Fillings commonly have as their main ingredient ground walnuts or poppy seeds.

Nut rolls can be found in the United States and in Central European cuisines. In the United States, "nut roll" is a more or less generic name for pastries of this type, no matter where they originate.[2] Nut rolls are known also by many specific regional names, including: orechovník in Slovak; makowiec in Polish; potica, povitica, gibanica, orahnjača/orehnjača in Slovenian, Croatian and Serbian (walnut variant, makovnjača for variant with poppy seed, in Croatia can also be made with carob); kalács and bejgli in Hungarian; and pastiç (pastiche) or nokul in Turkish.

Regional variations on nut rolls are part of weddings, for Easter and Christmas, as well as other celebrations and holidays.
What's the difference between Almond Pastry and Cake Filling or Almond paste?
Almond pastry and cake filling is more smooth, gel-like, similar to a danish or pie filling, it has fewer almonds in it.
This filling is more likely to leak out from the bread roll because it's more liquid, especially when hot.
Make sure to allow the roll to fully cool before slicing it up.
This filling is featured in the photos in this post.
Almond paste is firmer, opaque, off-white/beige, and coarse as compared to the almond pastry and cake filling.
To be clear, this filling is not Marzipan which is more of a candy-like almond confection used for decorating cakes and other desserts.
Both have almonds in them, smell and taste like almonds.
The "Solo" brand is a brand that is available widely in grocery stores in the United States and online for both products.
*I linked to both brands in the recipe card at the end of the post.
If you have a favorite brand of either type of product, let me know in the comments at the end of the post!
Using a Homemade Filling for Making Nut Roll
Of course, you also have the option to make your own nut filling if you want and have time for that extra step!
I prefer to do a combination of Almonds and Walnuts but you can use your favorite nuts and process them in a food processor with sugar (I like to use brown sugar for a rich, deep flavor), Wildflower honey and unsalted butter, and a little bit of salt.
I will give my homemade option as well in the recipe card at the end of the post.
I have used Chocolate Ganache with success in this nut roll recipe, just make sure you spread it thin enough and put chill it (5-10 minutes) in the refrigerator until it gets harder so that you can roll it up and sprinkle some finely chopped nuts on it.
No matter what filling you use, make sure to make it 1/8-inch and no thicker than 1/4-inch thick because if it's overfilled, the layers will weigh down the bread and you won't get those beautiful swirls inside when you slice it (it will probably taste just fine though! It depends what you want).
Can You Substitute The Sour Cream for Regular Yogurt or Greek Yogurt?
Sour cream is the ideal ingredient because of its tangy flavor for this sweet, yeast bread but the recipe still works if you need to make a substitution.
Yes, you can substitute the sour cream ingredient in the yeast bread for the same amount of regular plain yogurt or plain Greek yogurt (better because it's more like sour cream).
Using a glaze topping
The Almond Nut Roll is great on its own but if you want to have something a little extra and sweet to go with this bread, try topping it with an icing glaze!
I have a simple icing glaze using powdered sugar, vanilla extract, and milk that I have included in the recipe card if you want to add the glaze.
I suggest using the glaze just before serving so it doesn't get soggy.
Chai Spice Icing Glaze would be delicious with this recipe too.
Recipe Attribution
This recipe idea came from my friend Anne who used to make this type of bread for her family; it came from a Polish recipe passed down in her family.
She once shared it with me years ago but I long lost the recipe but I remember what it tasted like!
I remember she preferred the almond paste to the almond pastry and cake filling.
This recipe is also inspired by Nut Roll Recipe from Brown Eyed Baker; In her recipe, she uses walnut instead of mainly almonds which is great too! It all depends on your preference.

Web Story
If you make this Almond Nut Roll recipe and like it, please take a moment to rate it in the recipe card below and let us know in the comments at the end of the post.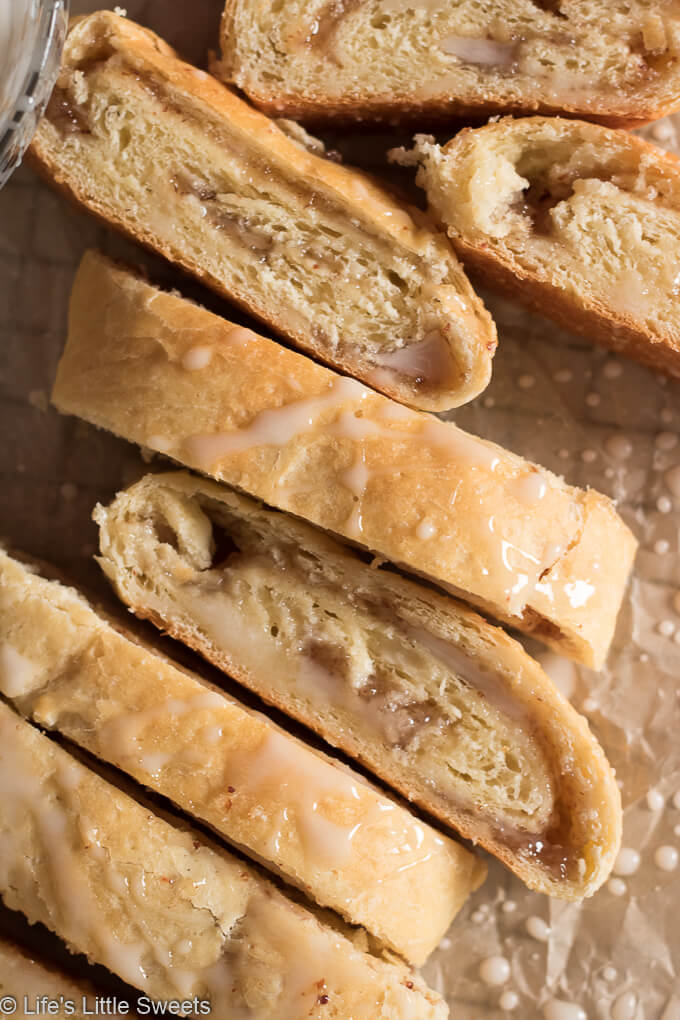 Thank you for reading and following along!
Almond Nut Roll Recipe
Cook Time (each roll):
25 minutes
Total Time:
4 hours
25 minutes
This Almond Nut Roll Recipe is a classic, sweet, yeast bread with a swirl of almond pastry filling. This recipe uses a shortcut where you just use canned almond cake and pastry filling. It's perfect for holidays and edible gift-giving as 1 recipe makes 8 nut rolls (12-13 slices each)!
Ingredients
Dough
Ready-Made Filling
Homemade Filling Option (to be used in place of the canned filling)
Icing Glaze (for 1 almond nut roll)
Instructions
Activate the Yeast: Activate the yeast by adding 1 teaspoon granulated white sugar into the 1/2 cup warm water (make sure the water is 120-130°F) Allow the yeast-water mixture to sit for 5-10 minutes or until the mixture is foamy. *make sure to put it in a large enough bowl/container, so that it doesn't overflow.
To Make The Dough: In your stand mixer, using the paddle attachment (or just the dough hook but just whisk the eggs first so that it mixes together because the dough hook won't break the yolks), add the activated yeast mixture with the eggs and mix until combined (low-medium speed). Add the sour cream (or plain yogurt in the same amount), melted and cooled unsalted butter, granulated white sugar, vanilla extract, and kosher salt.
If you don't already have the dough hook on, put the dough hook on, put the stand mixer on low speed, and add the flour gradually, about a cup at a time. The dough should be soft when it's done mixing and the dough should not stick to the sides of the mixer bowl. Set the dough aside and cover the bowl with a damp cloth.
To Make the Homemade Filling (Skip this step, if using the canned filling and go to Step 5): In a large mixing bowl, add the almonds, walnuts, brown sugar, unsalted butter, honey, and vanilla extract. Mix with a handheld electric mixer until completely combined. Notes on the homemade filling: I prefer to make the homemade filling more of a "paste" with the (moisture coming from the butter and honey) than a wetter spread so that it's less likely to leak out during baking. However, if you want to add more moisture to the filling, you can also add 3/4 evaporated milk and 1/2 cup whole milk or amount to taste.
Assemble the Almond Nut Rolls: Line 4 rimmed baking sheets with silicone baking mats or parchment paper, set aside. Flour a good rolling surface like a pastry mat and your rolling pin (I like to use a French rolling pin). Scrape the dough out onto the surface and using a dough scraper, divide the south evenly into 8 pieces. Place them on a plate or separate baking sheet and cover with plastic wrap so they don't dry out. Roll out each dough piece out into a 9x14 inch rectangle. Make sure there are no holes and that the dough is even. Spread 1/8th of the filling (1/2 can, of one of the 4 cans, if using canned filling) using an offset spatula, evenly onto the dough, about 1/8th-1/4-inch thick. If you are using the homemade filling, spread it up to 1/2-inch thick. Leave 1/2 inch on the edge, all the way around as a border. Roll the dough up along the long edge and pinch together the bottom seam and ends. Wet the edges with water if you need the dough to stick together better. Transfer the dough to one side of one of the prepped baking sheets and cover with plastic. Allow the roll to rise 3 hours or unit the dough is puffy. Repeat with the other bread doughs and have 2 rolls per sheet, evenly placed.
To Bake the Almond Nut Rolls: Preheat your oven to 350°F. When the dough is ready, remove the plastic wrap. Bake each sheet, one at a time for 20-25 minutes, rotating part way to ensure even baking. When they are done, allow to cool about 10-15 minutes on the baking sheet and then transfer carefully to a wire cooling rack. Repeat with the remaining baking sheets of almond nut roll doughs. When the dough is cool, slice and serve with optional icing glaze which can be made ahead or between baking the sheets. Enjoy!
To Make the Icing Glaze (for 1 roll/1/8 of the recipe): In a medium mixing bowl, add powdered sugar, vanilla extract, and 2-3 tablespoons of milk, depending on how thin you want it, using a whisk, combine until fully mixed. Serve with the almond nut roll slices.
Notes
Recipe Yield: This recipe makes 8 almond nut rolls and each Almond Nut Roll makes 12-13 slices (about 3/4-1-inches thick).
Storage: After baking, the nut rolls can be stored at room temperature for up to 1 week in an airtight container. I feel that it tastes best if you use it up within 3 days.
Freezing: After baking, the nut rolls can be stored in the freezer for up to 2 months, after it's completely cooled, just wrap it tightly in plastic and then again in aluminum foil. When you want to have it, allow it to thaw completely at room temperature. This is a great option for making it ahead for holidays and events.
Kitchen Tip: Use a ruler to help you measure the nut roll as you roll it out and it helps if your pastry mat has to measure units along the sides.
Nutrition Information: The calories are for 1 nut roll.
Nutrition Information:
Yield:

8
Serving Size:

1
Amount Per Serving:
Calories:

2940
Total Fat:

189g
Saturated Fat:

58g
Trans Fat:

1g
Unsaturated Fat:

120g
Cholesterol:

374mg
Sodium:

805mg
Carbohydrates:

276g
Fiber:

20g
Sugar:

135g
Protein:

57g
Please note that the Calculated Nutrition is an estimate at best.
Latest posts by Sara Maniez
(see all)