Cookie Recipe Collection – All the cookie recipes on Life's Little Sweets in one place; we also included yummy recipes from LLS contributors as well, check out the Cookie Recipe Collection below!
Cookie Recipe Collection
Hi Everyone, I have gathered all the cookie recipes on Life's Little Sweets in one place.
I will be updating this Cookie Recipe Collection as I add new cookie recipes to the site from time to time, so if you love cookies, bookmark this link for future cookie inspiration too.
I have included a quote from each recipe post (for most) in the opening description of the recipe in the list, enjoy this Cookie Recipe Collection!
Check out the Cookie Recipe Collection below!
This Spritz Cookie Recipe is a favorite for Christmas as it uses a cookie press and makes a large batch of cookies. These sugar cookies have a great butter flavor and can be decorated as you like or left plain. (makes about 48 cookies)
Pumpkin Snickerdoodle Cookies are the perfect Fall recipe with it's warm, cinnamon-y, pumpkin spice-sugar coating on the outside and pumpkin flavor on the inside. Enjoy these pillow-y, soft cookies with a mug of tea or coffee. (video)
These Peanut Butter Cookies are a classic, homemade peanut butter cookie recipe. They are savory and sweet and can be made crispy or chewy. They taste delicious when drizzled or dipped in chocolate.
This Sand Tart Cookie Recipe is our family recipe perfect for the Christmas & Holiday season making a big batch of cookies.  These cookies are easy to customize to your tastes with various toppings and make a fun activity for everyone involved.  Check out our family home video of our cookie making session below!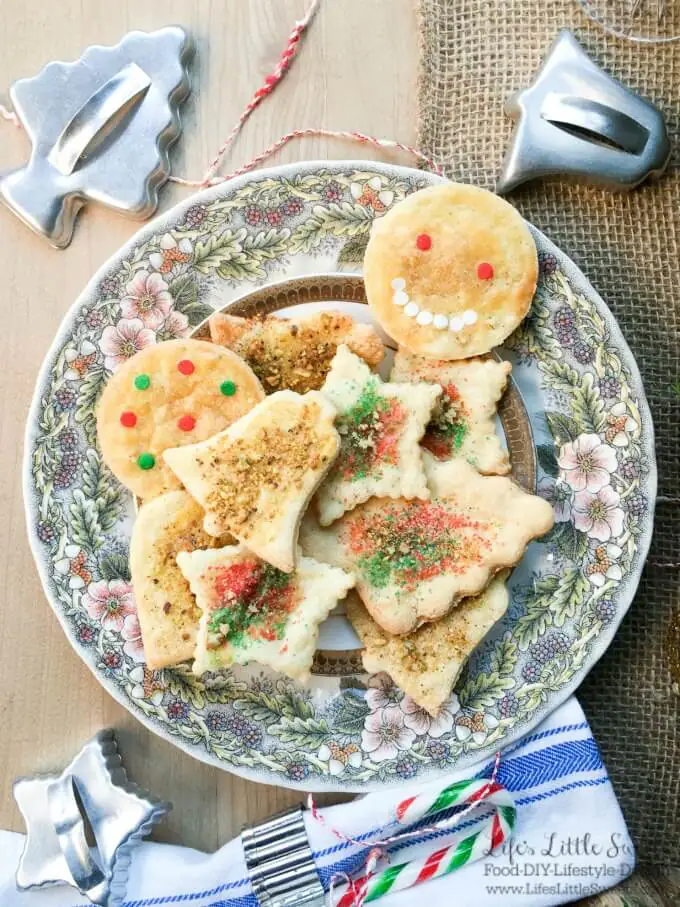 Oatmeal Raisin Cranberry Cookies
Oatmeal Raisin Cranberry Cookies: Cookies are wonderful because, much like cupcakes, they are individual – without any fussiness.  These Oatmeal Raisin Cranberry Cookies are wholesome cookies and though they have two kinds of sugar, they also have oatmeal, raisins and cranberries which are good for you.
Coconut Chocolate Chip Cookies
#ad These Coconut Chocolate Chip Cookies are soft, chocolate-y and have delicious coconut flakes throughout. A sweet and Summer-y spin on the classic Chocolate Chip Cookie. This cookie recipe is made with LouAna Coconut Oil. (makes about 38 cookies)
Raspberry Blueberry Oatmeal Cookies
These Raspberry Blueberry Oatmeal Cookies are the perfect breakfast cookie. They incorporate your favorite seasonal berries in a delicious oatmeal cookie! (makes about 30-36 cookies)
Candy Corn Chocolate Chip Cookies
Candy Corn Chocolate Chip Cookies is a sweet and festive way to celebrate Halloween and Fall time – classic chocolate chip cookies topped with colorful candy corn. If you have a bunch of candy corn after the holidays this is a great way to use it up!
These Easy Funfetti Sugar Cookies are chewy, fluffy and sprinkled with color throughout.   With only 9 simple pantry ingredients, you can enjoy these festive cookies in less than 30 minutes!
Chocolate Swirl Meringue Cookies
Chocolate Swirl Meringue Cookies have only 5 ingredients and are a decadent alternative to a traditional cookie and I will say perhaps even easier to make – oh yeah, whip it good!  (the '80's anyone?) Be sure to check out the other #FoodieMamas Chocolate recipes in the roundup.
See also: Almond Meringue Kisses
Chocolate Chip Cookies (DF + SF)
Chocolate Chip Cookies (DF + SF): Dairy-free, Soy-Free & only 7 ingredients!
I hope you enjoy this Cookie Recipe Collection post, thank you for reading! What's your favorite kind of cookie? Let me know in the comments below, best, ~Sara xo
Related Posts
Sara is an architectural designer turned work-at-home Mom.She lives in New Jersey by way of New England and New York, with her husband, two kids under 5 and family dog Cayli. She loves design, being creative and spending time with family and friends. She loves checking out local businesses and eats and being apart of the local farm to table community.
Latest posts by Sara Maniez (see all)