Springtime Bunny Bark Dessert Recipe first appeared on SoFabFood.com #SoFabFood
This Springtime Bunny Bark Dessert Recipe is great for any Spring or Easter celebration. Make a batch for your family or give it away for a sweet, homemade gift!
Springtime Bunny Bark Dessert Recipe on SoFabFood
Hello Everyone, Spring is here and Easter is right around the corner. Personally, I can't wait for that warmer weather to come! Today, I am sharing a recent guest post that I did on the SoFabFood blog where I am a regular contributor.
If you want to see all the posts that I have done on SoFabFood, here are all the teasers on Life's Little Sweets.
Quoting my own words on the SoFabFood post:
This SpringtimeBunny Bark Dessert recipe is perfect for Easter and every day treat making. Semi-sweet chocolate, themed candy, white chocolate, and colorful sprinkles make up this a fun and easy dessert.
This recipe is so super easy, it's colorful and perfect for the season. It's also a great way to use up Easter candy, after Easter. You can customize it and use your favorite candy.
[bctt tweet="Springtime Bunny Bark Dessert Recipe on SoFabFood @SoFabFood #SoFabFood" username="lifeslilsweets"]
?You can get the whole recipe, more pictures and the full post on the SoFabFood.com website HERE
What's your favorite Easter candy?
Our Other Recipes and Posts
If you like this SpringtimeBunny Bark Dessert recipe, check out our Recipes page.
Check out the kitchen tools that I use in my Amazon aStore!
Be sure to sign up for the Life's Little Sweets e-mail newsletter for more updates and FREE recipes!
Pin This! ⇓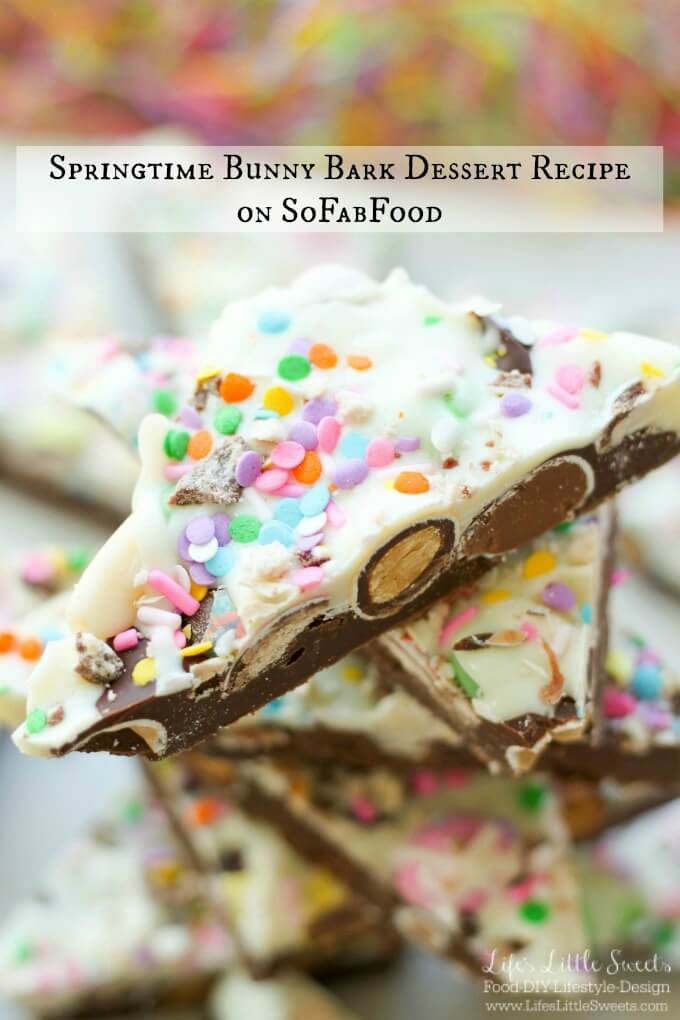 Latest posts by Sara Maniez
(see all)