How to Host a Fall Outdoor Dinner: Shrimp Pad Thai: This shop has been compensated by Collective Bias, Inc. and its advertiser. All opinions are mine alone. #HarbourTradingCo #CollectiveBias
Estimated reading time: 10 minutes
Fall is a beautiful time of year with gorgeous foliage and there are some warm days that are real gems.
Take advantage of those days to host a Fall Outdoor Dinner and Harbour Trading Co. makes it easy to have incredible, fresh-caught seafood at your table!
[bctt tweet="??? How to Host a Fall Outdoor Dinner: Shrimp Pad Thai #ad #HarbourTradingCo #CollectiveBias" username="lifeslilsweets"]
How to Host a Fall Outdoor Dinner
On the first day of Fall, September 22nd, our family had an amazing, casual & carefree – not to mention incredibly delicious – Shrimp Pad Thai family dinner outside. The day before the dinner, all the ingredients were delivered right to my door from Harbour Trading Co. and as the cook, this made for a hassle-free, dinner experience.
About Harbour Trading Co.
Here is some information about Harbour Trading Co. that I learned:
-All recipes are crated by Harbour Trading Co.'s top chef.
-All ingredients are organic which is something I love.
-The seafood is fresh from boat to table – I was so impressed by how fresh the Key West Pink Shrimp were that I got!
-Harbour Trading Co. places a focus on the captains that catch the fish and other seafood so you know exactly where your food is coming from! The fish is caught by captains from the United States, whom Harbour Trading Co. knows personally. I think it's so important to know where your seafood is coming from.
-Harbour Trading Co. values food source and traceability – I'm so happy that they want to make sure you can trace the entire dish from sea to boat to table because it is something that I think it really important. They include a "Fish Trax" QR code scan that is easy to use on mobile devices and available through Harbour Trading Co. to document this journey and here is some information on Fish TraxTM:
Fish TraxTM was developed initially by fishermen and scientists and has evolved to become an important tool for consumers who want to know more about the seafood they eat. With Fish Trax, you can trace from where in the United States your fish came and who caught it. Together with Fish Trax, we are ensuring the sustainability of fish. You will find a QR code on each Harbour Trading Co. fish delivery. We invite you to get informed and scan the code that comes with your delivery.
-Harbour Trading Co. utilizes packaging methods that are very safe and effective, including gel packs and overnight shipping – Check out how I re-purposed the packaging below! The seafood is never frozen and always fresh and I feel that you can really taste the difference.
-I think Harbour Trading Co. dinners would make a perfect gift for someone you know especially with the holidays coming up! I feel that it's a great choice for people who love seafood, cooking, quality dining, and treating themselves. Speaking from my experience with this Shrimp Pad Thai dinner, it's a great solution for people with a busy lifestyle bringing a restaurant quality dinner & home-cooked feel.
Shrimp Pad Thai with Key West Pink Shrimp
This Shrimp Pad Thai dinner has a tamarind-based sauce instead of the typical peanut-based sauce that is common. It was refreshing with the fresh vegetables & ingredients and the Key West Pink Shrimp was beautiful to cook with!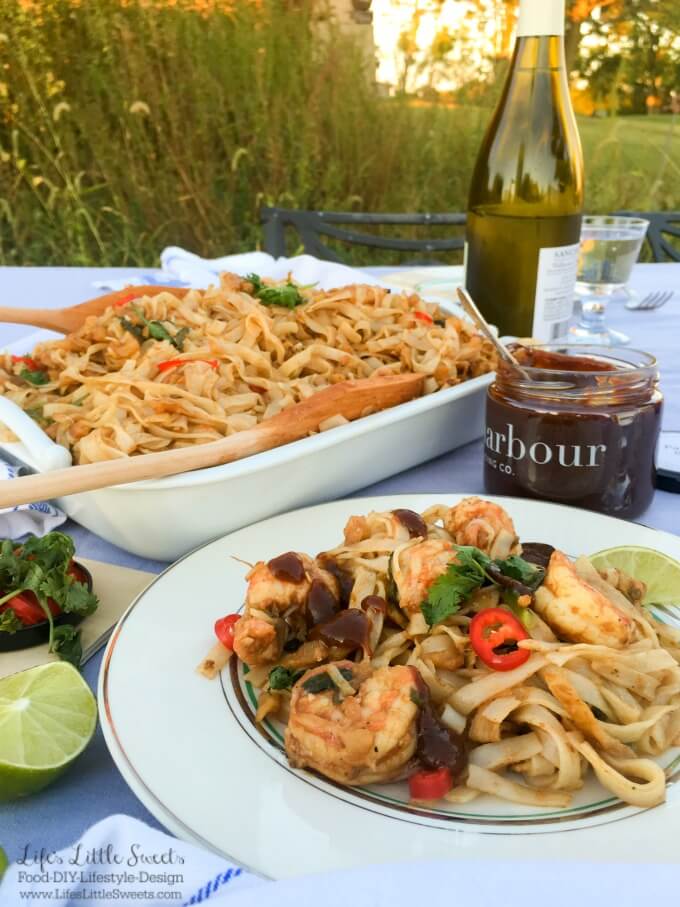 Here are all the ingredients my Shrimp Pad Thai dinner came with:
This recipe came with a list of three wines that pair well with the dinner. My Father-in-Law, Michel, happened to have a bottle of Sancerre and he brought it to the dinner.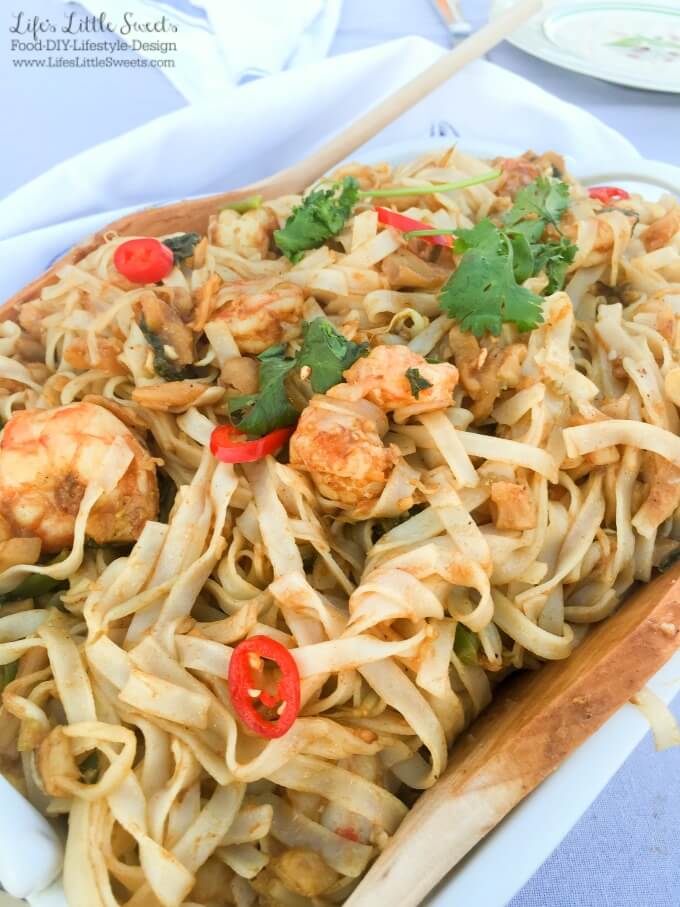 Everyone at our dinner loved the flavors of the Shrimp Pad Thai dinner. There was plenty to go around in this family-size meal that serves 4. I think everyone had an extra helping and we have some leftover too!
How to Host a Fall Outdoor Dinner – Step-By-Step Tutorial
Step #1 – Pick the Right Day, Location & Time
Check the weather and choose a day when the weather will be warm. Find a location either at your house, a family member or friend's where you will host the party.
Pick a time of day that will leave you with a good amount light for the duration of the dinner.
You can add outdoor lights or a string of lights over the table (if that's possible) this way, when it does get dark, everyone can still see each other.
Step #2 – Pick Your Menu
Select the wine pairings that you want to serve (if applicable). With every Harbour Trading Co. dinner, there is a list of suggested wines that come with the recipe.
It's really easy to order your Harbour Trading Co. dinner online!
Step #3 -Invite Friends & Family
Pick who you want to invite to your Fall dinner! Or, maybe you just want to have it with your family.
The family-size dinner serves 4, so remember to invite the amount of people right for the type of dinner you order. Make sure to check if everyone can or likes to eat the dinner on the menu.
Step #4 – Set the Table & Keep it Simple
You can pick up a bouquet at the store but really, you don't have to spend money on your table setting – just use what you have! I am always in favor of being resourceful. Fresh picked flowers from the garden or wildflowers work really well and contribute to a casual and relaxed atmosphere.
Picking flowers can be a fun activity for children and a great way to get them involved in preparing for dinner. My daughter helped pick the flowers in the blue vase on the table at our dinner.
Since cooking the dinner is easy and can probably be done by one person, setting the table is something that everyone can pitch in and help with.
? Tip: Use that Wooden Box! All Harbour Trading Co. dinners come in a sturdy, wooden crate and their packaging is recyclable and sustainable. This is good news for me because I love recycling and reusing things whenever I can 🙂 I used the box itself as a drink station. I refroze the ice packs that the dinner came with, put them in the bottom of the crate, put the newspaper packaging over that and then put any drinks & bottles of water or wine that needs to be chilled in the crate. Whenever someone wanted a drink, they just reached in the crate on the table and got what they wanted.
I also used the wood divider in the crate as a cutting board for the limes right on the table!
Step #5 – Cook the Dinner
The recipe that Harbour Trading Co. provides has easy to follow instructions and all the ingredients are in the perfect amount.
Step #6 – Serve & Enjoy!
Dinner & drinks are served! Time to sit back, relax and enjoy those amazing flavors your Harbour Trading Co. dinner recipe has to offer 🙂
At our dinner, the weather was perfect and it was a warm day in the '80's (F). There were no bugs which was great.
We had a fabulous view of the sunset (see below) and dining in and around nature is something that enhances the dining experience.
Have you hosted a Fall dinner?
Let me know in the comments below!
Latest posts by Sara Maniez
(see all)