Kitchen Renovation IKEA Kitchen Inspiration – Our family recently took a trip to IKEA to check out their kitchens and get inspiration for our own ongoing kitchen renovation.
Estimated reading time: 9 minutes
Table of contents
Kitchen Renovation IKEA Kitchen Inspiration
Hi Everyone! I hope you are all doing well, did you see our last home lifestyle post about Our Home Before Photos?
That's a good starting point to show how far our home has come as I share more of our kitchen renovation process and more room updates.
I am so glad to finally get this process of making our home our own over the past 3+ years on Life's Little Sweets.
Thank you for following along!
This week for our Kitchen Renovation series, I am sharing a recent trip we made to IKEA to check their sleek, modern kitchens.
We sought some kitchen ideas and inspiration and the whole time I took some iPhone photos of what we liked or found interesting.
I took 18 photos total, from lighting fixtures to countertops to several of their full kitchen vignettes.
Lighting
We have been searching for lighting inspiration as I talked about in my last electrical/lighting & ceiling update, Kitchen Renovation Update Electrical and Ceiling.
Eric and I have thought about track lighting initially and now we are moving to "warehouse-style" pendant fixtures along the counter wall and articulating fixed lights to wash the walls and general room in light.
I will be showing the fixture in our next update and next weekend they will be installed, yay! Let there be light!
Having good lighting can really make a difference in ones home.
I feel like it adds a touch of luxury to have a well-lit area, not to mention the practical benefits of being able to see what you are doing!
We love the round, Edison-style light bulb (shown above), we even got one to experiment with at home in the kitchen.
I loved all the farmhouse, modern, warehouse-style pendant fixtures at IKEA (above and below).
It was fun to imagine these in our home 🙂 I thought of other rooms they could go in too.
The possibilities are always endless at IKEA!
Every time I go to IKEA, I have to have a mission of some sort or else I get totally overwhelmed by all the cool stuff.
For this trip, the focal point was lighting & kitchen inspiration – but of course, we didn't leave without stopping at the IKEA cafe and picking up a few things for our house.
Kitchens
There are so many great kitchen ideas at IKEA and I loved strolling through as a family and checking out the inspiration there.
My first intro to IKEA was when I was a college student in NYC and my adoration for the brand hasn't faded.
I feel like their ideas for home solutions just keep getting better and better and you can't beat the affordability.
We thought the stainless steel drawers were a nice sleek look on this white island (above photo).
However cool that is, I just can imagine the little fingerprints all over the stainless steel surface.
So as cool as that is, it's not a possibility for us.
Eric and my daughter look so cute strolling around in this photo (above).
This kitchen stood out the most to us.
We love the look of white on white and the high gloss finish is easy to wipe clean and great for taking photos.
We don't have plans to incorporate orange but we thought it actually looks amazing and totally would.
Our kitchen plan currently doesn't have plans for upper cabinets but the way these seem unobtrusive and sleek – not to mention, how cool is the bold pop of orange?
It's a bit retro and futuristic at the same time. Eric and I both like this kitchen.
I have a suspicion that Eric likes these drawers because they remind him of tool drawers like in a car shop.
I like them too because I think they are low profile and just look cool.
This kitchen has high-gloss cabinet surfaces and integrated drawer pulls so that there's no hardware sticking out which is nice and has a custom feel.
We were drawn to this kitchen for the look of the white on white and to check out the drawer pulls that are just a reveal, totally integrated into the surface.
We want to have a white kitchen because it looks clean and modern and it will be photographed a lot for my food photography.
Counter Tops & Cabinet Surfaces
IKEA had many, many counter top surfaces to look at.
Here is a selection of just SOME of them (below).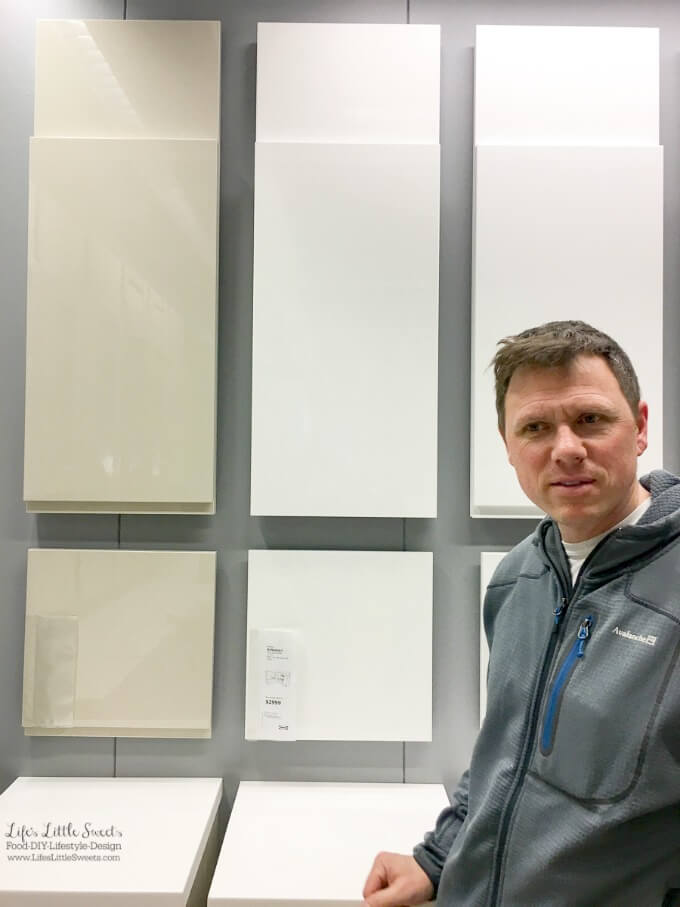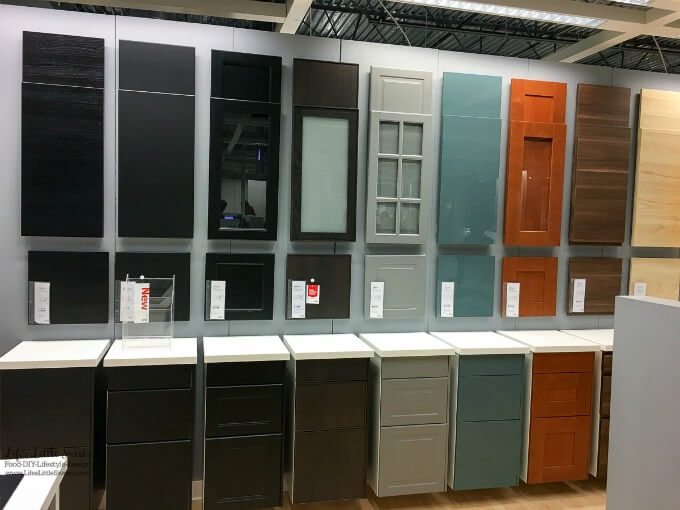 We also looked at the appliances (not pictured) as well as all of their house hold items and furniture.
I got some ideas for sprucing up our Master and Guest bedroom, as well as our living room.
IKEA definitely gave us lots of ideas and inspiration to work with!
Thank you so much for following along with our adventures with our Kitchen Renovation Series on Life's Little Sweets, stay tuned for more updates!
Tell me your kitchen renovation stories! What kind of cabinets, countertop & lighting fixtures did you get? Let me know in the comments below!
Latest posts by Sara Maniez
(see all)