At Home Grocery Delivery and Pick Up Apps and Services – Here's a resource list of apps for grocery delivery/pickup services and includes local Central NJ grocery stores. I also include take-out apps for restaurants.
Estimated reading time: 5 minutes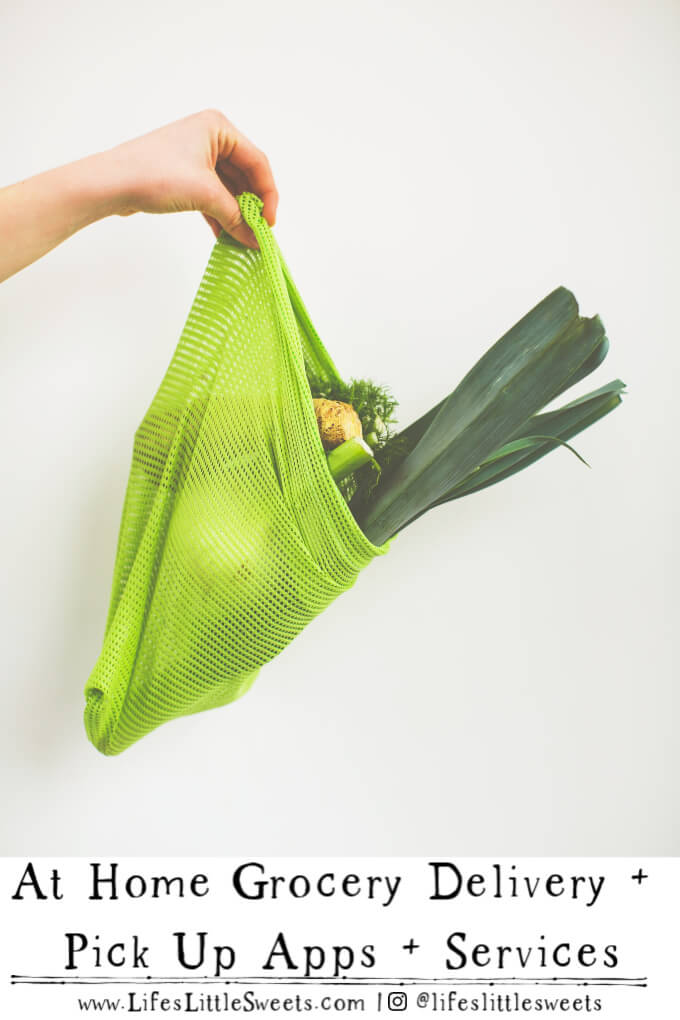 At Home Grocery Delivery and Pick Up Apps and Services
Hi Everyone,
I put together this master list of At Home Grocery Delivery and Pick Up Apps and Services to have as a reference since this is such a dire need right now, at the time of my write this (3/24/2020), in the United States.
Many people are scrambling to stock up and get groceries as many states have shutdown (like ours in NJ) throughout the country.
Please Note: During the Covid-19 Pandemic, we are noticing longer delivery times for Amazon Prime and fewer or no delivery times for the Amazon Now/Amazon Fresh app.
I have heard from friends that if you need to refresh the cart throughout the day, delivery times may come up, depending on where you live.
If you are having success with a certain store or app or service, please let us know in the comments below!
RELATED: Kids Activities During School Closures
This post may contain affiliate links which won't change your price but will share some commission.
Apps
Amazon Prime *affiliate link – I have the most experience with Amazon Prime & Whole Foods Home Delivery through Amazon Prime now (both apps) and can recommend it.
Amazon Prime Now (2-hour grocery delivery and more *there are more limited delivery windows at this time)
Peapod (Stop and Shop)
Instacart (Stores include: Costco, ShopRite, Wegmans, Sur La Table, Petco, ACME Markets, CVS Pharmacy, BJ's Wholesale, Aldi)
FreshDirect
Shipt (Publix, Kroger, Fry's, and H-E-B)
HelloFresh
Freshly
Google Express
Walmart Grocery Delivery (they also offer in-store pickup which I have used with success)
Take Out Food Apps
Local Grocery Stores
Pennington Market (Pennington, NJ) *a great local grocery store
Your local, privately owned grocery store
Your library or local Facebook group may have a master list going of local restaurants that are doing curbside pickup or delivery during this time
Extra Steps and Precautions
If you get anything delivered, make sure you wipe all packaging down with disinfectant wipes (Lysol or Clorox), soapy warm water or disinfectant spray/bleach, and water solution.
Covid-19 can stay on certain surfaces for a long time 24 hours days or now they are saying up to 17 days on non-porous surfaces and carriers of this virus can be completely asymptomatic and be spreading it unnoticed.
I go into this in more depth in my post: How To Deep Clean Your Home (Covid-19 Pandemic Specific)
I hope you have found this, "At Home Grocery Delivery and Pick Up Apps and Services", list helpful, I will check back to update the list periodically.
Thank you for reading and following along! Stay safe!
How Long (Coronavirus) Covid-19 Can Survive on Different Surfaces
If You Must Shop at the Grocery Store In Person
If you have to go into the grocery store, go by yourself or send 1 family member in, have your partner stay at home with the kids.
The grocery store is no place for kids at this time.
Make sure to maintain a 6′ distance from all other people for social distancing and to prevent the spread of the virus.
I also suggest wearing disposable gloves, a face mask (if you have one), and glasses or goggles to protect your mucus membranes from the Covid-19 virus from entering.
They said it can stay in the air in fine droplets for up to 3 hours.
Try to go in the early morning or when it is not busy to avoid crowds.
We found that going when it's raining or foul weather is when the grocery stores are not busy. Park away from other cars to avoid people.
Be vigilant at every step of the way.
Resources
Latest Recipes and Posts
If you like this "At Home Grocery Delivery and Pick Up Apps and Services" post, check out our other posts and recipes on the blog:
Latest posts by Sara Maniez
(see all)