Looking to bring the ocean to your family's dinner table? This Lobster Macaroni & Cheese is creamy and warm and buttery with a hint of Old Bay seasoning… a huge crowd-pleaser!
or 
Lobster Macaroni and Cheese
With four kids, we have a wide range of pickiness in our household. There's the oldest, Cassidy, who goes back and forth from picky to not-so-picky. She will happily eat something one time I make it, and then the next she'll say she doesn't like it and has, in fact, never liked it. Then there's Zach, he is the health-conscious one who eats a lot of protein and works out every day. But he will eat most of what I cook anyway. (I suspect when he's over at our house, he may consider those his "cheat days.") There's the 3-year-old, Sully, who eats pretty much nothing. But my favorite guinea pig for recipe development is Ethan. He will try pretty much anything once. So I was excited that he was coming over to stay with us for a weekend while I was developing this Lobster Macaroni & Cheese. (I think he was equally excited.)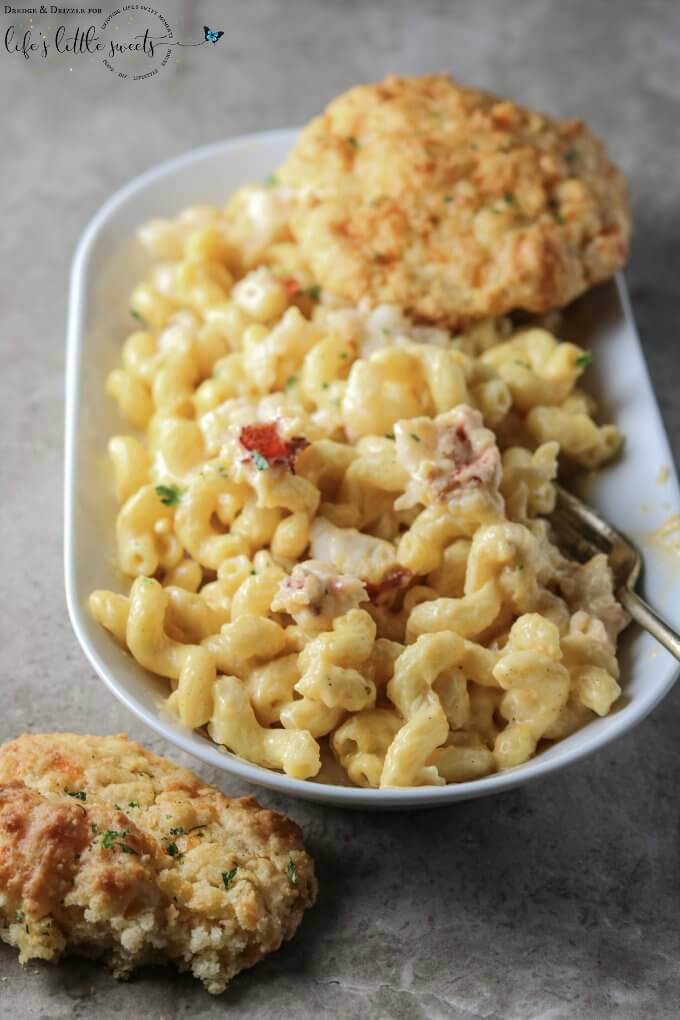 Disclosure:  Some links in this post are affiliate links which means I earn a commission if you purchase through them at no extra cost to you.  I only recommend brands and products that I 100% like and enjoy using.  Thank you in advance for your support!   
Ingredients for Lobster Macaroni & Cheese:
Cavatappi
Butter
Shallots
Lobster meat
Milk
Shredded Mexican cheese
Processed cheese like Velveeta
Old Bay seasoning
Seasoned salt
Salt and pepper
Kitchen Tools Needed for Lobster Macaroni & Cheese:
Large pot
Colander
Cutting board
Knife
Medium fry pan
Mixing spoons
Measuring cups
Measuring spoons
If you can find lump lobster meat by the pound, that's great! But if you can only find lobster tails, those will work too. Just use a pair of kitchen scissors to cut along the backside of the tail and carefully break it open and pull the meat out. It is actually easier that you might think. But the shell can be sharp so just be careful.
I am not a fan of breadcrumbs on macaroni and cheese dishes, but I know a lot of people are. If that is you, you can absolutely put this in a casserole dish, top it with panko breadcrumbs, and bake at 325°F for about 10 minutes. (You may also want to add an additional 2oz. of processed cheese when you are melting all the cheeses together.)
The verdict in our house regarding this Lobster Macaroni & Cheese was a resounding YES! There was a little leftover for lunch the next day but there wasn't any left to pack in lunches for Monday. I know this will be the case in your house too!
Lobster Macaroni & Cheese
Looking to bring the ocean to your family's dinner table? This Lobster Macaroni & Cheese is creamy and warm and buttery with a hint of Old Bay seasoning… a huge crowd-pleaser!
Ingredients
1 lb. cavatappi
4 tbsp. butter
1 shallot, diced
2 lbs. lobster meat, cut into chunks
2 cups milk
2 1/2 cups shredded Mexican cheese
10 oz. processed cheese like Velveeta
1/2 tsp. Old Bay seasoning
1/4 tsp. seasoned salt
1/2 tsp. salt
1/2 tsp. pepper
Instructions
Cook the cavatappi according to package directions. Drain, rinse, and set aside.
In a medium fry pan, heat 2 tablespoons of the butter and add the shallots. 
Cook for 2 minutes.
Add the lobster meat and sauteé for 2-3 minutes. Do not overcook. Set aside.
In the same pot used to boil the pasta, heat the remaining 2 tablespoons of butter and milk until the butter is melted.
Add the cheeses and stir frequently until melted.
Stir in the Old Bay, seasoned salt, salt, and pepper.
Add the pasta and lobster meat and stir. Serve immediately.
Nutrition Information:
Yield:

12
Amount Per Serving:
Calories:

340
Be sure to sign up for the Life's Little Sweets e-mail newsletter for more updates and FREE recipes!
Pin This! ⇓
After working as a technical writer for the pharmacetical industry for over 15 years, Heather finally found a way to combine her love of creative writing with her love of food and launched her blog, Dredge and Drizzle. While the photography aspect of food blogging was a huge learning curve, she embraced the challenge and looks for ways to improve her craft a little bit each day. She also thinks food should always taste as good as it looks and loves to have "Test Kitchen Saturdays" to experiment with flavors. Heather lives in Jacksonville, Florida with her Chief Taste-Tester and husband Rudy and their youngest son Sullivan (Sully). Three young adult children (Cassidy, Zach, and Ethan) pop in once in awhile to see what's cookin'.
Latest posts by Heather Buentello (see all)