Estimated reading time: 7 minutes
How to Make Dyed Easter Eggs – These eggs are colorful, edible, customizable eggs and also a fun Spring activity to do with loved ones and friends. Enjoy them as a part of Easter brunch/dinner with flakey sea salt and fresh ground pepper.
How to Make Dyed Easter Eggs
Hi Everyone, Did you grow up dyeing Easter eggs during Springtime or leading up to Easter? I did! For us, we always did those store-bought kits from the grocery store with the wire egg dippers.
I am sharing this tutorial on How to Make Dyed Easter eggs because you really don't need those kits and you may have everything you need right in your home! The great thing about these Dyed Easter Eggs is that you can eat them too. We had ours as a part of our appetizers during Easter Brunch out with the cheese board, crackers, bread, etc. They are a lovely addition to any spread!
This recipe tutorial will be most popular in March and April, around Easter time but I think anytime during Spring would be fun to do – especially with kiddos! 
You could make these at other times of the year and do specific color dyes depending on the occasion too.
Easter-Spring Tree Idea for Hollowed Eggs
At the time we photographed the tutorial, the Forsythia was out in full bloom in the yard. I picked some branches and had them displayed in my kitchen. I love those flowers and look for them at the beginning of every Spring.
If you are ever making the hollowed-out kind of Easter eggs (I would love to do a How for those as well), Forsythia branches would make perfect branches for an "Easter or Spring tree" where you hang the colorfully decorated hollowed-out eggs. Keep an eye out for that tutorial, perhaps next year 🙂 
Should I Use White or Brown Eggs to Make Dyed Easter Eggs?
You can use either and it depends on how you want the eggs to look when they are done. In this tutorial, we used white eggs because they are usually widely available in the grocery stores near us. They usually come out lighter and the colors are more predictable.
If have seen dyed brown eggs and the colors can come out darker and very bold. Those look gorgeous too.
Of course, with either type of egg, the deepness of the color depends on the amount of time that you keep them in the dye, the longer, the darker the dye on the egg.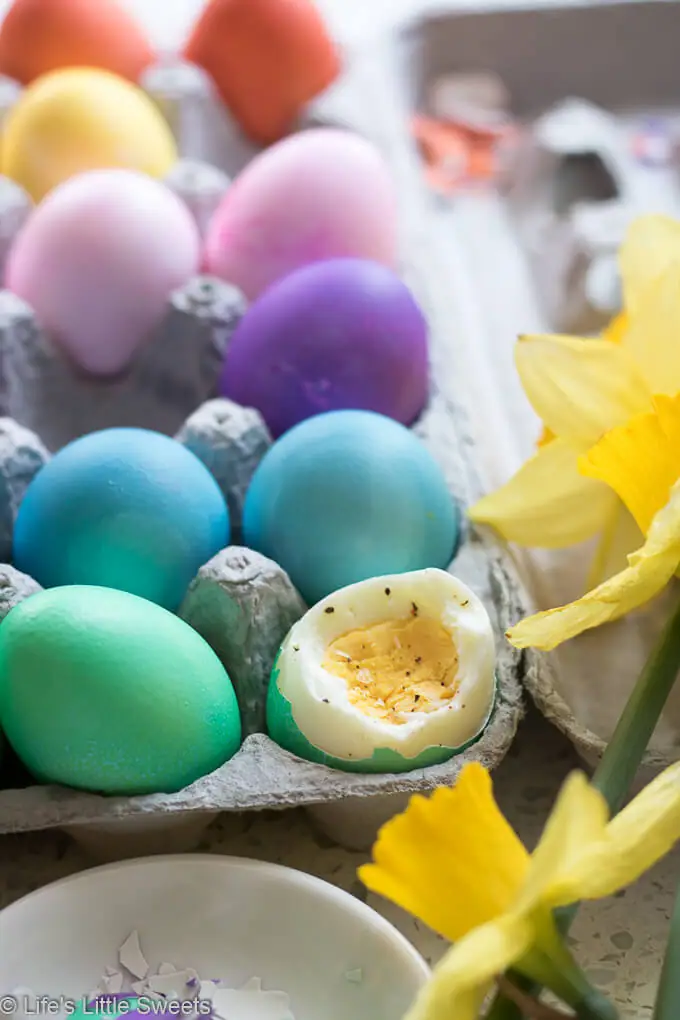 Ingredients for How to Make Dyed Easter Eggs
18 large eggs
gel food coloring
distilled white vinegar
water
This post may contain affiliate links that won't change your price but will share some commission.
Helpful Kitchen Tools for How to Make Dyed Easter Eggs
bowls – for each color of food coloring you want to use
small spoon for stirring/mixing food coloring
large spoon and/or egg dipper
Web Story
If you like this How to Make Dyed Easter Eggs recipe & activity tutorial, please give it a rating and let us know in the comments below! Thank you for reading and following along!
Our Other Recipes
Our Other Recipes and Posts
How to Make Dyed Easter Eggs
How to Make Dyed Easter Eggs are colorful, edible, customizable eggs and also a fun Spring activity to do with loved ones and friends. Enjoy them as a part of Easter brunch/dinner with flakey sea salt and fresh ground pepper.
Ingredients
18 eggs (you can do any amount you feel comfortable doing, it's more fun to do a large amount)
gel food coloring (food grade)
water
pepper, optional
Instructions
Set up your working area with all the ingredients and kitchen tools. Chose which dyes you want to use.
Add the desired amount of eggs (make sure not to crowd, you may need to boil them in batches, depending on the size of your pot) to salted water (about 1 teaspoon salt). Bring a large pot of water to a boil (about 3-4 minutes) over high heat.
When the water reaches a boil, turn off the heat, remove from the burner and cover, and let stand for 12 minutes. (Note: if your eggs are extra-large size, let them stand for 15 minutes)
Optionally, to get perfectly cooked eggs, prepare an ice bath in a large bowl, so that the eggs stop cooking right away.
When the eggs are done, using an egg dipper or slotted spoon, lift them from the hot water and put them into the ice bath. Put the eggs in the refrigerator until completely cool (about a 1/2 hour, if you do the ice bath, longer if you don't do the ice bath).
While the eggs are chilling, prepare the bowls of dye, distilled white vinegar (see below notes for the vinegar to water ratio), and boiling water (boiled in a tea kettle) that you want to do. Add the amount of dye to get the concentration you want.
When the eggs are done chilling, pat them dry with a tea/kitchen towel and place the eggs into the bowls of dye and water. Let them sit in the dye for at least 5 minutes, and make sure to turn over the eggs to get an even coating. I did mine for 15 minutes (in the photos).
For drying the eggs, you can dry them in the original egg carton, or a muffin tin or you can use a foam board with pins (if you want them to come out very perfectly).
When they are done drying, you can eat them (they taste great with flakey sea salt and fresh ground pepper) or refrigerate them for later.
Notes
Vinegar to Water Ratio: 1 teaspoon for every 1/2 cup of boiling water
Storage: If these eggs are being made to be eaten, make sure they are not left out of the refrigerator for more than 2 hours at a time, or else they will go bad. Store in the egg carton or air-tight container, and consume within 1 week (5-7 days). Peel right before eating.
Please Note: This is a fun kids' activity but there should always be an adult present to help with more tricky and dangerous things like boiling and handling the water!
Idea: You can draw white crayons, and designs on the eggs before dyeing to make fun designs that will show up after they are dyed.
Recommended Products
As an Amazon Associate and member of other affiliate programs, I earn from qualifying purchases. #CommissionsEarned #ad
Nutrition Information:
Yield:

18
Serving Size:

1
Amount Per Serving:
Calories:

72
Total Fat:

5g
Saturated Fat:

2g
Trans Fat:

0g
Unsaturated Fat:

3g
Cholesterol:

186mg
Sodium:

104mg
Carbohydrates:

0g
Fiber:

0g
Sugar:

0g
Protein:

6g
Please note that the Calculated Nutrition is an estimate at best.
This post was published on 12/11/2021 and
Updated & republished on 4/6/2022, 3/31/2023
Latest posts by Sara Maniez
(see all)