Estimated reading time: 8 minutes
Freshly baked bread is a far superior experience compared to commercially produced bread with all those additives and preservatives.
This recipe requires only 5 ingredients (flour, oats, yeast, salt, and water – how pure is that?), a little handling of the dough and with minimal effort, the result is fresh bread – you baked yourself!
Table of contents
No-Knead Oatmeal Bread
My baby M is a picky eater and makes a huge fuss (as if someone's threatening her life, type of fuss) if I try to feed her purees (of ANY kind – I have tried them all), foods that have a color other than white (like most veggies, for example) and cereals of any texture (the mush just ends up in the garbage – most of the time).
As a parent, this can be frustrating because I want her to eat, grow, and love varieties of food like my family and I do.
I am sure it is just her tiny, little taste buds developing and it is just a "phase" – a "phase" I can't wait for her to grow out of!
I see other babies happily chomping away at all kinds of things and I am like wow, my experience is SO different [insert frowny face here].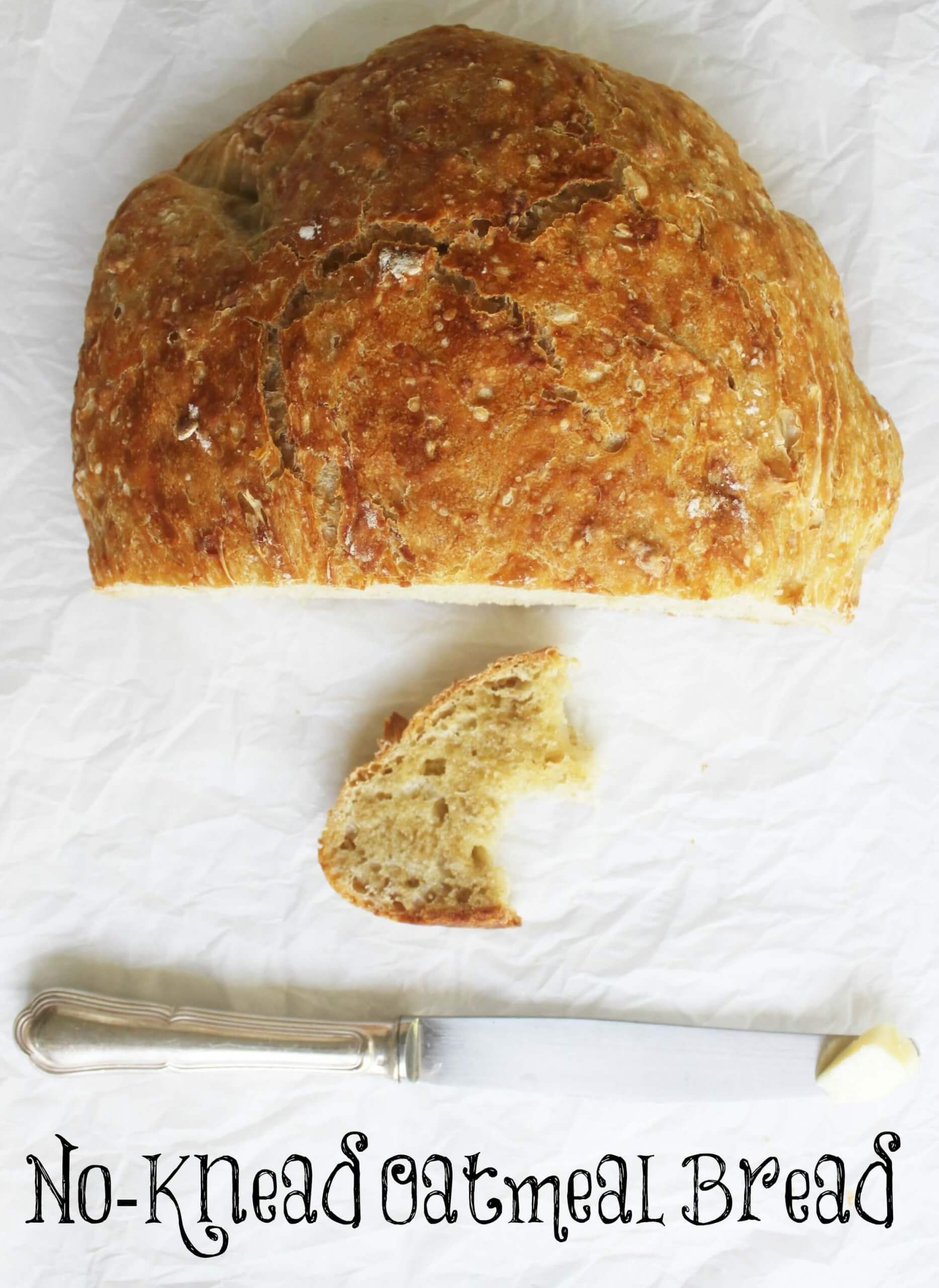 There are some snack foods she eats, for example, Happy Munchies Organic Kale Poufs, Earth's Best Organic Yogurt Puffs, and Hot Kid Organic Baby Mum-Mum Wafers (Yes, that's actually the name of them and they've been a lifesaver for getting her used to more complex textures after 6+ months old) but I don't want her to consume puffs and poufs all day.
There is one thing she does love besides "mommy milk," and eggs from my baby-led weaning with egg yolks post… it's the no-knead bread that I make.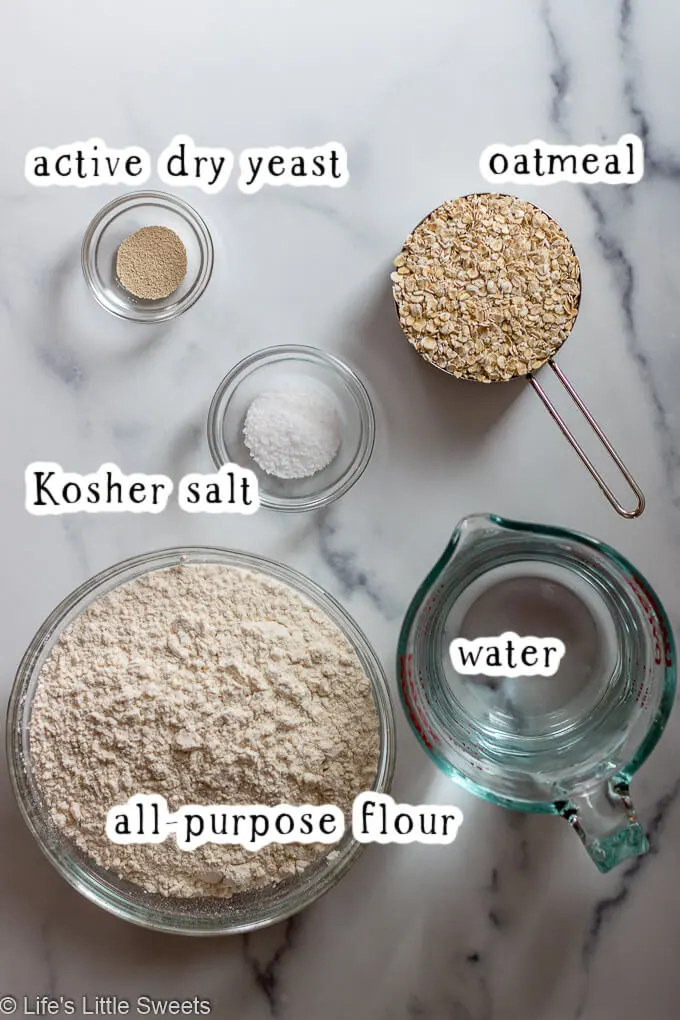 Ingredients
In total, there are only 5 ingredients in this bread: flour, yeast, salt, oatmeal, and water.
3 cups all-purpose flour, plus extra for dusting
1/4 teaspoon dry active yeast
1 1/2 teaspoons kosher or sea salt
1 cup whole grain oats (you can substitute quick oats)
1 3/4 cups water
When I say that she loves it, I mean that she transforms into one of those babies happily chomping away and smiling while they eat.
Kitchen Tools
measuring spoons and cups
pastry mat
mixing bowl(s)
parchment paper
Dutch oven
dough scraper
My mother's heart in me is happy when I see that.
I make all the bread my family consumes which means we never buy store-bought bread anymore, a decision I made almost a year ago, shortly after having Margo and being frustrated with the long list of ingredients, additives, and preservatives in store-bought bread.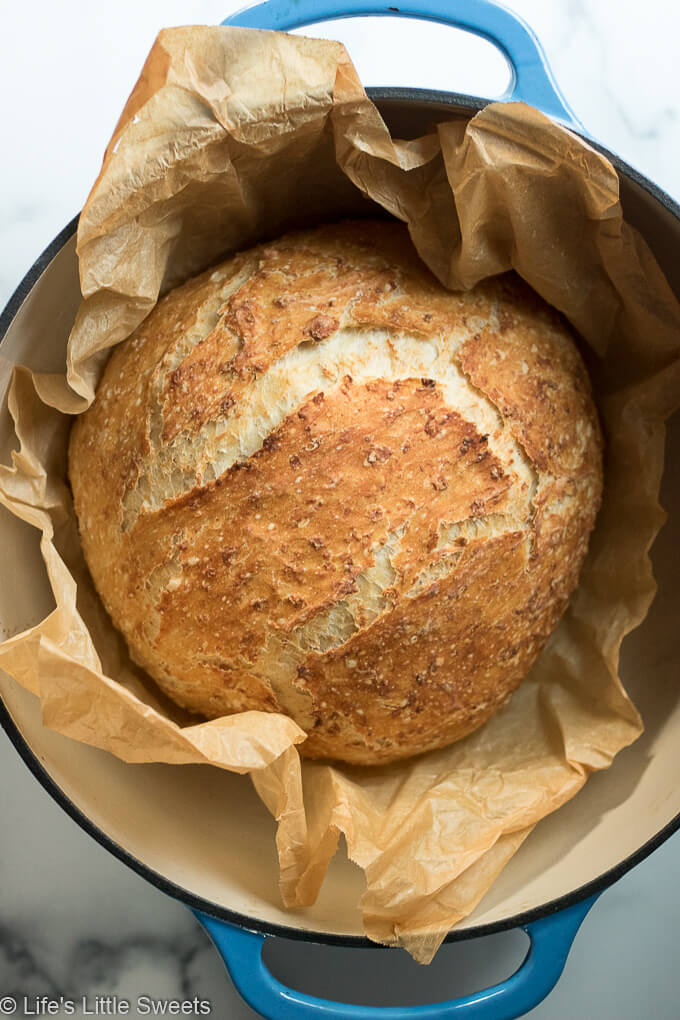 I mostly do no-knead bread because it is easy to incorporate into my day while I juggle other mom duties but I do other types of bread as well.
This is one way I purpose to have a healthier, whole-food approach to the way my family and I eat.
I have posted about no-knead bread before and this recipe is similar except that it has a little more water and oatmeal added.
You know I love oatmeal from my post on Oatmeal Raisin Cranberry Cookies (one of my favorite cookies BTW).
Oatmeal has so many health benefits like being a great source of soluble fiber, lowering cholesterol, stabilizing blood sugar, boosts the immune system – among other benefits.
Adding oatmeal to bread is a great way of getting more of those health benefits (and getting my kid to get some added nutrition to her diet!)
Recipe Notes – Alternatives & Thoughts
You can experiment with adding more oatmeal to the bread but you will also want to add more water as well.
I recommend having a dough scraper, this is an essential tool to have when working with wet dough.
This bread is great for everyone, if you do plan on giving your baby or toddler some bread, please make sure that they have access to water and can handle the texture of the bread. It took a while before my child could eat solids without easily choking which can be scary. When in doubt, use your best judgment and consult your pediatrician. I recommend everyone, parents especially, have CPR training and certification.
Do you make your own bread and love it? Let me know in the comments below. Happy baking!
Best Wishes and Happy Baking!
Latest Posts
Web Story
No-Knead Oatmeal Bread
Prep Time:
3 hours
40 minutes
Total Time:
4 hours
20 minutes
This simple no-knead bread recipe has the added health benefit of oatmeal.
Ingredients
1 3/4 cups water (130° F, I use water hot out of the tap, make sure you do not boil the water or it will kill the yeast)
Instructions
Mix 3 cups of flour with yeast, salt, and oatmeal. Pour in the water and mix until combined.
Cover with plastic wrap (or a plate) and let stand in a warm area for 3 hours or more if needed. (FYI-The ideal temperature for yeast growth is 37° C degrees Celsius or 98.6°F but the dough will rise at room temp.). Prepare a square piece of parchment paper and have a large clean bowl ready.
When the mixture has little bubbles on top and a flat surface, turn it out onto a well-floured surface (this is a very wet and sticky dough) and use a dough scraper (it's less messy if you use one, this is a very useful tool to have), fold the dough over at least 10-12 times.
Place the dough on the prepared parchment paper and put it in the clean bowl. Cover with a dishtowel and let rest for 30-35 minutes for the second rise. Place a Dutch Oven in the oven with the lid on. Preheat oven to 450°F. ***450°F is very hot, please make sure you have proper oven mitts for both hands for handling the Dutch oven.**(after first rise)(after 2nd rise)
Take the hot Dutch oven out. Take the lid off and pick up the bread dough on the parchment paper and place it into the Dutch oven. Cover with lid. Put the Dutch oven in the center rack of the oven and bake for 30 minutes. After 30 minutes, take the Dutch oven out of the oven, remove the parchment paper and place the bread back into the pot without the lid for 10 minutes or longer, if you want a harder crust. When it's done, you should hear a hollow sound when you tap the bottom. Let cool on a wire rack. Once cooled it can be stored for up to about 3 days in an airtight container.
Nutrition Information:
Yield:

11
Serving Size:

1
Amount Per Serving:
Calories:

152
Total Fat:

1g
Saturated Fat:

0g
Trans Fat:

0g
Unsaturated Fat:

0g
Cholesterol:

0mg
Sodium:

291mg
Carbohydrates:

31g
Fiber:

2g
Sugar:

0g
Protein:

5g
Please note that the Calculated Nutrition is an estimate at best.
This No-Knead Oatmeal Bread recipe post was first published on 5/8/2015 and updated and republished on 11/14/2020, more photos were added on 1/12/2021, 11/1/2022, 1/4/2023
Latest posts by Sara Maniez
(see all)