This Homemade, No-Knead Flaxseed Bread has the healthy addition of ground flaxseed – 1 bowl, 5 ingredients (flour, Kosher salt, yeast, water, and ground flaxseed), and no kneading required! (made at home, oven-baked in your Dutch oven!)
Estimated reading time: 10 minutes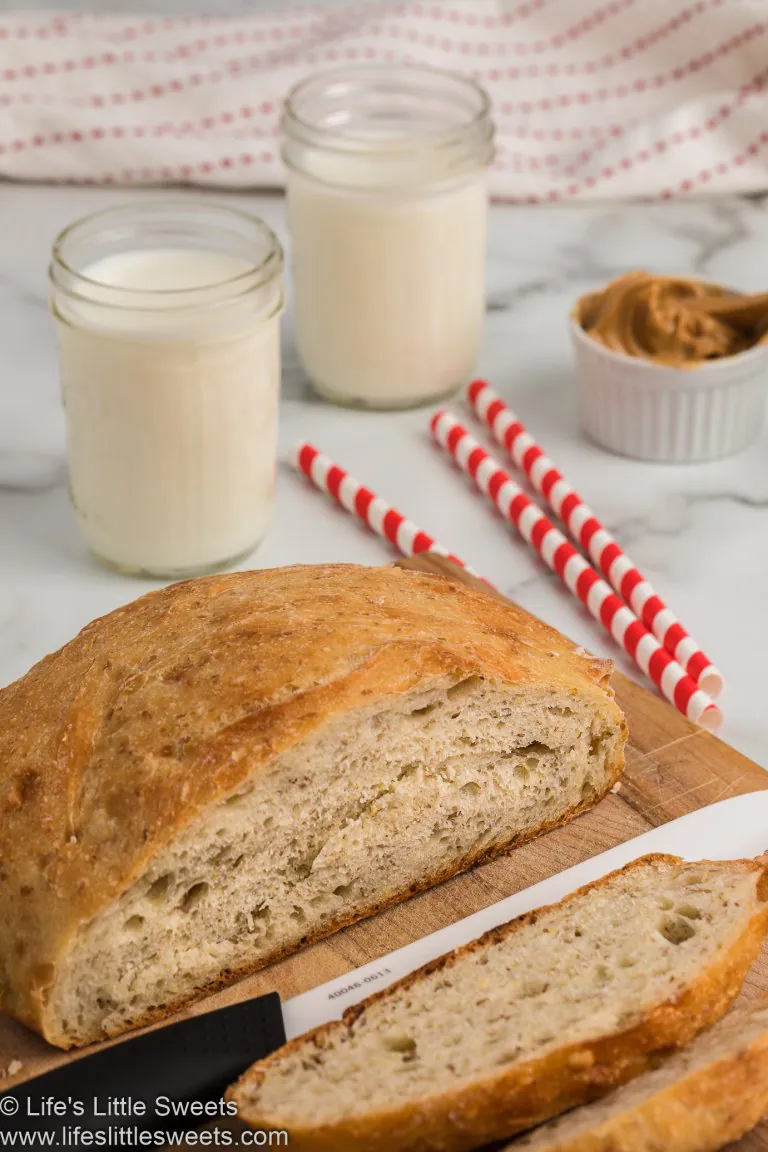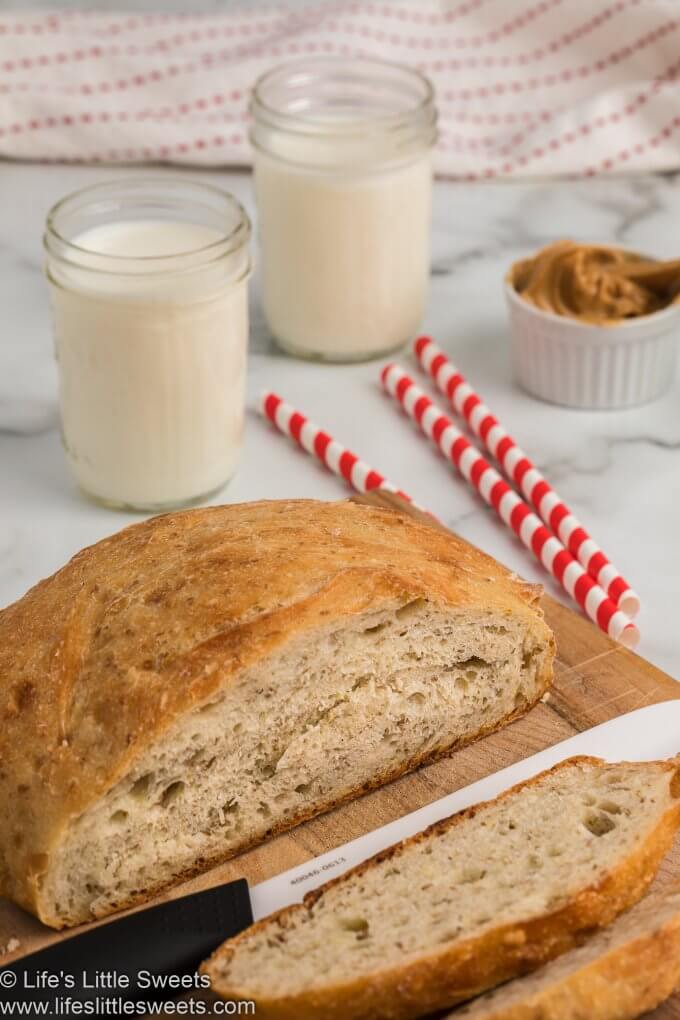 No-Knead Flaxseed Bread
Hi Everyone, I have been making bread (1, 2) for a while years now and believe that I spoil myself by making my own bread in that it's hard for other bread to measure up.
It's just so good and crusty!
I bake different kinds but most often I go back to a no-knead recipe.
On the rare occasion (i.e. laziness or time constraints) that I do purchase bread from the grocery store, get it home and make something with it – I always think, "Wow, my bread is so much better!"
How's that for pride in one's abilities?
I remember how intimated I used to be of bread making so many years ago, thinking, "that yeast – oh, what's it going to do?
It's so unpredictable!
I don't have time for this!"
Well, now I can "LOL" at that one because having a smidge of patience can do wonders to opening up a world baking, cooking and so many other accomplishments.
Let's bake some bread and live the good life people!
Slow down, savor those sweet moments, my friends.
Cheers to that!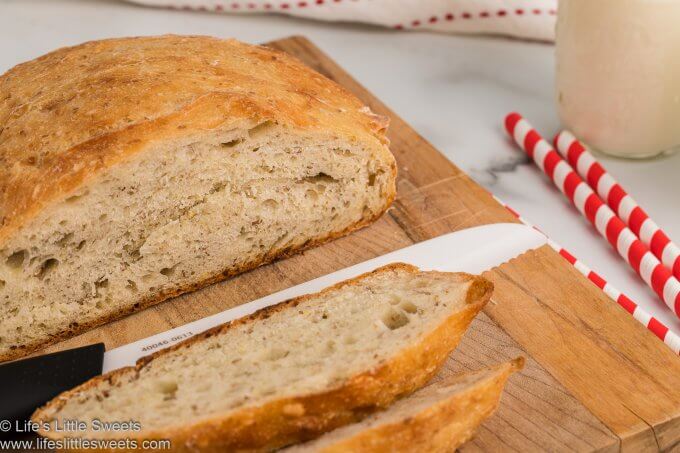 Ingredients
3 cups all-purpose or bread flour
1-3 tablespoons ground flaxseed, (for me, the sweet spot is 3 tablespoons)
1 teaspoon kosher salt
1/4 teaspoon dry active yeast
1-1/2 cups warm water, (I just use warm water out of the tap)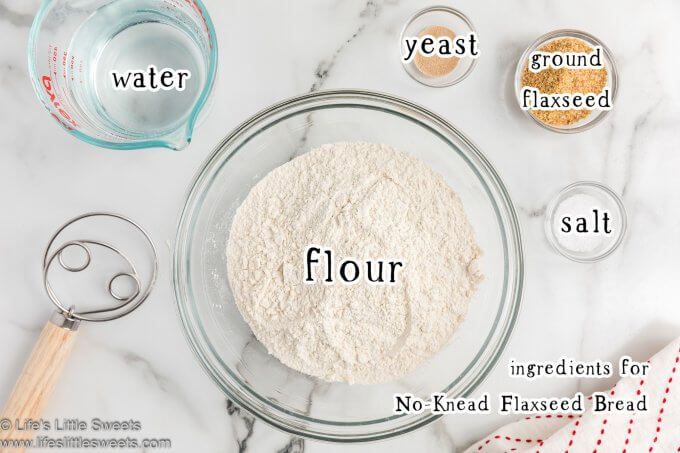 Kitchen Tools
measuring spoons and cups
mixing bowls
parchment paper
stiff baking spatula
dough scraper
pastry mat
Dutch oven
wire cooling rack
bread knife
cutting board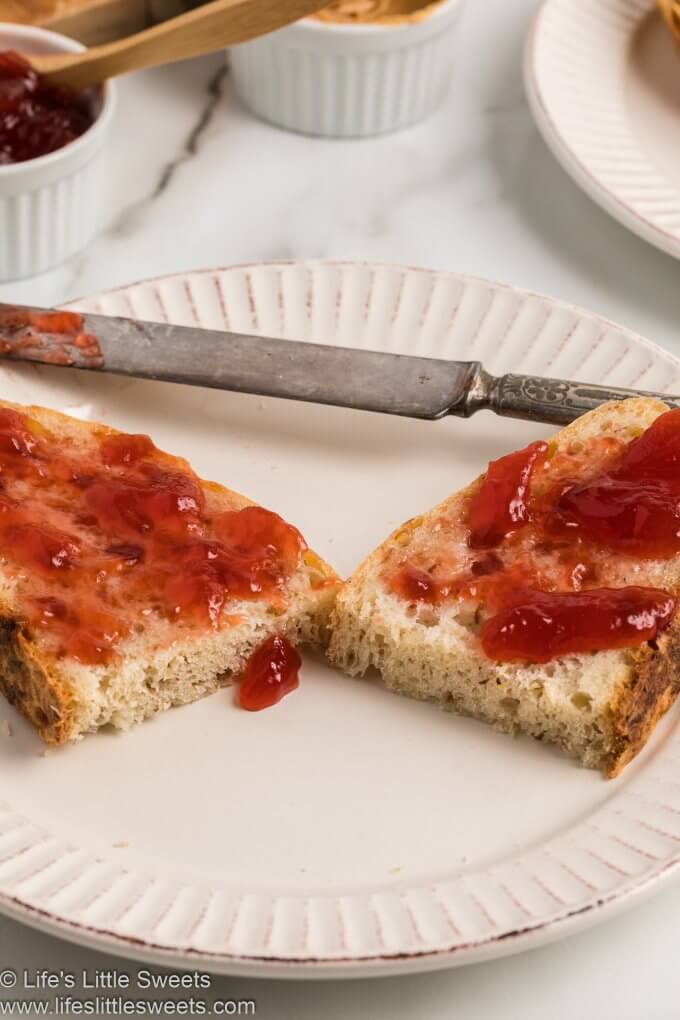 Step-by-Step Recipe Photos
Here are some step-by-step recipe photos below to help you as you make this recipe.
Make sure to check the recipe card for the complete directions at the bottom of the post.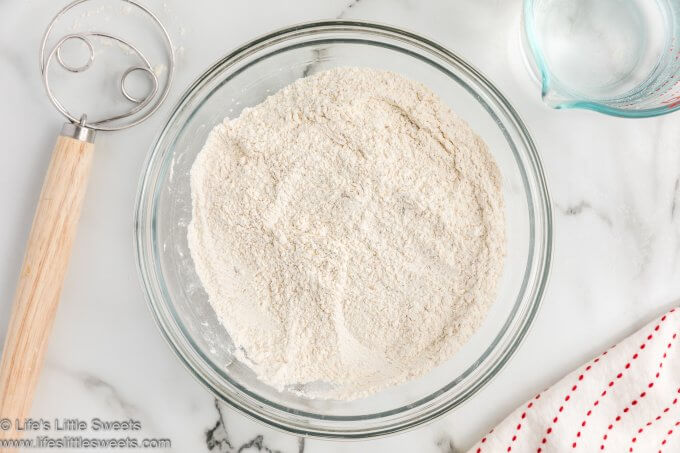 Make sure to check the recipe card at the end of the post for the complete directions and notes.
Recipe Notes and Tips
A dough scraper is very helpful when working with bread dough and I use it in all of my "No-Knead" recipes.
Recipe Attribution
This recipe is inspired by No-Knead Bread recipe here on the blog.
If you make "No-Knead Flaxseed Bread" and post a picture on social media, be sure to #lifeslittlesweets and link back to the post, thank you in advance!
Latest Recipes and Posts
If you make this recipe, and like it, please give it a rating in the recipe card below and let us know in the comments at the end of the post.
Check out our Recipe & DIY indexes, visit our Home page to view our latest posts & categories, visit our Blog page to see our posts in consecutive order and, our Shop to see our favorite kitchen tools!
Thank you for reading and following along!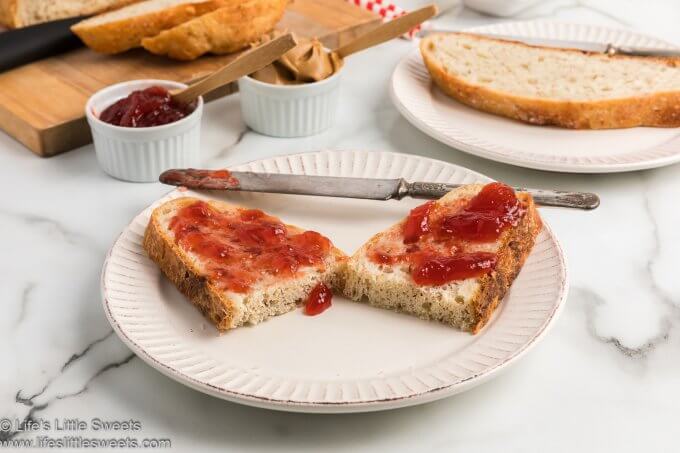 This post was originally published on 11/11/2015 and updated republished with new recipe photos by Sue Kvale on 6/18/2021.
No-Knead Flaxseed Bread
Homemade, no-knead bread with the healthy addition of ground flaxseed - 1 bowl, 5 ingredients, and no kneading required!
Ingredients
1-1/2 cups warm water, (I just use warm water out of the tap)
Instructions
Mix flour, flaxseed, salt, and yeast together in a large mixing bowl. Add in water and mix until evenly combined and the dry ingredients are absorbed. Leave covered (I use a plate or saran wrap also works) to rise in a warm area for about 3 hours or until the mixture is flat and bubbly on top. Notes: On salt content: 1 teaspoon is a good about of salt if you want the bread, not completely flavorless but relatively bland. I like to keep this amount for use as bread in sandwiches, giving to my toddler, or for toast with butter (I don't like her consuming too much salt, not healthy!). You can add more salt for more flavor, 1-1/2 teaspoons is a good amount too and tastes a little more flavorful.
Prepare a clean bowl with a square of parchment. On a floured surface (I used a cutting board) Using a dough scraper, turn the mixture out of the bowl and turn over about 12 times. Put the dough ball in parchment paper, and in the clean bowl. (You can totally, reuse the old bowl, it's just messier). Allow to rise about 30 minutes in a warm area, in the meantime, put a dutch oven with the lid on into the oven and preheat it to 450 degrees F (that can sometimes take almost 30 minutes depending on the oven). Using oven safe gloves (Safety first! Be careful, this is a very hot oven!), take the dutch oven out of the oven, remove the lid, place bread dough in the dutch oven by lifting the parchment paper, then using your oven mitt, cover with a lid. Place in oven and bake for 30 minutes.
After 30 minutes, take the dutch oven out, using your oven mitts, carefully take off the lid, take the bread out of parchment paper and place it back into the oven for another 10 minutes or until desired browning is reached. When it's done let it cool on a wire rack for at least 20 minutes.
Notes
Water Temperature: 130° F I use water hot out of the tap, make sure you do not boil the water or it will kill the yeast
Dough Rising Temperature: The ideal temperature for yeast growth is 37° C degrees Celsius or 98.6°F but the dough will rise at room temperature
Nutrition Information:
Yield:

11
Serving Size:

1
Amount Per Serving:
Calories:

148
Total Fat:

2g
Saturated Fat:

0g
Trans Fat:

0g
Unsaturated Fat:

1g
Cholesterol:

0mg
Sodium:

196mg
Carbohydrates:

28g
Fiber:

2g
Sugar:

0g
Protein:

5g
Please note that the Calculated Nutrition is an estimate at best.
Latest posts by Sara Maniez
(see all)