This shop has been compensated by Collective Bias, Inc. and its advertiser. All opinions are mine alone. #ShopRiteFamilyMeals #RootedInFrontera #WholesomePantry
Estimated reading time: 10 minutes
I am sharing tips and ideas on How To Manifest a Family Meal. You wouldn't think it's hard to do but when schedules, activities, and work comes into play, you need deliberate action and mindfulness to bring about meal time with family. Plus, with some help from ShopRite, I'm sharing my savory, delicious & family-friendly recipe for Chicken Taco Pizza!
How To Manifest a Family Meal
Hi Everyone, it's Autumn and everyone's schedules are either already packed or about to get even more busy as we approach some of the biggest holidays of the year.
No matter what time of the year it is, sometimes it can be a challenge to gather the family around the table to share a family meal.
I want you to know that even though it can be a challenge, it does not have to be impossible and if you can set up your schedule and be mindful about certain things, a family meal together with loved ones can be achieved.
I just want to talk a little bit about why this is personally important to me. We now have a family of 4, my husband Eric and I, our 4-year-old daughter, Margo, and the newest addition to the family, our 1-year-old son, Marc.

Eric works full-time outside the home, I am a stay-at-home/work-at-home mom with my blog/food photography business, plus, I have a new part-time job outside the home.
Our daughter has preschool a few days a week with seasonal sports & activities and our son has all the needs of a baby/soon-to-be toddler.
Let's just say we have a busy household with the potential to always get busier.
If we want to have any chance at having a meal together, we have to make it happen!
I am sharing some tips from my household on what's working to manifest a family meal for us, plus I am sharing an adaptable, family-friendly meal: Chicken Taco Pizza!
How To Manifest a Family Meal Ideas
#1 – Pick a Time for Your Meal
It's important to set either an exact time or a general window of time to have your family meal.
Deciding whether or not to have an exact time or general time can depend on your preferences or the schedule/activities of the day.
For us, for example, it's usually, 6:30 pm BUT this is always subject to change depending on the activities of the day.
Sometimes it's later, for example, if we are at the gym or taking a walk, sometimes it's earlier. It also depends on the season since it gets dark earlier in the winter months.
Make sure everyone in the family knows what mealtime is, so everyone can be together in the same place at the same time.
Communication is key!
#2 – Involve Kids in Making the Meal
It's good to involve your kids (depending on their age) with some or all of the meal preparation.
Give them something age and safety appropriate that they can do and master.
It can take some pressure off you and/or your partner to make the whole meal and know when to step in if your child/children need help with a task.
Make sure not to over-burden them with tasks, keep it fun, light and enjoyable.
A side benefit to this is that it helps to make kids want to eat the food they make if you happen to have picky eaters.
Who knows, you might have a little chef in the making 🙂
#3 – Put Phones & Devices Away during Preparation & Meal Times
I know, I know, this can be so hard to do but it's very important.
Meal time is a time to enjoy each other's company and reconnect with your family.
If everyone's distracted then that doesn't accomplish what we set out to do.
Depending on everyone's willpower, you might need to completely put phones & devices out of sight or just on a side table.
I suggest putting them out of sight because you know what they say, "out of sight, out of mind."
#4 – Control the Daily Schedule
Make sure your day is not overburdened with activities to the point where you don't have time to prepare or have a meal with your family.
Try not to schedule activities/appointments too close to mealtime and give a buffer for that sacred time.
#5 – Cleanup
This is jumping ahead a little bit but trying to get everyone involved in cleaning up and beyond that doing a nightly clean-up helps give you a clean slate for the next day.
The more you can prepare ahead, either with household chores or meal prep the better.
If you find yourself with a window of time, use it to clean and organize and that can do wonders for making things less chaotic and calmer.
#6 – Combine Fresh and Convenience Items to Make a Homemade Meal and Save Time
I am all about making homemade meals but not making it so hard that you spend all your time making it and not enough time enjoying eating it because that would defeat the point.
If you are in the season of life where you have a kid(s), you (and/or your spouse) work, etc. you can benefit from combining convenience items to make homemade.
Below is a picture of my grocery haul from ShopRite where I picked up ingredients to make my Chicken Taco Pizza recipe: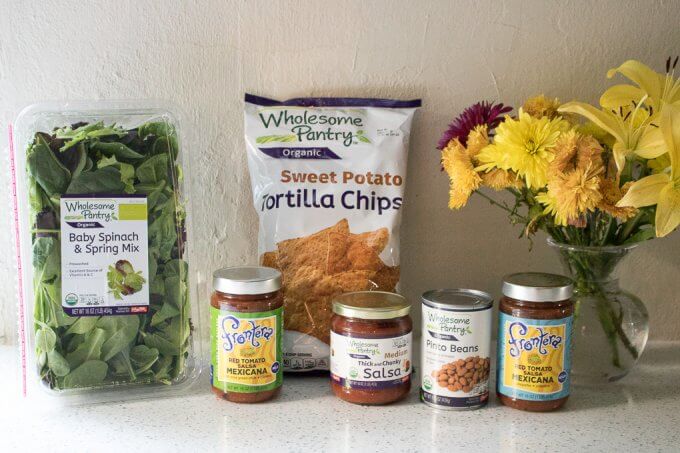 #7 – Have a Starter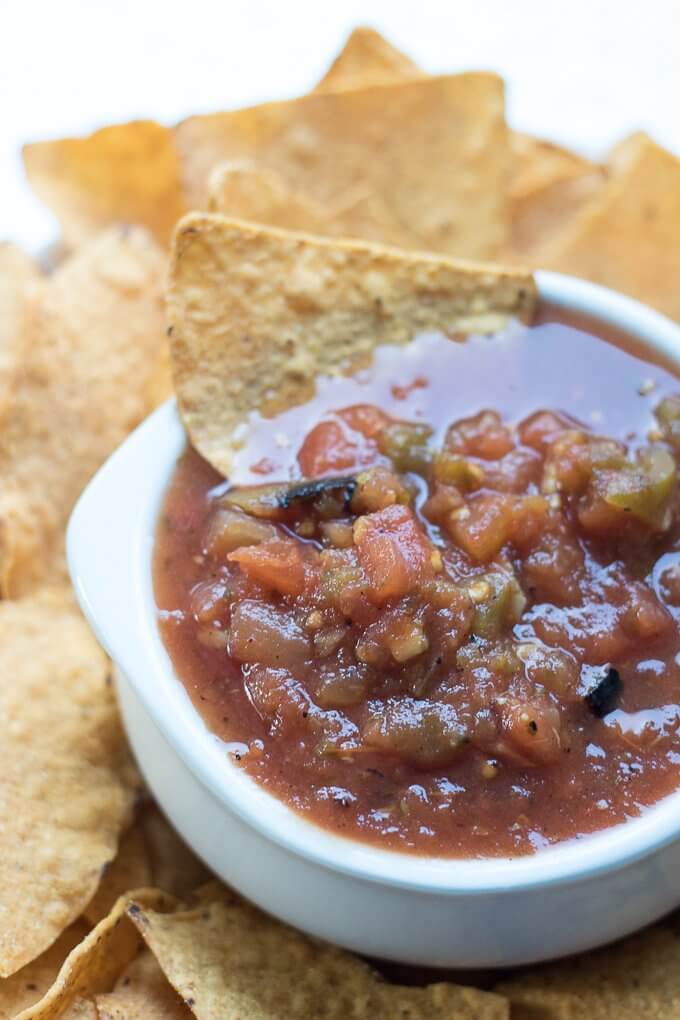 I usually have chips and salsa (a family favorite!) or something people can snack on while dinner is being prepared.
It also has the added benefit of getting your family members to stand around and start talking.
We tried this Wholesome Pantry Organic Sweet Potato Tortilla Chips with tasty Frontera Salsa as a starter with our Chicken Taco Pizza which complimented the meal as well as being something new (sweet potato) for our daughter to try.
Chicken Taco Pizza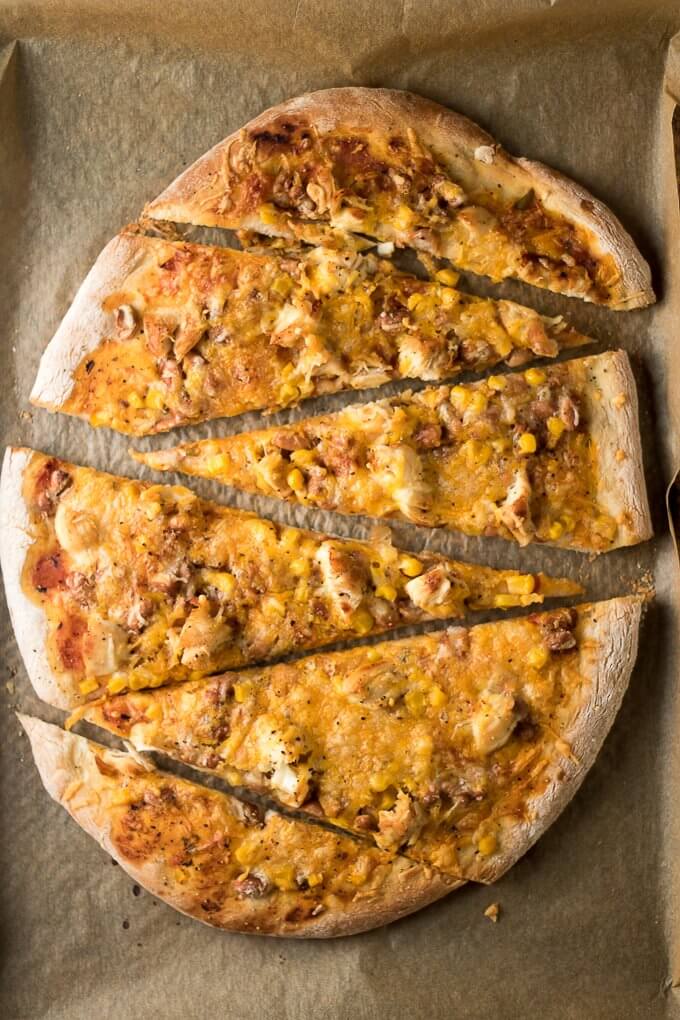 Web Story
This Chicken Taco Pizza is a savory and balanced meal that tastes great, is adaptable for every family member (adults and kids alike), and best of all comes together in a reasonable amount of time (a bake time of 15-20 minutes).

This recipe uses my recipe tutorial for How To Make Pizza Dough, but you can take a shortcut by getting store-bought pizza dough.
If you can prepare the dough the day before, that helps cut down the time it takes to get dinner made too.
I always make an extra pizza dough recipe so I can have pizza dough for the next day.

This recipe has chicken which can be omitted for vegans/dairy-free eaters.
It has pinto beans which can be swapped out for another kind of bean.
You can also customize the type of cheese blend. I used a 3-cheese Mexican cheese blend for the topping.

Latest Posts
After it's done baking, I just sprinkle it with prepackaged Spinach & Spring Lettuce Mixed which is already washed and ready to go (another time saver!).
I also dot the top with more salsa before serving for some extra fresh flavor.
Mealtime is the one time of the day to reconnect and focus on your family, make it count!
Let me know how you make time for family meals and recipes that work for you in the comments below, thank you!
Our Other Recipes and Posts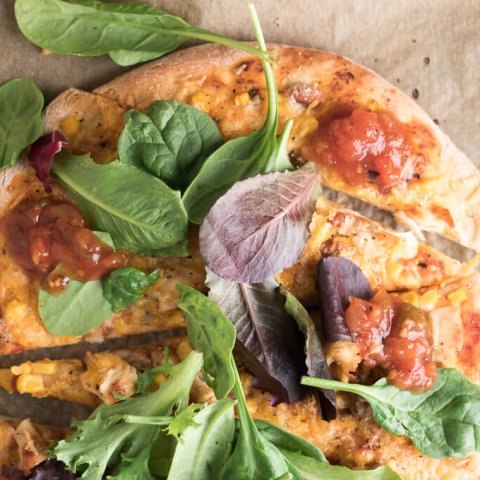 Chicken Taco Pizza
Additional Time:
5 minutes
Family-friendly and delicious, this flavorful Chicken Taco Pizza is sure to please children and adults alike. It has a salsa base, cooked chicken, Pinto beans, Mexican 3-cheese blend, and is topped with spinach & Spring Mix greens and more salsa. Try this adaptable and easy pizza recipe!
Instructions
Preheat oven to 450 degrees F. Prepare 2 baking sheets with parchment paper and set aside (or you can use a pizza stone)
Form 2 pizzas (or 1 large pizza) with the pizza dough. Spread 1/4 cup of salsa on each pizza.
In an even layer, add Pinto beans, about 1/4, per pizza to the salsa layer.
Add chicken to the beans layer.
Add 1 cup (or amount to taste) to the chicken layer. Sprinkle in an even layer. Bake in the 450-degree, preheated oven for 15-20 minutes until cooked through.
Sprinkle 2 ounces (or amount to taste) of Spinach & Spring Mix to the top and slice before serving. Enjoy!
Notes
preparation time does not include time to made the pizza dough or cooked chicken
Nutrition Information:
Yield:

4
Serving Size:

1
Amount Per Serving:
Calories:

556
Total Fat:

32g
Saturated Fat:

18g
Trans Fat:

0g
Unsaturated Fat:

11g
Cholesterol:

107mg
Sodium:

1374mg
Carbohydrates:

36g
Fiber:

5g
Sugar:

10g
Protein:

34g
Please note that the Calculated Nutrition is an estimate at best.
First published: 10/24/2018
Updated: 2/4/2023
Latest posts by Sara Maniez
(see all)