This is my Flea Market Haul for the Week Of 6.25.2016. Check out the 7 Kitchen Tools & Food Photography Props I found…and what we paid!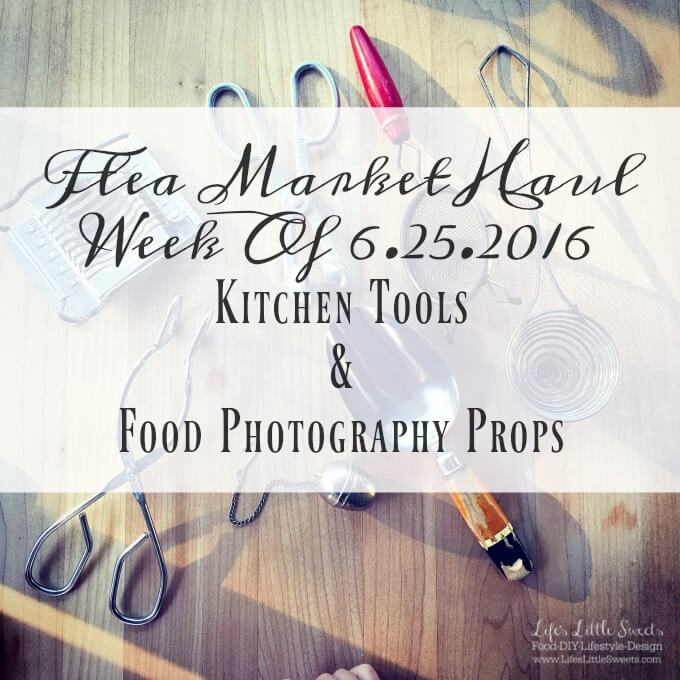 Flea Market Haul – Week Of 6.25.2016
Does anyone else have an affection for used/loved, old stuff and antiques like Eric and I do? I appreciate the design of tools and things from another time, it's just different from new, shiny things that are so readily made now. Don't get me wrong, there are some things that I like to buy new (especially in the technology realm) but there's a nice texture and detail to old stuff that you do not always find with new items.
You know what the best part of getting these little treasures I found? It's inexpensive, you know what, I'll say it, it's downright cheap and worth it because I get so much value out of these tools.
You'll never guess what I paid for all the tools you see in these pictures…read on below to find out!
[bctt tweet="Check out this Flea Market Haul for Kitchen Tools & Food Photography Props!" username="lifeslilsweets"]
Would you believe that we only paid $4 for a bag of kitchen tools? Being a resourceful person, I was like, WIN!
I got home and used them right away in a food photography shoot. Keep an eye out for more recipes coming up, you might see one or more of these tools starring in them 🙂 Check out my list of the tools below.
Check out all the kitchen tools/food photography props we found! Some I know, but some I am not sure what it is, feel free to guess in the comments below!
Here is the Flea Market Haul list:
metal hard-boiled egg slicer
my guess is a melon baller?
tea strainer which also makes a great sifter for garnishing desserts with confectioner's sugar or cocoa
my guess is it's special spoon for picking eggs out of boiling water?
tongs
loose tea strainer
Citrus crank juicer *not picture above, see below!
I originally posted a photo and a video of the haul on my Instagram feed. Eric (Instagram @6Ratrod) demonstrates how to use it 🙂
Below is a video of the 7th item from the haul:
For this Flea Market Haul, we went to The Golden Nugget Flea Market; it's a great flea market in the NJ/PA area.
I have been using these kitchen tools a lot and they have already been in these posts: No Bake Blueberry Lemon Cheesecake on SoFabFood |
What flea markets do you like going to? Where do you like to get your food photography props? Let me know in the comments below!
Pin This! ⇓
Latest posts by Sara Maniez
(see all)