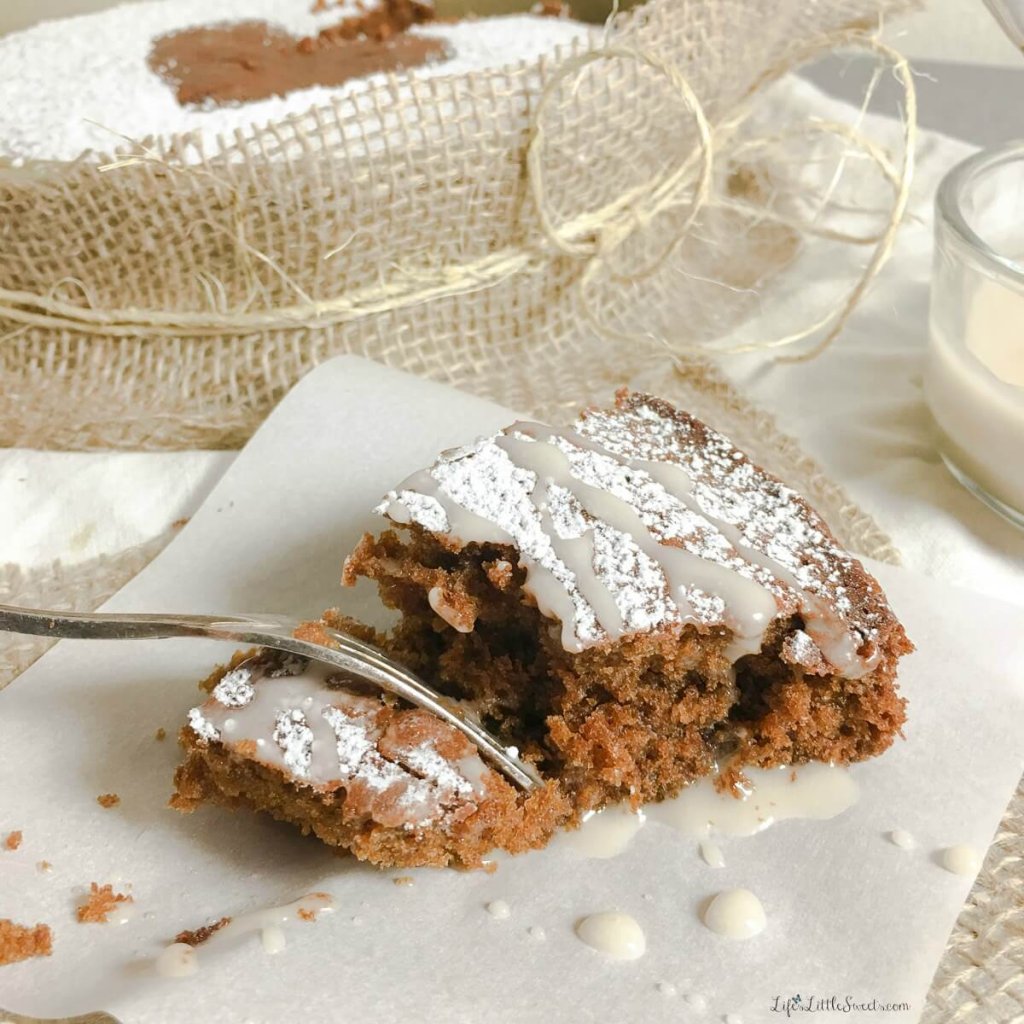 Baking with molasses is my new love with this recipe. I don't normally use molasses but it's now in my repertoire and let me tell you, the flavor it bring to a recipe is AMAZING!
Gingerbread Spice Cake
This Gingerbread Spice Cake is flavorful, with aromatic spices, molasses and honey & maple agave nectar! It has a dairy-free & vegan option, so everyone can enjoy this moist & delicious cake 🙂 Spice up things with a warm slice topped with Vanilla Coconut Icing.
Ingredients
1.5 cups all-purpose flour
1 teaspoon ground cinnamon *you can dial back this amount to 3/4 teaspoon, , if you prefer it to be less spicy
1 teaspoon ground ginger *you can dial back this amount to 3/4 teaspoon, , if you prefer it to be less spicy
1/2 teaspoon baking powder
1/2 teaspoon baking soda
1/2 cup coconut oil, , *in it's solid state
1/8 cup maple agave
1/8 cup honey, (can substitute brown sugar or maple agave in the same amount for vegan option)
1 flaxseed egg for vegan option, (or can substitute 1 regular egg)
1/2 cup regular molasses
1/2 cup buttermilk, (can substitute 1/2 cup water for dairy-free, vegan option)
For Topping: Confectioner's sugar and 1 recipe Vanilla Coconut Icing
Instructions
In a medium mixing bowl, mix together the flour, cinnamon, ginger, baking powder, baking soda and set aside.
In medium-large mixing bowl, using a hand mixer (you can use a stand mixer but you will have more control with a hand mixer for this recipe), mix coconut oil for about 30 seconds just to break it up and make it smoother. Add flaxseed egg for vegan option (or regular egg) and molasses, mix until combined. Alternately add water (or buttermilk) and flour mixture until combined, do not over mix.
Using a baking spatula, spread the thick batter into a 9"x2" round baking pan. Bake for 35-40 minutes. (35 minutes was sufficient in my oven). Test by using a toothpick or knife and after inserted, it should come out clean. Allow to cool a little on a trivet off the stove, then dust with confectioner's sugar (if the cake is too hot, the confectioner's sugar will melt). To make a heart of any other shape, cut shape out of paper and place on top of cake, then dust over it, gently remove paper (see photo collage above). Top with Vanilla Coconut Icing when serving. This cake is delicious served warm, enjoy!
Nutrition Information:
Yield:

12
Serving Size:

1
Amount Per Serving:
Calories:

297
Total Fat:

13g
Saturated Fat:

10g
Trans Fat:

0g
Unsaturated Fat:

2g
Cholesterol:

16mg
Sodium:

131mg
Carbohydrates:

44g
Fiber:

2g
Sugar:

30g
Protein:

3g
Please note that the Calculated Nutrition is an estimate at best.
Recipe Attribution: Gingerbread Spice Cake is inspired by, Gingerbread, in the "Better Homes and Gardens New Cook Book," Special Edition, 2007 (available for purchase in my Amazon aStore!)
If you like Gingerbread Spice Cake, you may also like Vegan Banana Bread, Naturally Sweet Cornbread and Vanilla Coconut Icing.
If you make Gingerbread Spice Cake and post a picture on social media, be sure to #lifeslittlesweets and link back to the post, thank you in advance!
What are your favorite gingerbread recipes? Let me know in the comments below!
Latest posts by Sara Maniez
(see all)