Lemon Herb Baked Chicken Tenders are bright, zesty, and easy to prepare; they only require 30 minutes of marinating time and bake in 20 minutes!
Estimated reading time: 4 minutes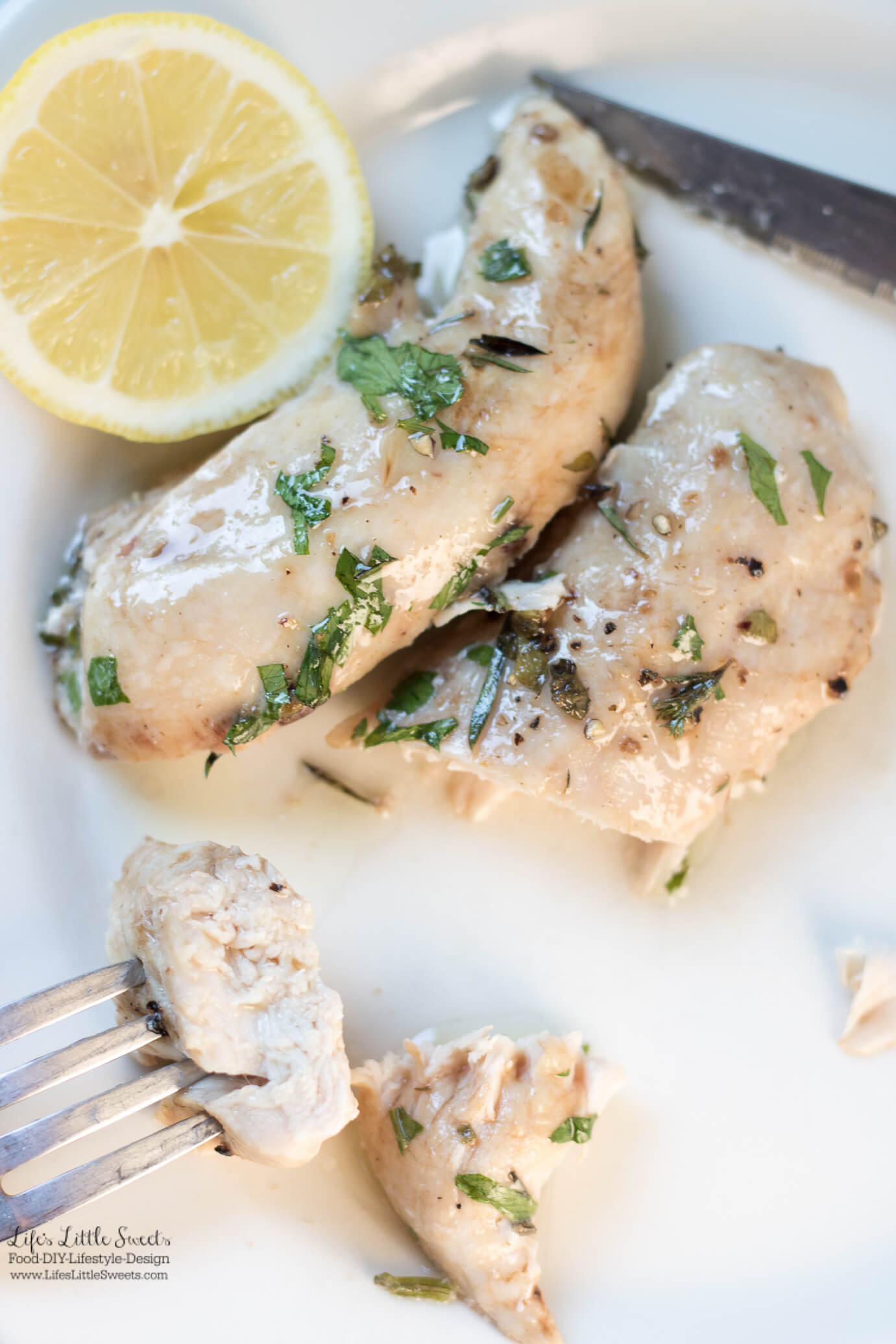 Lemon Herb Baked Chicken Tenders
Hi Everyone, I'm sharing a simple-to-prepare, baked chicken tenders recipe that can be paired with a vegetable or carbohydrate side(s) for dinner any day of the week.
Flexible recipes like this Lemon Herb Baked Chicken Tenders recipe, that are simple to prepare and use a small list of ingredients (preferably fresh and in season) are always a winner in our house and everyone in my family likes these kinds of recipes.
What to pair your chicken tenders with?
I like and suggest pairing these chicken tenders with baked sweet or regular potatoes, steamed rice or pasta, salad, or a sautéed leafy, green vegetable.
Recipe Attribution
This recipe takes inspiration from our basic chicken tenders recipe here on the blog, Herb Baked Chicken Tenders.
I came up with this recipe during a Summer beach vacation, where we had access to a herb garden where we were staying, hence the fresh bright flavor of the lemon and fresh herbs.
This marinade method is also great with fish. If you chose to use it with fish, you can use the same amount of marinade.
Web Story
Latest Posts
If you make this recipe and like it please give it a rating on the recipe card and let us know in the comments at the end of the post.

Thank you for reading and following along!
Check out our Recipe & DIY indexes, visit our Home page to view our latest posts & categories, visit our Blog page to see our posts in consecutive order and, our Shop to see our favorite kitchen tools!
Lemon Herb Baked Chicken Tenders
Marinating Time:
30 minutes
Lemon Herb Baked Chicken Tenders are bright, zesty, and easy to prepare; they only require 30 minutes of marinating time and bake in 20 minutes!
Ingredients
1-1.5 pounds chicken tenders, get the freshest chicken, I usually get organic or at least hormone-free, vegetarian-fed chicken
1/4 cup fresh Italian parsley, washed, chopped, plus more for serving (you can also use a variety of whatever fresh herbs that you have on hand, I also used Winter Savory and Rosemary)
1/4 cup fresh lemon juice
1 fresh, ripe lemon, sliced for serving and to bake with
1-2 tablespoons unsalted butter
Instructions
In a 9 x 13-inch baking dish, mix all the marinade ingredients (olive oil, lemon juice, minced garlic, chopped herbs/parsley, salt, and pepper), and coat the chicken tenders in it. Marinade chicken for at least a half-hour before cooking; you can also marinate for a few hours or overnight. The chicken tenders will only taste better the longer it is marinated.
When the chicken tenders are done marinating, add 1-2 tablespoons of butter on top, bake in a 425 degree F oven for 15-20 minutes. You can turn once halfway through (although I never bother to). Allow cooling 5 minutes before serving. Enjoy!
Nutrition Information:
Yield:

4
Serving Size:

1
Amount Per Serving:
Calories:

1433
Total Fat:

103g
Saturated Fat:

19g
Trans Fat:

0g
Unsaturated Fat:

76g
Cholesterol:

186mg
Sodium:

2867mg
Carbohydrates:

66g
Fiber:

3g
Sugar:

9g
Protein:

64g
Please note that the Calculated Nutrition is an estimate at best.
Latest posts by Sara Maniez
(see all)