This rustic 'Mile High Pear Pie' is flavorful with natural sweetness using honey & coconut sugar, fragrant Ceylon cinnamon, crisp & juicy pears, and a flakey, scrumptious, vegan double pie crust using coconut oil – enjoy this recipe on a Fall day after the pear harvest!
Estimated reading time: 6 minutes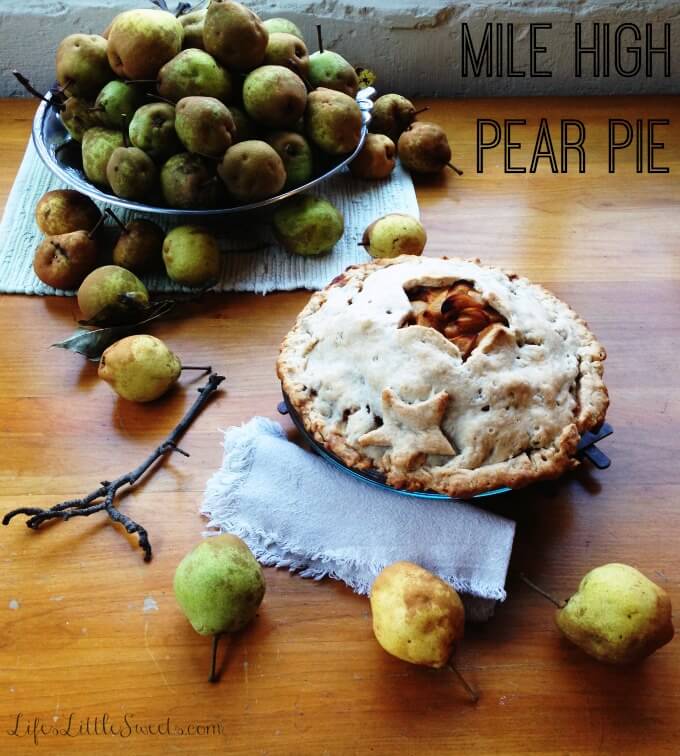 Mile High Pear Pie
Hi Everyone, I have some great news!
We found a pear tree on our property.
We have been in the house since our first night here on March 13th, 2014; during the first year, the tree did not bear fruit – this year it did!
When I was a child, growing up, my family had a tall, arched pear tree right in our yard (I would love to share a photo of it if I can find one!) which now, I believe was a Bosc variety (we always referred to it as a Bartlett pear tree, so I am a little confused!).
I remember how fun it was to try to get the fruit which often involved "MacGyvered" broomsticks, baskets, and some iffy ladders.
We would give a branch a gentle shake, try not to get clocked on the head with pear and let me tell you..to taste a fresh, ripe pear grown right where you live…that's heaven! Ah, good times 🙂
As you can see, we (well, mainly Eric) had to pave a path through some nasty, invasive pricker bushes to get to it.
We also have a winding path through the woods to access it but the below route is more direct.
There is a creeping vine growing on it that has to be removed.
I want to give this pear tree some TLC; I feel so lucky that we have it.
I have always wanted to have fruiting trees where I live, I think they are marvelous.
(Above) Eric is holding a feed bucket full of pears and this is just a small amount of the bounty that is still on the tree!
I am not a pear expert, but definitely a pear lover!
Does anyone know what kind of pears these are?
We live in Central, NJ – if that helps.
I have done some research online and they seem similar to the Bartlett or Anjou and within those types, there are probably so many varietals.
In color, they are greenish-yellow and become a light yellow when fully ripe.
They have a brownish, matte finish on parts of the skin and the skin is firm to the touch, edible but slightly tough.
The cores are hard and sometimes grainy. They are crisp, juicy, sweet, and flavorful.
They maintain their crispiness even after baking (which I think is fantastic texture-wise).
I estimate that the tree is about 30+ feet tall.
(Above) You can see this past Saturday was a pear harvest day and the whole family (of 3) was involved.
We are all in our Saturday morning, down-home, rolled-out-of-bed, the-hoodie-wearing-family style, you don't mind, do you?
Climbing up ladders and picking pears requires dressing for comfort, for sure.
Eric and I did the picking, peeling mostly Eric and cutting, Margo supervised, directed, and inspected the pears for quality, and after, I baked the pie.
I clearly didn't get fussy to make the crust look perfect, this pie is homegrown and rustic!
It tasted SO good and delicious.
We brought it over to dinner at Eric's Sister's and everyone enjoyed it.
All those apple pies I've made in the past and my appreciation for the pear has prepared me well for this Mile High Pear Pie.
It's my new favorite!
Via my Instagram (below): This is a view of my kitchen table right now where I have a bowl of pears with pears literally spilling out of the bowl.
I need to make more pear recipes to use all these pears up!
Specific ingredients I prefer for this recipe
Cinnamon - Spice Islands Organic Ground Saigon Cinnamon
Sea Salt - Frontier Fine Sea Salt
Organic Vanilla Extract - Simply Organic Pure Vanilla Extract
Ingredient List
Filling
3 pounds skinned and sliced pears, (I sliced mine about 1/4 inch thick & use a variety good for baking, like Bartlett or Bosc)
1/2 cup coconut sugar
1/4 cup brown sugar *see recipe notes in the recipe card
1/4 cup honey, If vegan, sub for coconut sugar or regular sugar
2 tablespoons all-purpose flour, to help thicken the filling
1 tablespoon apple cider vinegar
1 teaspoon ground cinnamon, (I use Saigon cinnamon because it's more fragrant)
1 teaspoon organic vanilla extract
1/4 teaspoon sea salt
Double Crust
2-1/3 cups all-purpose unbleached flour
1 cup coconut oil *in its solid, chilled state
1 tablespoon coconut sugar
1 tablespoon apple cider vinegar
1/4 teaspoon sea salt or Kosher salt
1/4 cup ice water, plus more if needed
Kitchen Tools
measuring spoons and cups
2-cup wet measure
mixing bowl(s)
baking spatula
dough scraper
Rolling Pin (French rolling pin) - love this type of tapered, wood rolling pin!
Glass Pie Dish - like the Pyrex 9.5 x 1.2-inch Bakeware Pie Plate
Silicone Pastry Mat
Ceramic Pie Weights
Web Story
Recipe Attribution
I came up with the pear filling recipe myself (I've experimented for years with apple pies), trying to tailor it more to these pears I used.
For the crust recipe, I really like the crust part of Lynne Rossetto Kasper's "Pie in the Sky" and my recipe is inspired by her.
I like listening to her radio show "The Splendid Table" whenever I get the chance.
Latest Recipes and Posts
Mile High Pear Pie
This rustic 'Mile High Pear Pie' is flavorful with natural sweetness using honey & coconut sugar, fragrant Ceylon cinnamon, crisp & juicy pears, and a flakey, scrumptious, vegan double pie crust using coconut oil - enjoy this recipe on a Fall day after the pear harvest! *Vegan option included
Ingredients
Filling
3 pounds skinned, sliced baking pears
Double Crust
1/4 cup ice water, plus more, if needed
Instructions
Preheat oven to 400° Fahrenheit (204° Celsius).
Pie Filling: Combine pie filling ingredients and set them aside to marinate. Please note: when combining pie filling ingredients - sprinkle ingredients all over the sliced pears to coat evenly and then mix thoroughly.
Double Pie Crust: For the double pie crust, you want to keep all the ingredients cold to ensure it will come out nice and flakey! I chill the crust ingredients beforehand and after working with the dough at every step. This does take longer but it's worth it. Using your fingertips as not to heat up the coconut oil, work the coconut oil and flour together until it's mixed throughout, it's okay to have clumps of coconut oil. I left clumps up to 1/2 thick, when these melt you will get those marvelous flakes. Mix in the rest of the ingredients and do the water last. Only add the amount of water that you need to get the dough to come together to form a ball. It shouldn't crumble, nor be too wet. Cover with a wrap or put in an airtight container and stick it in the freezer for up to a half-hour to chill (make sure to wrap it when not working the dough and if it dries out, just add a little more water and work it in on a lightly floured surface being careful not to overwork.) After chilling, using a dough scraper, divide the dough into 2. Roll one out 1/4" thick and place in a pie dish (you can try to roll it thinner but I find when using the coconut oil versus butter, having a thicker dough helps it not to break, and makes a more flakey crust!). Poke holes in the dough with a fork in the bottom and around the sides of the pie dish. You can trim excess but remember to leave an overhang over the edge of the pie plate because this dough will shrink 1/2-3/4" in the oven. You can save the excess for decoration on the top. Cover the dough in the pie plate with wrap and chill in the freezer while you roll the top dough ball. Make any cutouts in the top at this time. I did a large star which also functions as a generous vent to boil down any excess moisture. You can cover and freeze the top at this point. Take out the pie plate with the dough and blind bake the dough for about 10 mins, in the 400°F oven, feel free to use pie weights. Take out of the oven.
Arrange pears tightly in the baked bottom pie shell, trying to minimize air pockets, press down if you need to, pour the remaining pear filling liquid over the top. It might seem like a lot of liquid and you can add a tablespoon or so more flour if you are concerned about getting a soggy pie (my pie was fine with the 2 tablespoons of flour and ample time to cool and set). Put top pie dough over pears and arrange any cutouts for decoration if desired. Press down gently over the top to push any air out and seal edges, I used the end of a spoon.
Bake for 1 hour. Check on it 30-45 minutes in, to make sure the top isn't getting overly browned. Put a piece of aluminum foil with a circle cutout for a vent to reduce browning if need be (I did at 45 mins in). Bake remaining time. Allow to cool completely, this ensures it sets up before you cut into the pie. Enjoy!
Notes
Pears: I sliced the pears about 1/4 inch thick and use a variety good for baking, like Bartlett or Bosc
Brown Sugar: You can substitute this with coconut sugar, I just like to layer sweeteners for flavor depth in this type of recipe and I had brown sugar to use up!
Wildflower Honey: If vegan, sub for coconut sugar or regular sugar
Cinnamon: I use Saigon cinnamon because it's more fragrant
Nutrition Information:
Yield:

12
Serving Size:

1
Amount Per Serving:
Calories:

450
Total Fat:

22g
Saturated Fat:

16g
Trans Fat:

0g
Unsaturated Fat:

4g
Cholesterol:

14mg
Sodium:

224mg
Carbohydrates:

56g
Fiber:

2g
Sugar:

24g
Protein:

8g
Please note that the Calculated Nutrition is an estimate at best.
Latest posts by Sara Maniez
(see all)