Estimated reading time: 7 minutes
Wineberry Recipes Collection – Learn about these tart, delicious, red, foraged berries found in NJ & PA, Wineberries (Japanese Raspberry), when they are in season (late June-July), and recipes that you can use them in!
Wineberry Recipes Collection
Hi Everyone, Wineberry season is here!
These tart-sweet berries can be used just like raspberries in recipes or just eaten raw.
They are great in drinks both non-alcoholic and with alcohol.
I have included some photos of the wineberries right in our yard.
What are Wineberries?
Wineberries, also known as Japanese Raspberry, are actually considered an invasive plant that grows in the mid-Atlantic area, and in our case, in central NJ, Delaware Valley, and PA areas.
Here in NJ, Wineberries grow in the wild, so they are a foraged berry and we have several Wineberry bushes in our yard.
The stems are thorny, so you have to be careful when you are picking them.
Here is a description of Wineberries from Wikipedia:
Rubus phoenicolasius is an Asian species of raspberry in the rose family, native to China, Japan, and Korea. The species was introduced to Europe and North America as an ornamental plant and for its potential in breeding hybrid raspberries. Did you know: Wineberries can be found in many habitats, such as forest, fields, stream banks, and wetland edges, as well as open woods.
RELATED: Strawberry Recipes Collection
You can buy Wineberry plants and grow them but I would suggest, buying a native plant instead.
There are so many invasive species, why add to them?
This post is mainly geared toward people who live in the areas where they grow, have them in their yards, and want to make use of their delicious berries.
Disclaimer: Before ingesting Wineberries or any foraged plant or berry, get a positive identification of exactly what the plant species is. Forage at your own risk!
If you want to know more about plant identification for Wineberries and other wild edibles, for the NJ and PA area, check out this website I found: The Wild Edibles Lady
Disclosure: Some links in this post are affiliate links which means I earn a commission if you purchase through them at no extra cost to you.
I only recommend brands and products that I 100% like and enjoy using.
Thank you in advance for your support!
Also, having a physical book or field guide is helpful, in addition to the internet!
I purchased the following book below about foraging in the Northeast United States.
You can also take in-person workshops and classes on the subject of foraging, classes are offered at The Farm Cooking School where I work, and through Locust Light Farm which is also at the same location.
RELATED: The Farm Cooking School and Roots to River Farm at Gravity Hill, Garden Fest 2019 and Roots to River Farm Market (2019)

When is Wineberry Season?
Wineberry season is from late June to early to mid-July.
It's late June right now and they are just starting to look like they will be ready soon.
The season is short and only lasts a few weeks.
The fourth of July would be the largest holiday during the Wineberry season for the Northeast, United States.
RELATED: Roots to River Farm CSA
When I pick them, I pick them as they ripen and when I have enough, then I can use them in a recipe.
Depending on the amount that you have in your yard, you might need to pick them over time.
You can also freeze them, just as you would any other berry for use at a later date.
RELATED: Blueberry Recipes Collection

What Kinds of Recipes Can You Use Wineberries For?
You can use them in any recipe if you would have a raspberry or other berry.
If you are pairing them with another berry, I would suggest that you pair them with a less tart berry, like blueberry or strawberry.
You can also just enjoy them raw after being picked and washed.
They would go well over ice cream, in drinks, as a jam, sauce, or as a topping on another dessert as well.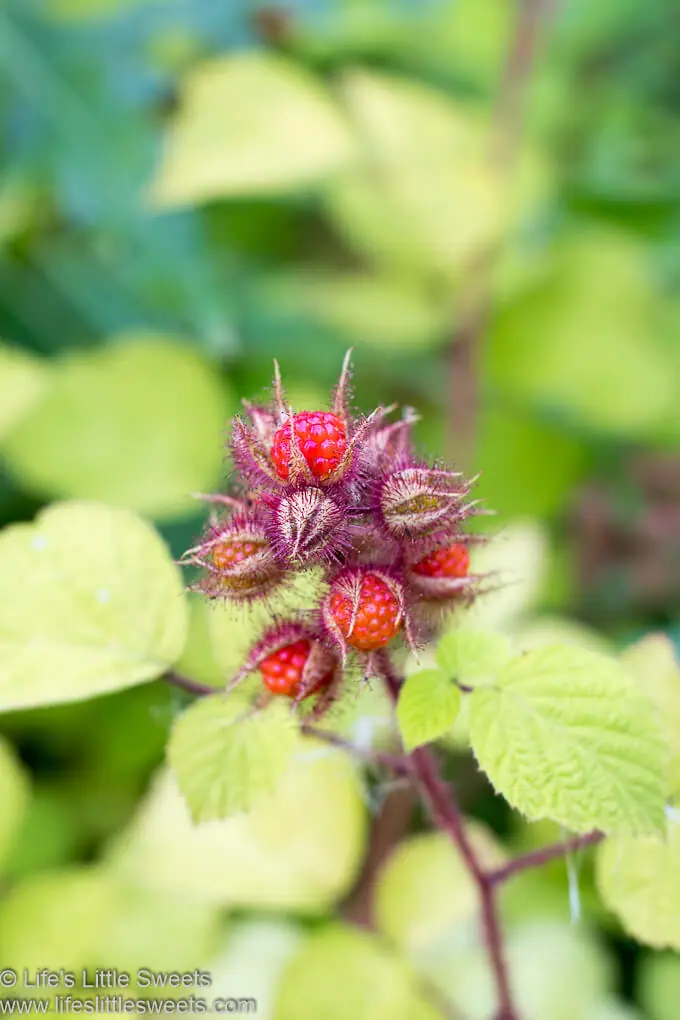 There are so many Wineberry recipes that I can think of, here are some ideas off the top of my head below:
Wineberry Ice Cream, Wineberry Sorbet
Wineberry Tart
Wineberry Cake (Chocolate)
Wineberry Cupcakes
Wineberry Pie
Wineberry Jam, Jelly, Compote, Sauce
Wineberry Cocktail/Mocktail
Wineberry Crumble
Wineberry Bars
Wineberry Granola Bars
Fermented Wineberries
Dehydrated Wineberries
Wineberry Parfait
Wineberry Lemonade
Frozen/Frosted Wineberry Drink
Wineberry Sangria
Wineberry Wine
Roasted Wineberries
I included some Wineberry recipes from other websites below, as I start to add them to the blog, I will add those to the list.
Thank you for reading and following along!
RELATED: Galette Recipes
Latest Posts
Web Story
Wineberry Recipe Roundup
Wineberry Recipes Collection
Wineberry Recipes Collection - Learn about these tart, delicious, red, foraged berries found in NJ & PA, Wineberries (Japanese Raspberry), when they are in season (late June-July), and recipes that you can use them in!
This blog post was originally published on 7/4/2019
Updated & republished on 7/12/2021, 7/1/2022, 7/4/2023
Latest posts by Sara Maniez
(see all)