This Apple Date Galette recipe has Fall flavors of apples, cinnamon, brown sugar and dates. Enjoy this "free-form" pie without the fuss of a pie plate! Enjoy a slice with a scoop of vanilla ice cream! (6-8 servings)
Estimated reading time: 3 minutes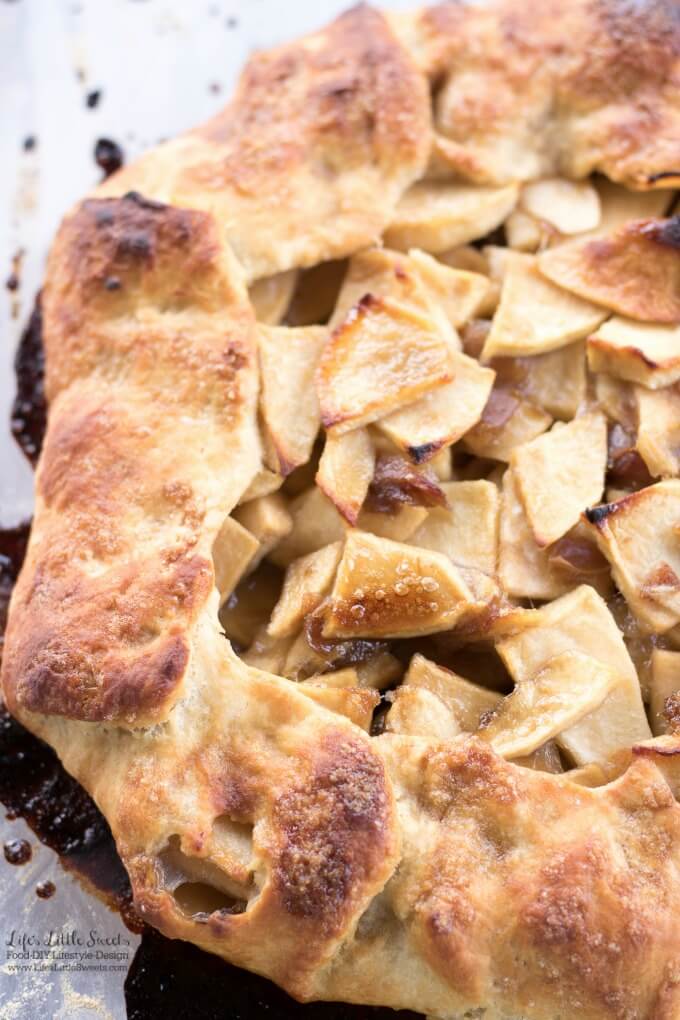 Apple Date Galette
Hi Everyone, Fall is in full swing, literally – as I look out my window I see the wind whipping branches on the trees around and leaves blowing across the lawn.
It's time to share this Apple Date Galette.
This recipe would be great for October, using up apples or gracing the Thanksgiving/Christmas dessert table.
Did you see my Apple Galette recipe that I posted on LLS?
You can check that out here.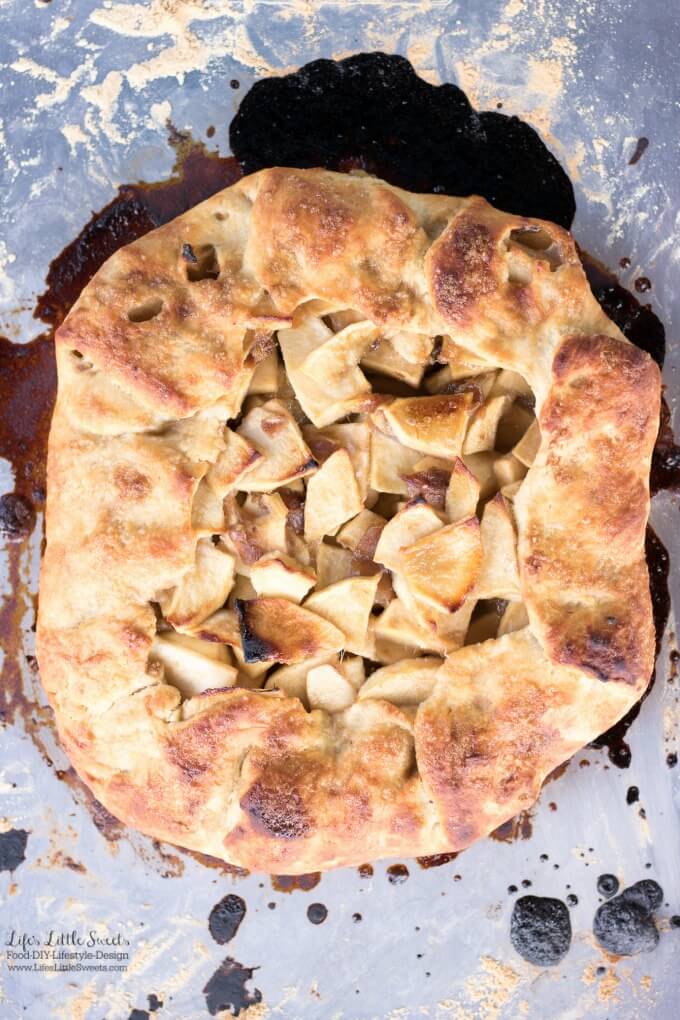 Helpful Kitchen Tools for this Apple Date Galette
measuring spoons and cups
wet measure
mixing bowls (this is the set that I have and love)
pastry cutter (this is an updated version of what I have)
pastry mat
dough scraper
parchment paper or a silicone baking mat
rimmed baking sheet (I have several of these and love them)
Apple Season
In New Jersey, apple season is from September 1st to October 25th (as early as July 15th and as late as October 31st). 
To see all of our "Apple" recipes on LLS, visit here.
What's your favorite Apple recipe for Fall?
Please let me know in the comments below! Our Other Recipes and Posts
Apple Date Galette
Apple Date Galette has Fall flavors of apples, cinnamon, brown sugar and dates. Enjoy this "free-form" pie without the fuss of a pie plate! Enjoy a slice with a scoop of vanilla ice cream! (6-8 servings)
Ingredients
Double Crust Pie Pastry *this Apple Date Galette uses half of this pastry recipe
2 1/3 cups all-purpose unbleached flour, plus extra for rolling out the dough
1 cup unsalted butter, must be solid, chilled
1 tablespoon granulated white sugar
1 tablespoon fresh squeezed lemon juice, You can substitute the same amount apple cider vinegar
1/4 teaspoon Kosher salt, can substitute sea salt
3/4 cup ice water, plus more if needed
1 small egg, for washing the pastry before baking
1-2 tablespoons Demerara sugar, or turbinado raw sugar for sprinkling on the crust before you put it in the oven
1 tablespoon unsalted butter, optional, cut into small pieces to dot the top of the galette before baking
Apple Date Filling
1 cups fresh apples (apples good for baking like Gala, Granny Smith or Fuji), washed, cored, peeled and sliced
1/4 cup Medjool dates (dried), pitted, diced
1/4-1/3 cup brown sugar, you can substitute the same amount granulated white sugar
1 teaspoon fresh squeezed lemon juice, you can substitute the same amount apple cider vinegar
2 tablespoons cornstarch
1/8 teaspoon Kosher or sea salt
1 teaspoon ground cinnamon, I suggest Saigon cinnamon because it's very fragrant
Instructions
Double Crust Pie Pastry *this Apple Date Galette uses half of this pastry recipe
Before starting, make sure all ingredients are cold to ensure the crust comes out flaky. The whole idea through this dough-making process is to keep the dough cold so that it comes out flakey when baked.
In a large mixing bowl, mix 2-1/3 cups flour, 1 tablespoon sugar, 1 tablespoon apple cider vinegar or fresh lemon juice, 1/4 teaspoon salt and 1 cup chilled butter slices. Using a pastry blender, work the mixture until you get a crumbly texture with about 1/2-inch inch butter chunks.
Starting with 1/4 cup ice water, gradually add the ice water into the mixture and using a large fork and then your fingertips, work dough until it just comes together into a ball. If it needs more ice water to form a ball, then you can add more and keep the ice water on hand in case you need more later if the dough dries out.
Wrap the dough in plastic wrap to prevent drying and refrigerate for a 1/2 hour before rolling out.
After chilling for a 1/2 hour, divide dough ball evenly in half with a dough scraper. Wrap 1 half of the dough in the plastic wrap and return to the refrigerator to use for another recipe.
Roll the chilled dough out in an 11 inch circle, 1/4 inch thick. Cover the dough with plastic wrap and chill the dough while you put together the apple filling.
Apple Date Filling
Preheat oven to 450 degrees F.
In a large mixing bowl, mix the apples, dates, lemon juice, cornstarch, sugar, Kosher salt, and ground cinnamon until combined.
Line a rimmed baking sheet with parchment paper or a silicone baking mat. Place the chilled dough circle in the middle of the lined baking sheet.
Brush the pastry crust with the beaten egg and sprinkle evenly with Demerara baking sugar.
Bake at 450 degrees for 20-25 minutes until golden. When it's done, allow to cool before serving, allowing the filling to firm up before slicing. Enjoy alone of with vanilla whipped cream and/or vanilla ice cream!
Notes
You can take a shortcut with this recipe and get frozen pastry crust but I highly recommend my recipe for Double Pie Crust which I include. The Apple Date Galette recipe uses half of the Double Pie Crust recipe, so you can save the other half for another Apple Date Galette or other fruit galette recipe.
Did you make this recipe? Tag @lifeslittlesweets and hashtag it #lifeslittlesweets
Nutrition Information:
Yield:

1
Serving Size:

1
Amount Per Serving:
Calories:

4446
Total Fat:

275g
Saturated Fat:

154g
Trans Fat:

0g
Unsaturated Fat:

102g
Cholesterol:

702mg
Sodium:

2715mg
Carbohydrates:

477g
Fiber:

19g
Sugar:

214g
Protein:

34g
Please note that the Calculated Nutrition is an estimate at best.
Latest posts by Sara Maniez
(see all)