Estimated reading time: 5 minutes
Bunny Bait is a snack mix made with pretzels, popcorn, pastel M&Ms, rice cereal squares, Easter-Springtime sprinkles and coated with vanilla melting wafers.
Bunny Bait
Hi Everyone, this Bunny Bait recipe can be made before Easter as a snack mix to put out for the Easter bunny or after Easter to use up Easter candy – or really anytime you are craving Bunny Bait!
Anyone who has school-age children knows about bunny bait (much like Leprechaun Bait, lol).
Snack mixes, like these, are something we look forward to every year.
What makes this bunny bait recipe special?
In this Bunny Bait recipe, it calls for Butter Pretzel snaps (made by Snyder's of Hanover) which adds to the salty-sweet aspect of the recipe.
It calls for vanilla melting wafers (I purchased them at Michael's and you can also get them online).
The melting wafers melt smoother and can seem to taste more "buttery" than white chocolate chips and are less likely to seize up when mixing (plus, they coat the snack mix well!).
Plus, they already have a vanilla flavor, so you don't have to add any vanilla extract.
The Easter-themed sprinkles add crunch and visual flair to the snack mix.
I made fresh popcorn, using my Dutch Oven Stovetop Popcorn recipe.
Having freshly popped, popcorn is key to making this Bunny Bait.
In case you don't have fresh popcorn, it will still work using popcorn from a bag, just get a mild, lightly salted flavor.
Ingredients
8 cups fresh popped popcorn, see notes
2 cups plain square rice cereal (like Chex)
2 cups square Butter pretzel snaps
12 ounces vanilla candy melts
1-2 ounces of Easter-themed sprinkles
12 ounces (about 2 cups) of pastel M&M
Kitchen Tools
For this Bunny Bait recipe you will need the following list of helpful kitchen tools (all tools are linked with affiliate links in the recipe card at the end of the post):
measuring cups
heat-safe, medium, microwavable bowl – for melting the melting wafers
spoon – for stirring the melting wafers
large mixing bowl – for mixing the snack mix
wooden spoon(s) – for stirring the mix (I used wood salad serving utensils, in the photos)
rimmed baking sheet
parchment or wax paper – for drying the mix on
air-tight storage container
Recipe Attribution
This recipe was inspired by our Easter Muddy Buddies Recipe here on the blog.
I wanted to make more of a popcorn-based version using vanilla melting wafers.
Latest Posts
If you make this recipe and like it please give it a rating on the recipe card and let us know in the comments at the end of the post.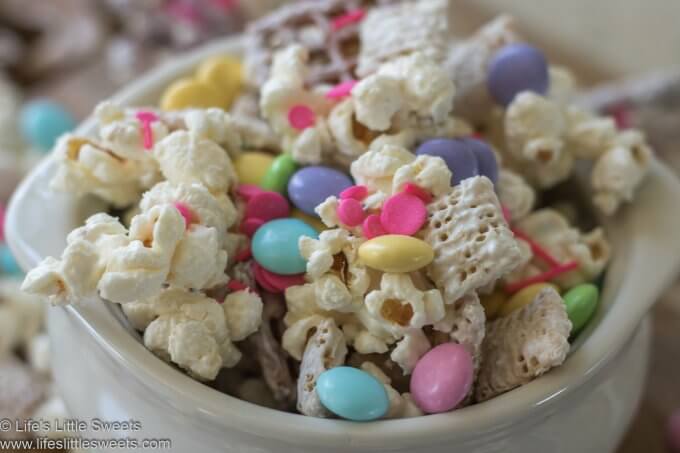 Web Story
Thank you for reading and following along!
Bunny Bait
Additional Time:
30 minutes
Bunny Bait is a snack mix made with pretzels, popcorn, pastel M&Ms, rice cereal squares, and Easter-Springtime sprinkles and coated with vanilla melting wafers.
Instructions
Make the Dutch Oven Stovetop Popcorn or use plain or lightly salted premade popcorn. Gather the remaining ingredients for the recipe. Line a rimmed baking sheet with wax paper and set it aside. In a large mixing bowl, add the dry ingredients (popcorn, square rice cereal, and butter snap pretzels) and gently stir to combine.
In a microwave-safe bowl, add the melting wafers and microwave at 50% power, 30 seconds at a time, stirring in between, until fully melted (for me, it usually takes 3 sets of 30 seconds for a total of 90 seconds to melt them). Pour the melted wafers over the dry ingredient mixture and gently toss and stir until evenly combined. Evenly spread over the prepared rimmed baking sheet.
While the mixture is still "wet," sprinkle the pastel M&Ms and the Easter-themed sprinkles so they "stick" to the snack mixture. Allow it to dry for 30 minutes or up to 1 hour.
When the Bunny Bait is dry, gently break it apart and serve or store it for later.
Notes
Popcorn: I do heaping cups of popcorn, I use my Stove Top Dutch Oven Popcorn recipe to make the popcorn
Optional Other Ingredients: salted roasted peanuts or other nuts, pastel or plain mini marshmallows, and other pastel color candy melts to add color to the recipe.
Storage: This Bunny Bait recipe will keep in an air-tight container, at room temperature for up to 5 days.
Nutrition Information:
Yield:

24
Serving Size:

1/2 cup
Amount Per Serving:
Calories:

212
Total Fat:

7g
Saturated Fat:

3g
Trans Fat:

0g
Unsaturated Fat:

3g
Cholesterol:

3mg
Sodium:

100mg
Carbohydrates:

28g
Fiber:

1g
Sugar:

19g
Protein:

2g
Please note that the Calculated Nutrition is an estimate at best.
Published: 4/4/2021
Updated & republished: 3/28/2022, 4/1/2023
Latest posts by Sara Maniez
(see all)