Estimated reading time: 7 minutes
This Chess Pie recipe is a simple, solid, sweet pie recipe topped with confectioner's sugar and a sprinkling of crushed sea salt. It has a distinctive yellow batter which is thickened with cornmeal. Bring it to a holiday gathering, potluck, or make it for an easy dessert after a weeknight meal. Serve it cold or warm and enjoy this delicious pie with a hot cup of coffee! (makes 1, 9-inch pie)
Chess Pie
Hi Everyone, I've been so curious about Chess Pies for years now and there are so many versions out there. What got me to finally make one was watching an episode of Chef's Table on Netflix about Christina Tosi of Milk Bar (I love her story, if you haven't seen this episode, you should, btw). She has a recipe called "Crack Pie" which is her version of a Chess Pie. It sounded so interesting, good, and EASY to make that I finally had to try it.
This is a basic Chess Pie that I adapted to my tastes. It's so yummy. It's sweet. I added my own touch of sprinkling salt (crushed Cyrus Mediterranean Sea Salt) over the top to add a touch of savory to counteract that sweetness.
There are so many reasons why this Chess Pie recipe appeals to me beyond the fact that it's sweet and almost custard-like in consistency and sort of like a pecan pie but not. I love that I can make a pie with simple pantry staples when I don't have a ton of groceries in the house. There's something minimal about it like I've just made something out of nothing. I love that resourceful aspect of a Chess Pie.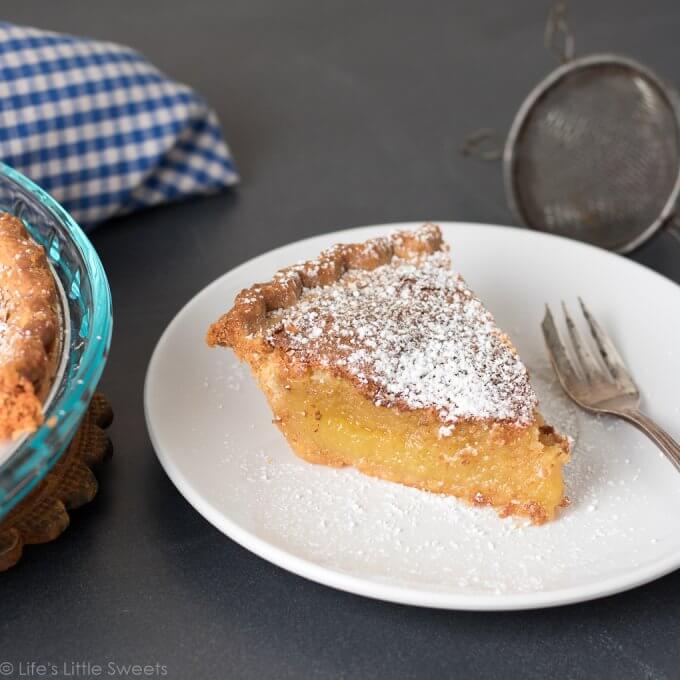 In fact, I love this recipe so much that I developed a Chocolate version with pecans (!) that I served for this year's Thanksgiving and it was UH-MAZING. It's my new favorite pie. In fact, typing about it now makes me want to run into the kitchen and make another! Sooo good…looking forward to sharing that recipe soon here on the blog.
This Chess Pie has a distinctive crisp crust and a bright yellow center due to the color of the egg yolks and the cornmeal used to thicken the batter.
Ingredients for Chess Pie
filling
2 cups granulated white sugar
2 tablespoons yellow cornmeal
1 tablespoon all-purpose flour
1/4 teaspoon Kosher salt
1/2 cup unsalted butter, melted and room temperature
1/4 cup half and half, or the same amount of heavy whipping cream or whole milk
1 tablespoon apple cider vinegar, or the same amount of distilled white vinegar
2 teaspoons pure vanilla extract
4 large eggs
topping for serving
confectioner's sugar before serving, for dusting, amount to taste
1 pinch of crushed Cyrus Mediterranean Sea Salt, or the same amount of Kosher Salt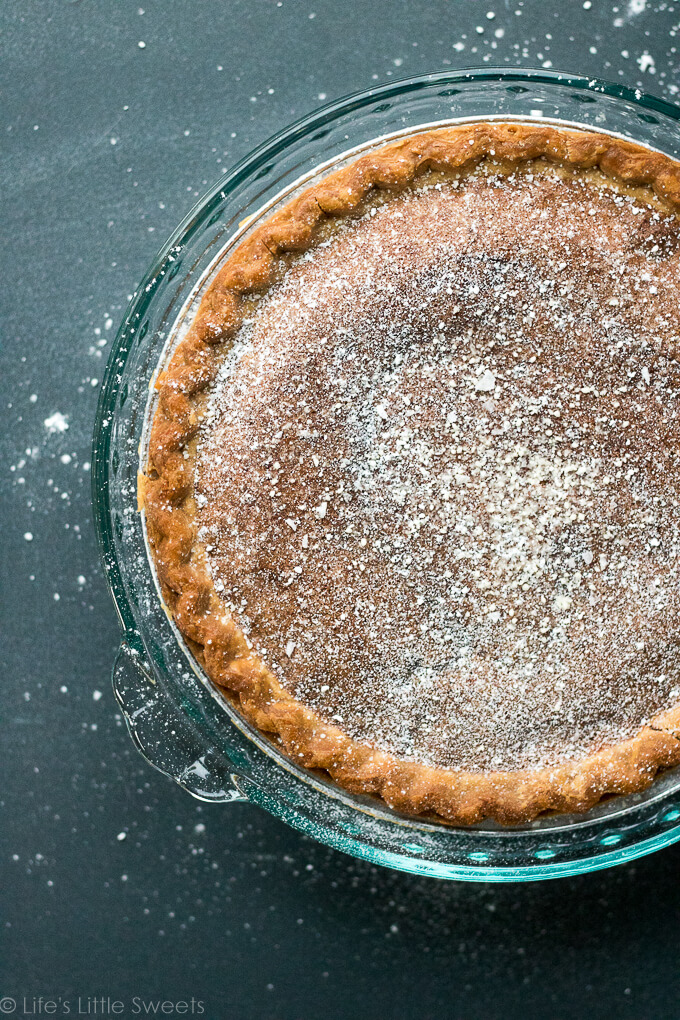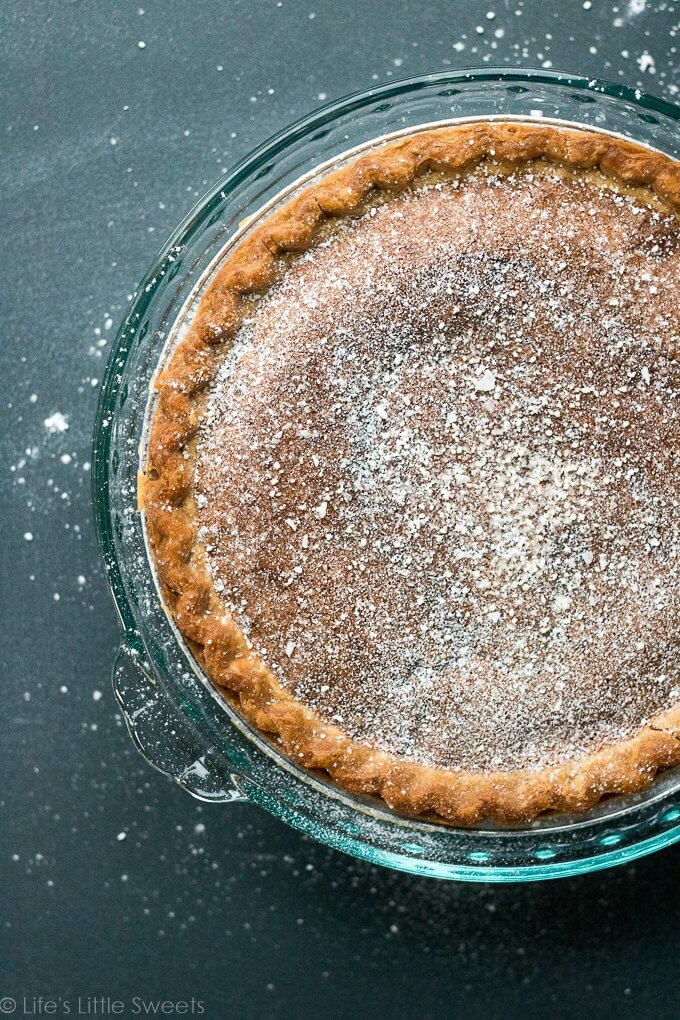 Helpful Kitchen Tools for Chess Pie
large mixing bowl
whisk
wet measure
measuring spoons and cups
knife and serving spatula
tea strainer or duster for dusting the confectioner's sugar before serving
Web Story
Recipe Process Photos
Here are some recipe process photos to help you along in making this Chess Pie recipe.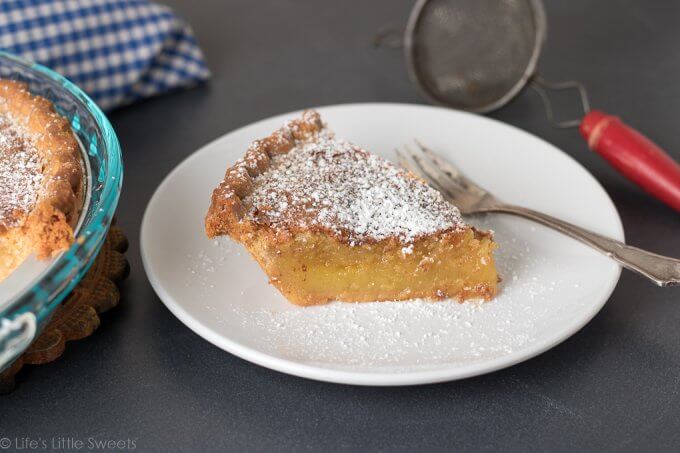 Our Other Recipes & Posts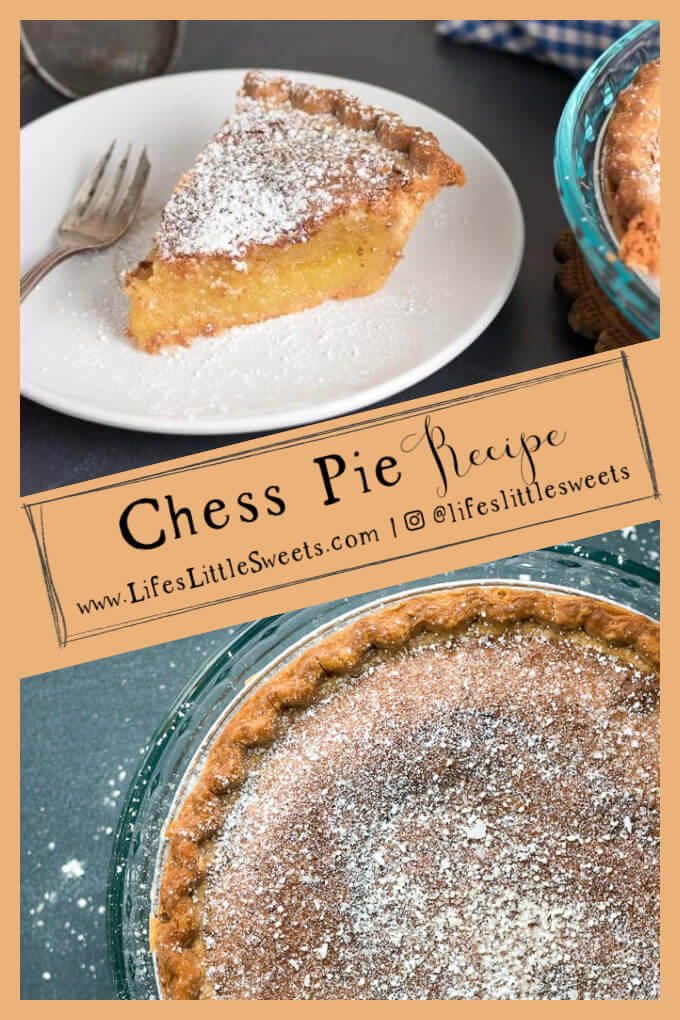 If you make this Chess Pie recipe, please let me know how you like it in the comments below, thank you for reading and following along!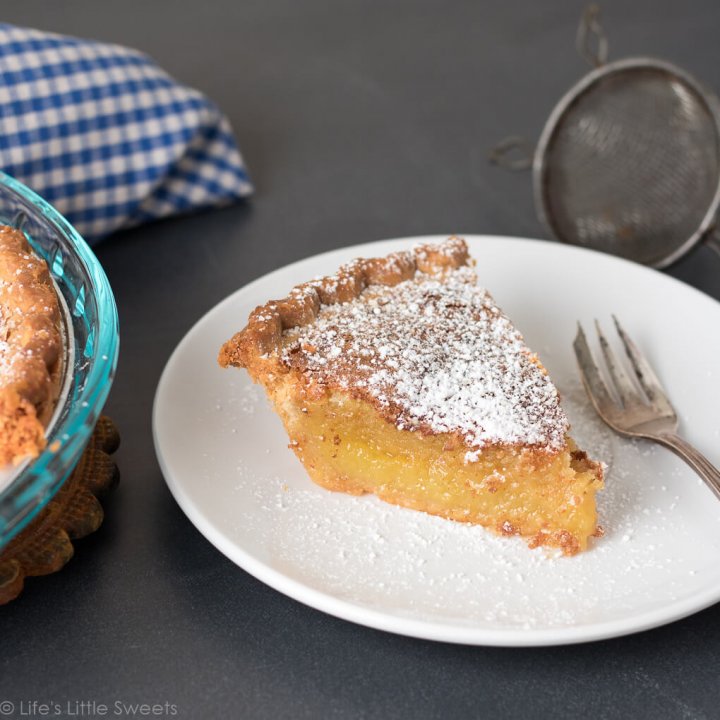 Chess Pie
Total Time:
3 hours
10 minutes
This Chess Pie recipe is a simple, solid, sweet pie recipe topped with confectioner's sugar, a sprinkling of crushed sea salt. It has a distinctive yellow batter which is thickened with corn meal. Bring to a holiday gathering, potluck or make it for an easy dessert after a weeknight meal. Serve it cold or warm and enjoy this delicious pie with a hot cup of coffee! (makes 1, 9-inch pie)
Ingredients
filling
1/2 cup unsalted butter, melted and room temperature
1/4 cup half and half or heavy whipping cream, or whole milk
4 large eggs
toppings for serving
Instructions
Blind Bake the Crust
Preheat oven to 425 degrees F. Line the thawed pie crust with parchment paper, fill with pie weights or dried beans, and bake for 10-12 minutes until golden on the edges. When it's done remove it from the oven and allow it to cool completely.
Make the Filling
Preheat oven to 350 degrees F. In a large mixing bowl, mix all the ingredients except confectioner's sugar and crushed Cyrus Mediterranean Sea Salt. Pour into the blind-baked crust.
Bake in preheated oven for 45-50 minutes, until top, is golden brown and center is nearly set (as it cools it will set completely). When it's done, cool completely on a wire rack for 2 hours and then transfer to chill overnight (or at least 6-8 hours).
Before serving, dust with confectioner's sugar and a pinch of crushed Cyrus Mediterranean Sea Salt.
Nutrition Information:
Yield:

8
Serving Size:

1 slice
Amount Per Serving:
Calories:

542
Total Fat:

23g
Saturated Fat:

12g
Trans Fat:

0g
Unsaturated Fat:

9g
Cholesterol:

133mg
Sodium:

303mg
Carbohydrates:

80g
Fiber:

1g
Sugar:

68g
Protein:

6g
Please note that the Calculated Nutrition is an estimate at best.
This Chess Pie recipe post was originally published on Life's Little Sweets on 11/27/2018
Updated & republished on 11/8/2020, 2/4/2023
Latest posts by Sara Maniez
(see all)