Estimated reading time: 8 minutes
Honeysuckle Simple Syrup is a sweet, floral syrup that can be used to make lemonade, mixed drinks, drizzle on pancakes, serve with ice cream, or to top another dessert. All you need to make this delicious syrup are Honeysuckle blooms, water, and sugar! (vegan, gluten-free)
Honeysuckle Simple Syrup
Hi Everyone, I'm excited to share this Honeysuckle Simple Syrup recipe with you.
I love the subject of foraged foods and honeysuckle flowers are one of them in my area of Central New Jersey-PA.
RELATED: Wineberry Recipes Collection (2019)
The particular variety that I feature in this recipe post is a non-native species of honeysuckle but one which has become very common: Japanese Honeysuckle.
Japanese Honeysuckle is the type that I can find right in my yard and it is plentiful when in season.
What is Japanese Honeysuckle?
According to Wikipedia, Japanese Honeysuckle is described as:
Lonicera japonica, known as Japanese honeysuckle and golden-and-silver honeysuckle, is a species of honeysuckle native to eastern Asia including China, Japan, and Korea. It is a twining vine able to climb up to 10 m high or more in trees, with opposite, simple oval leaves 3–8 cm long and 2–3 cm broad.
A word of caution, only the flowers are edible or for use in making tea, the stem and the leaves have toxic compounds.
We are just sticking to the flowers for the purposes of this recipe post!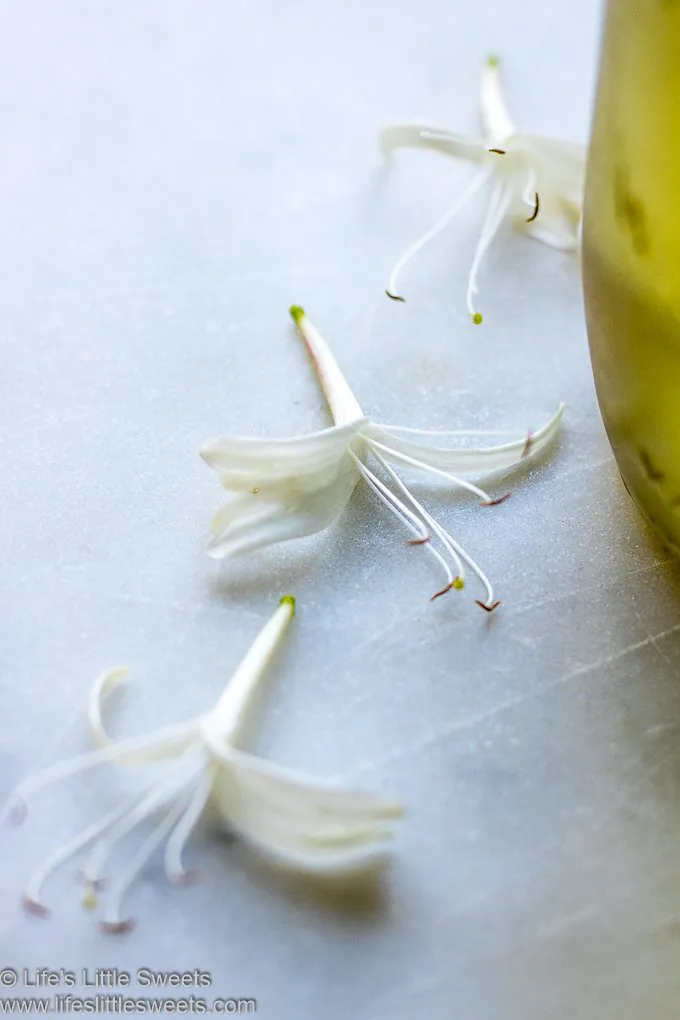 When Does Japanese Honeysuckle Bloom?
Not all honeysuckle plants bloom at the same time. Japanese Honeysuckle blooms in the early Summer (early June). By July, in our planting zone of 6b, it is nearly done, or done blooming.
Below are some photos that I took with my iPhone of the Japanese Honeysuckle vines in our yard in early June:
This post may contain affiliate links that won't change your price but will share some commission.
When they are in full bloom, it looks like a carpet of white-yellow covering trees and shrubs.
Japanese Honeysuckle, being an invasive species, can take over and grow to be so heavy on a tree that it can make it fall over.
This has actually happened on our property with a small tree, fortunately, it was in the woods and not next to anything that would cause any danger.
One of my favorite memories as a child is taking apart a honeysuckle bloom and drinking the drop of nectar inside.
I showed my daughter how to do this and she was amazed.
Since those blooms are so plentiful when they are around, why not make use of them?
Honeysuckle syrup makes a wonderful gift too!
How Do You Make Honeysuckle Simple Syrup?
As with any simple syrup recipe, you have to make sure that the ratio of water/liquid (in this case a honeysuckle tea) to sugar is 1 to 1.
You do not have to heat the sugar-water mixture over the stove, although that does make it faster.
As long as the sugar granules are dissolved then you are good to go!
I have the full Honeysuckle Simple Syrup recipe instructions in the printable recipe card below.
RELATED: Cold Drinks Recipe Collection (2019)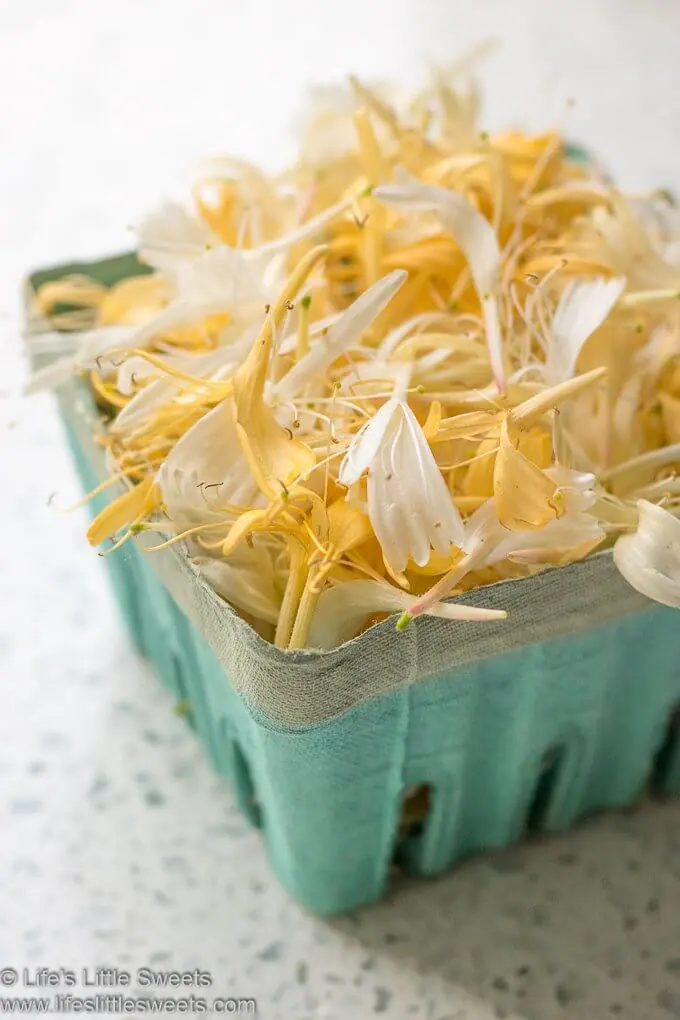 Ingredients
Honeysuckle flowers at the height of their bloom
granulated white sugar
water

Kitchen Tools
Here's a list of helpful kitchen tools for making Honeysuckle Simple Syrup, I include affiliate links to all the tools that I use for this recipe in the recipe card at the bottom of the post:
small-medium saucepan
measuring cup
wet measure
wooden spoon
lidded jar (18-ounce size)
Our Other Recipes & Posts
Honeysuckle Simple Syrup Web Story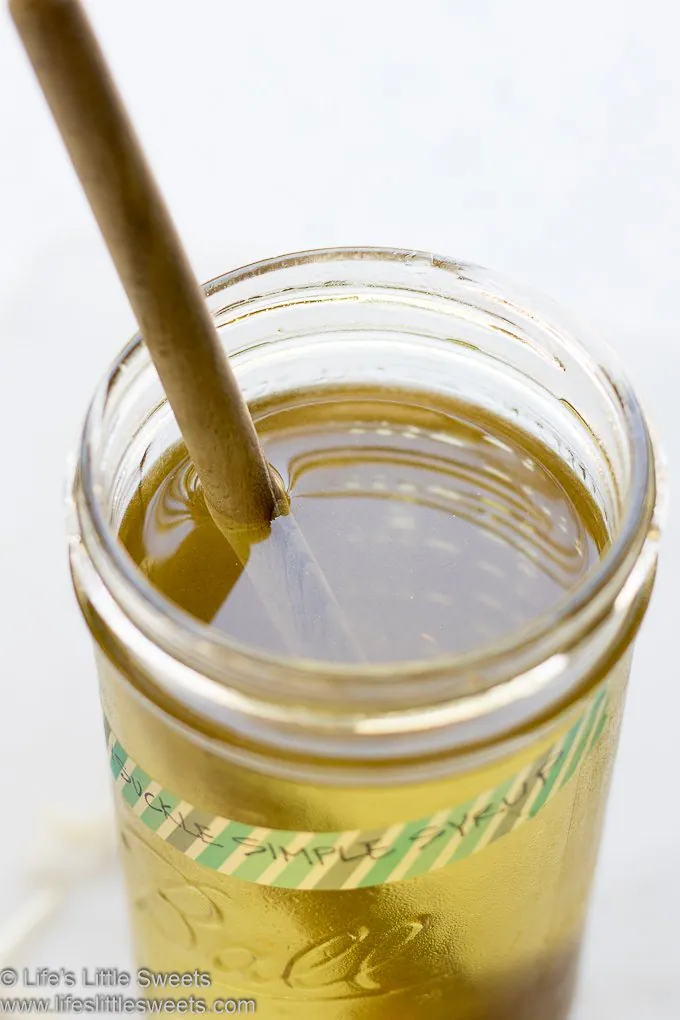 If you try this Honeysuckle Simple Syrup and like it, please give it a rating in the recipe card below and let us know how you used it in the comments below! Thank you for reading and following along!
Latest Posts
Honeysuckle Simple Syrup
Honeysuckle Simple Syrup is a sweet, floral syrup that can be used to make lemonade, mixed drinks, drizzle on pancakes, serve with ice cream, or to top another dessert. All you need to make this delicious syrup are Honeysuckle blooms, water, and sugar! vegan and gluten-free
Ingredients
1 dry pint Honeysuckle flowers in peak blooms, rinsed
2 cups water
2 cups granulated white sugar
Instructions
Make the Honeysuckle Tea: In a small-medium saucepan, add 2 cups water, bring to a low boil, remove from heat, and add the Honeysuckle blooms and stir to combine. Let the water-flower mixture sit for 5 minutes.
Strain the flowers out of the honeysuckle tea. Add 2 cups granulated white sugar. Stir to combine until the sugar is completely dissolved. Allow the simple syrup to cool.
Pour the Honeysuckle Simple Syrup into a lidded glass jar and store it in the refrigerator.
Nutrition Information:
Yield:

16
Serving Size:

1
Amount Per Serving:
Calories:

97
Total Fat:

0g
Saturated Fat:

0g
Trans Fat:

0g
Unsaturated Fat:

0g
Cholesterol:

0mg
Sodium:

1mg
Carbohydrates:

25g
Fiber:

0g
Sugar:

25g
Protein:

0g
Please note that the Calculated Nutrition is an estimate at best.
This recipe post was first published on 7/8/2019 and updated and republished on 7/7/2022, 6/3/2023
Latest posts by Sara Maniez
(see all)