2018 Garden List – I'm sharing my home garden goals for the 2018 Summer-Fall season. (plus, the start of my countertop garden at the end of the kitchen counter 🙂
Estimated reading time: 4 minutes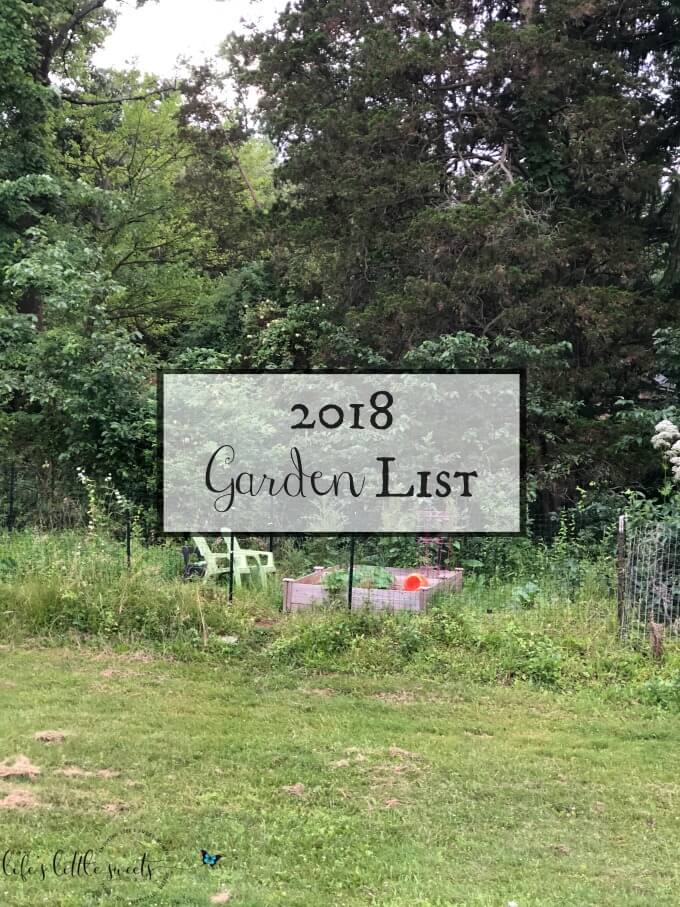 2018 Garden List
Like any good procrastinator, I am making a list of what I want to do with my garden this Summer 2019 season 🙂 (You can check out my 2017 Garden Goals, here) Call it procrastination or planning ahead (maybe a little of both?), let's get into it…
This year, it's not so much "goals" to accomplish since the garden is established, it's more of a "to-do" list of maintenance.
Last year (2017), was the first year that we built this herb (mostly) and vegetable garden. It inspired so many recipes here on the blog because, for the first time since living in this house (we've been here 4+ years), I could just walk out the kitchen door and pick herbs to incorporate into recipes. (you can check out some Garden Update posts here).
Above is a recent photo of the garden (taken in June), under all those weeds are a lot of wonderful plants! Many herbs came back from last year and this year, we planted garlic, tomato plants, pumpkins and squash (so far).
Some of the recipes (there were so many!) that the garden-inspired are Homemade Garden Fresh Basil Pesto, Homemade Garden Fresh Salsa, Lavender Shortbread and Frozen Mint Lemonade.
2018 Garden List
Get a gate for the garden – last year, I used some wire mesh to keep the deer out, I am not sure where it went and to keep the garden from being an all out deer buffet, I need a proper gate for the entrance.
Do a thorough weeding – I think I can catch up on a Saturday (or two) on the weeding. I will need to employ a weed wacker for the perimeter for sure.
Add a berry patch – the strawberries from last year didn't make it 🙁 I'm thinking blueberries, strawberries and maybe raspberries…it all depends on if I can find some healthy plants worth putting in. This time I am going to put them right into the ground in a designated area. Last year, I did the boxes and I think that's why they didn't make it even though I had fancy soil put in. One can learn so much by trial and error! I have a ton of berry-inspired recipes on the blog, so it would be so great to get a berry patch going. (See, Mixed Summer Berry Trifle, Strawberry Salsa Recipe, Strawberry Lemonade, Blueberry Cobbler Recipe)
Stepping Stones – These are totally not necessary but I am going to put it into the, "it would be nice…" category. I think it would be nice to define a path in the garden because right now it's garden beds and then dirt/weeds.
I'm going to keep the list short and I'll keep everyone posted on the next update on what gets accomplished. We've had a lot of rain plus a cold Spring which made a slow start to the garden this year, add that with my head just being in client work and taking care of the kids mode, let the weeds grow more than I would like.
Counter Top Garden Update
I do have a little counter top "garden" at the end of my kitchen counter that's been going on since we renovated our kitchen. It's mostly cacti and succulents, nothing super fancy but it's cute having some plants indoors now that we have a space to put them. These plants sit right next to my stand mixer 🙂
I also have some dried Folgate lavender from our yard which I made that Lavender Shortbread with.
What's everyone's garden goals this year?
Latest posts by Sara Maniez
(see all)