This Apple Rose Puff Pastry Recipe is the perfect addition to any brunch table with fresh, baked apples, warm cinnamon and flakey puff pastry.
Estimated reading time: 4 minutes
Apple Rose Puff Pastry Recipe
Hi Everyone, I am so glad to share this Apple Rose Puff Pastry Recipe today, aren't they so pleasing and pretty?
That's how I felt when I made them.
I had an abundance of apples from going apple picking early this apple season and this was one of the recipes that I had in mind to make.
It is so satisfying to make these and delicious to eat them when they are done.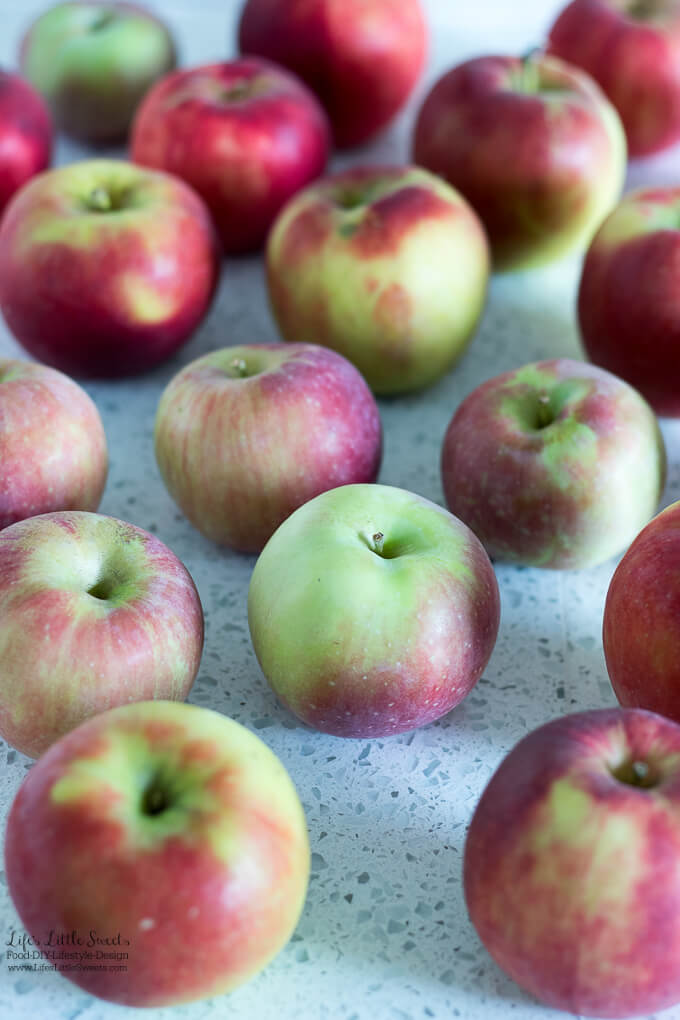 Apple Season
In New Jersey, apple season is from September 1st to October 25th (as early as July 15th and as late as October 31st).
I made sure to include step-by-step photos in the recipe card for this recipe below to help illustrate each step.
Web Story
I know you will love this Apple Rose Puff Pastry Recipe recipe!
Our Other Recipes and Posts
This Apple Rose Puff Pastry Recipe is inspired by Apple Roses.
What occasion would you serve this Apple Rose Puff Pastry Recipe?
Please let me know in the comments below!
Apple Rose Puff Pastry Recipe
Total Time:
1 hour
5 minutes
This Apple Rose Puff Pastry Recipe is the perfect addition to any brunch table with fresh, baked apples, warm cinnamon and flakey puff pastry.
Ingredients
1 sheet frozen puff pastry, thawed (it should take about 30 minutes to thaw after removing from the freezer)
2 large apples, preferably red in color. cored and sliced 1/8 in. thin (leave skins on), use a variety that is good for baking
2 tablespoons fresh squeezed lemon juice
1 tablespoon all-purpose flour
3 tablespoons apricot jam, you can substitute another variety of your favorite jam or jelly
2 tablespoons water
1 tablespoon ground cinnamon, I use "Saigon" cinnamon
3 tablespoons confectioner's sugar, for serving, or amount to taste
Instructions
In a medium-large mixing bowl, put apple slices in with water (covering the apples) and 2 tablespoons of fresh-squeezed lemon juice. This step keeps the apples from turning brown.
Microwave the apples for 3 minutes - this helps the apples soften, so they do not break when you roll them. Alternately, you can simmer them on the stovetop for a few minutes.
On a floured surface, using a rolling pin, roll out the puff pastry dough, so that it's 12 x 9 inches (30 x 22 cm). Using a knife or pizza cutter, cut the dough into 6 strips, about 2 x 9 inches each ( 5 x 22 cm).
In a small bowl, mix 3 tablespoons of apricot jam with two tablespoons water. Microwave for 1 minute. Using a pastry brush, brush the surface of the dough with the apricot-water mixture.
Preheat oven to 375 degrees F (190 degrees C).
Grease a 6 muffin, muffin tin (if it's silicone, there's no need to grease it), set aside.
Using a colander, drain the apples from the lemon-water mixture.
Place the apple slices, overlapping each other on each puff pastry strip so that the skin side is up.
Sprinkle the open apple slice pastry strip with cinnamon.
Fold over the puff pastry strip to cover the bottom edge of the apples.
Starting at one end, roll the apple slice filed dough strip, making a circular roll.
Place the completed apple rose in the prepared muffin tin. Repeat 5 more times.
Bake in preheated oven for 40-45 minutes or until fully cooked. Use a foil tent over the apple roses to prevent the tops from burning, in the last 10-15 minutes, if needed.
When the apple roses are done baking, allow them to cool and then sprinkle with confectioner's sugar before serving, enjoy!
Notes
These apple roses taste best when served the same day after baking and can be stored in an air-tight container for up to 2 days at room temperature or in the refrigerator for up to 3 days.
Recommended Products
As an Amazon Associate and member of other affiliate programs, I earn from qualifying purchases. #CommissionsEarned #ad
Nutrition Information:
Yield:

6
Serving Size:

1
Amount Per Serving:
Calories:

132
Total Fat:

2g
Saturated Fat:

0g
Trans Fat:

0g
Unsaturated Fat:

2g
Cholesterol:

0mg
Sodium:

19mg
Carbohydrates:

30g
Fiber:

3g
Sugar:

19g
Protein:

1g
Please note that the Calculated Nutrition is an estimate at best.
Latest posts by Sara Maniez
(see all)