Looking for a dessert that's easy to make but tastes indulgent? Don't let the simplicity of this Apple Crisp fool you, it tastes like it took you hours to prepare.
Apple Crisp
Even though I grew up in southwest Michigan, I really feel like I have two hometowns. The other is Indianapolis, Indiana. If you have never been there, you should really put it on your list of places to see. Even though it may seem to be in the middle of nowhere, it is far from boring. It has so many things to do and places to eat and awesome activities for kids. The Indianapolis Zoo is one of the best I've been to and I can't wait to visit and take my son to the Children's Museum of Indianapolis. I'm very thankful that my daughter Cassidy was able to grow up there. I lived there for 10 years and when I moved to Florida three years ago "for looooooove" I left so many special friends and memories behind. One of those friends is my friend Brenda and one of the memories is of the first time I tried her Apple Crisp.
Ingredients for Apple Crisp:
Granny smith and gala apples (or any other apples you like)
Water
Salt
Sugar
Cinnamon
All-purpose flour
Brown sugar
Shortening
Kitchen Tools Needed for Apple Crisp:
Cutting board
Knife
9×13 baking dish
Measuring cups
Measuring spoons
Medium mixing bowl
Mixing spoon
Fork
I don't consider myself a baker but this Apple Crisp recipe sure makes me feel like one. It's so simple to throw together, tastes a lot like apple pie (without the hassle of dealing with the crust), and pairs well with your afternoon tea (and perhaps a small scoop of ice cream).
Apple Crisp
Yield: 12

Prep Time: 25 minutes

Cook Time: 1 hour

Total Time: 1 hour 25 minutes

Looking for a dessert that's easy to make but tastes indulgent? Don't let the simplicity of this Apple Crisp fool you, it tastes like it took you hours to prepare.
Ingredients
4 granny smith apples, peeled, cored, and sliced
4 gala apples, peeled, cored, and sliced
1/4 cup water
salt
1 cup sugar
1 tsp cinnamon
1 cup all-purpose flour
1 cup brown sugar
1/2 cup shortening
Instructions
Preheat oven to 350ºF.
Add the sliced apples to a 9x13 baking dish. Pour in the water and lightly sprinkle with salt.
In a medium mixing bowl, combine the sugar and cinnamon and sprinkle over apples.
In the same bowl, mix together the flour, brown sugar, and salt with a fork until it becomes the consistency of sand.
Spread the brown sugar mixture over the apples.
Bake for an hour or until bubbly.
Recommended Products
As an Amazon Associate and member of other affiliate programs, I earn from qualifying purchases.
Nutrition Information:
Yield: 12 Serving Size: 1
Amount Per Serving:Calories: 279 Total Fat: 9g Saturated Fat: 3g Trans Fat: 0g Unsaturated Fat: 5g Cholesterol: 5mg Sodium: 54mg Carbohydrates: 50g Fiber: 2g Sugar: 39g Protein: 1g

Please note that the Calculated Nutrition is an estimate at best.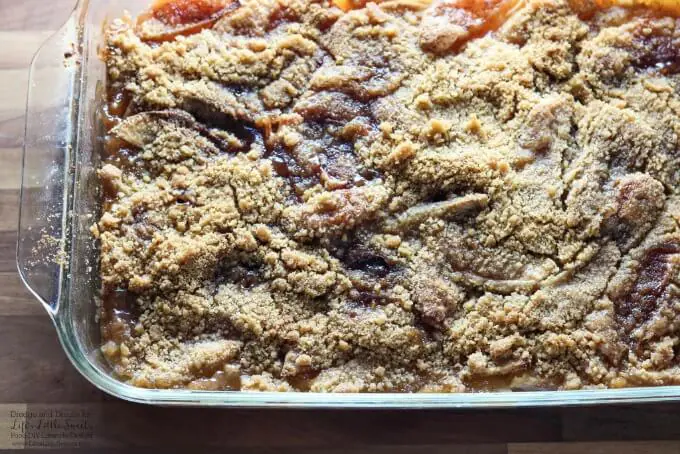 What's your favorite apple recipe? Please let me know in the comments below! Best, ~Sara
Pin This! ⇓
After working as a technical writer for the pharmacetical industry for over 15 years, Heather finally found a way to combine her love of creative writing with her love of food and launched her blog, Dredge and Drizzle. While the photography aspect of food blogging was a huge learning curve, she embraced the challenge and looks for ways to improve her craft a little bit each day. She also thinks food should always taste as good as it looks and loves to have "Test Kitchen Saturdays" to experiment with flavors. Heather lives in Jacksonville, Florida with her Chief Taste-Tester and husband Rudy and their youngest son Sullivan (Sully). Three young adult children (Cassidy, Zach, and Ethan) pop in once in awhile to see what's cookin'.
Latest posts by Heather Buentello (see all)