This Stuffed Grape Leaves Recipe is perfect for Spring and Summer; enjoy them at picnics, a party, or a family gathering. They are stuffed with cooked rice, dill, mint with freshly squeezed lemon juice and then wrapped in delicious grape leaves. (serve hot or cold, meat and vegan option)
Estimated reading time: 5 minutes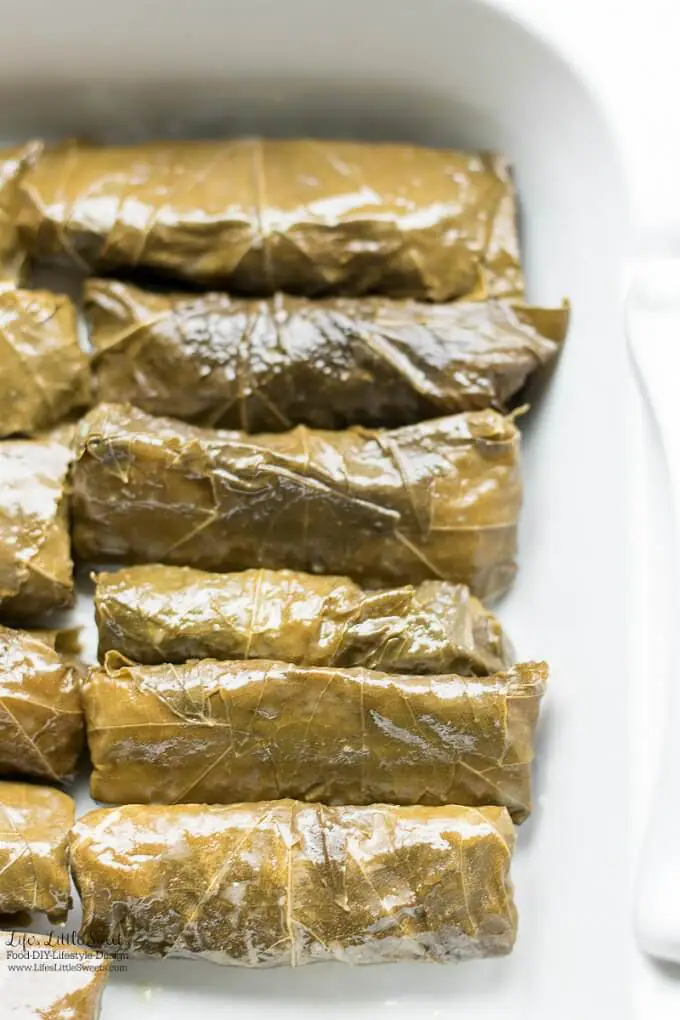 Stuffed Grape Leaves Recipe
Hi Everyone! I love Stuffed Grape Leaves so, so much.
Let me tell you why…when I was little my parents used to get take out from a place called "Bishop's" in Lawrence, MA, and they had this "Mediterranean Platter" on their menu.
It had a little bit of everything and it ALL tasted so good.
That was my first introduction to Stuffed Grape Leaves. In later years, I had homemade ones at a BBQ party and those were amazing too.
This is a recipe that really sings when they are handmade at home.
In recent years, whenever I crave them, I would just get them from the grocery store near the deli or produce section and they was okay but I always remember how good those homemade ones tasted.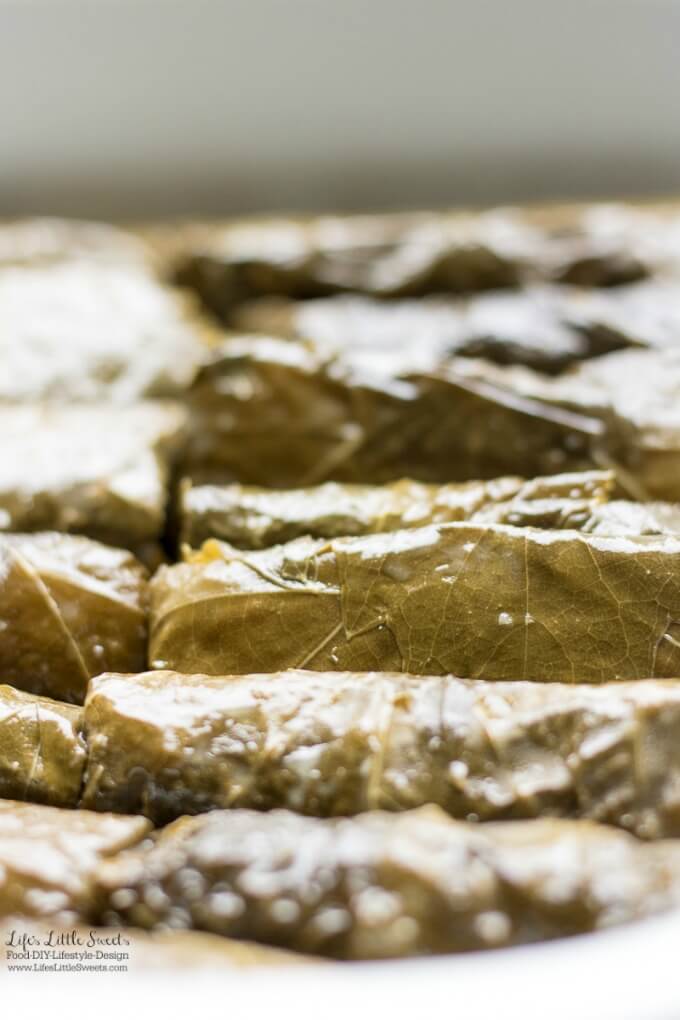 Recently, I was craving these again since they are so great Spring and Summer with their fresh flavors of dill, mint, and lemon – not to mention, the grape leaves themselves, so I decided it's time to teach myself how to make this food I love so much.
You will find that these are more juicy and tender than store-bought stuffed grape leaves.
I could seriously sit and eat an entire plateful, they are that yummy.
They are so light and fresh and the tart of the lemon, dill, and grape leaves makes you pucker a little and just has you craving more.
The jarred grape leaves brand that I like for making this recipe is called "Bella Famiglia Mediterranean Grape Leaves" (net wt. 9.9 oz/280g, drained wt. 7.7 oz/220 g).
I find the leaves to be pretty even and great quality compared to other brands I have tried.
These Stuffed Grape Leaves do not have meat in them but you can easily add meat to this recipe.
You could just cook the meat separately and mix it into the rice.
I give that option in the printable recipe card below.
I also mention in the recipe card that I enhance the flavor with a chicken bouillon paste, this is the one I use: Reduced Sodium Better than Bouillon Chicken Base, this is ALWAYS in our refrigerator!



When I first started testing this recipe, I was like, where in the world am I going to find the grape leaves to make Stuffed Grape Leaves?
Turns out, most grocery stores will sell them in the pickle aisle or you might be able to sell them in a specialty store.
I found a 9-ounce jar at my local grocery store and I was able to make 60-80 stuffed grape leaves.
The leaves will vary in size and some might be ripped, so you can double those up.
The varying sizes of leaves also make this recipe yield a different range for the total amount.
You will see in the pictures that they can really vary in size depending on the leaf size.
I'm super excited because my Father-in-Law Michel said that I can harvest some fresh grape leaves from his grapevines.
Springtime, when the leaves are young and tender, is the best time to pick them and they should be of a certain size so that you are not taking leaves that are too young.
So perhaps I will be posting about that in the future, stay tuned!
Web Story
If you love fresh, Mediterranean food with lemon, you will love this Stuffed Grape Leaves Recipe!
Our Other Recipes and Posts
Have you ever tried Stuffed Grape Leaves?
Please let me know in the comments below!
Latest Posts
Stuffed Grape Leaves Recipe
Total Time:
1 hour
20 minutes
This Stuffed Grape Leaves Recipe is perfect for Spring and Summer; enjoy them at picnics, a party, or a family gathering. They are stuffed with cooked rice, dill, mint with freshly squeezed lemon juice and then wrapped in delicious grape leaves. (serve hot or cold, vegan option)
Ingredients
Rice Stuffing for Grape Leaves
2 tablespoon olive oil, regular
1 cup raw long grain rice, rinsed
1 large yellow onion, chopped
1 tablespoon dried dill, can substitute 1/4 cup fresh chopped dill
1 tablespoon dried mint, can substitute 1/4 cup fresh chopped mint
1/4 teaspoon kosher salt
1 tablespoon chicken bouillon (see notes), can omit and use 2 cups vegetable broth instead of 2 cups water
2 cups water
1/4 cup lemon juice, fresh squeezed, 1 lemon
Optional Meat Option
1 pound lean ground beef, chicken, lamb, cooked, browned
For Cooking Stuffed Grape Leaves
9 ounce jar of grape leaves, drained and rinsed
2 tablespoon olive oil, regular
1/4 cup lemon juice, fresh squeezed, 1 lemon
1 cup water, can substitute vegetable broth or chicken broth for more savory flavor
Instructions
Rice Stuffing for Grape Leaves
In a large skillet over medium-high heat, add the (raw) rice, onion, dill, and mint. Mix and saute for 5 minutes. When the onion is soft, pour in 2 cups water with chicken bouillon paste or you can just substitute 2 cups vegetable or chicken broth. Bring to a simmer and simmer on low for 10-15 minutes, rice should be cooked through. Remove from heat and mix in 1/4 cup fresh squeezed lemon juice. Allow rice mixture to cool to room temperature or just warm before stuffing the grape leaves. Season to taste with Kosher salt.
Meat Option
If you would like to make these with meat, I suggest getting an extra jar of grape leaves because it will increase the overall volume of the rice stuffing mixture. Brown lean ground beef, chicken, turkey, or lamb in a skillet until fully cooked. Add it to the cooked rice mixture and mix until evenly distributed.
Stuffing the Grape Leaves
Make sure grape leaves are drained and rinsed before stuffing them. Take one leaf, shiny side down, and place about 1 teaspoon to 1 tablespoon, depending on the size of the leaf, of the cooked rice mixture in the lower middle of the leaf. Fold the bottom and both sides and roll up to the tip of the leaf and place on a plate. Make sure that the leaves are not rolled too tight or too loose. If they are too tight they can break when cooking and if they are too loose, they will fall apart. Roll remaining leaves. You can double up leave if it is ripped.
Cooking the Stuffed Grape Leaves
In the same large skillet, pour the 1 cup water or you can substitute chicken broth or vegetable broth, 1/4 cup fresh squeezed lemon juice, and 2 tablespoons olive oil. Stir to combine. Arrange the grape leaves tightly in the pan (so they do not come undone). Cover and bring the pan to a simmer and cook for a 1/2 hour. Do not let it boil. When they are done transfer them to a serving dish and allow them to cool a little (the juice on the inside will be hot when they come out of the pan). They will look slightly wrinkle-y when they are done.
Serve warm or chilled. They are nice with Greek yogurt or with a salad or as a side dish for dinner. Enjoy!
Nutrition Information:
Yield:

60
Serving Size:

5
Amount Per Serving:
Calories:

46
Total Fat:

2g
Saturated Fat:

1g
Trans Fat:

0g
Unsaturated Fat:

1g
Cholesterol:

10mg
Sodium:

213mg
Carbohydrates:

3g
Fiber:

1g
Sugar:

1g
Protein:

3g
Please note that the Calculated Nutrition is an estimate at best.
Latest posts by Sara Maniez
(see all)