Estimated reading time: 9 minutes
Wacky Cake is a vintage, Great-Depression era, from scratch, a recipe that makes a dense, incredibly moist chocolate cake without the use of eggs, butter, or milk! This delicious cake recipe is topped with vanilla frosting and sprinkles to make a perfectly sweet snacking cake that can also be used for special occasions. It makes a wonderful Science/STEM activity to do with kids as well as a great history lesson. (vegetarian)
Wacky Cake
Hi Everyone, I'm so excited to share this vintage, Great Depression-era recipe for Wacky Cake recipe with you!
It's dense, sweet, fluffy, and ultra-moist – you would never believe that it doesn't have eggs, milk, or butter in it!
How To Make This Wacky Cake Recipe Vegan
This is a great cake recipe for those who have egg allergies or who can not tolerate dairy/lactose-intolerant.
We have added a frosting (with unsalted butter, confectioner's sugar, vanilla, and milk) to the top but you can easily sub out the butter for the same amount of coconut oil, the milk for the same amount of water/non-dairy, or lactose-free milk or just make a glaze instead or just sprinkle the top with confectioner's sugar – or leave it plain because it's so good by itself.
There are lots of options for this versatile cake!
Wacky Cake & My Family History
My dad told me that his mother, my grandmother, would make it for him and his siblings when they were young and she called it "Easy Cake."
I make this recipe with my kids and they (and I) love it.
It's so easy to make and fun too!
Recipe Attribution and How We Came to Make Wacky Cake
I came to make this simple cake recipe while homeschooling my kids during the Covid-19 Pandemic, one of my blogger friends Amanda from Amanda's Cookin' shared her recipe and I thought it would be a great Science/STEM recipe as well as a history lesson that reflects the times that we are in.
We changed up Amanda's recipe a little bit in terms of the topping because my daughter asked for vanilla frosting and sprinkles.
Those additions went very well on the cake.
Ingredients
Cake Batter
1 1/2 cup all-purpose flour
1 cup granulated white sugar (or the same amount of confectioner's sugar)
1/2 teaspoon Kosher salt
1 teaspoon baking soda
1/2 cup unsweetened cocoa powder
6 tablespoons Canola oil (or same amount vegetable or flavorless oil)
1 tablespoon white vinegar
1 teaspoon pure vanilla extract
1 cup cold water
Buttercream Frosting
1 tablespoon unsalted butter
1-2 tablespoons milk (or substitute the same amount non-dairy milk or water), amount depending on how thick you want the frosting
1 cup confectioner's sugar
1/8 teaspoon (pinch) of Kosher salt, optional (to counteract the sweetness)
1/2 teaspoon pure vanilla extract
Sprinkles amount to taste
How Does Wacky Cake Rise/Leaven?
The distilled white vinegar reacts with the baking soda (not baking powder!) when you mix it and it causes the cake batter to rise when baking.
It produces a beautifully moist, densely thick, fluffy cake.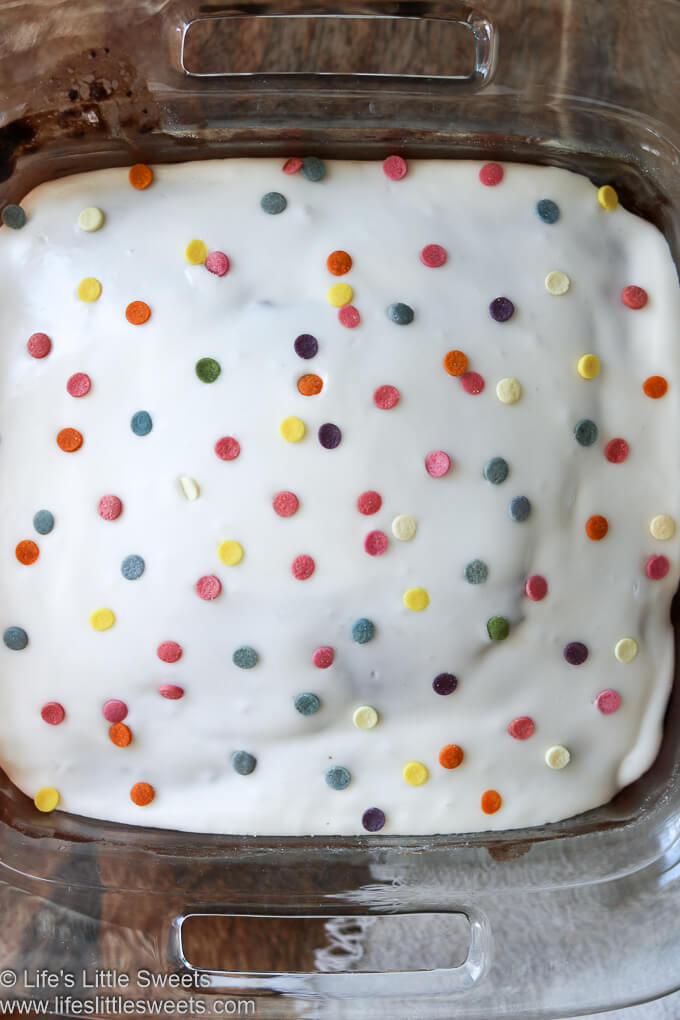 Ingredients
I have included some ingredient and process photos below in addition to the process photos in the recipe card at the end of the post:
Kitchen Tools
measuring spoons and cups
2-cup wet measure
fork
whisk
large mixing bowl
handheld electric mixer
baking spatula
offset spatula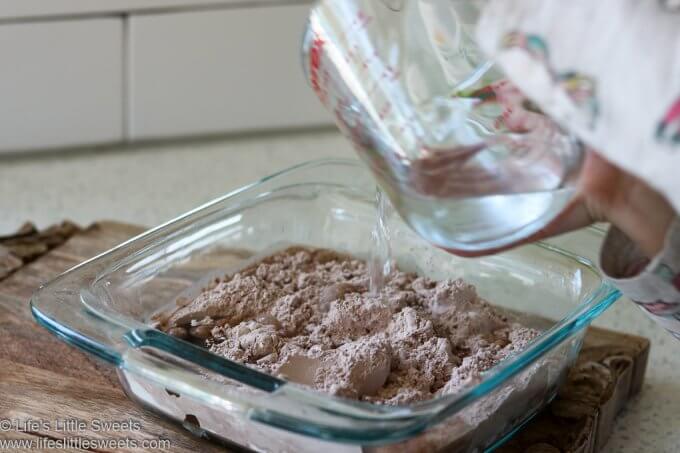 Web Story
Why is this cake recipe Called "Wacky Cake?"
According to Wikipedia:
Wacky cake, also called crazy cake, Joe cake, and WW II cake, is a spongy, cocoa-based cake. … Wacky Cake may have been created as the result of rationing during World War II, when milk and eggs were scarce.
If you try this Wacky Cake recipe, and like it, please give it a rating in the recipe card below and let us know in the comments at the end of the post.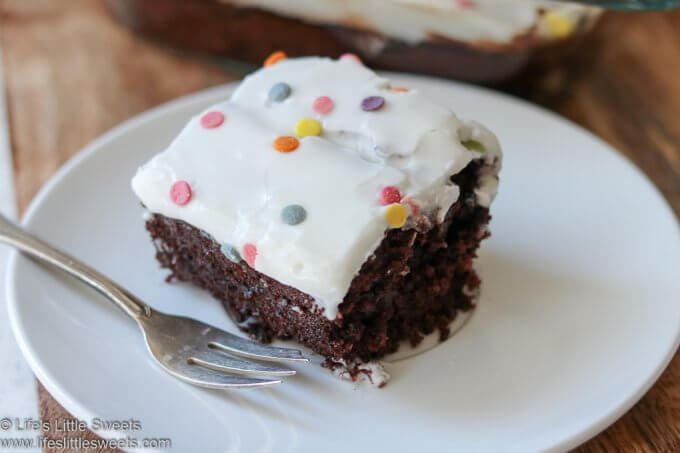 Thank you for reading and following along!
Latest Posts
This post was originally published on 3/29/2020 and updated and republished on 9/10/2021.
Wacky Cake
Wacky Cake is a vintage, Great-Depression era, from scratch, a recipe that makes a dense, incredibly moist chocolate cake without the use of eggs, butter, or milk! This delicious cake recipe is topped with vanilla frosting and sprinkles to make a perfectly sweet snacking cake that can also be used for special occasions. It makes a wonderful Science/STEM activity to do with kids as well as a great history lesson. vegetarian
Ingredients
Cake Batter
Buttercream Frosting
Instructions
Preheat your oven to 350 degrees F. In an 8 x 8-inch baking pan, whisk flour, sugar, salt, baking soda, and cocoa until evenly combined.
Make 3 wells in the flour mixture, 1 large for the oil and 2 small for the vinegar and the vanilla extract.
Add the Canola oil, white vinegar, and vanilla extract to the wells.
Pour 1 cup water over the mixture and using a fork, mix the cake batter until completely combined.
Bake in the 350 degree oven for 30-35 minutes.
When it's done a toothpick or butter knife should come out clean. Allow the cake to cool completely before frosting the top.
To Make the Buttercream Frosting: In a medium bowl, add the room temperature unsalted butter, confectioners sugar, pinch of salt (optional), and whisk to combine. Add a splash of the milk, add the vanilla extract and using a handheld electric mixer, mix on low until completely mixed. Add more milk if you want the frosting to be thinner. Using a baking spatula, add the frosting to the top of the completely cooled cake. Using an offset spatula, spread the frosting evenly over the top. Add optional sprinkles. Cut into 9 even pieces, serve and enjoy!
Nutrition Information:
Yield:

1
Serving Size:

1
Amount Per Serving:
Calories:

3098
Total Fat:

109g
Saturated Fat:

16g
Trans Fat:

0g
Unsaturated Fat:

86g
Cholesterol:

33mg
Sodium:

2497mg
Carbohydrates:

508g
Fiber:

13g
Sugar:

334g
Protein:

29g
Please note that the Calculated Nutrition is an estimate at best.
Latest posts by Sara Maniez
(see all)