Liege Belgian Waffles are a caramelized, sweet, chewy, indulgent, yeast-risen waffle. They stay crisp and are delicious on their own or with ice cream, whipped cream, berries or any topping you can imagine.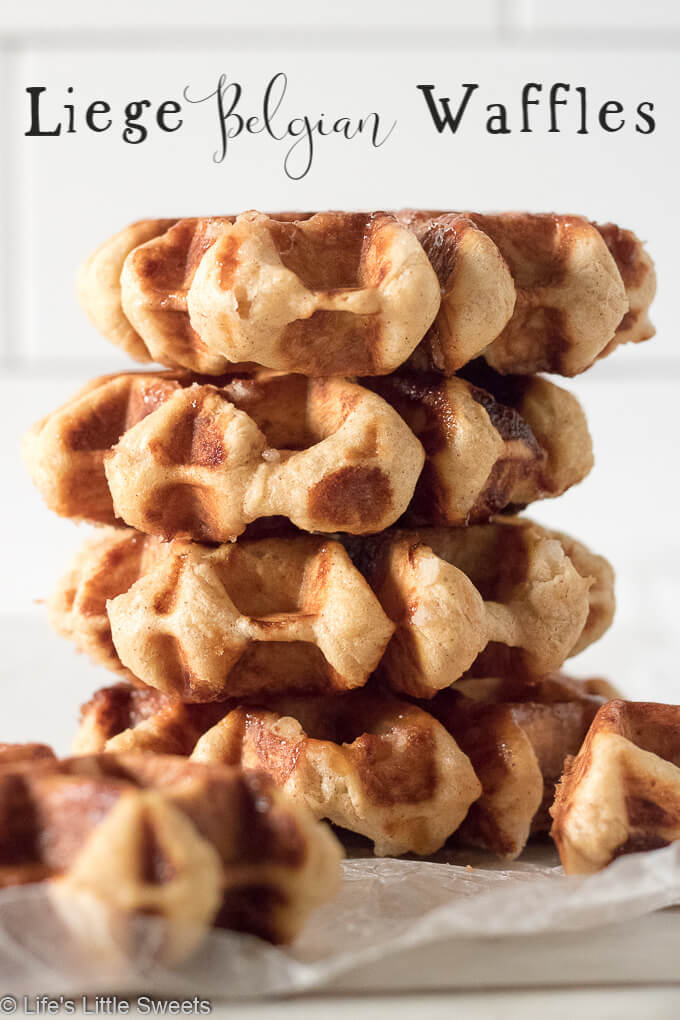 Liege Belgian Waffles
Hi Everyone, have you tried Liege Belgian Waffles? Let me tell you, they are amazing. So good! Crisp on the outside, soft and chewy on the inside. They stay crisp like a cookie and do not get soggy like a regular waffle would. Although, I highly doubt any of these waffles would make it to be leftovers. Whenever I have made these, they are consumed in the same day because they are too irresistible.
These waffles are essentially a sweet yeast bread in waffle form. They remind me of a cinnamon bun in waffle form because I include 1 teaspoon of ground cinnamon in the recipe. The recipe works without the cinnamon but it's just so delicious with it – I advise to keep it in!
I included lots of step-by-step photos to help walk you through this recipe in the recipe card at the end of the post. I hope you find them helpful!
My parents have been visiting for the past week and it's been so nice having them here. They've been able to catch up and bond with the kids. We had a 2 day power outage due to a windstorm and had to stay at a hotel for those days which were the first 2 days of their stay, so it's been a pretty eventful week! For their last day, I made a big brunch to cap off the week of their visit and included these Liege Belgian Waffles. Between all of us we ate all 15 waffles that the recipe makes!
I have to say this is one of my kids absolute favorite recipes.
The key to their chewiness is that the recipe uses yeast as a leavener instead of baking soda or baking powder.
The key to their caramel taste and crispness is due to the Belgian pearl sugar which create little pockets of sugary goodness all throughout the waffle as it cooks in the waffle iron. It is likely the case that you will not be able to find Belgian pearl sugar in your grocery store. I ordered it on Amazon or you might be able to find it in a local specialty store. I made sure to link to the Belgian pearl sugar (Lars' Own Belgian Pearl Sugar) that I use in the recipe card below.
For this recipe, you will definitely need a stand mixer with a dough hook and waffle iron. I made sure to link to any special equipment in the recipe card below.
These waffles definitely fall into the "dessert for breakfast" category, much like cinnamon buns, etc. Oh but they are so good it's worth it. I save this recipe for a special occasion or for the weekends. You could make them as a meal prep treat for the week and keep them in a cookie jar (I have done this).
If you try these Liege Belgian Waffles, let me know in the comments below! Thank you for reading and following along!
Liege Belgian Waffles
Yield:
15 (3 ounces each)
Additional Time:
30 minutes
Liege Belgian Waffles are a caramelized, sweet, chewy, indulgent, yeast-risen waffle. They stay crisp and are delicious on their own or with ice cream, whipped cream, berries or any topping you can imagine.
Ingredients
3 1/2 cups all-purpose or bread flour, plus more for flouring surface
2 1/2 teaspoons dry active yeast
3/4 cup lukewarm whole milk
8 ounces unsalted butter, softened (2 sticks)
2 large eggs
1/2 teaspoon Kosher salt
1 teaspoon pure vanilla extract
1 teaspoon ground cinnamon
Instructions
In a 2 cup wet measure, add 3/4 cup whole milk and yeast, stir to combine and let sit fir 5-10 minutes until foamy.
Set your oven to "bread proof" setting and make sure the rack is in the center of the oven.
In a large stand mixing bowl add the activated yeast and milk, flour, unsalted butter, 2 eggs, Kosher salt, vanilla extract, ground cinnamon. Do not add the Belgian pearl until later!
Using the dough hook, mix the dough on low-medium until fully combined.
Cover with foil and put in the oven to proof for 30 minutes. Note: if you do not have an oven that has this setting, just cover the dough and place in a warm part of the house/kitchen until dough has doubled in size.
Prepare a floured surface and have a dough scraper and extra flour ready.
Preheat your waffle iron.
Remove the dough from the oven.
Scrape the dough out onto the floured surface. Make a slight depression in the middle of the dough. Pour some of the Belgian Pearl sugar into the middle of the dough. Using your hands or a dough scraper, fold the edges of the dough over the pearl sugar and keep repeating this process until you use up all of the sugar and the pearl sugar is evenly dispersed in the dough.
Using a dough scraper, start dividing the dough into 15 pieces.
Using a kitchen scale, weigh 3 ounce round lumps of dough.
Start cooking the dough balls in the waffle iron, cooking 3 minutes and 15 seconds each.
As they finish, lay them on a plate to cool.
When they are done, serve as is or with your favorite waffle toppings. Enjoy!
Notes
for storage: store in an air tight container, at room temperature (or refrigerator) for up to 3 days. I have not tried freezing and reheating these waffles but technically you should be able to, if anyone tried this let me know in the comments and if I try it I will come back and share my findings.
Nutrition Information:
Yield:

15
Serving Size:

1
Amount Per Serving:
Calories:

220
Total Fat:

13g
Saturated Fat:

8g
Trans Fat:

0g
Unsaturated Fat:

5g
Cholesterol:

59mg
Sodium:

88mg
Carbohydrates:

23g
Fiber:

0g
Sugar:

16g
Protein:

3g
Please note that the Calculated Nutrition is an estimate at best.

Our Other Recipes
Sara is an architectural designer turned work-at-home Mom.She lives in NJ with her husband, two kids under 5 and dog. She loves design, being creative and spending time with family and friends.She enjoys and shares baking, vegan, traditional & family recipes as well as DIY, lifestyle, organization and design ideas.
Latest posts by Sara Maniez (see all)