Estimated reading time: 5 minutes
Crinkle Cut Fries (Oven, Air Fryer) – Discover the ultimate Crinkle Cut Fries recipe using a 5lb bag of potatoes and Canola oil. Whether you opt for oven-baking or air-frying, these golden, seasoned delights promise a crispy perfection that will elevate your homemade fries game. A simple, delicious, and crowd-pleasing side dish for any occasion.
Crinkle Cut Fries
Hi Everyone, homemade crinkle-cut fries are so easy to make, this is a cost-effective, and, family-friendly recipe!
Ingredients
5 pounds russet potatoes
1/4 cup Canola oil
2 teaspoons garlic powder
2 teaspoons onion powder
2 teaspoons paprika, optional
1 teaspoon salt (adjust to taste)
1/2 teaspoon black pepper
Cooking spray (for air-frying)
Web Story
What's the prep time?
The prep time for Crinkle Cut Fries can vary depending on your efficiency in the kitchen and the specific steps you choose to follow. Generally, here's an estimate:
Peeling, Cutting, and Soaking Potatoes: 20-30 minutes
Drying Potatoes: 5-10 minutes
Seasoning Potatoes: 5 minutes
In total, the prep time can range from approximately 30 to 45 minutes. Keep in mind that the soaking time is passive, so you can use that time to work on other tasks.
What's the cooking time?
The cooking time for Crinkle Cut Fries will depend on whether you are using an oven or an air fryer. Here's an approximate range for each method:
Oven-Baking:
30 to 35 minutes at 425°F (220°C), flipping the fries halfway through.
Air Frying:
18 to 22 minutes at 400°F (200°C), shaking the basket halfway through.
Please note that these times are general estimates, and the actual cooking time may vary based on your specific appliance, the thickness of the fries, and your desired level of crispiness. It's recommended to check the fries periodically towards the end of the cooking time and adjust accordingly.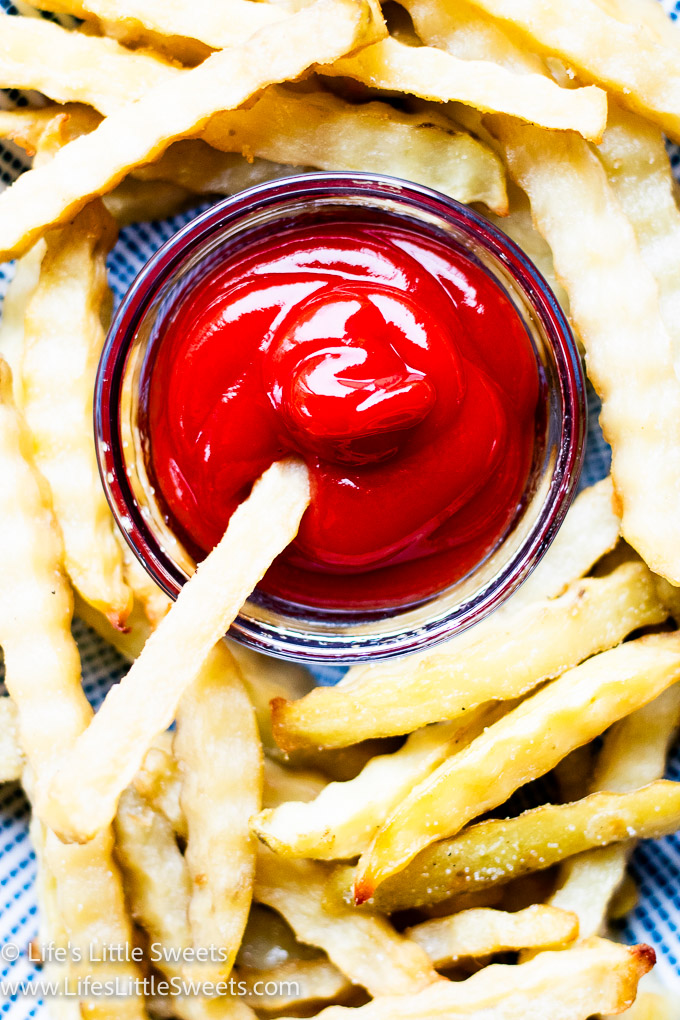 Is this a retro recipe?
While crinkle-cut fries themselves aren't inherently retro, the crinkle-cut shape has been associated with a nostalgic, classic feel. Crinkle-cut fries gained popularity in the mid to late 20th century and are often associated with traditional diners and old-fashioned burger joints. The crinkle-cut shape adds a visually appealing and textured element to the fries.
So, while the concept of making fries in this style may not be explicitly retro, the crinkle-cut presentation can evoke a sense of nostalgia for some people, connecting them to a bygone era of American diner culture.
Related Posts
Latest Posts
If you try this recipe, please let us know in the comments at the end of the post, thank you for reading and following along!
Crinkle Cut Fries
Ingredients
Instructions
1. Preheat the Oven or Air Fryer:
Oven: Preheat your oven to 425°F (220°C).
Air Fryer: Preheat your air fryer to 400°F (200°C).
2. Prepare the Potatoes:
Wash and scrub the potatoes thoroughly to remove any dirt.
Peel the potatoes if desired, or leave the skin on for a rustic texture.
Cut the potatoes into crinkle-cut fries using a crinkle cutter or knife. Aim for uniform thickness to ensure even cooking.
3. Soak the Potatoes:
Place the cut potatoes in a large bowl of cold water and let them soak for about 30 minutes. This helps remove excess starch, resulting in crispier fries.
4. Drain and Dry:
Drain the potatoes and pat them dry with a clean kitchen towel or paper towel. The drier the potatoes, the crispier the fries will be.
5. Seasoning:
In a large bowl, toss the dried potatoes with Canola oil, garlic powder, onion powder, paprika, salt, and black pepper. Ensure the fries are evenly coated with the seasoning.
6. Oven-Baking Instructions:
Spread the seasoned crinkle-cut fries in a single layer on two baking sheets lined with parchment paper, ensuring they are not crowded. This allows for even browning.
Bake in the preheated oven for 30-35 minutes, flipping the fries halfway through, until they are golden brown and crispy.
7. Air Fryer Instructions:
Lightly coat the air fryer basket with cooking spray to prevent sticking.
Place a batch of seasoned crinkle-cut fries in the air fryer basket, making sure not to overcrowd.
Cook for 18-22 minutes, shaking the basket halfway through, until the fries are golden brown and crispy.
8. Serve:
Remove the fries from the oven or air fryer and let them cool for a few minutes.
Serve the crinkle-cut fries hot with your favorite dipping sauce. Enjoy!
Notes
Crinkle Cut Fries Recipe Tips for Success:
Select the Right Potatoes: Choose high-starch russet potatoes for the best texture and flavor in your crinkle-cut fries.
Invest in a Quality Crinkle Cutter: A good crinkle cutter ensures uniform and professional-looking fries. It also helps them cook evenly.
Soaking is Key: Soak the cut potatoes in cold water for about 30 minutes to remove excess starch. This results in crispier fries.
Thoroughly Dry Potatoes: After soaking, pat the potatoes completely dry. This step is crucial for achieving crispiness during baking or air-frying.
Even Coating of Seasonings: Ensure each crinkle-cut fry is evenly coated with Canola oil and seasonings. This guarantees a balanced flavor in every bite.
Preheat Your Oven or Air Fryer: Preheating is essential for an even cook. For the oven, set it to 425°F; for the air fryer, preheat to 400°F.
Spread Out for Oven-Baking: When baking in the oven, spread the fries in a single layer on baking sheets. Avoid overcrowding to ensure proper browning.
Use Cooking Spray for Air Frying: Lightly coat the air fryer basket with cooking spray to prevent the fries from sticking.
Shake or Flip Midway: Whether in the oven or air fryer, shake the basket or flip the fries halfway through the cooking time for even crispiness.
Check for Doneness: Keep an eye on the fries as they approach the end of the cooking time. Adjust based on your desired level of crispiness.
Serve Immediately: Crinkle-cut fries are at their best when served hot and fresh. Enjoy with your favorite dipping sauces for an extra kick!
Experiment with Seasonings: Feel free to customize the seasoning blend to your taste. Add cayenne for heat or parmesan for extra flavor.
Pair with the Perfect Dip: Elevate the experience by serving these crinkle-cut fries with your favorite dipping sauces or homemade aioli.
Double-check Oven Temperature: Ensure your oven is accurately preheated to the recommended temperature for optimal results.
Have Fun with Shapes: If you don't have a crinkle cutter, experiment with different shapes for a unique twist on classic fries.
First published: 11/11/2023
Latest posts by Sara Maniez
(see all)