Mint Lemonade is a refreshing, sweet drink recipe to cool your Summer days. (gluten-free, vegan)
Mint Lemonade
Hi Everyone, don't you just love an ice-y, glass of lemonade in the hot, Summer months? Well, so do I and when you don't have central air conditioning you try and think of ways to make the drink even more cooling and refreshing, for example, adding fresh mint!
I have several mint varieties in my garden (see my garden posts here). I use a variety called "Mojito Mint" for this Mint Lemonade recipe. This Mint Lemonade recipe is inspired by my herb garden, and I have so many more garden-inspired recipes to share too! Doing that garden this year, was the best thing <3
Disclosure: Some links in this post are affiliate links which means I earn a commission if you purchase through them at no extra cost to you. I only recommend brands and products that I 100% like and enjoy using. Thank you in advance for your support!
Helpful Kitchen Tools for Mint Lemonade
cutting board
chef's knife
I got this lemonade pitcher set at the beginning of the Summer, it's nice to have 2, so you can use one for iced tea.
citrus squeezer (this is an updated version of what I have)
mesh strainer
These are cute lemonade glasses
ice maker(from being pregnant over the Summer, I have become obsessed with ice as a way to help stay cool, I found this cool ice maker on Amazon Prime)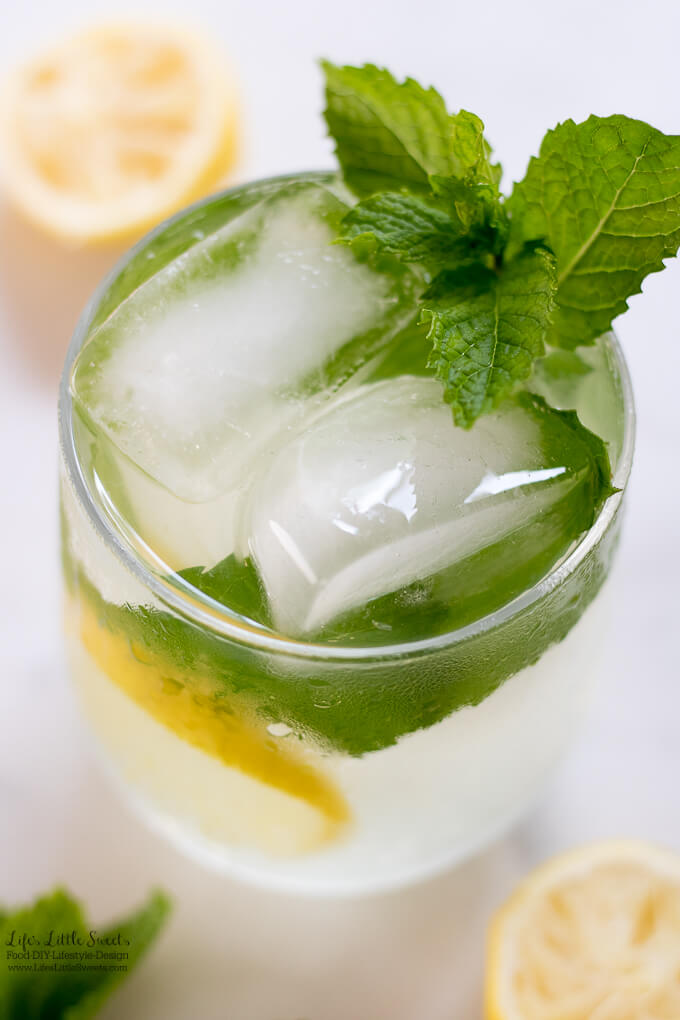 I know you will love this Mint Lemonade recipe! It also tastes great when mixed with iced tea.
Mint Lemonade
Yield: 1 pitcher

Prep Time: 10 minutes

Cook Time: 1 minute

Total Time: 11 minutes

Mint Lemonade is a refreshing, sweet drink recipe to cool your Summer days. (gluten-free, vegan)
Ingredients
8-10 lemons, squeezed, and strained juice, washed, sliced in half
1 sliced lemon, for garnishing and to put in the pitcher
1/2 cup granulated white sugar, I recommend using organic, start with 1/2 cup and add more depending on how sweet you like your lemonade
water, use amount depending on your pitcher size
5-10 fresh mint leaves, to taste, reserve some for garnishing
Instructions
Pour strained lemon juice from 8-10 lemons in the pitcher, add 1/2 cup sugar, lemon slices, fresh mint leaves and water. Taste and adjust for desired sweetness. Enjoy chilled with fresh ice cubes.
Notes
I recommend chilling your lemonade glasses before using them, so they are frosty and cold, this helps keep your drink more cold on hot days!
What's your favorite Summer drink? Please let me know in the comments below! Best, ~Sara
Pin This! ⇓
Sara is an architectural designer turned work-at-home Mom.She lives in NJ with her husband, two kids under 5 and dog. She loves design, being creative and spending time with family and friends.She enjoys and shares baking, vegan, traditional & family recipes as well as DIY, lifestyle, organization and design ideas.
Latest posts by Sara Maniez (see all)