These crispy Couscous Fritters have only 7-8 ingredients and can be made in 30 minutes! Be sure to check out the other #FoodieMamas couscous recipes below!

I love food with texture and crunch. These couscous fritters are a great way to change up the typical way couscous is served. The amount in this recipe is perfect for 2-4 people and are a snap to make!

[bctt tweet="Couscous Fritters – The #FoodieMamas are back!"]
What is Couscous?
"Couscous is a Berber traditional North African dish of semolina (granules of durum wheat), which is cooked by steaming. It is traditionally served with a meat or vegetable stew spooned over it. Couscous is a staple food throughout the North African cuisines of Tunisia, Algeria, Morocco, Mauritania and Libya and to a lesser extent in the Middle East and Trapani in Sicily." – Wikipedia.org

Disclosure: Some links in this post are affiliate links which means I earn a commission if you purchase through them at no extra cost to you. I only recommend brands and products that I 100% like and enjoy using. Thank you in advance for your support!
I used "Rice Select Couscous Tri-Color" (made from Durum wheat with sun-dried tomato & spinach) which I found at my local grocery store; I added this item to my Amazon aStore under "Dry Ingredients."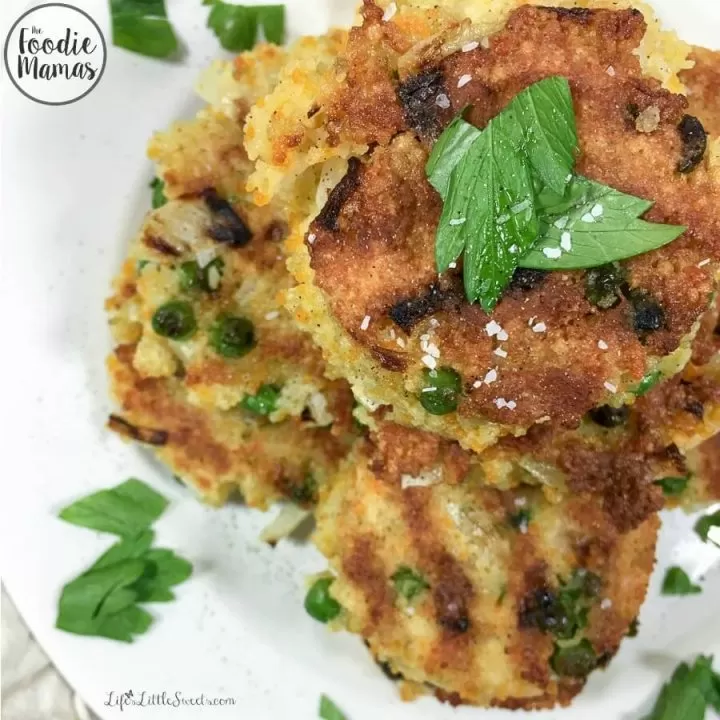 Couscous Fritters
These crispy Couscous Fritters have only 7-8 ingredients and can be made in 30 minutes!
Ingredients
Step 1: To Make Couscous:
1 level cup couscous
1/2 cup frozen organic peas, (you can use 1/4 cup if you want less *remember changing the amounts of ingredients may affect the amount of fritters you have in the end)
1 cup water, (for more flavor try using vegetable or chicken stock instead of water), plus extra, if needed (I added a few tablespoons extra)
1 teaspoon organic coconut oil, (can substitute butter, if you prefer)
1/4 teaspoon salt
To Make Couscous Fritters:
cooked couscous from previous step
1/2 medium, (or 1 small) onion, diced ( about 1/2 cup - we love onions in our house, if that seems like a lot, feel free to dial it back to 1/4 cup)
2 eggs
1-2 tablespoons of coconut oil, , plus more if needed (can sub for butter, olive oil or cooking oil of your choice).
salt and pepper to taste
Instructions
Make the Couscous: Bring water (or stock of choice) to a boil with salt, coconut oil and frozen organic peas. When mixture is boiling, add the couscous and remove from heat and cover. Allow to stand for 4-5 minutes to allow the moisture to absorb.
Make the Fritters: In a medium bowl, add cooked couscous mixture, diced onion, eggs and mix until combined. Using 1/4 cup to scoop, form fritters and place on a plate. Have another plate ready for cooked fritters. Heat a large skillet (I use one that has grill marks) on medium-high heat with 1-2 tablespoons of coconut oil for frying. Once, skillet is preheated, cook fritters (I can fit 4-6 at a time in the skillet) for 4-5 mins on each side. I recommend covering while they are cooking to ensure they cook evenly through, I cover using a spatter guard, that allows some steam to escape. You can press down very slightly and gently, after you flip them over, then cook for another 4-5 minutes. They should be golden brown on each side. Reduce heat slightly, if necessary, to prevent burning. Add salt and pepper to taste. Serve and enjoy!
⇒ I am delighted to share with you something *new* for this month, below is a pinnable image which you can also click on each picture and it will lead you right to the recipe on each #FoodieMamas website! Please take the time to check out each one and share! Thank you!
References
Couscous – Wikipedia.org
[bctt tweet="Check out Couscous #FoodieMamas Recipe Roundup!"]
What are your favorite

couscous

recipes? Let me know in the comments below!
Sara is an architectural designer turned work-at-home Mom.She lives in New Jersey by way of New England and New York, with her husband, two kids under 5 and family dog Cayli. She loves design, being creative and spending time with family and friends. She loves checking out local businesses and eats and being apart of the local farm to table community.
Latest posts by Sara Maniez (see all)