Roasted Fennel is an easy, savory and flavorful way to enjoy fennel. It makes the perfect side dish with dinner or serve over a salad. (vegan)
[wprm-recipe-jump] or  [wprm-recipe-print]
Roasted Fennel
Hi Everyone! I love sharing side dish recipes that you can enjoy with dinner or any meal. This Roasted Fennel recipe is my favorite way to make fennel because it is SO easy and fast when you need to make dinner quick.
I love the flavor that fennel has and if you have been in a rut flavor-wise for dinner, why not try fennel. It looks similar to celery and the flavor is similar to licorice or anise.
Fennel is in season from early Fall though Spring. I could see this roasted fennel as a lovely vegetable side dish at Thanksgiving or Christmas.
All parts of fennel is edible. Fennel can be served raw in salad, braised, sauteed or even grilled. You can save the leaves (called fronds), which looks like dill, to garnish. The stalks can be used in soups or stews.
I love having Roasted Fennel over rice with some soy sauce drizzled over it. I love the satisfying crunch that the fennel has.
Fennel has such a nice light green and white color to it.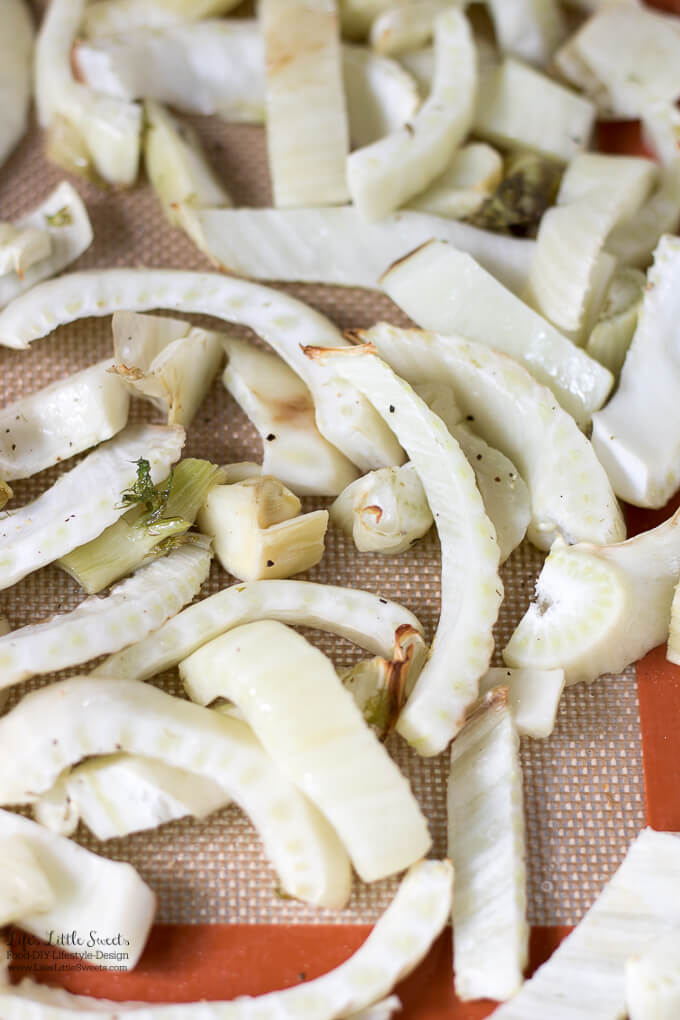 Kitchen Tools Needed for Roasted Fennel
If you are looking for some other vegetable side dishes, check out Spicy Roasted Cauliflower and Roasted Green Beans. If you need a main, check out Lemon Rosemary Skillet Chicken Thighs.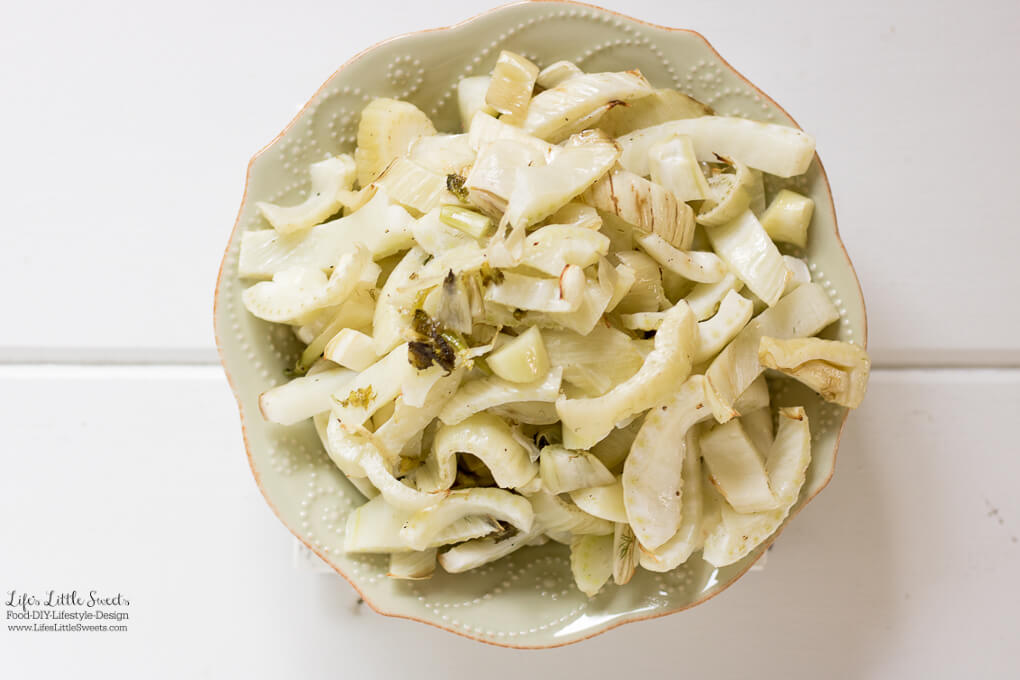 I know you will love this Roasted Fennel recipe!
Roasted Fennel
Roasted Fennel is an easy, savory and flavorful way to enjoy fennel. It makes the perfect side dish with dinner or serve over a salad. (vegan)
Ingredients
1-2 fennel bulbs, washed and cut into 1/2-3/4 inch slices
2 tablespoons regular olive oil
1 teaspoon Kosher salt, to taste
1/4 teaspoon fresh black ground pepper
Instructions
Preheat oven at 350 degrees F.
Line a rimmed baking sheet with a silicone baking mat or parchment or aluminum foil.
Put the sliced fennel on the prepared baking sheet, drizzle the olive oil, salt and pepper. Using your hands, mix the olive oil and seasonings until fully coated.
Arrange the slices fennel bulbs in a single, even layer on the sheet pan.
Bake at 350 degrees F for 20-25 minutes (or to desired texture and tenderness). Serve and enjoy!
Notes
You can save the fennel fronds (the leaves) for garnishing. You can use the fennel stalks in a soup or stew.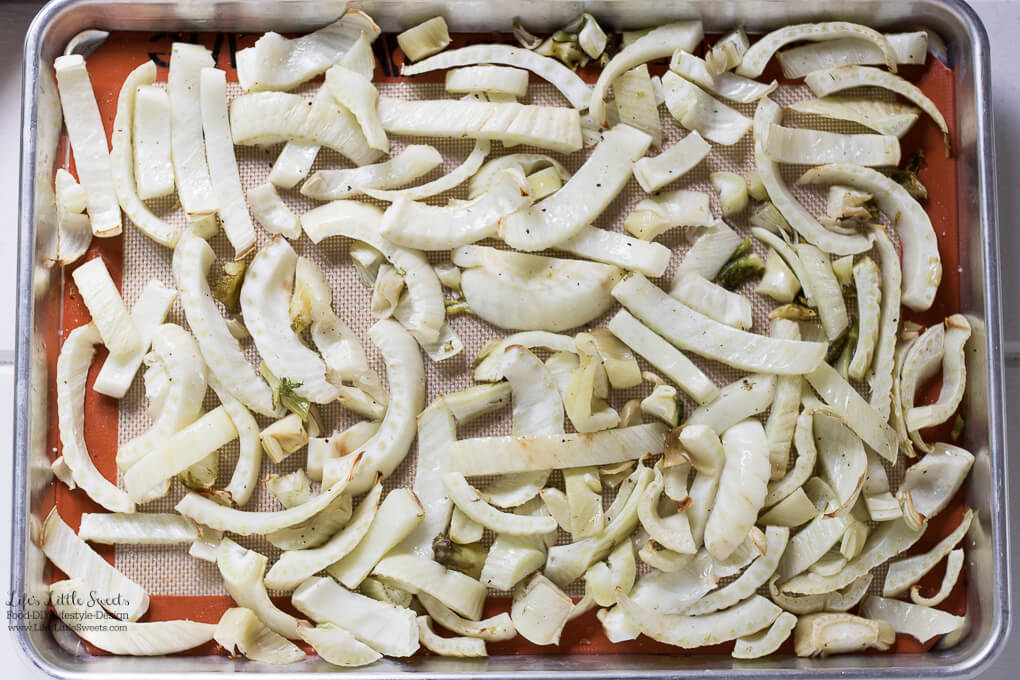 [bctt tweet="Roasted Fennel" username="lifeslilsweets"]
Be sure to sign up for the Life's Little Sweets e-mail newsletter for more updates and FREE recipes!
Have you ever made fennel? How do you like to make it? Please let me know in the comments below! Best, ~Sara
Pin This! ⇓
Sara is an architectural designer turned work-at-home Mom.She lives in New Jersey by way of New England and New York, with her husband, two kids under 5 and family dog Cayli. She loves design, being creative and spending time with family and friends. She loves checking out local businesses and eats and being apart of the local farm to table community.
Latest posts by Sara Maniez (see all)