Our deconstructed jalapeno popper bites have all the flavor of traditional poppers but presented in a new way and loaded with Southwest flavors.
Estimated reading time: 4 minutes
Table of contents
Deconstructed Jalapeno Popper Bites
Everyone loves a great jalapeno popper.
However, sometimes you want something a little different.
For times like that, we have the perfect recipe for you.
They're made with fresh jalapenos, rich cream cheese, and a mixture of Southwest spices.
Plus, the recipe takes less than half an hour to make.
In less time than it takes to heat up frozen jalapeno poppers, you have a tasty treat that's far better.
You could even serve it alongside your favorite chicken taco recipe for Taco Tuesday
Additionally, once you master making the filling, you will find it can be used in other recipes as well.
I will get into that topic later on in the recipe card.
For now, let's focus on these jalapeno popper bites.
As you can see from the photos, these jalapeno popper bites are laden with melted cheddar cheese.
The diced jalapenos on top are purely a garnish as the cream cheese already has tons of peppers inside.
All you need are a few ingredients and some spices from your pantry to get started.
You don't have to let the cream cheese soften since you will be baking the dish.
However, if you are not going to pull the cream cheese out early, then make sure you have a good food processor or stand mixer, so everything blends well.
As always with our recipes, simple and delicious is the mantra. It doesn't get much easier than this.
Simply toss all the ingredients into your food processor, hit the pulse button a few times, and the filling is ready.
All you will need to do is use a small biscuit cutter on the corn tortillas to make the bowls.
Then, fill the bowls with the mixture, garnish with cheddar cheese, and bake for 10 to 12 minutes.
After that, you're done!
Ingredients
Fresh jalapenos
Corn Tortillas
Sharp Cheddar Cheese
Cream Cheese
Cumin
Salt
Garlic Powder
Onion Powder
Smoked Paprika
Chipotle or Chili Powder
Kitchen Tools
Mini Muffin or Cupcake Pan
Cheese Grater
Food Processor or Stand Mixer
Small Biscuit Cutter
Measuring Spoons
Non-stick Cooking Spray
Chef's Knife
Cutting Board
Kitchen Scale
Web Story
If you love cheesy spices recipes, then these jalapeno popper bites are for you.
You can add an extra kick by leaving some of the pepper seeds in the mixture.
For Kim and I, we make sure the peppers have been thoroughly cleaned out.
We like heat, but not that much heat. I would also recommend not using as much cheddar cheese if you want a crispier popper.
Otherwise, the moisture from the cheddar can keep the tortilla bowls soft.
Other than those, tips, that's about all the advice I can give.
The next time you're craving a spicy snack then I encourage you to make these poppers.
Our Other Recipes and Posts
What's your favorite appetizer recipe?
Please let me know in the comments below!
Latest Posts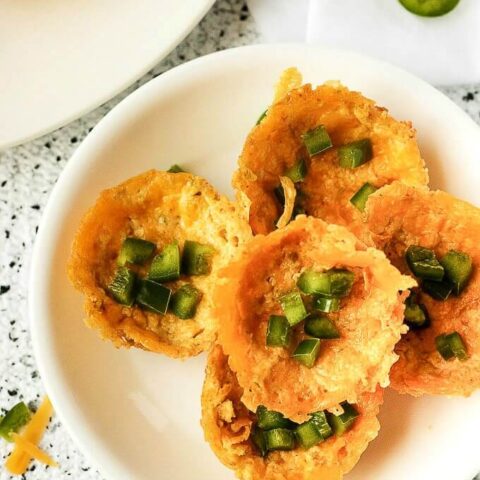 Deconstructed Jalapeno Popper Bites
Yield:
4 Servings (3 poppers each)
Our deconstructed jalapeno popper bites have all the flavor of traditional poppers but presented in a new way and loaded with Southwest flavors.
Ingredients
2 Medium Jalapenos, (washed, cleaned out, diced)
4 Small Corn Tortillas
2 Ounces Cheddar Cheese, (shredded)
8 Ounces Cream Cream, (softened)
1/2 Teaspoon Salt
1/4 Teaspoon Ground Cumin
1/2 Teaspoon Garlic Powder
1/2 Teaspoon Onion Powder
1/4 Teaspoon Smoked Paprika
1/4 Teaspoon Chipotle or Chili Powder
Instructions
First, preheat the oven to 350 degrees F. and pull cream cheese from your fridge to soften slightly.
Next, spray your muffin tin with non-stick cooking spray and use the biscuit cutter to cut bowls out of the tortillas. Place the bowls into the muffin cups.
Now, shred your cheese and separate it in half, some for the filling and some for the garnish.
After that, wash, clean out, and dice the peppers. At this point, you can now combine all the ingredients, except half the cheese, into your food processor and pulse the mixture together until the filling is smooth and creamy.
Then, put about a teaspoon of the filling into each tortilla cup. You will have some of the mixture leftovers. Which, is a good thing, because you can use it as an enchilada filling. Trust me, it's good!
Lastly, sprinkle the bites with the leftover cheddar and place them into the oven to bake for 10 to 12 minutes. Serve them while they are hot. The appetizer makes three poppers per person.
Notes
The calorie count listed is an approximation based on the ingredients. Actual calories may vary. Can be served with condiments such as ranch dressing or sour cream. Serve hot. Although storage is not recommended, bites can be stored in a sealed container in your fridge for up to three days.
Nutrition Information:
Yield:

4
Serving Size:

1
Amount Per Serving:
Calories:

346
Total Fat:

30g
Saturated Fat:

18g
Trans Fat:

1g
Unsaturated Fat:

9g
Cholesterol:

90mg
Sodium:

406mg
Carbohydrates:

15g
Fiber:

2g
Sugar:

3g
Protein:

7g
Please note that the Calculated Nutrition is an estimate at best.
Latest posts by Sara Maniez
(see all)