This Sweet Potato Gnocchi is surprisingly easy to put together. There are only 3-4 required ingredients and you can add some fresh herbs, like thyme or parsley for serving. Try this simple, homemade dish for your next meal! (dairy-free, vegetarian)
Sweet Potato Gnocchi
Hi Everyone, I have been looking forward to sharing the simple dish with you! This Sweet Potato Gnocchi is easy to prepare and delicious.
You can serve it with a sauce or just a drizzle of olive oil and fresh herbs, in this case thyme, as I did below.
I include step-by-step photos in this recipe post to show you how easy it is to prepare it!
You too can enjoy these carb-y, pillows of perfection!
This is a great way to use up leftover sweet potatoes!
I LOVE, LOVE, LOVE this recipe because it has so few ingredients and seems fancier than it is – it really only takes 1 bowl and 3-4 minimum ingredients, what a win!
Here are some step-by-step photos of making this Sweet Potato Gnocchi
I know you are going to love this Sweet Potato Gnocchi recipe, let me know what you decide to serve it with!
I can't wait for getting the Spring/Summer garden going at our house, so we can grow our own herbs again – I am sure there are many gnocchi recipes in my future!
This recipe is one of my "garden-inspired" recipes, you can see all of the garden-inspired recipes, here.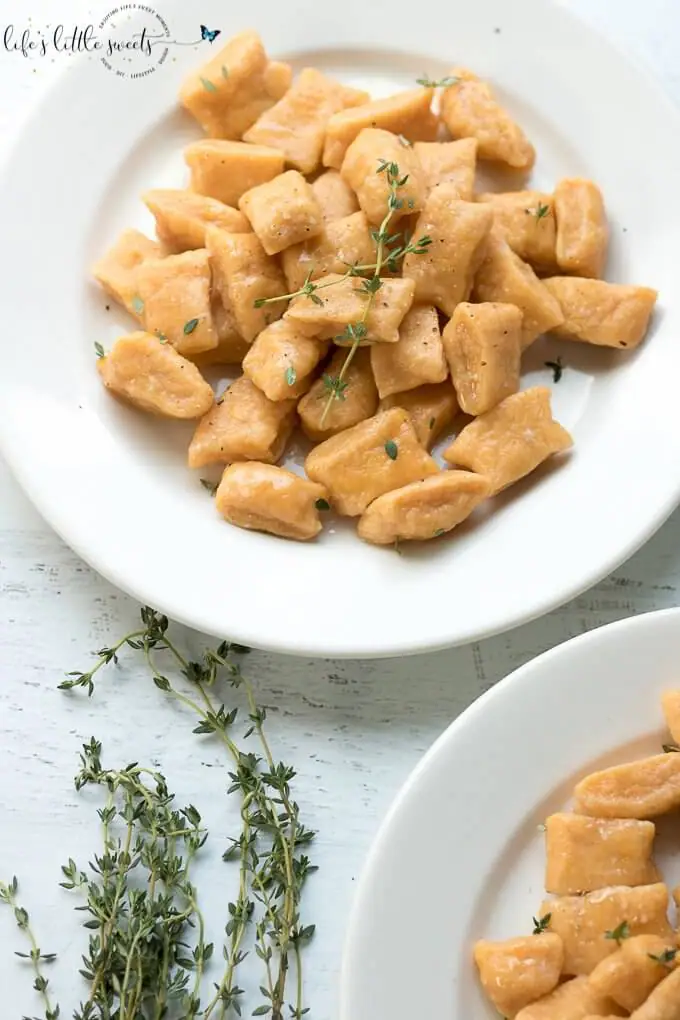 Sweet Potato Gnocchi
Yield: 4 servings

Prep Time: 30 minutes

Cook Time: 3 minutes

Total Time: 33 minutes

This Sweet Potato Gnocchi is surprisingly easy to put together. There are only 3-4 required ingredients and you can add some fresh herbs, like thyme or parsley for serving. Try this simple, homemade dish for your next meal! (dairy-free, vegetarian)
Ingredients
1 cup mashed sweet potatoes with red skin (about 1-2 sweet potatoes), baked, skins removed, mashed
2 cups all-purpose flour, plus more for rolling
1 large egg
1 tsp Kosher salt, for salting water, plus more for serving
1/4 tsp fresh ground black pepper, for serving
fresh herbs like thyme or parsley, chopped
Instructions
Bake the sweet potatoes for 1 hour in a preheated 350 degree oven, prior to making the gnocchi. (This is also a great way to use up leftover sweet potatoes!)
In a large pot of water, bring salted water to boil.
In a large mixing bowl, mix the mashed sweet potatoes, flour and egg until you have an evenly mixed dough.
Over a floured surface (or pastry mat), divide dough into 3 sections with a dough scraper, roll the dough into long "snakes" and using the dough scraper cut into 1/2 inch pieces that resemble pillows.
Drop the gnocchi into the boiling water and when it rises to the top, remove and drain. This should only take 3-5 minutes, it cooks fast! Enjoy with your favorite pasta sauce or drizzle with olive oil and garnish with herbs (thyme pictured). Salt and pepper to taste. Enjoy!
Recommended Products
As an Amazon Associate and member of other affiliate programs, I earn from qualifying purchases.
Nutrition Information:
Yield: 4 Serving Size: 1/2 cup
Amount Per Serving:Calories: 341Total Fat: 6gSaturated Fat: 3gTrans Fat: 0gUnsaturated Fat: 2gCholesterol: 57mgSodium: 649mgCarbohydrates: 62gFiber: 3gSugar: 8gProtein: 9g

Please note that the Calculated Nutrition is an estimate at best.
Pin This! ⇓
Latest posts by Sara Maniez
(see all)