A straightforward and delicious one-pot chili mac and cheese that's sure to feed a large family. Best of all, it can be made in one pot!
Estimated reading time: 4 minutes
One-Pot Chili Mac and Cheese
With Fall coming on soon, you need a warm and filling recipe to prepare for your family.
Chili Mac is always a crowd-pleaser but can be very time-consuming to put together after a long day.
Especially once the rain starts falling and icy winds kick up.
That's why is best to have a simple recipe to feed a group once the temperatures start to drop.
Ordinarily, I would stray from using a processed cheese product. However, simplicity is paramount when cooking for a large family.
Furthermore, a good chili mac recipe always calls for those types of cheese sauces.
So, to maintain that nostalgic flavor, I recommend going with Velveeta or some other store-brand cheese.
Additionally, I suggest using a canned chili you already enjoy.
In the time it takes to cook pasta, you're over halfway to finished.
While the noodles cook, you can always prep the other ingredients.
Which, it just so happens, there only five ingredients in total.
As you can tell, this is a win-win for everyone involved.
Your loved ones get a hearty, savory meal and you don't have to deal with a mess in the kitchen.
Ingredients
4.5 Cups of Dried Pasta Noodles (Macaroni or Penne)
1 lb. Processed Cheese Product (Velveeta)
1 Can (14.5 Ounces) Diced Tomatoes
1 Can (7 Ounces) Diced Green Chiles
1 Can (15 Ounces) Chili with No Beans (Hormel)
Salt and Pepper to taste
Kitchen Tools
Cutting Board
Can Opener
Kitchen Knife
Large Stew Pot
Slotted Spoon
Collander
Serving Bowls
Forks
Web Story
All in all, given the ease of preparation, and limited cleanup, I would have to say this is one the easiest recipes I have ever made.
The dish could serve up to six people and is sure to please adults and children alike.
There something about the flavors of this chili mac that remind me of Fall.
Maybe it's the warm and cheesy texture or the combination of canned ingredients and cheese sauce.
I cannot say for sure.
What I will do, is invite you to try this one for yourself.
It is my hope that it not only feeds your family but also warms your heart.
In closing, I wish everyone a long life, love everlasting, and a tummy full of chili mac.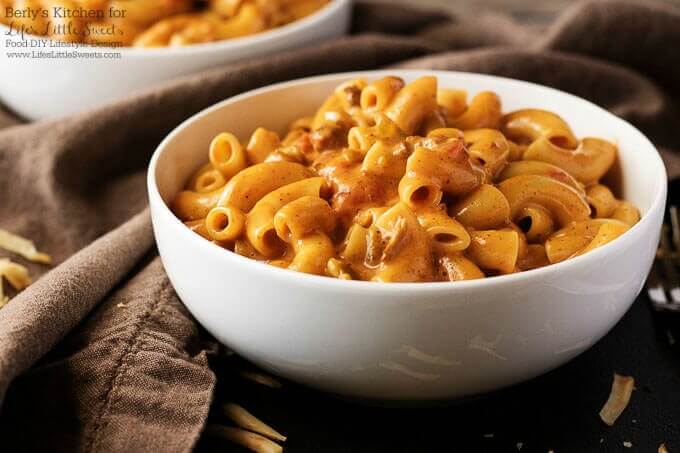 Our Other Recipes and Posts
What's your favorite kind of mac 'n cheese?
Please let me know in the comments below!
Latest Posts
One Pot Chili Mac and Cheese
A straightforward and delicious one-pot chili mac and cheese that's sure to feed a large family. Best of all, it can be made in one pot!
Ingredients
4 1/2 Cups Dry Pasta, (Macaroni or Penne)
16 Ounces Processed Cheese Product, (Velveeta)
14.5 Ounces Diced Tomatoes, (one can, drained)
7 Ounces Diced Green Chiles, (one can, drained)
15 Ounces Chili Without Beans, (one can)
Instructions
First, in a large pot, prepare your noodles per the boxed instructions. While the noodles cook, cut the cheese into one-inch squares. Go ahead and open all the canned goods, draining the tomatoes and chiles.
Next, after the noodles have cooked, drain the excess water from them and set them aside. Rinse the large pot and place it back on the stovetop over medium heat.
Then, combine the cheese, tomatoes, green chiles, and chili in the pot and then cook until the cheese has fully melted.
Last, add the cooked noodles to the pot of chili cheese sauce and stir them together. The dish is now ready to serve.
Notes
The calories listed are an approximation based on the ingredients. Actual calories may vary based on the individual serving size. The dish can be stored in a sealed container in your fridge for up to three days.
Nutrition Information:
Yield:

6
Serving Size:

1
Amount Per Serving:
Calories:

598
Total Fat:

24g
Saturated Fat:

12g
Trans Fat:

1g
Unsaturated Fat:

8g
Cholesterol:

74mg
Sodium:

1366mg
Carbohydrates:

68g
Fiber:

4g
Sugar:

11g
Protein:

28g
Please note that the Calculated Nutrition is an estimate at best.
Latest posts by Sara Maniez
(see all)