This Braised Collard Greens recipe is the perfect, savory side dish for any dinner. (GF & vegan option)
Braised Collard Greens
Hi Everyone! I love side dishes because they can really make a meal. These Braised Collard Greens are so substantial and satisfying.
They can be customized to be vegan too if you wish!
I love these Braised Collard Greens so much that I feel like they can stand on their own, top them with your favorite cheese, like in this case shaved Parmesan (or another dry cheese) and serve it over rice or noodles.
You can add onions to it, like I suggest, or garlic or shallots – this will only add to the flavor.
I suggest using chicken broth and butter for cooking but for a vegan option, you can use vegetable broth and coconut oil in the same amount. Sometimes, I do this sometimes, I don't, it depends who's sitting at my table and what I am in the mood for 🙂
You can cut the stems and leave them out but I always leave them on. It only adds fiber and texture. It might add a little time to the cooking time to cook through those stems.
I know you will enjoy this Braised Collard Greens recipe, there's so many ways to customize them!
Braised Collard Greens
Yield: 4 people

Prep Time: 5 minutes

Cook Time: 30 minutes

Total Time: 35 minutes

This Braised Collard Greens recipe is the perfect, savory side dish for any dinner. (GF & vegan option))
Ingredients
1-2 tablespoons unsalted butter, can the same amount substitute coconut oil or regular olive oil
1/2 cup yellow onion, sliced
1 pound collard greens, 1 bunch or use 1 bag (16 ounce) of pre-washed, sliced collard greens
1-2 cups chicken broth (I give a range for the amount so you can adjust how much sauce you want or need), you can substitute water or vegetable broth
1 bay leaf
1/4 teaspoon cumin, optional
1/4 teaspoon paprika, optional
1 teaspoon kosher salt , to taste, plus more for serving
1/4 teaspoon fresh ground black pepper, to taste, plus more for serving
1-2 tablespoons shaved Parmesan cheese, to taste
1 teaspoon hot sauce, optional, to taste, for topping
Instructions
In the large pot, add the unsalted butter (or substitute), when it's melted, add the sliced onions. Saute until the onions are translucent. 
Add the chicken broth (or water or vegetable broth).
Bring 1-2 cups chicken broth to a boil in the large pot.
Add the collard greens. Turn the heat down to a simmer. 
Add in the bay leaf, cumin, paprika, salt and black pepper and stir. You can add the optional hot sauce at this time or add it when you serve. Allow to cook 5 minutes and stir again. Allow the collard greens to cook until tender. You can always test a piece (make sure you allow it to cool before taking a bite!) to get the right tenderness. The total cooking time is 25-30 minutes or until tender.
When the collard greens are done, serve as a side dish or over rice or noodles. Ad more salt and fresh ground pepper to taste. Add shaved Parmesan to taste. Enjoy!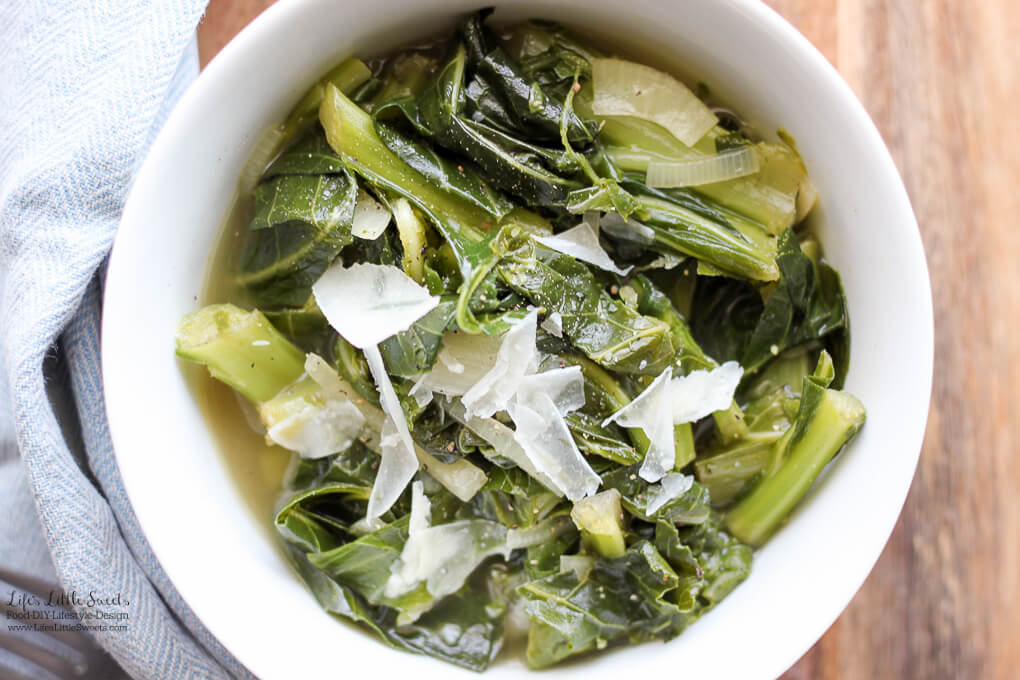 What's your favorite side dish recipe? Please let me know in the comments below! Best, ~Sara
Pin This! ⇓
Sara is an architectural designer turned work-at-home Mom.She lives in New Jersey by way of New England and New York, with her husband, two kids under 5 and family dog Cayli. She loves design, being creative and spending time with family and friends. She loves checking out local businesses and eats and being apart of the local farm to table community.
Latest posts by Sara Maniez (see all)