Balsamic Marinated Baked Portobello Mushrooms are a flavorful and meaty accompaniment to dinner or a tasty topping over salad! Check out all 9 recipes in the #FoodieMamas Delicious Mushroom Recipe Roundup below! Vegan and gluten-free 🙂
Estimated reading time: 9 minutes
Balsamic Marinated Baked Portobello Mushrooms
Hey friends, it's time for another #FoodieMamas recipe roundup post, and this month we are all cooking up recipes with mushrooms.
I have been craving Portobello (also spelled Portobella and Portabella – all correct according to Wikipedia!)
Mushrooms and behold the result of those cravings!
One of those teal bowls you see in these photos, the ones that I recently blogged about in Easy Banana Bread made an appearance here, I have been using them a lot.
They are my new favorite kitchen toys 🙂
Read on below to see the Heath Benefits of the main ingredients in Balsamic Marinated Baked Portobello Mushrooms.
Ingredients
5 large Portabello mushroom caps, clean (14 ounces/397 grams)
6 tablespoons Balsamic vinegar
2 tablespoons regular olive oil
2 cloves fresh minced garlic, (1 tsp.)
1 teaspoon herbes de Provence, (or Italian seasoning or preferred aromatic seasoning blend)
1/2 teaspoon kosher salt
1/8 fresh ground pepper
salt and pepper to taste for serving
fresh parsley or basil for serving, (I used fresh basil in the photos)
Kitchen Tools
measuring spoons and cups
2-cup measure
chef's knife
cutting board
oven-safe baking dish
Web Story
Health Benefits
I did some internet research on the health benefits of the main ingredients in this recipe, check it out:
Portobello Mushrooms
Macronutrients. The macronutrients consist of fat, carbohydrates and protein. …
Fiber. Portobello mushrooms have a moderately high amount of fiber. …
Calories. Portobellos take up a lot of space, but they do not contain many calories. …
Potassium. …
Phosphorus. …
Sodium. …
B Vitamins. – quoted from healthyeating.sfgate.com
Olive Oil
Populations from that region have longer life expectancies and lower risks of heart disease, high blood pressure and stroke, compared with North Americans and Northern Europeans. Monounsaturated fatty acids (MUFAs) are considered a healthy dietary fat, as opposed to saturated fats and trans fats. – quoted from medicalnewstoday.com
Balsamic Vinegar
Balsamic vinegar contains polyphenols, antioxidants that can protect the body from heart disease and cancer. Improves immunity: The grapes that are used to make balsamic vinegar contain antioxidants that fight against cell damage, improve the body's immune system and make blood platelets more flexible. -quoted from timesofindia.indiatimes.com
Garlic
In an article from the Huffington Post, 11 Health Benefits of Garlic, garlic is found to give an immune system boost, have antioxidants, be "heart healthy", beat inflammation, prevent food poisoning (did not know that one!), repel mosquitoes (hmm, Zika, anyone?) and repels people, kidding totally kidding, I couldn't help myself, I love garlic 😉 among several other things.
Portobello Mushrooms are like the king of mushrooms, I included some links further down below about them and also some more about balsamic vinegar.
I love knowing the story behind ingredients, it makes it all the more meaningful to eat them 🙂
I topped these Balsamic Marinated Baked Portobello Mushrooms with fresh basil which is so aromatic, this dish really has a Mediterranean vibe to it.
I could see them also in a salad with Mozzarella cheese and sliced tomatoes…Ooooh, a Summer dish idea!
Fresh and tasty.
I will have to try that.
Below is a photo collage of how to make Balsamic Marinated Baked Portobello Mushrooms from start to finish.
It's really a simple and easy recipe to make!
I added the rectangular red Le Creuset baking dish (Le Creuset Stoneware Rectangular Dish, 12.5 by 8.25-Inches) that I baked the Portobello Mushrooms in.
It is of amazing quality, I got it for Christmas from my Father-in-Law and it's going to be my go-to baking dish.
It comes in just about every color you can imagine too:)
Recipe Attribution & References
#FoodieMamas Mushroom Recipe Roundup
It's time to check out all the amazing recipes from all the #FoodieMamas.
This is my 7th #FoodieMamas recipe round-up post – wow, has it been that long already?!
I think this is the longest consistent series so far on Life's Little Sweets.
Each month, one FoodieMama chooses a different ingredient. You can check out the other #FoodieMamas posts here: #1 (Pumpkin), #2 (Potatoes), #3 (Strawberries), #4 (Couscous), #5 (Chocolate), #6 (Carrots – that my my month!).
We have 8 recipes in the roundup below, in addition to Balsamic Marinated Baked Portobello Mushrooms, which makes 9 – it's so neat to see everyone's take with the same ingredient, I love all the creativity this month!
Please take the time to visit each of them!
Easy Chicken Marsala – Amanda Batcher | The Chunky Chef – Oh my gosh, look at that gravy, this looks like a hearty and satisfying dinner!
Vegan Mushroom Risotto – Emily Smith | The Best of this Life – Here is a vegan recipe from Emily Smith, I love a comforting bowl of rice, don't you?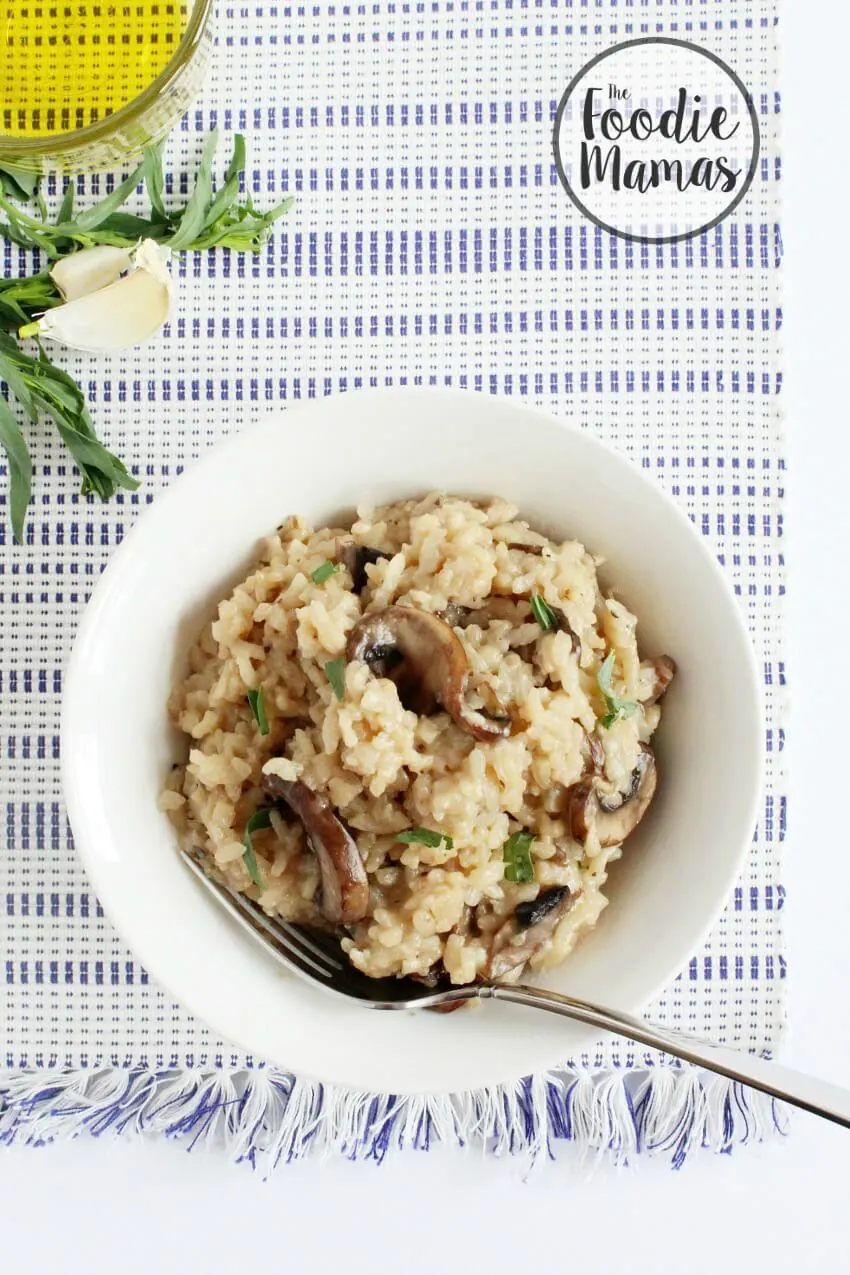 Chorizo & Manchego Stuffed Mushrooms – Ali Randall | Home & Plate – Of course, we must have stuffed mushrooms, I love this Chorizo stuffed mushroom recipe from Ali, it looks SO delicious!
What a great side or appetizer 🙂
Vegetarian Carbonara with Mushrooms and Asparagus – Manju Mahadevan | Cooking Curries – Asparagus is perfect for Spring and mushrooms go so well with pasta.
Mushroom Bruschetta – Kaitie Lawlor | Fuchsia Freezer – Loving this Mushroom Bruschetta from Kaitie, so creative, it looks so tasty!
Mushroom Fried Rice – Deepika Haldankar | EasyBabyMeals – I love mushrooms in fried rice, what a great combination from Deepika!
One-Pot Pepperoni Mushroom Pizza Pasta – Chrissie Baker | The Busy Baker – All the flavors of pizza in pasta, I love it!
Miso Mushroom Ramen – Lucy Baker Brandes | Turnip the Oven – Look at this delicious Miso Mushroom Ramen! Loving the addition of the soft-boiled eggs, I do that all the time with dishes, yummy!
Thank you for reading this post, I hope you found some delicious recipes and new ideas to try out with mushrooms!
Latest Posts
Balsamic Marinated Baked Portobello Mushrooms
Balsamic Marinated Baked Portobello Mushrooms are a flavorful and meaty accompaniment to dinner or a tasty topping over salad! Check out all 9 recipes in the #FoodieMamas Delicious Mushroom Recipe Roundup! Vegan and gluten-free.
Ingredients
5 large Portabello mushroom caps, clean (14 ounces/397 grams)
salt and pepper to taste for serving
fresh parsley or basil for serving, (I used fresh basil in the photos)
Instructions
Preheat oven to 400 degrees F. Combine all ingredients (minus the caps) to make the marinade. Arrange the caps, gill side up in a baking dish that can fit all of them. Drizzle an even amount onto the whole mushroom caps, allow to marinade 15mins -1/2 hour.
Bake for 30 minutes turning over halfway through and basting with any marinade sauce. Allow resting for 5 minutes before slicing and serving.
Recommended Products
As an Amazon Associate and member of other affiliate programs, I earn from qualifying purchases. #CommissionsEarned #ad
Nutrition Information:
Yield:

4
Serving Size:

1
Amount Per Serving:
Calories:

104
Total Fat:

7g
Saturated Fat:

1g
Trans Fat:

0g
Unsaturated Fat:

6g
Cholesterol:

0mg
Sodium:

355mg
Carbohydrates:

8g
Fiber:

2g
Sugar:

5g
Protein:

2g
Please note that the Calculated Nutrition is an estimate at best.
Latest posts by Sara Maniez
(see all)