This Pumpkin Spice Bread yields 2 generous loaves and can be customized with your favorite toppings and Vanilla Coconut Icing! Bring this favorite to your next holiday gathering! Be sure to check out the other #FoodieMamas pumpkin recipes below!
Estimated reading time: 6 minutes
Table of contents
Pumpkin Spice Bread
Hi Everyone, I am honored to have been invited to participate in the #FoodieMamas monthly recipe roundup by Chrissie Baker from The Busy Baker (Thank you Chrissie!).
Every month, there will be a new ingredient picked by one of the #FoodieMamas and March 2016 is my month to chose an ingredient!
This month's ingredient is pumpkin which is timely because I have been waiting to unveil my Pumpkin Spice Bread recipe which I have been baking since the end of the Summer.
This Pumpkin Spice Bread goes really well with my easy to make Vanilla Coconut Icing recipe.
You can have it plain or top it with your favorite toppings, I like to use raw, shelled pumpkin seeds or semi-sweet chocolate chips.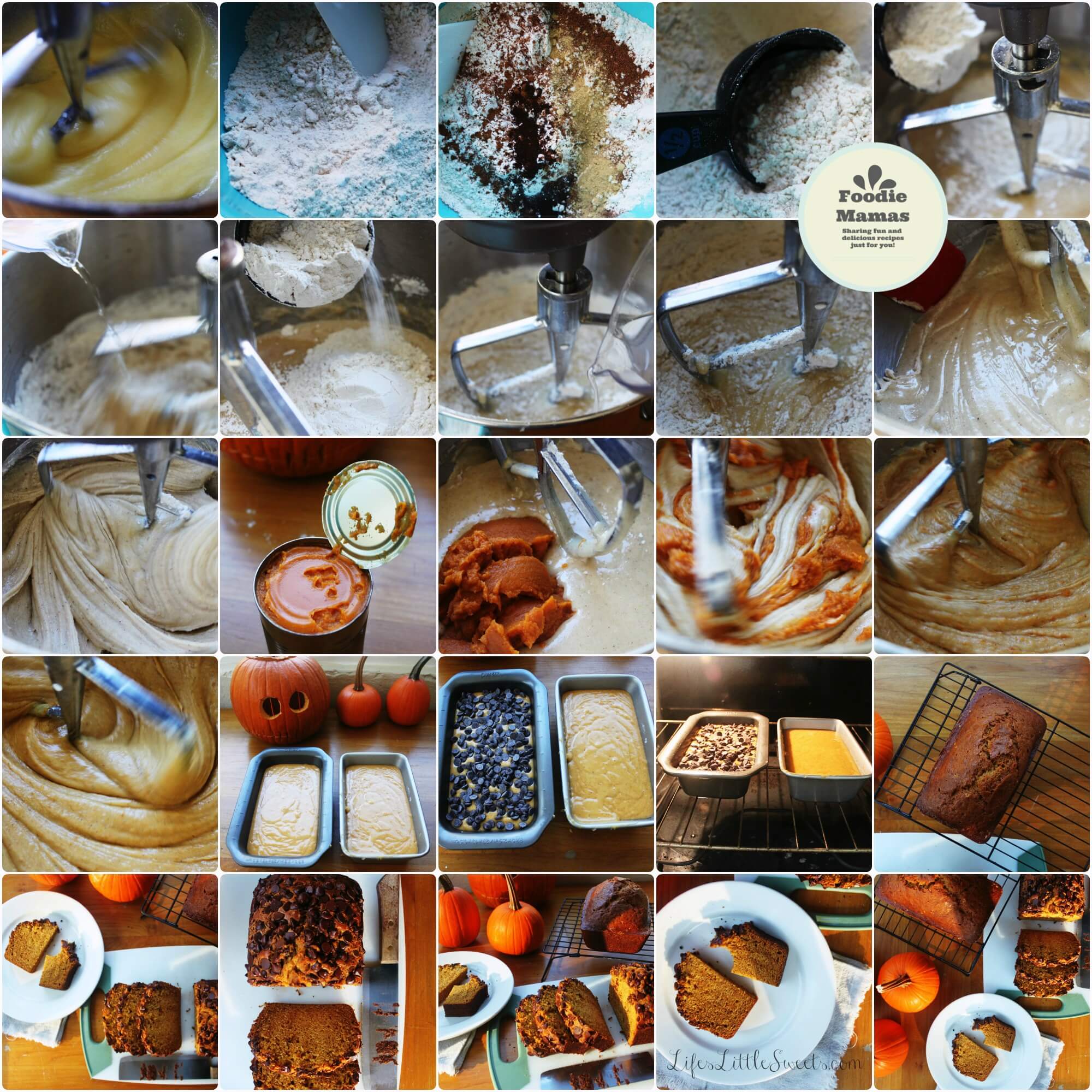 Ingredients
3 cups granulated white sugar
1 cup canola oil
4 large eggs
3-1/3 cups all-purpose flour
2 teaspoons baking soda
1 1/2 teaspoons kosher salt
1 teaspoon ground cinnamon
1 teaspoon ground nutmeg
1/2 teaspoon ground cloves
1/2 teaspoon ground ginger
2/3 cup of water
1-15 ounce can pumpkin puree
Optional Toppings
1/2 cup or more raw, shelled pumpkin seeds
1/2 cup semisweet chocolate morsels, or amount to tast
1 recipe Vanilla Coconut Icing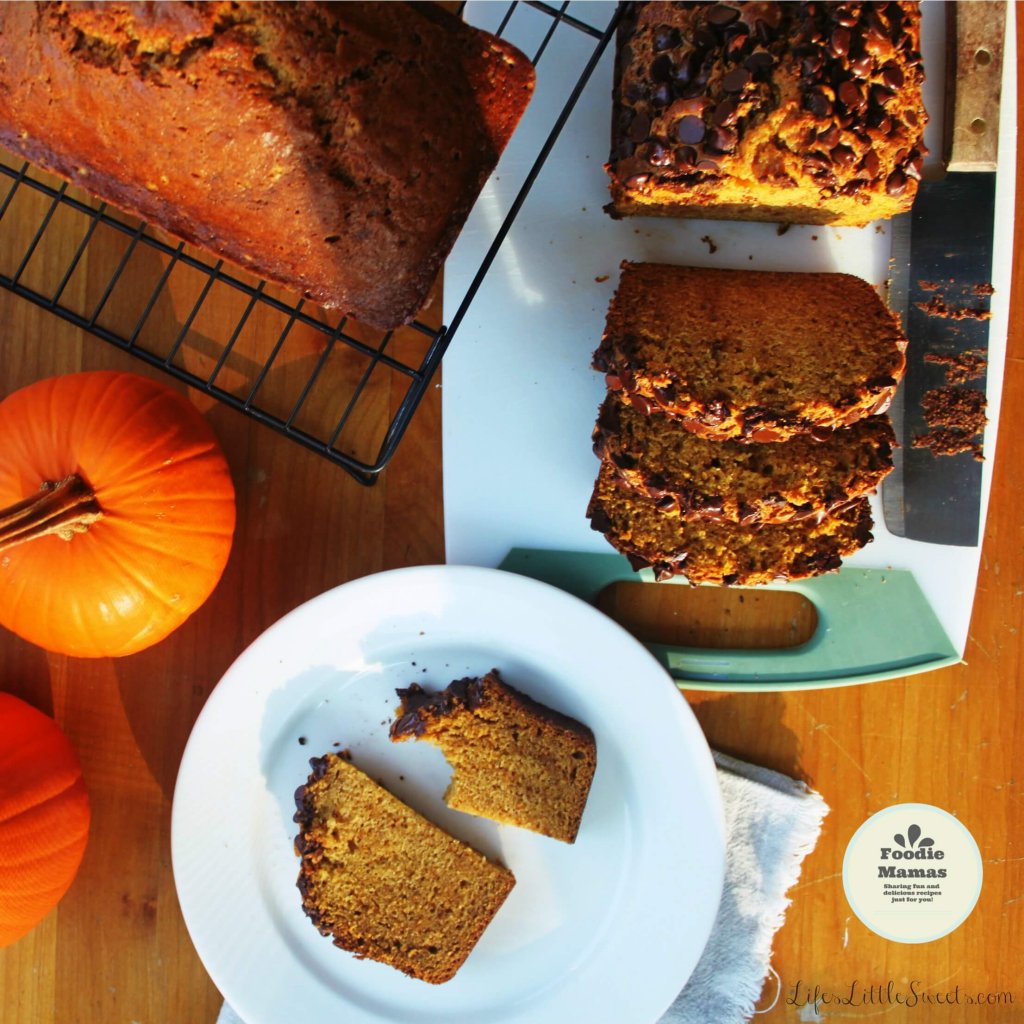 Kitchen Tools
measuring spoons and cups
2-cup wet measure
large mixing bowl(s)
Stand mixer or handheld electric mixer
silicone baking spatula
wire cooling rack
cutting board
bread knife
Web Story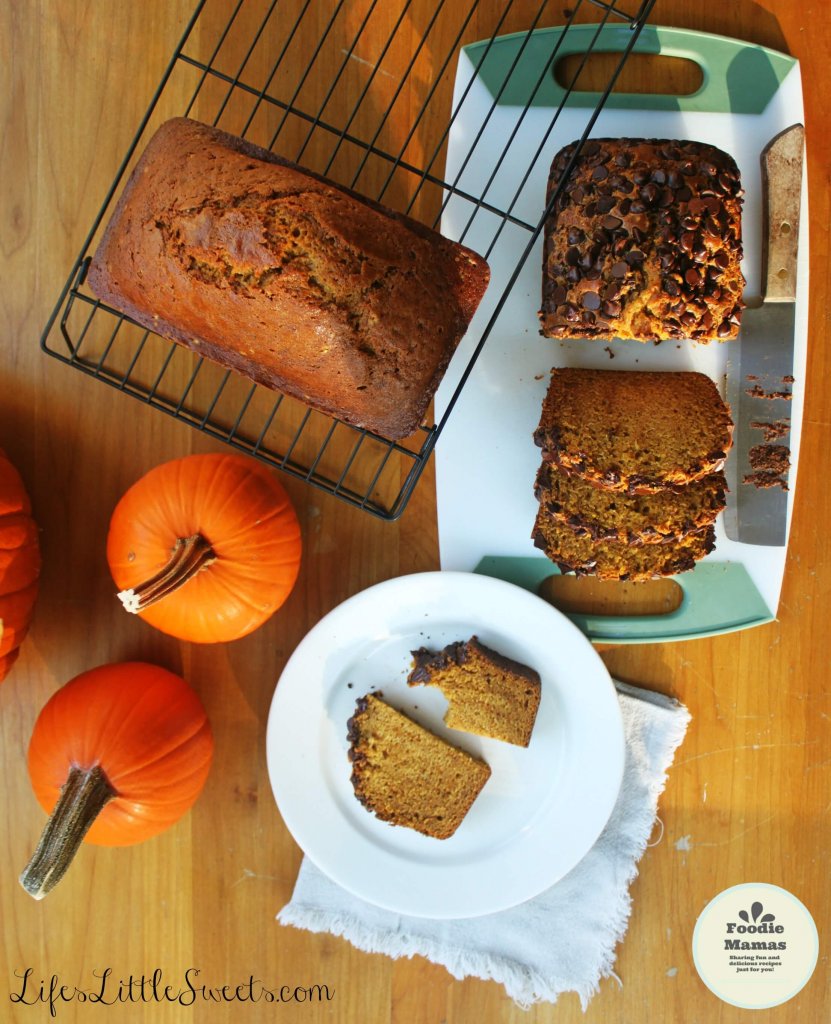 Recipe Attribution
"Pumpkin Spice Bread" is inspired by, "Pumpkin Bread," p. 132, in the "Better Homes and Gardens New Cook Book," Special Edition, 2007 and also takes some inspiration from Libby's pumpkin pie recipe (a familiar pumpkin pie recipe I grew up with).
FoodieMamas Recipes
Here are the other #FoodieMamas pumpkin recipes for October!
Please take the time to check out each one! Thank you 🙂
1. No-Bake Mason Jar Pumpkin Cheesecake from Chrissie Baker at The Busy Baker - Are you thinking about what a scoop of this delicious No-Bake Mason Jar Pumpkin Cheesecake tastes like? Because I am!
2. Harvest Pumpkin Cupcakes with a Salted Caramel Frosting from Ali at Home and Plate - These perfect cupcakes are just lining up to be eaten, why not make some of these today?
3. Pumpkin With Orzo Pasta from Deepika of Easy Baby Meals - A warm bowl of this Pumpkin with Orzo Pasta on a cool, crisp Autumn day sounds like comfort food to me!
4. Pumpkin Risotto in Edible Parmesan Bowls from Amanda at The Chunky Chef - Impress your guest (and yourself!) with this Pumpkin Risotto and here's a bonus, you can eat the bowl!
5. Pumpkin Fudge from Kaitie at Fuchsia Freezer - Who wouldn't want a bite of this amazing fudge topped with your favorite toppings of course!
6. Homemade Vegan Pumpkin Spice Latte from Emily at The Best of this Life - Finally a Pumpkin Spice Latte that everyone can have! It looks so warm and delicious!
7. Baked Mini Pumpkin Pecan Donuts from Sabrina at Dinner, Then Dessert - Oh, what a way to end - on a high note - with these icing & nut topped donuts, give me a bite! I want! I want!
Latest Recipes and Posts
If you make this recipe, and like it, please give it a rating in the recipe card below and let us know in the comments at the end of the post.
Check out our Recipe & DIY indexes, visit our Home page to view our latest posts & categories, visit our Blog page to see our posts in consecutive order and, our Shop to see our favorite kitchen tools!
Thank you for reading and following along!
Pumpkin Spice Bread
Total Time:
1 hour
20 minutes
This Pumpkin Spice Bread yields 2 generous loaves (32 slices) and can be customized with your favorite toppings and Vanilla Coconut Icing! You can also use coconut sugar as a natural sweetener option in a 1 to 1 ratio. Bring this favorite to your next gathering!
Ingredients
4 large eggs
2/3 cup of water
Optional toppings
Instructions
Preheat oven to 350 degrees F. Grease two 9x5x3 inch loaf pans (I usually use coconut oil to grease the pans).
In a large mixing bowl, beat oil and sugar on medium speed, until combined (scrape downsides, if necessary), then add the eggs and mix until combined.
In a separate large mixing bowl, combine evenly flour, baking soda, salt, cinnamon, nutmeg, cloves, and ginger. Add the flour mixture to the sugar/oil mixture in 1/2 cup scoops and alternately add the 2/3 cup of water until fully incorporated. Add pumpkin puree until combined (you may need to use a baking spatula to scrape down the sides and the bottom of the mixing bowl so that the pumpkin puree fully incorporated). Divide batter evenly into both prepared loaf pans.
Bake in preheated oven for 1 hour *see note below on baking time. When the loaves are done, take out and allow to cool in pans for 10 minutes, carefully remove from pans and allow to cool completely on wire racks. If you used chocolate chips as a topping, they will be warm and melty, I suggest using a couple of silicone spatulas to remove the loaves carefully. Serve warm with some Vanilla Coconut Icing!
Notes
Sugar: You can substitute with coconut sugar to make this naturally sweet
Pumpkin Purée: I like Libby's Organic Pumpkin Purée
These loaves are generously sized. I added on an extra 20 mins beyond the 1 hour to get them to be cooked through the center, giving a total cook time of 1 hour. Just pay attention to your loaves as they get close to being done, you can test them by inserting a knife in the center, if they are done, they should pull out clean. If you are concerned about the tops getting over browned, in the last 15-20 mins you can put a vented foil tent over the tops.
Nutrition Information:
Yield:

2
Serving Size:

1
Amount Per Serving:
Calories:

3864
Total Fat:

179g
Saturated Fat:

37g
Trans Fat:

1g
Unsaturated Fat:

135g
Cholesterol:

372mg
Sodium:

3183mg
Carbohydrates:

535g
Fiber:

23g
Sugar:

360g
Protein:

55g
Please note that the Calculated Nutrition is an estimate at best.
Latest posts by Sara Maniez
(see all)