Estimated reading time: 3 minutes
Sautéed Beet Greens are a colorful, savory, and delicious addition to any meal. These greens are cooked with olive oil, garlic, salt, and pepper. (1-2 servings, vegan, gluten-free)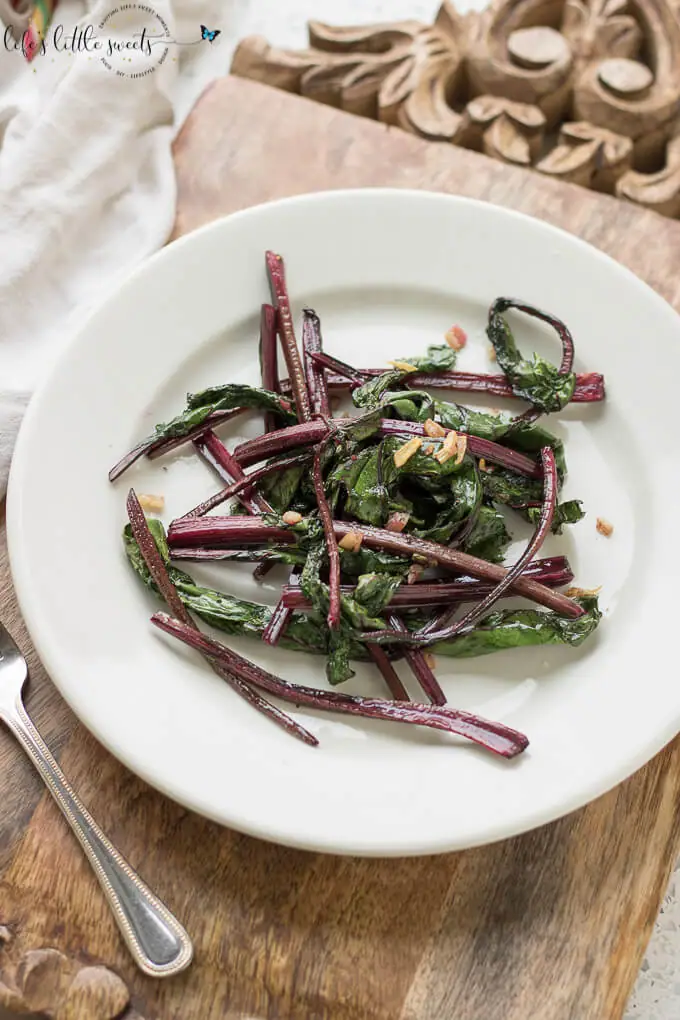 Sautéed Beet Greens
Hi Everyone, it's January and I don't know about you but I am looking for ways to get more healthy ingredients onto my dinner plate.
These Sautéed Beet Greens are a nutritious side dish to add to any meal.
I love beetroot, don't get me wrong, but between the two, I lean more to these lovely greens.
I love their crunchy texture and there's something "life-giving" to eating a plate full of greens.
I make these Sautéed Beet Greens with regular olive oil, garlic, salt, and pepper, so they are seasoned simply – they don't need more than that.
Sautéed Beet Greens is one of our Fall-inspired recipes, to see all of our "Fall" recipes on LLS, visit here.
Beet Season in New Jersey
Beet season in our area of New Jersey is from July 1st (June 1st) to October 31st (late November 30th).
Ingredients
beet greens
drizzle of regular olive oil (about 1 tablespoon, depending on the volume of beet greens)
Kosher salt, amount to taste
fresh ground pepper, amount to taste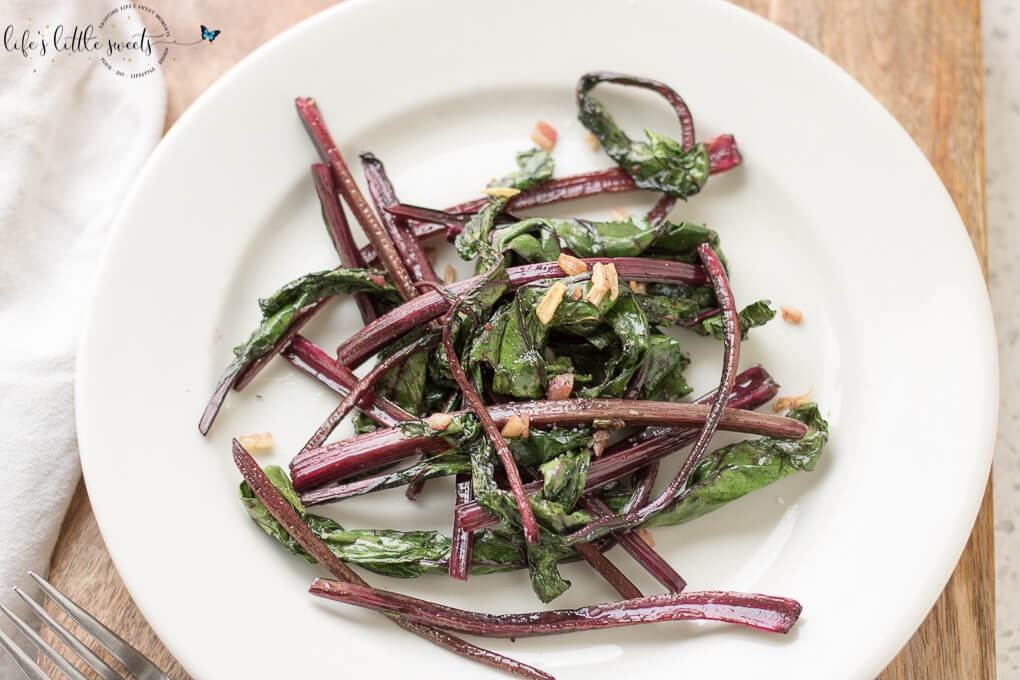 Kitchen Tools
Web Story
Related Posts
I know you will love these Sautéed Beet Greens!
Latest Posts
Related Posts
Let me know if you try these Sautéed Beet Greens in the comments below!
Sautéed Beet Greens
Sautéed Beet Greens are a colorful, savory, and delicious addition to any meal. These greens are cooked with olive oil, garlic, salt, and pepper. (1-2 servings, vegan, gluten-free)
Ingredients
1 bunch beet greens, washed, ends cut, chopped enough to allow them to fit in the large pan
1-2 cloves fresh garlic, crushed and chopped
Instructions
In a large skillet, on medium heat, heat olive oil and add garlic (about 3 minutes to cook the garlic).
When the pan is heated and the garlic is translucent, add the beet greens, and cook them covered (3-5 mins), stirring occasionally. When the stems are tender until the greens have wilted, plate to serve. Enjoy!
Nutrition Information:
Yield:

2
Serving Size:

1
Amount Per Serving:
Calories:

121
Total Fat:

8g
Saturated Fat:

1g
Trans Fat:

0g
Unsaturated Fat:

6g
Cholesterol:

0mg
Sodium:

351mg
Carbohydrates:

12g
Fiber:

7g
Sugar:

1g
Protein:

5g
Please note that the Calculated Nutrition is an estimate at best.
This post was originally published on 8/16/2018
Updated & republished on 2/26/2021, 11/2/2021, 2/13/2023
Latest posts by Sara Maniez
(see all)