This Roasted Garlic Hummus is savory, takes a minute to prepare, is full-flavored and delicious, with only a minimum of 6 ingredients! (gluten-free, vegan)
Estimated reading time: 5 minutes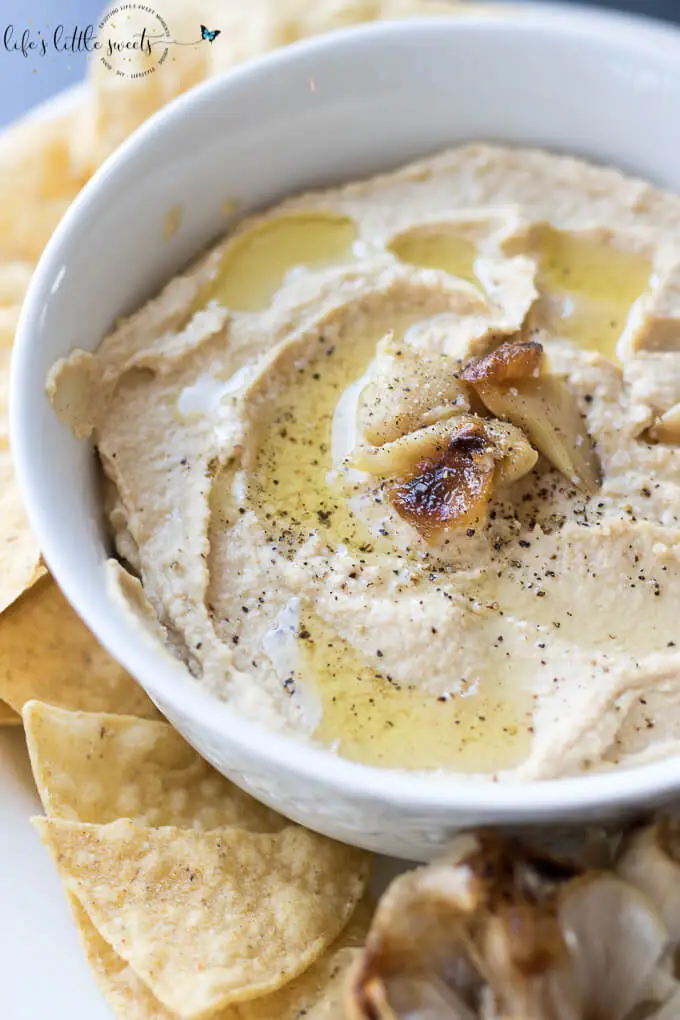 Table of contents
Roasted Garlic Hummus
Hi Everyone, remember when I posted How To Roast Garlic?
Of course, us being "hummus lovers", the natural extension of that is Roasted Garlic Hummus.
This would be great to use in a salad dressing, as an appetizer, or to smear on fresh-baked bread.
With this recipe I use only 1 tablespoon of tahini (I usually put up to 3 tablespoons in regular hummus), you can use more if you want but I found when I was testing the recipe that the tahini can overpower the roasted garlic flavor to the point where you only taste tahini if you add too much. So, go easy on the tahini, tahini-lovers.
One of the great things about roasted garlic is that you have all the aroma and sweetness of garlic.
Roasted garlic has that delicious caramelization to it.
Another option is adding a small clove of fresh garlic to add back in the "bite" of the garlic if that's what you love in garlic flavor.
I chose not to for this recipe but my husband Eric loves having some of the fresh garlic to give it that "spicy bite" aspect.
Ingredients
1 15 ounces can of chickpeas, drained (save the chickpea canning water to adjust consistency)
4 or more roasted garlic cloves, plus more for topping/garnishing, see How To Roast Garlic
1 tablespoon tahini
1/8 teaspoon Kosher salt, or amount to taste
1/8 teaspoon fresh ground black pepper, or amount to taste
a drizzle of extra virgin olive oil (1 tablespoon)
1/8 teaspoon ground cumin, optional, or amount to taste
Kitchen Tools
food processor
small colander for draining the chickpeas and collecting the canning water
wet measure to collect the chickpea water
baking spatula
spoon
Web Story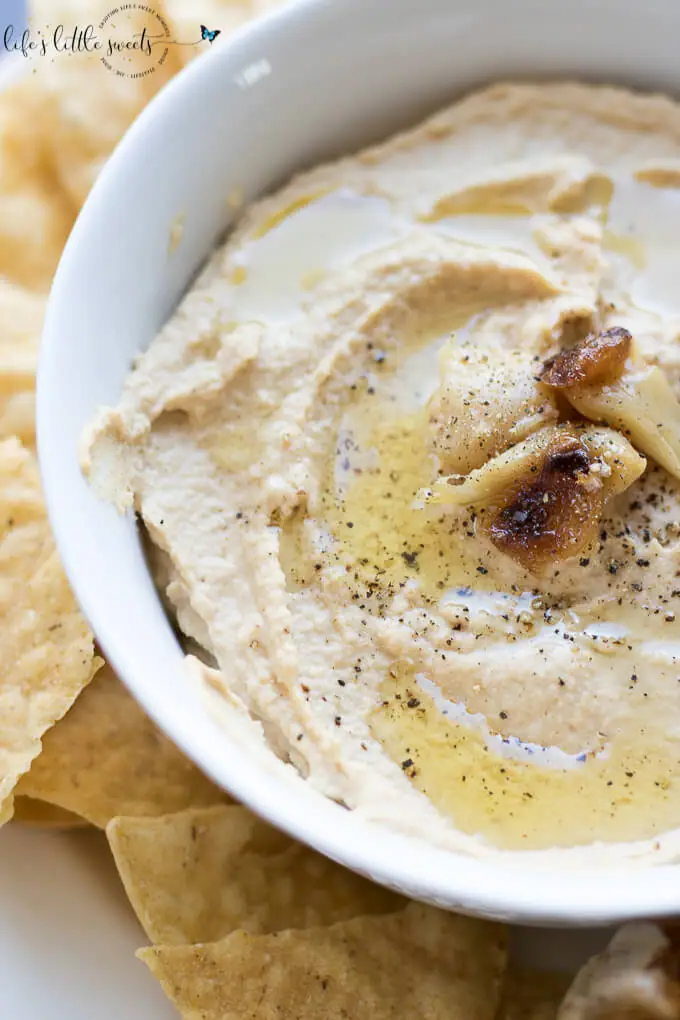 Eric and I have been trying to get more garlic into our diets for its heart-healthy benefits and this is an easy and flavorful way to do it.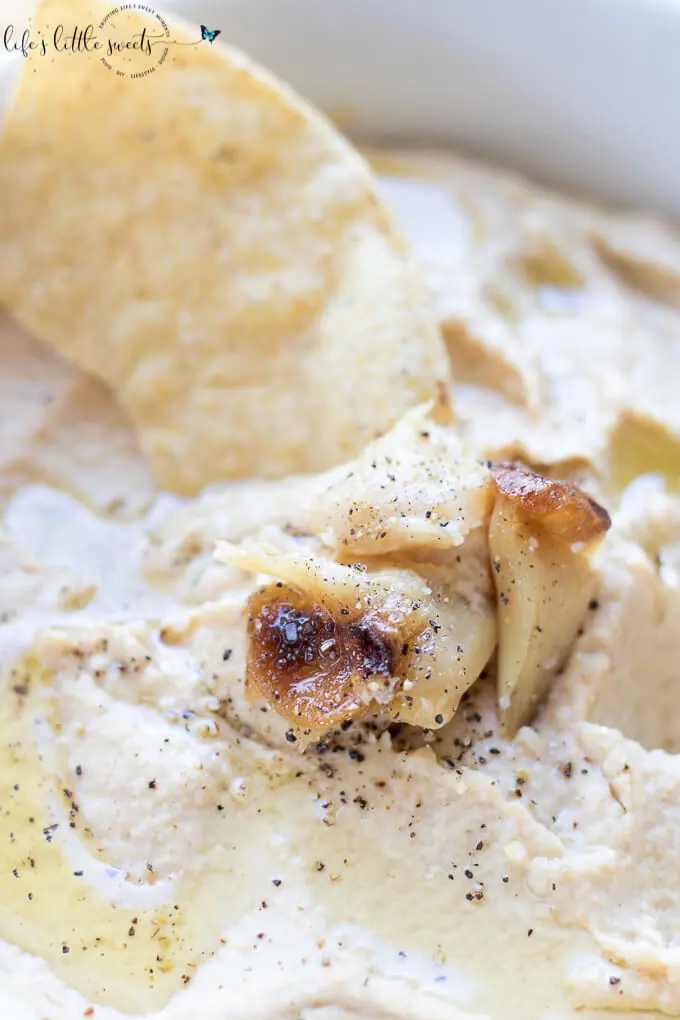 You can use this recipe in salad dressings, marinades, or as a spread on sandwiches or on wraps.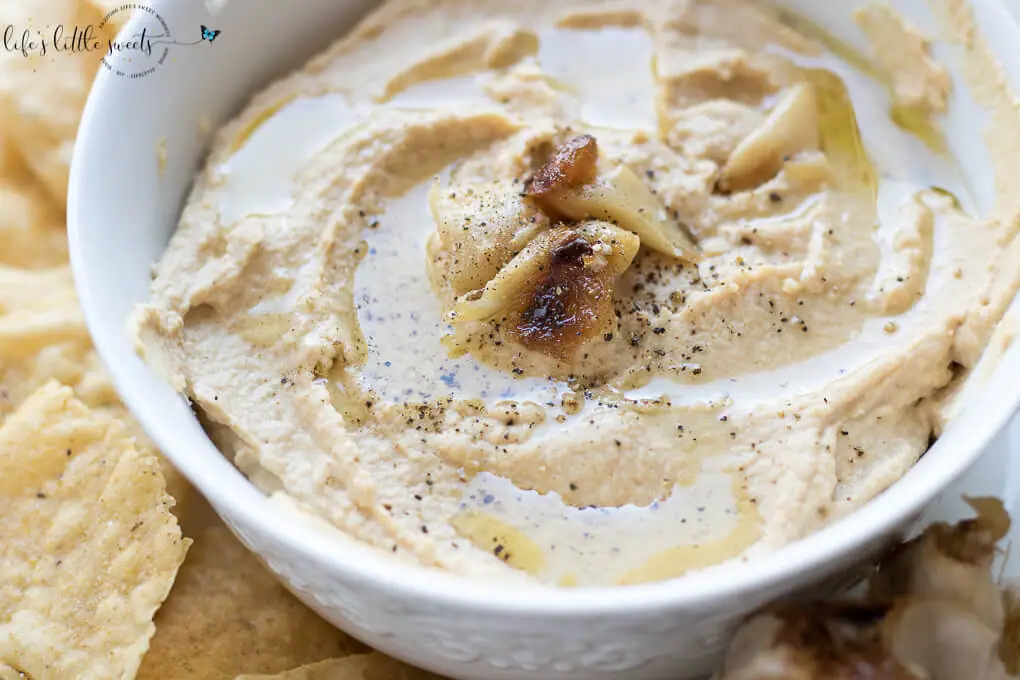 Related Posts
If you are a garlic and hummus lover, you will love this delicious Hummus recipe!
Latest Posts
Our Other Recipes and Posts
If you make this recipe, and like it, please give it a rating in the recipe card below and let us know in the comments at the end of the post.
Check out our Recipe & DIY indexes, visit our Home page to view our latest posts & categories, visit our Blog page to see our posts in consecutive order and, our Shop to see our favorite kitchen tools!
This recipe post was originally published on 1/8/2018 and updated and republished on 2/28/2021
Roasted Garlic Hummus
This Roasted Garlic Hummus is easy, full-flavored and delicious, with only a minimum of 6 ingredients! gluten-free, vegan
Ingredients
4 roasted garlic cloves, or amount to taste, plus more for topping, search LLS for "How to Roast Garlic"
Instructions
In a food processor, add the drained chickpeas, tahini, Kosher salt, ground black pepper, roasted garlic cloves and pulse.
Add the chickpea water and process until desired consistency is reached. Add more salt, garlic or pepper to taste.
Transfer to serving bowl, top with more roasted garlic, drizzle with olive oil and optionally, sprinkle with a pinch of salt and more fresh pepper. Enjoy with your favorite chips or bread.
Notes
makes 1 bowl 
a food processor is needed for this recipe
to get super smooth hummus, you can take the time to remove the chickpea membranes.
The nutritional information is an estimate; we use myfitnesspal.com to generate the nutritional information for this recipe.
Nutrition Information:
Yield:

6
Serving Size:

1
Amount Per Serving:
Calories:

223
Total Fat:

9g
Saturated Fat:

2g
Trans Fat:

0g
Unsaturated Fat:

6g
Cholesterol:

17mg
Sodium:

211mg
Carbohydrates:

24g
Fiber:

7g
Sugar:

4g
Protein:

12g
Please note that the Calculated Nutrition is an estimate at best.
Latest posts by Sara Maniez
(see all)